There are all the best destinations and best things to do in Cambodia and Vietnam itinerary for you to discover those countries.
IN CAMBODIA 
Recommended stay from 3 – 4 days for Cambodia and Vietnam itinerary
Siem Reap: Come for Angkor's temples; stay for the buzzing tourist scene, boutique shopping, and great dining
Siem Reap has evolved into a modern, fun, and very visitor-friendly city, once known primarily as the gateway to the Angkor temple complex. In Siem Reap, tourism has exploded, and there are a plethora of lovely and affordable resorts and boutiques. The town buzzes with activity, with everything from contemporary galleries to edgy boutiques and swanky restaurants. Take a leisurely stroll along the riverbank, have a leisurely brunch in the old French Quarter and revel in the nightlife of Pub Street. Relaxing poolside to beat the midday heat is one of the best parts of any stay in Siem Reap.
Days 1 + 2 of your Cambodia and Vietnam itinerary
Things to do 
High-water mark
Tonle Sap Lake is so massive that it resembles a chocolate-colored ocean. It's a UNESCO Biosphere Reserve with a plethora of marine life. A trip on a traditional vessel through Cambodia's colorful floating villages and beyond is a treat for nature lovers as well as a glimpse into daily life. Jumping off the boat and paddling a kayak through water hyacinths and trees in Kompong Phluk's ethereal 'flooded forest' is one of the highlights of any trip.
Moving forward
Social enterprise is a type of business that focuses on Artisans d'Angkor is dedicated to preserving and reviving ancient Khmer arts and crafts while also providing locals with a sustainable source of income. Over 1300 rural artisans create high-quality handmade clothing, lacquerware, silk paintings, jewelry, and ceramics. Free guided tours of the main workshop and the Angkor Silk Farm are available, both of which are 20 minutes away by free shuttle bus.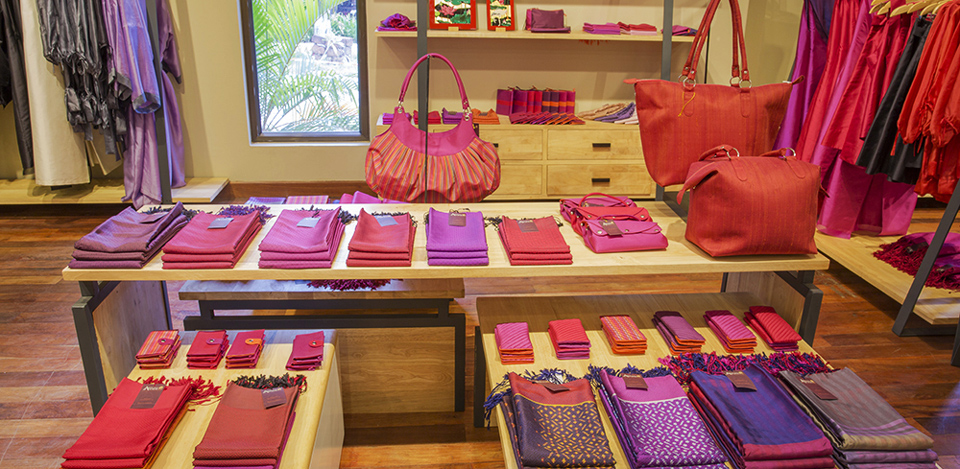 Shoptalk
In Siem Reap's homegrown boutiques, there are plenty of bargains to be had. Shops selling Cambodian silks, spices (try the Kampot pepper), and herbal soaps and creams can be found throughout the Old Market area. Three Seasons for funky threads, Eric Raisina for silk couture, Ambre for vibrant gowns, and Garden of Desire for exquisite jewelry are just a few of the places where fashion and design have flourished.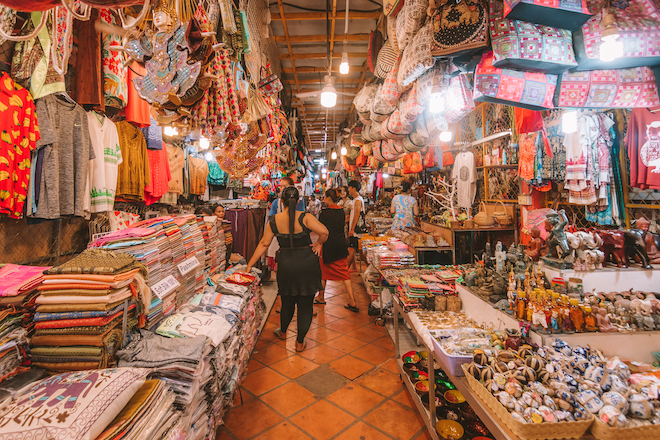 Temple talk
Angkor Wat is magnificent in and of itself, but don't overlook some of the Angkor complex's more remote temples.
The sprawling Angkor Thom, and the Bayon Temple within it, with its 216 massive reliefs, is a labyrinthine maze. One of the most striking structures in the complex is Ta Prohm, with its looping tree roots and stone walls. Preah Khan and Banteay Srei, which are covered in vegetation and have elaborate carvings, are further afield, while Phnom Kulen National Park in Kbal Spean, two hours from Siem Reap, has ancient stone carvings known as lingams (phallic symbols of the Hindu god Shiva).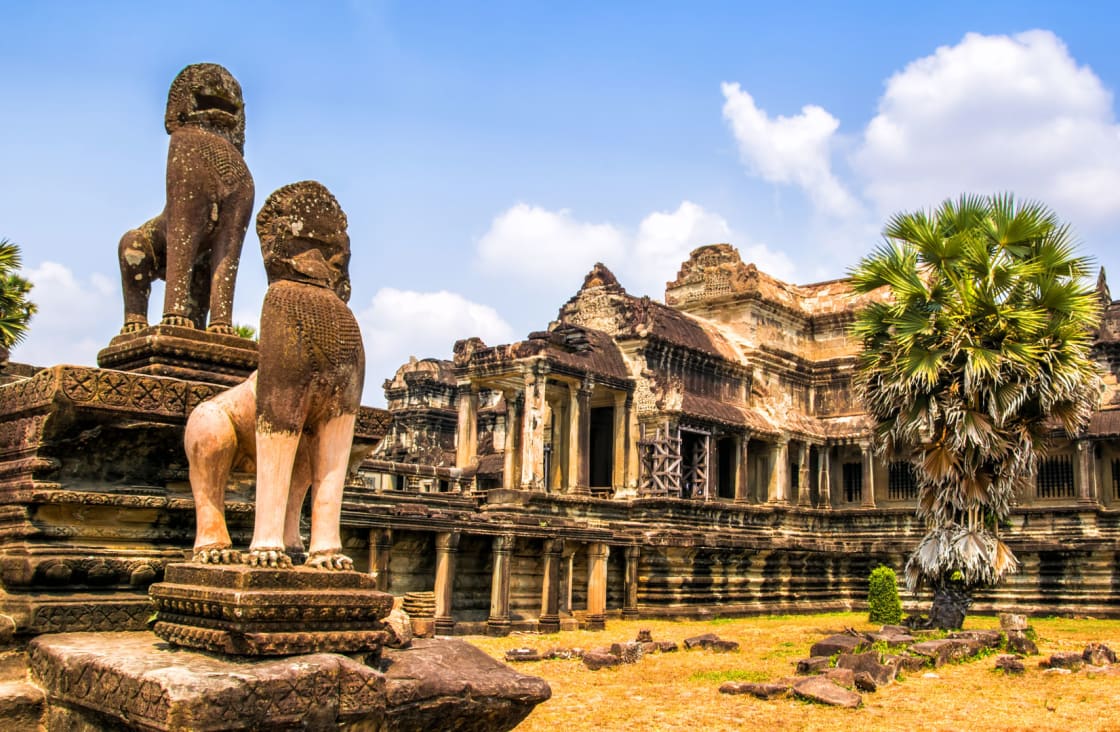 The diner things
Siem Reap has a fantastic dining scene. At leafy Marum, which is also a training restaurant for street kids, try Khmer delicacies like red ant fritters and fried tarantulas. Don't miss chef Joannès Rivière's modern take on Cambodian cuisine at Cuisine Wat Damnak. Try a lychee martini at Miss Wong, a Shanghai opium den, or a Femme Fatale at Raffles Grand Hotel d'Angkor, a champagne cocktail inspired by Jacqueline Kennedy's 1967 visit.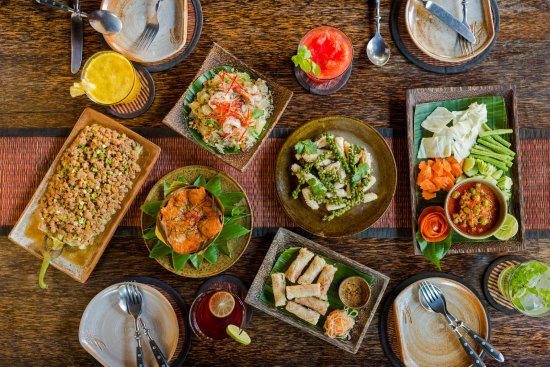 Getting around
The dining scene in Siem Reap is fantastic. Try Khmer delicacies like red ant fritters and fried tarantulas at leafy Marum, which also serves as a training restaurant for street kids. At Cuisine Wat Damnak, don't miss chef Joannès Rivière's modern take on Cambodian cuisine. At Miss Wong, a Shanghai opium den, order a lychee martini, or at Raffles Grand Hotel d'Angkor, order a Femme Fatale, a champagne cocktail inspired by Jacqueline Kennedy's 1967 visit.
Day 3 + 4:  Recommended for Cambodia and Vietnam itinerary: Siem Reap – Phnom Penh – Chau Doc – Mekong delta – Ho Chi Minh
Obtaining a visa for the boat crossing from Phnom Penh to Chau Doc
If you're traveling from Phnom Penh to Chau Doc in Vietnam, make sure you have your Vietnam visa before you leave.
The Visa on Arrival scheme for Vietnam, which I used the first time I flew into Ho Chi Minh City is quite well known – involves an Approval Letter which can be exchanged for a visa at the main airports. Unfortunately, this system only works for those international air arrivals with the offices to convert it into a visa, so when arriving at other borders, such as the river border here, you'll need to get the visa a different way.
This can be done at an embassy, but it takes time if you aren't near one or don't want to wait the couple of days it takes to get a visa from the Cambodian embassy. Because the arrival point is listed as approved on the website, it appears that an actually issued e-visa – not to be confused with Visa On Arrival (VOA) – is now an option.
The river's border point is called Vinh Xuong and Song Tien Landport, which sounds a little confusing because it's a river, but the boats actually dock at a pier and you walk on land to the check-point to be stamped in – Song Tien is stamped in my passport. A small coffee shop with a money exchange (don't expect the best rate) is located here. The procedure was relatively quick, and we all went off at the same time after stamping out of Cambodia at the Khoorm Som Nor checkpoint.
Green rice fields of Chau Doc as seen from the hotel
If you're traveling from Chau Doc (Vietnam) to Phnom Penh (Cambodia), I don't have firsthand experience with this, but I read that e-visas for Cambodia can't be used at this checkpoint – but a visa can be arranged with the boat companies for arrival or possibly even on arrival at the crossing itself. Also, be aware of whether your visa allows single or multiple entries if you plan to do this route as a day trip or return rather than a linear journey continuing on to Vietnam.
Finally, don't make my friend's (dual-national) mistake of getting her Cambodia stamps on one passport and her Vietnam e-visa on another – you'll be stuck at this checkpoint for a long time!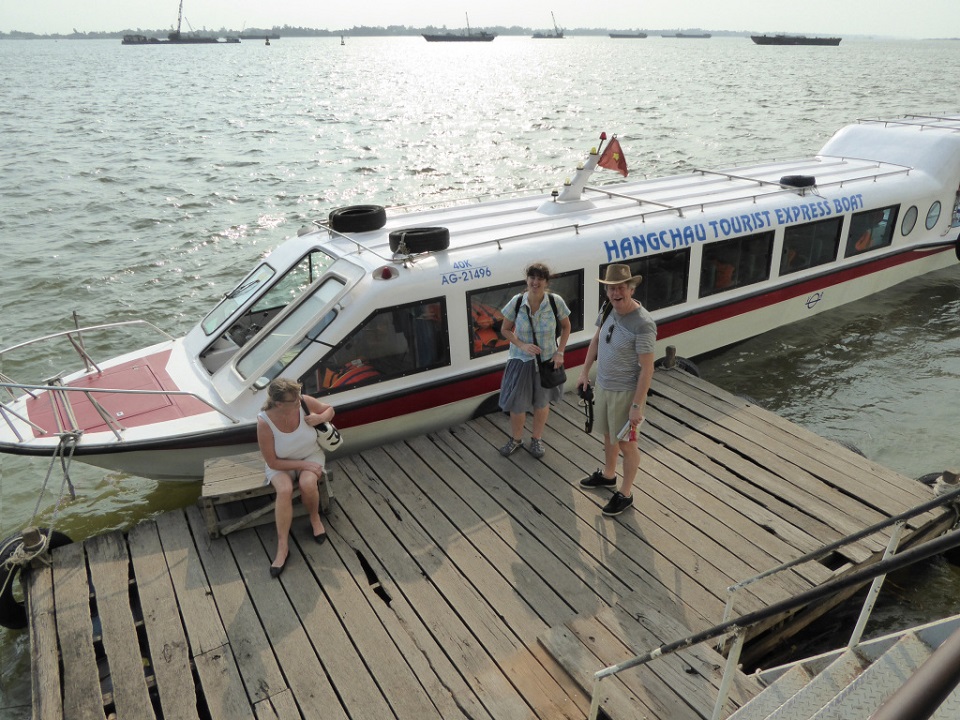 IN VIETNAM
Welcome to Chau Doc
We disembarked in the dark as the sun began to set shortly before the journey ended, briefly stopping at the Victoria Chau Doc Hotel for a drink, and it appeared that many people who took boats were booking in here in Cambodia and Vietnam itinerary.
Instead, our group took a short ride to our hotel, which was also part of the Victoria group, and the views were breathtaking when the sun rose the next day. The Victoria Ni Sam Lodge is a lovely hotel with a tiered room system that allows for unobstructed views. Surrounded by rice fields, the views are breathtaking, particularly from the pool area, which was the ideal way to start the day.
It's a truly spectacular setting, perched atop a hill, and well worth the small detour out of town. The restaurant was excellent, as was the breakfast, and both were accompanied by breathtaking views – it's also a very affordable hotel. We went to a lovely Buddhist temple a short distance from the hotel to meditate both mornings – such a serene setting.
There are so many beautiful viewpoints and temples here that renting a scooter and exploring for a few days is a fantastic idea.
Flower markets, street stalls, and fantastic noodle restaurants abound in the town. We took local boats from here to see some of the floating villages. These aren't designed for tourists in the same way that other Mekong regions are.
As part of a project, our organization was delivering water filtration units to some of these communities. As a result, my trip was likely very different from what a typical tourist would experience; however, there are tourist offerings of river tours to other parts of the villages, such as floating fish farms and some market and cafe spaces. Boats carrying colorful fruits, flowers, and fresh fish sped toward towns and settlements, and I felt the least changed by the tourist attractions I saw throughout the country.
Continuing our journey through the Mekong Delta
As previously stated, the natural route from Chau Doc to Ho Chi Minh City is to continue onwards. This was taken care of for me because I was on a guided tour, but as an independent traveler, getting buses to the mega-city is simple enough, taking about 6-7 hours.
We took a break from our Cambodia and Vietnam itinerary by visiting Mekong's more touristy section. Near the city of My Tho, there are a variety of boat tours, in traditional boats, to places like Turtle Island and traditional marketplaces, where you can sample local drinks, foods, and coconut candies. It's all quite colorful and pleasant enough, but it lacks Chau Doc's authenticity and is clearly geared toward tourists. Van Phong's photograph of brownish river waters shaded by overhanging greenery is a postcard-perfect representation of the Mekong Delta, so be sure to bring your camera.
Prepare to leave the tranquil river vibes behind as you enter the bustling streets and world of Ho Chi Minh City. Enjoy your trip to Chau Doc, and if you're traveling from Cambodia to Vietnam, don't forget to get your visa in advance; you don't want to end up in a costly and time-consuming situation before seeing Chau Doc's beauty!
Welcome to Ho Chi Minh City 
What do you need to know?
Ho Chi Minh City is Vietnam's largest city, as well as its economic and financial center. It is also known as Saigon and has a long and illustrious history dating back hundreds of years. There are numerous museums in the country that highlight the country's dark wartime history as well as classic colonial architecture built by former French rulers.
Due to its fascinating culture, sleek skyscrapers, ornate temples, and Chinese pagodas, Ho Chi Minh City is a destination must visit in Cambodia and Vietnam itinerary. There are numerous rooftop bars with views of Saigon and beyond, as well as fantastic restaurants with a mix of French, Chinese, and, of course, local Vietnamese cuisine. Many notable landmarks can be found in central Saigon's Districts 1 and 3, while Pham Ngu Lao Street, located on the western edge of District 1, is an iconic backpacker's district with numerous lanes and back alleys ripe for exploration.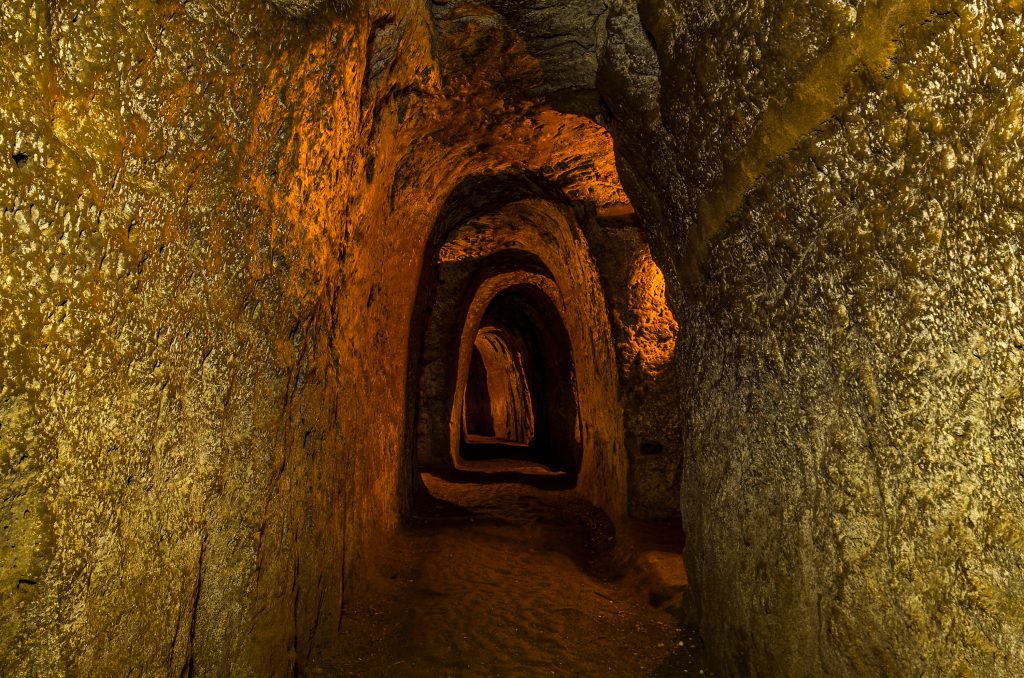 Things to do 
Binh Tay Market
Chinatown's 19th-century market
The French built Binh Tay Market in the 1880s, and it is located in the heart of Vietnam's largest Chinatown district. With its extensive range of fresh fruits, vegetables, poultry, meat, and seafood from all over Vietnam, this market primarily serves the local population.
Address: 57A Thap Muoi, 2 Ward, 6 District, Ho Chi Minh City 700900, Vietnam
Opened: Daily from 6 am to 6 pm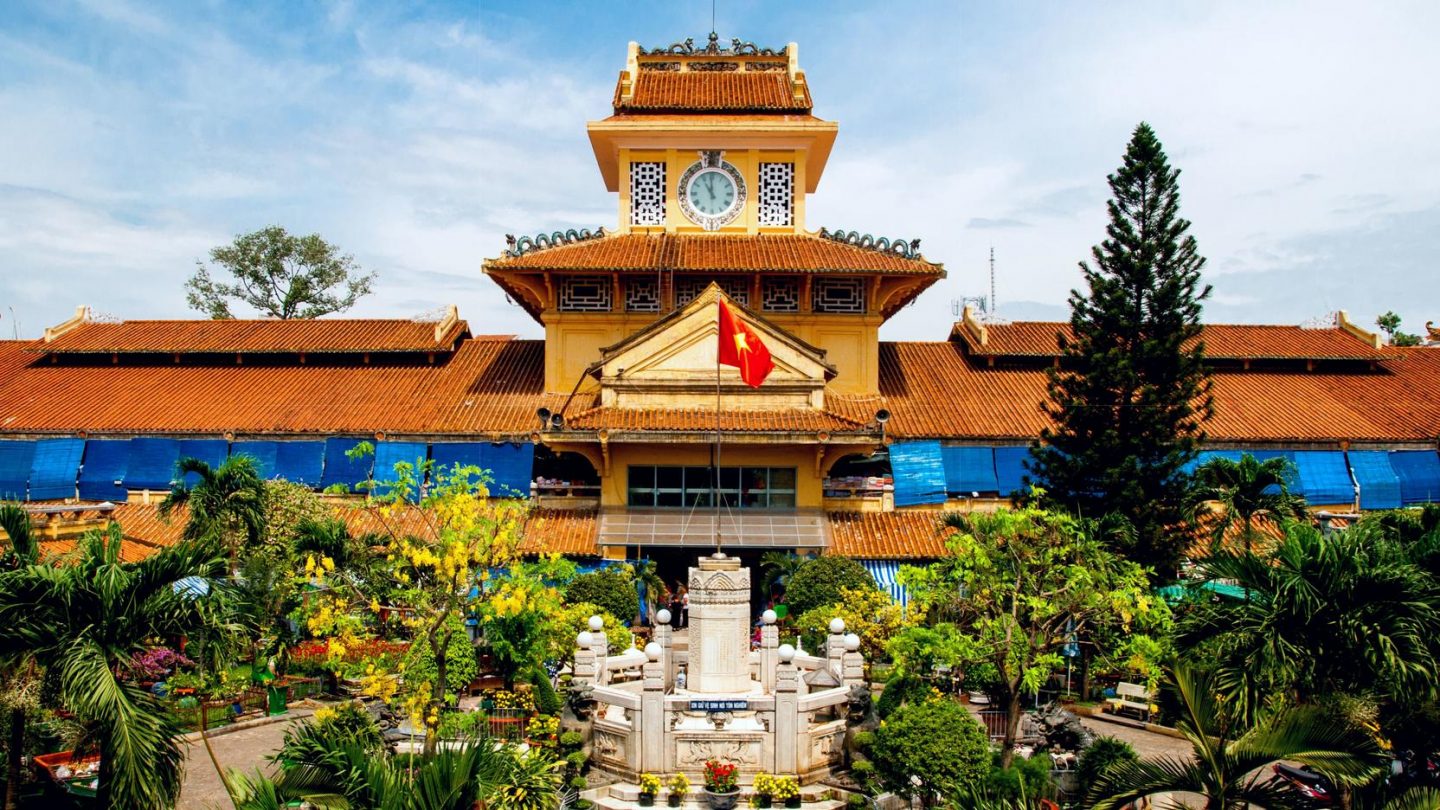 War Remnants Museum
A somber remembrance of the Vietnam War
The War Remnants Museum is a sobering and unforgettable museum that details the consequences of the US-Vietnam war, which lasted 30 years. Outside the museum, there are immaculately preserved tanks, planes, and other war machines, but the real meat of the information is found inside.
Photographs, exhibits, and written documentation document the atrocious lengths to which the US Army has gone in order to defeat the North Vietnamese Army.
Address: 28 Vo Van Tan, 6 Ward, 3 District, Ho Chi Minh City 700000, Vietnam
Opened: Daily from 7.30 am to 11.30 am and from 1.30 pm to 4.30 pm
Tel: +84 (0)28 3930 5587
Cu Chi Tunnels
A well-known landmark to the northwest of Ho Chi Minh City.
Another place that you should visit in your Cambodia and Vietnam itinerary is Chu Chi Tunnels are a fantastic tourist attraction that allows visitors to experience what life was like during the Vietnam War. Vietnamese soldiers moved around undetected by their adversaries thanks to a vast network of tunnels.
After watching an educational film, visitors can take a guided tour of some mock recreations of daily life for the Viet Cong hiding in the jungle. Tanks that have been burned out make excellent photo props. You can even crawl through a small concrete-supported section that has been widened.
Address: D. Provincial Road 15, Phu Hiep, Cu Chi, Ho Chi Minh City 733814, Vietnam
Opened: Daily from 7 am to 5 pm
Tel: +84 (0)28 3794 8830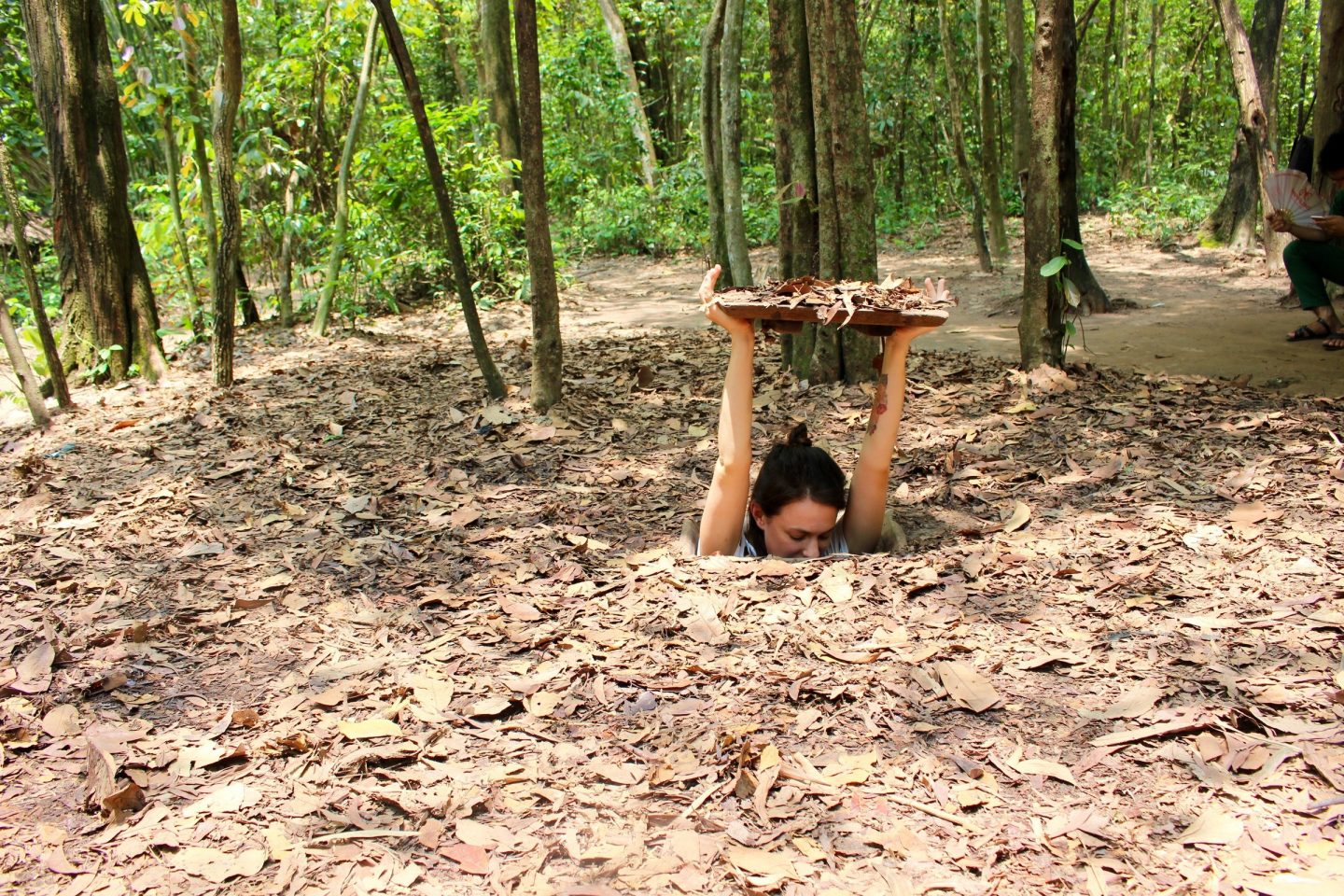 Cao Dai Temple
A one-of-a-kind shrine dedicated to the Cao Dai religion.
Cao Dai Temple is the spiritual heart of the Cao Dai faith, which combines elements of Buddhism, Christianity, Islam, Taoism, and Confucianism. Tourists are welcome to visit the temple and learn more about this faith, which has only a few devout adherents. 
To enter the temple, each Cao Dai practitioner wears a white robe with an additional sash to represent their previous religion. The temple is bright and colorful, with dragons flying up the banisters and a cloud mural hanging from the ceiling.
Địa điểm: 891 D. Tran Hung Dao, Ward 1, District 5, Ho Chi Minh City, Vietnam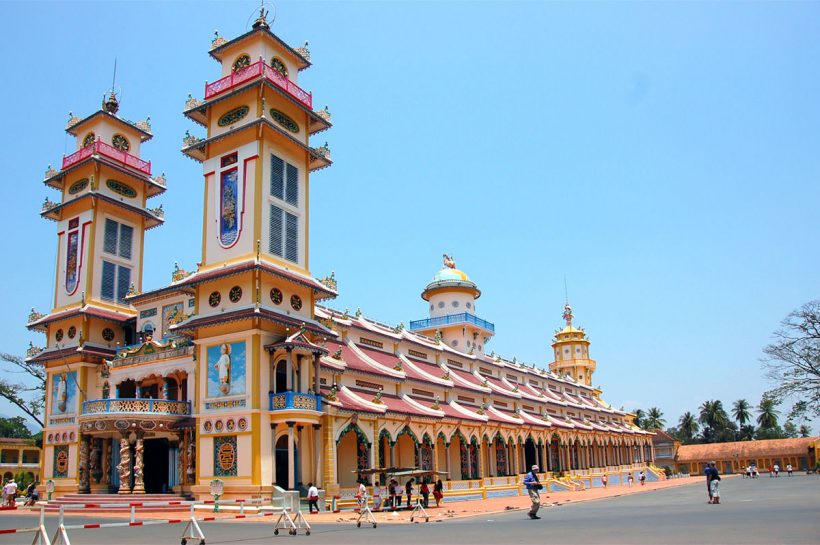 Jade Emperor Pagoda
In District 1, there is a Taoist temple.
The Jade Emperor Pagoda is one of Ho Chi Minh City's most revered temples. This Taoist temple, which was originally built by Chinese immigrants in 1909, also welcomes Buddhist worshippers.
The incense smoke hangs thick in the air, creating an eerie atmosphere. An exotic and timeless ambiance is created by intricate architecture, carvings, statues of Gods and Goddesses, and Chinese characters.
Address: 73 Mai Thi Luu Street, Da Kao, District 1, Ho Chi Minh City 700000, Vietnam
Opened: Daily from 7 am to 5 .30 pm
Tel: +84 (0)28 3820 3102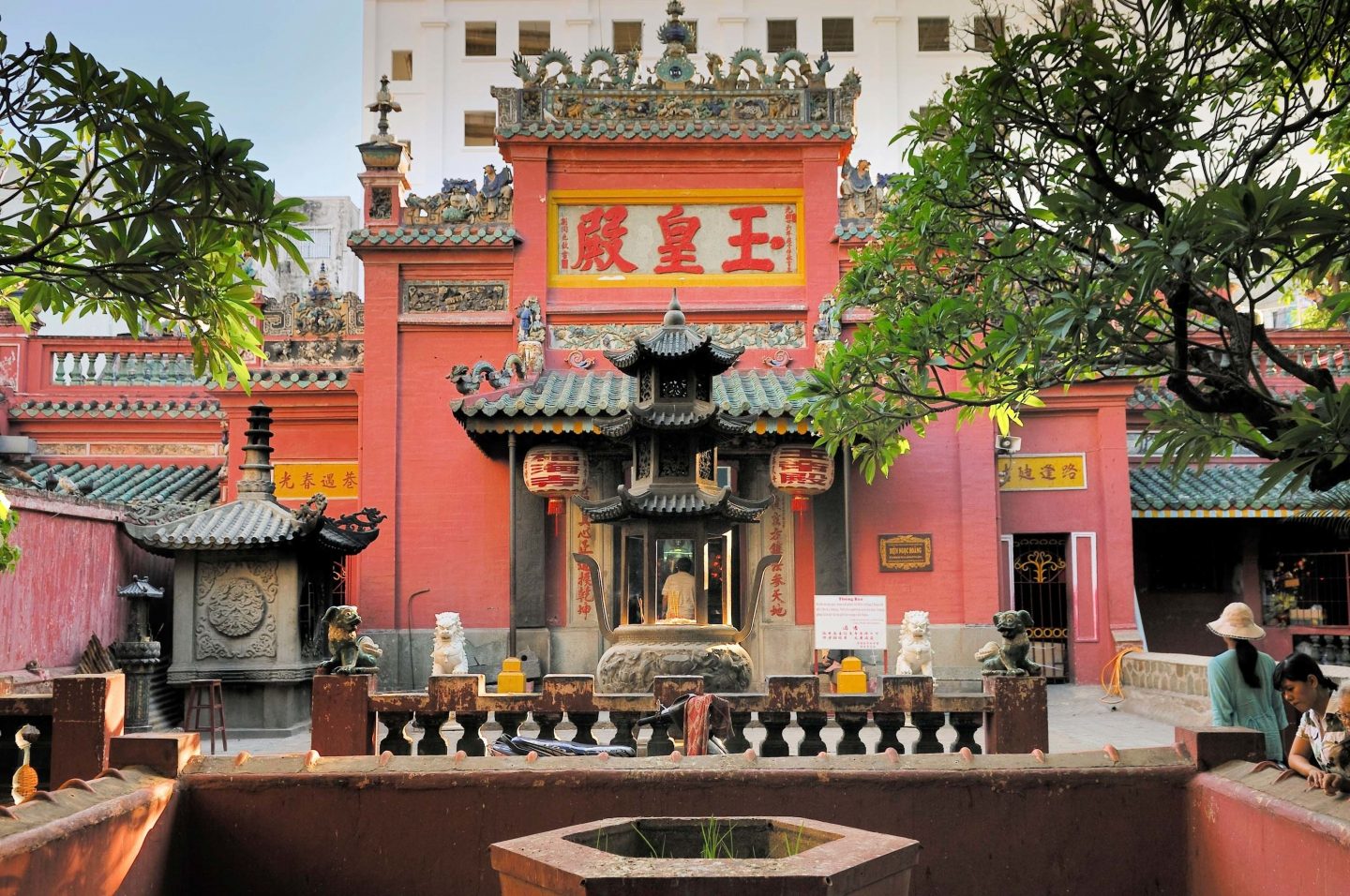 Bitexco Financial Tower
An observation deck is located on the top of a modern skyscraper.
The Bitexco Financial Tower in Ho Chi Minh City is an ultra-modern office tower with a distinctive oval extension that serves as a helicopter landing pad. With a sky deck offering 360-degree views of the city and surrounding area, this 68-story building is in Vietnam's tallest, standing at 262 meters.
The Bitexco Financial Tower also has a fantastic sky bar called Alto, where you can enjoy a cocktail and some tapas-style international dishes while taking in the sights of Ho Chi Minh City. Bring your camera and come up here for sunset.
Address: 2 Hai Trieu, Ben Nghe, District 1, Ho Chi Minh City 700000, Vietnam
Opened: Monday–Saturday from 8 am to 11 pm, Sunday from 9.30 am to 11 pm
Tel: +84 (0)28 3915 6161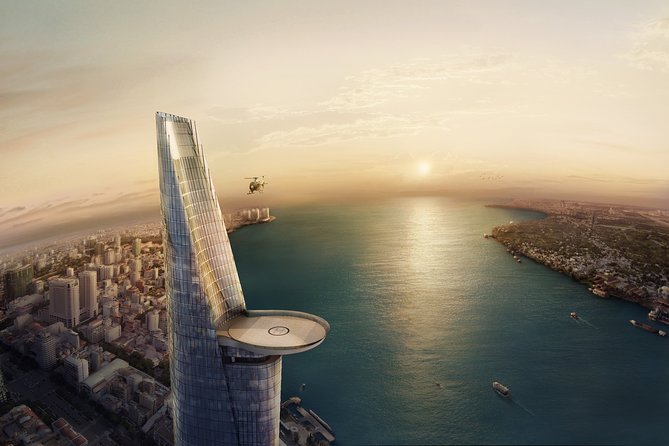 Reunification Palace
In Ho Chi Minh City, the Reunification Palace has been a part of some incredible scenes. It is known as the Allied Command Center and the site of the North Vietnamese victory in the Vietnam War. This is also a place worth visiting in your Cambodia and Vietnam itinerary
Since a North Vietnamese Army tank smashed through its gates in 1975, this aging palace has been effectively frozen in time. Secret rooms, grand reception halls, and the command bunker where General Ngo Dinh Diem planned his war strategies will all be revealed.
Address: 135 Nam Ky Khoi Nghia, Ben Thanh Ward, District 1, Ho Chi Minh City, Vietnam
Opened: Daily from 8 am to noon
Tel: +84 (0)28 3822 3652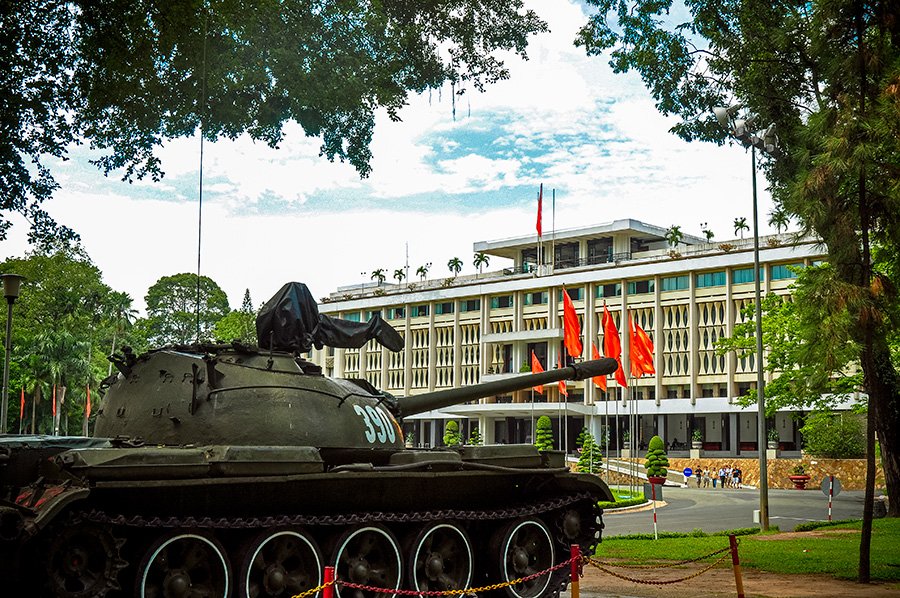 Saigon Central Post Office
An example of French colonial architecture that has been well preserved.
In the heart of Ho Chi Minh City, the Saigon Central Post Office is a magnificent example of French colonial architecture. It has been meticulously preserved and is as stylish as it was when it first opened in 1891. Sending a letter or postcard home is highly recommended for a taste of living history, as the building still serves as the city's main post office in your Cambodia and Vietnam itinerary.
This building, which is beautiful from any angle, was designed by Alfred Foulhoux, who also designed several other magnificent structures in Saigon.
Address: 02 Paris Commune, Ben Nghe, District 1, Ho Chi Minh City 70000, Vietnam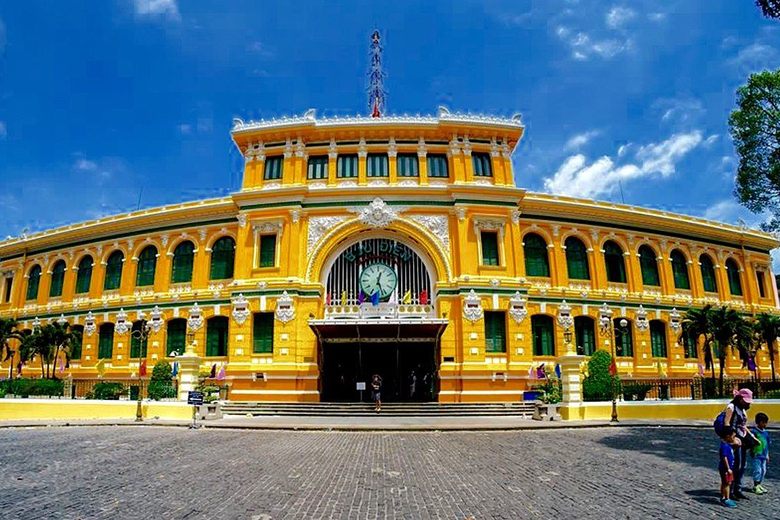 Goddess Mariamman Temple
Ho Chi Minh City's only active Hindu temple
The Goddess Mariamman Temple is a beautiful example of Hindu temple architecture that is bright and vibrant. The only active Hindu temple in Ho Chi Minh City, it serves as a community center for the city's small Hindu population.
Non-Hindus are welcome to visit the Goddess Mariamman Temple, which is open every day. Before entering the inner temple, remember to dress conservatively and remove your shoes.
Address: 45 Truong Dinh, Ben Thanh Ward, District 1, Ho Chi Minh City 70000, Vietnam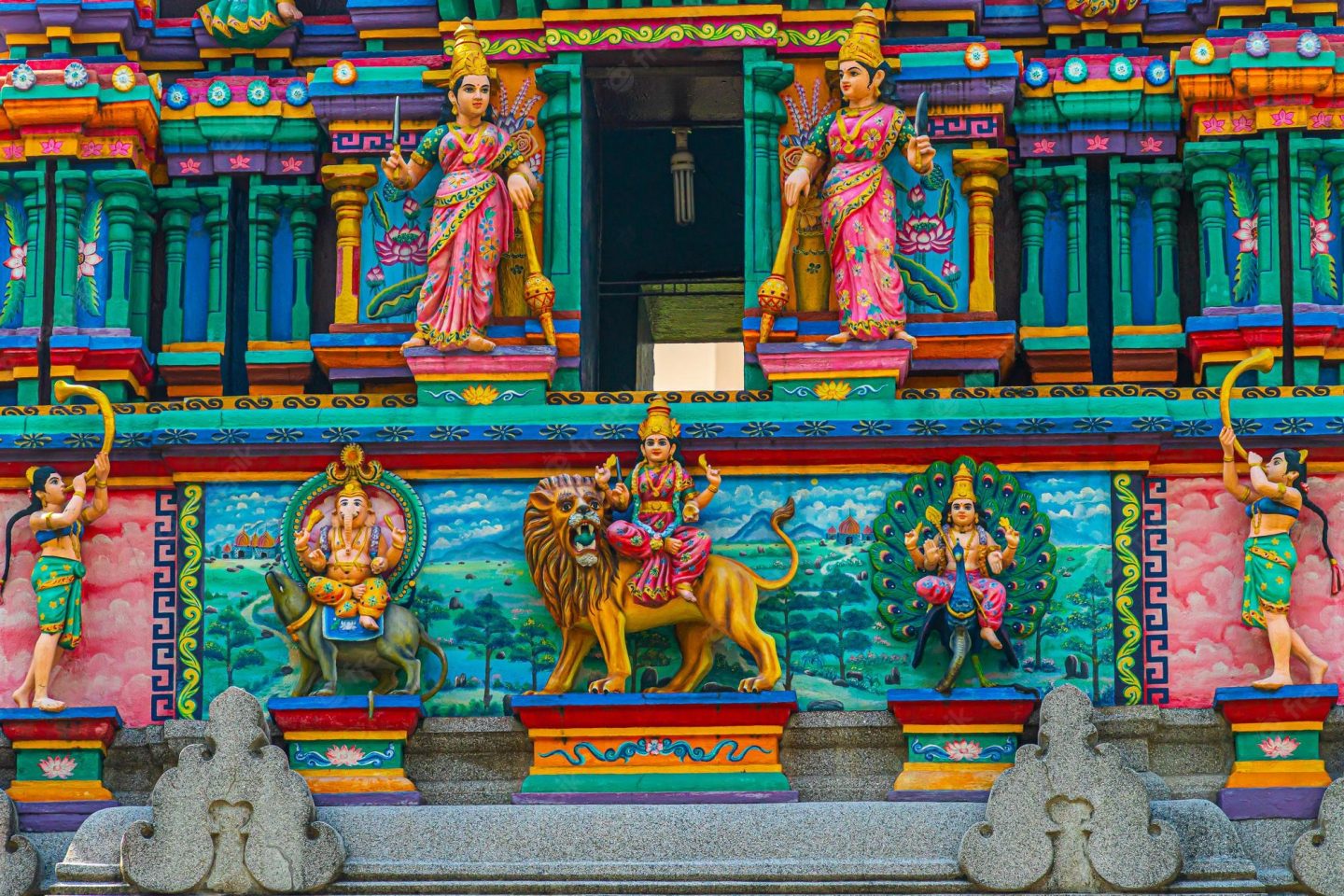 Notre Dame Cathedral of Saigon
In Paris Square, there is an impressive Catholic church.
In largely Buddhist Vietnam, the Notre Dame Cathedral of Saigon is one of the few remaining strongholds of Catholicism. It was built by French colonists in the late 1880s and is located in Paris Square. It was given its name after the Peaceful Notre Dame statue was installed in 1959.
A statue of the Virgin Mary stands in front of Saigon's Notre Dame Cathedral. In October 2005, locals claimed to have witnessed it crying. Thousands of visitors still flock to this statue in the hopes of witnessing a miracle, despite the Catholic Church of Vietnam's denial of the incident.
Address: 01 Paris Commune, Ben Nghe, District 1, Ho Chi Minh City, Vietnam
Opened: Daily from 6 am to 8 pm
Tel: +84 (0)91 412 22 29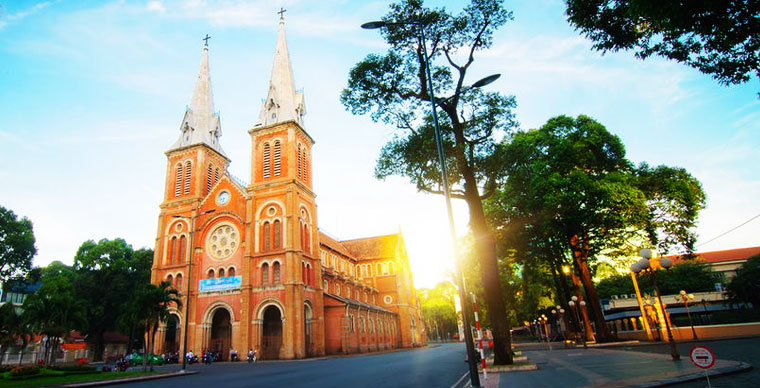 Da Lat – A Place Must Visit In Cambodia And Vietnam Itinerary
Famous tourist spots in Dalat
Dalat has many tourist attractions for visitors. However, the following are some of the best attractions you should not miss.
Elephant Falls – Linh An Pagoda
Location: Nam Ban town, Lam Ha district, 25 km to the southwest of Da Lat city. This fall is still keeping the original features and is waiting to be discovered by nature-lovers.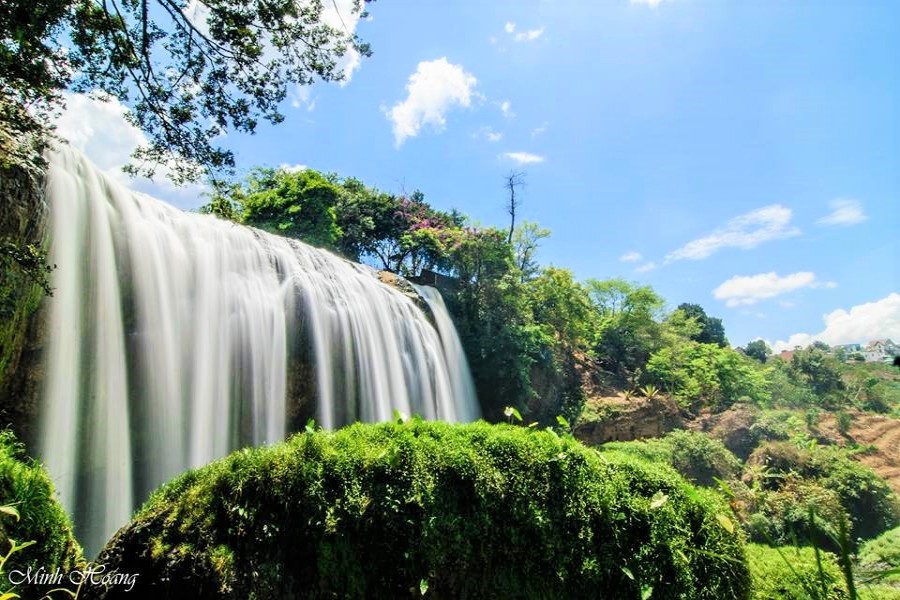 Tuyen Lam Lake
Location: 5 km far from Da Lat city center, on the way to Prenn Pass. It was created by the Tia stream – the headwater of Da Tam River.
Truc Lam Zen Monastery
Location: 5 km far from Dalat city center, being on Phung Hoang Mountain, next to Tuyen Lam Lake. The public quarters consist of a ceremonial hall, flanked by the bell tower on the right and guest facilities on the left. At the front of the guest facilities lies a rose garden.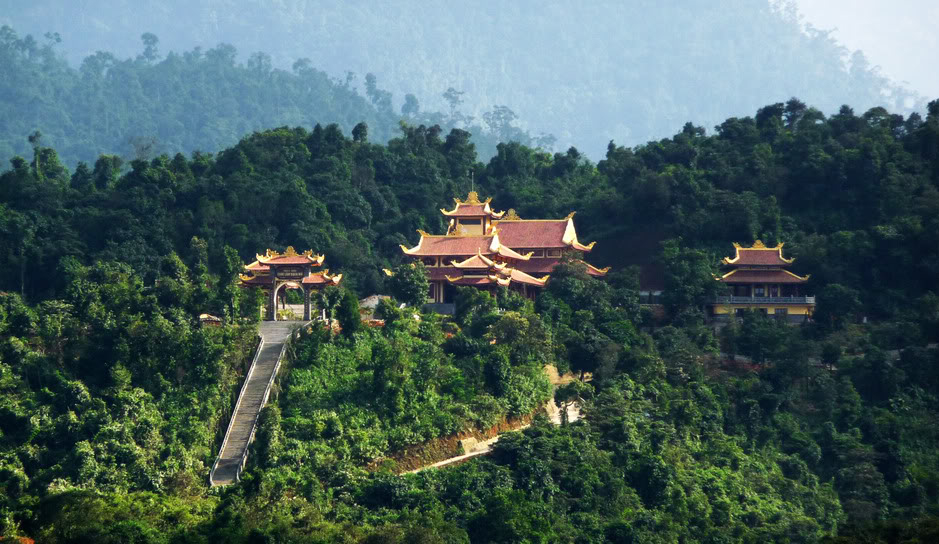 Datanla Waterfall
Location: Waterfall is located beside Prenn Pass, 10 km from Dalat City. The falls pour water from the rapids 20 meters high, very impressive. The roller coaster system at Datanla waterfall is regarded as the unique one in Dalat city.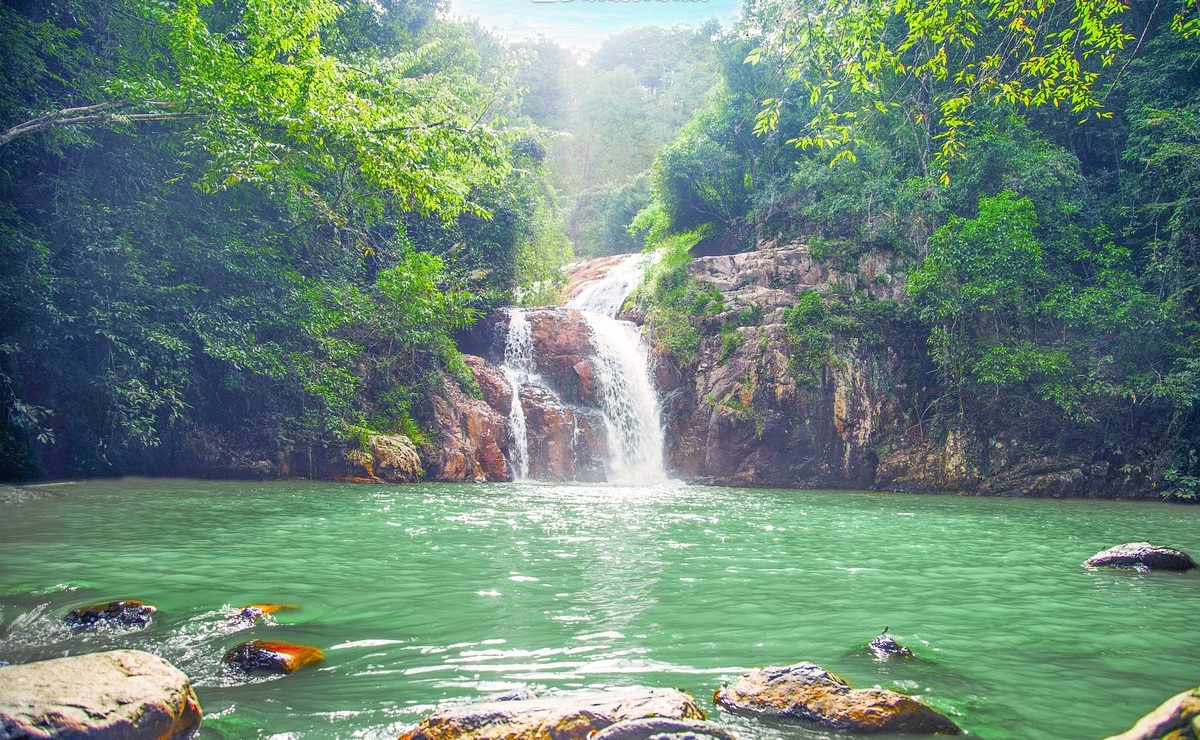 Bao Dai King Palace
Location: On Trieu Viet Vuong Street, 2.5 km south of Dalat center. Bao Dai's Palace is a charming structure with a European renovated architectural style that helps beautify this romantic city.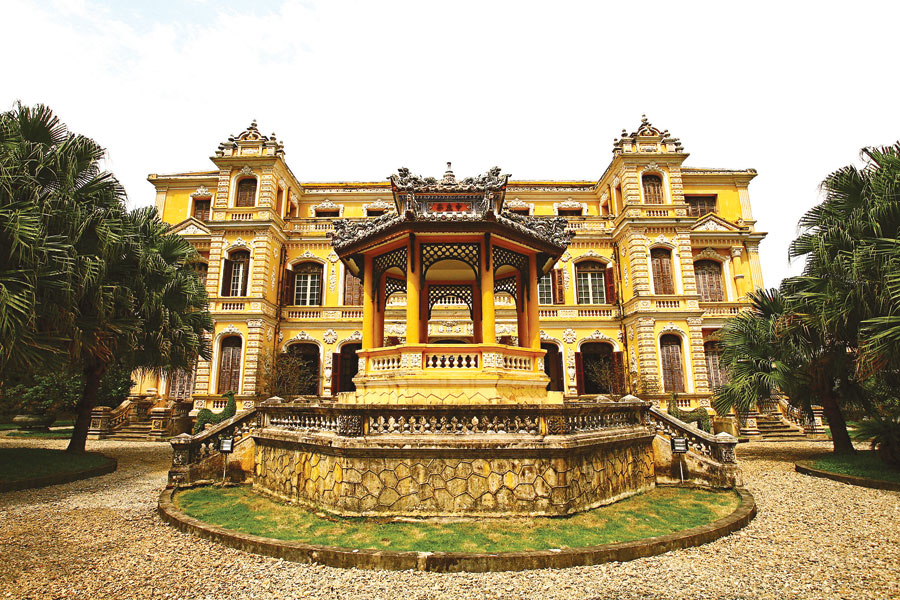 Love Valley
Location: 6 km to the northeast of Dalat city center. It has been one of the most picturesque and romantic sites in the city, with many deep valleys and endless pine forests. To truly appreciate the scenery is not hard because travelers can easily follow the natural tracks and staircases all around the valley to visit and admire the gorgeous flower gates and statues.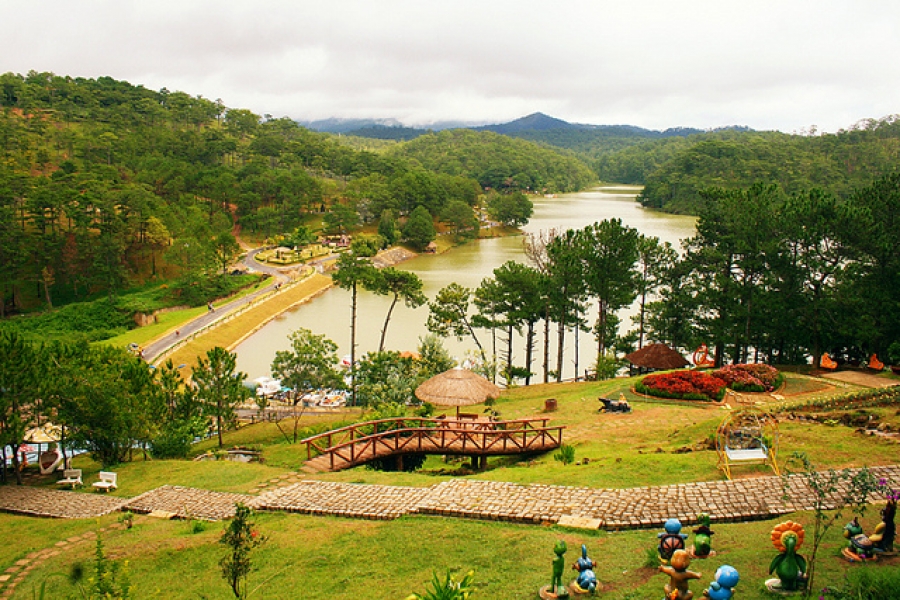 Golden Valley
Location: From the center of Da Lat, you follow the north to Lac Duong, turn left at km 7 in Tung Lam, you go further about 12 km to the Golden Valley and Golden Lake.
Lang Biang Mountain
Location: 12 km north of Dalat center. You will see the Lang Biang Mountains standing imposingly and beautifully like the roof of Dalat city. Legend says that the name Lang Biang was derived from the name of a couple who were deeply in love with each other – the boy named K'lang and the girl named Ho Biang.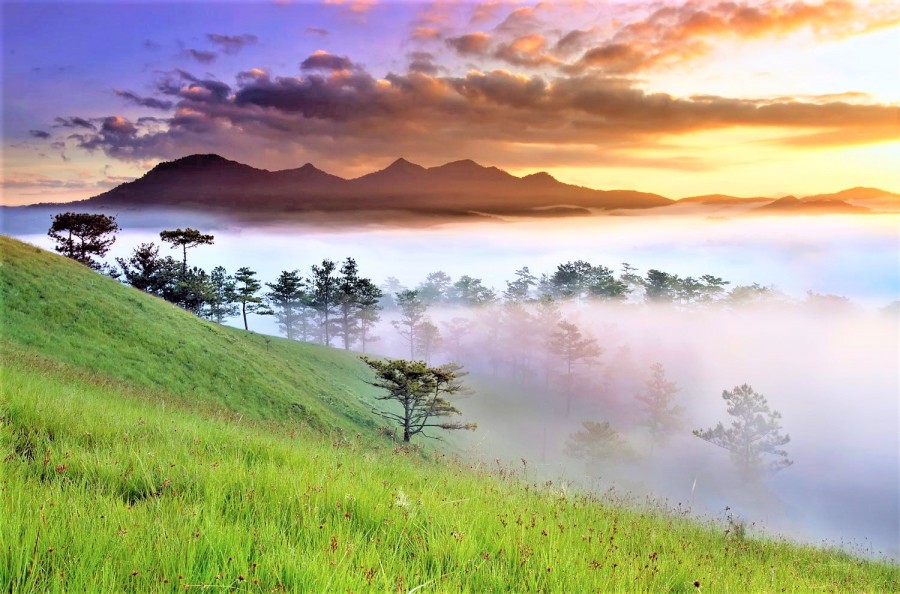 Dry Flower Showroom
Location: 6km to the north of the city center
Linh Phuoc Pagoda – Ceramic Pagoda
Location: 8 km to the east of the city center, you can take the train to DaLat Railway Station.
Van Thanh Flower Village
Location: 5 km from the city center to the west (on the way to Elephant Falls)
Da Lat travel tips
If possible, drive up the hill in the evening to see the Dalat lights in the romantic night mist (Dong Da Street, or 20 National Road on the way to Linh Phuoc pagoda).
If you go in a group, you can eat grilled porcupine on clay, "ta pin lu," and drink warm rice wine at Cu Duc restaurant (a little high priced, the meal for 6 people was 900,000 VND). Before you come here, you should think about it.
For 30,000 VND / 1 bicycle, you can rent a bicycle for three people or a tandem bicycle to ride around Xuan Huong Lake.
To avoid disappointment, avoid visiting Than Tho Lake – Lake of Sighs (visiting here may require you to "sigh" as the name suggests).
– Cam Ly Falls: locals litter indiscriminately on both sides of the river, destroying the beauty and causing a foul odor.
– Near the Valley of Love, motorbike taxi drivers frequently invite you to buy strawberries, but their strawberries are of poor quality and are expensive.
– If you want to buy Dalat specialties, go to the market; don't buy them on the street, in the tourist area (at the foot of Lang Biang Mountain), or in a shop (Phu Dong Thien Vuong Street).
For more information on tourism in Dalat, visitors can go to the tourist information center at 01 Khu Hoa Binh, Dalat City. Tel: 0263 3516 888.
Hoi An 
In and around Hoi An on your Cambodia and Vietnam itinerary., there are a variety of things to do.
There are many activities to enjoy in and around Hoi An, which is yet another reason to extend your stay. A bicycle or motorbike rental is the easiest to arrange, and it will allow you to see some of the beautiful surrounding countrysides; with a motorbike, you can even get to My Son. Hoi An Motorbike Tours and Phat Tire Ventures, respectively, organize fantastic motorbike and bicycle tours throughout central Vietnam.
Boat rides around the Thu Bon River are slightly more difficult to arrange (but not by much); crowded ferry boats leave from the market end of Bach Dang every thirty minutes, and you can haggle with sampan-rowers on the same road.
Then there's the option of taking cooking classes. A number of riverside restaurants offer these for around $10 per person, slightly more for those that include a trip to the market to purchase ingredients. The Lighthouse restaurant's classes are particularly noteworthy, as they include a bike tour to gather ingredients from the countryside.
Finally, from April to October, you can go diving around the Cham Islands.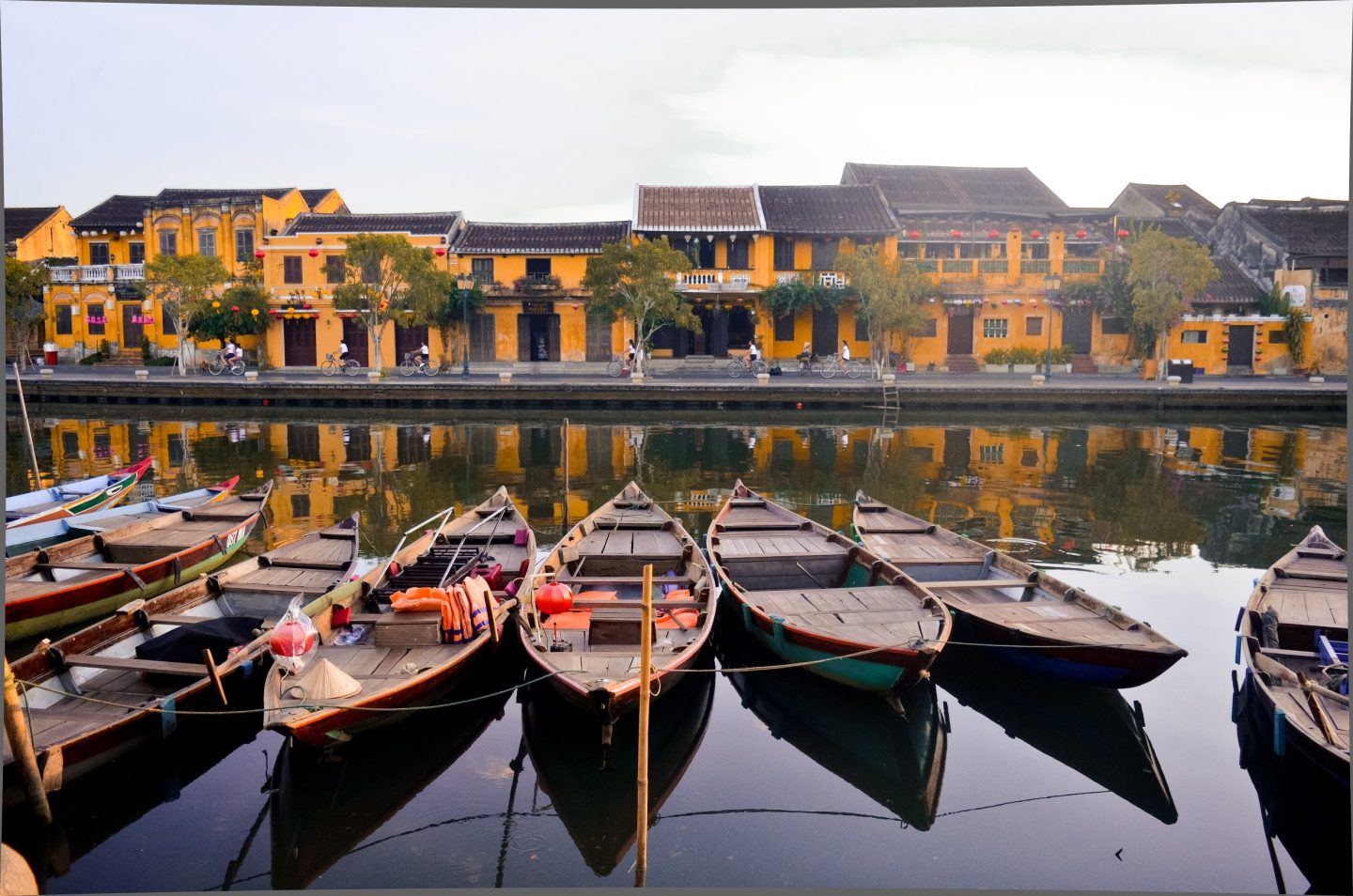 Arts and Festivals
Hoi An is becoming a center for the arts as a result of the influx of tourists. In a cramped room known as the Traditional Arts Theater, a delightful hour-long medley of traditional music and dance is performed most evenings. At the Hoi An Handicraft Workshop, folk musicians perform short concerts.
To celebrate the Full-Moon Festival, vehicles are banned from the town center once a month, colored silk lanterns replace electric lights, and shopkeepers don traditional costumes (the fourteenth day of the lunar calendar). It's a tourist event, but it's a great one: there will be traditional music performances, as well as food stalls selling regional specialties near the Japanese Bridge and along the waterfront.
People also float lanterns on the river during the Mid-Autumn Festival, a much larger event celebrated across China on the fourteenth day of the eighth lunar month. In recent years, Quang Nam province has held a week-long cultural heritage festival in Hoi An and My Son, featuring Cham dances and folk songs (usually in the spring, but dates vary).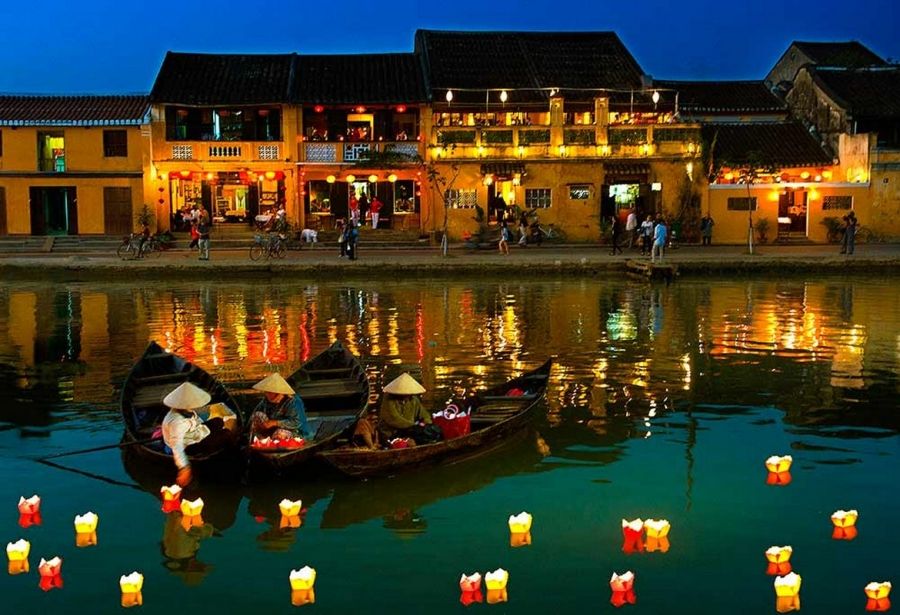 Fai Fo spring fair
The spring fair of FaiFo, the former name of Hoi An, had a measurable influence on the city of today, despite being long since suffocated by the sands of time. The event has grown from humble beginnings in the sixteenth century to an exotic showcase of world production. Silks and brocades, ivory, fragrant oils, fine porcelain, and a cornucopia of medicinal ingredients all came from Southeast Asia. The Europeans arrived in 1614 with textiles, weapons, sulfur, and lead, as well as the first Christian missionaries. Traveling merchants rented local lodgings and warehouses during the four-month fair; many went on to establish a more permanent presence by marrying Vietnamese women, who were (and still are) renowned for their business acumen.
Hoi An specialties
There are a variety of delectable specialties to try in Hoi An. The most well-known dish is Cao Lau, a delectable bowl of thick rice-flour noodles, bean sprouts, and pork-rind croutons in a light soup flavored with mint and star anise, topped with thin slices of pork and served with grilled rice-flour crackers or crispy rice paper. According to legend, the genuine article is made with water drawn from a local well. Banh bao, translated as "white rose," is a delicately flavored steamed manioc-flour parcel of finely diced crab or shrimp with lemon, sugar, and nuoc mam, complemented by a crunchy onion-flake topping that adds extra flavor. A popular local variation of Hoanh Thanh Chien (fried wonton) is made with shrimp and crab meat instead of pork. Mi Quang, a simple bowl of meat noodles enlivened with flavorful oils, a quail egg, and fresh sprigs of leaves is a less well-known (and one of the cheapest) dish. Few tourists order this dish, so your order may be met with surprise. Try Hoi An cake, banh it, triangular parcels made by steaming green-bean paste and strands of sweetened coconut in banana leaves to fill any remaining gaps.
Many restaurants in Hoi An serve these dishes, but the cheap, market-like area on An Hoi Island's eastern end is a good place to start. It's a very cute place, with each section labeled with the chef's name and stated specialty.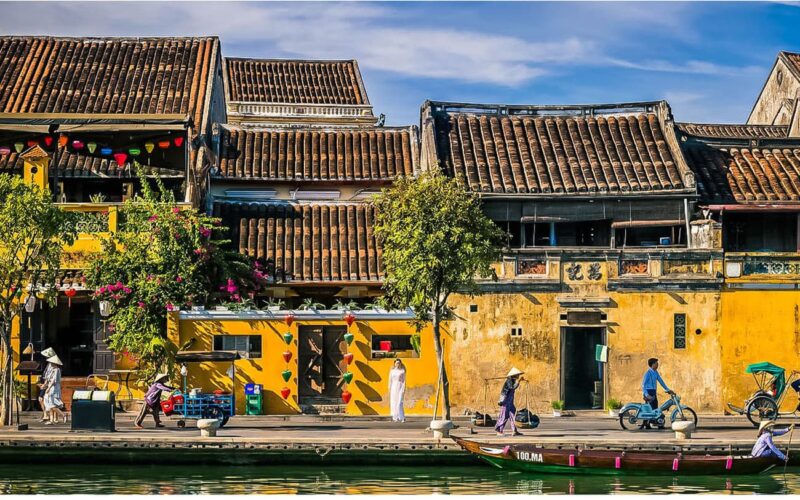 Uncovering Hoi An's architectural features
A mythical beast with a fish's body and a dragon's head can be found all over northern Vietnam, but it seems to have struck a particular chord with Hoi An's architects. A weather vane in the Phuoc Kien Assembly Hall is one of the most prominent examples, but there are plenty of more traditional representations carved into lantern brackets and beam ends or forming the beams themselves. The carp represents prosperity and success, and its transformation into a dragon serves as a reminder that nothing in life is easy. A fish must pass through three gates to become a dragon and thus achieve immortality, just as a scholar must pass three exams to become a mandarin, which requires a lot of patience.
"Eyes" guarding the entrance to a house or religious building are another common feature of Hoi An's architecture. Two thick wooden nails, each about 20cm in diameter, are driven into the lintel as protection against evil forces, as is customary in northern Vietnamese pagodas. The most ornate examples can be found in assembly halls: Phuoc Kien's features a yin and yang with two dragons bowing to the sun, while the Cantonese version features a terrifying tiger. The yin and yang symbol gained popularity in the nineteenth century and is now the most common image on houses, sometimes set in a chrysanthemum flower, as at the Tan Ky House, or as an octagonal talisman representing eight charms.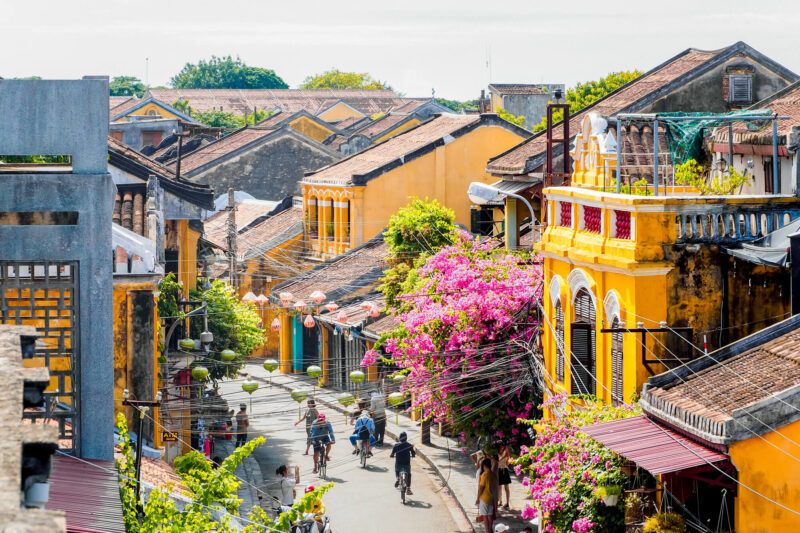 Around Hoi An
From Hoi An, you can ride your bike along meandering paths to Cua Dai Beach or take a sampan to one of the Thu Bon River's islands. River tours take you to low-lying estuarine islands and the craft villages that line their banks, as well as the distant Cham Islands, which are known for their sea swallow nests.
My Son
My Son, Vietnam's most evocative Cham site, is located 40 kilometers southwest of Hoi An, in a bowl of lushly wooded hills dominated by Cat's Tooth Mountain. My Son may not be the Vietnamese equivalent of Angkor Wat, but it is now listed on the UNESCO World Heritage List and deserves to be on the tourist map. The riot of vegetation that engulfed the site until recently has been cleared away, but the moldering ruins retain a tangible sense of faded majesty, enhanced by the assorted lingam and Sanskrit stelae strewn about and the isolated rural setting, whose peace is broken only by wood-gatherers who trace the paths around the surrounding coffee and eucalyptus glades. The groups of buildings labeled B, C, and D deserve your attention the most: by looking at them, you can imagine how a functioning temple complex would have looked in My Son's heyday with a little imagination.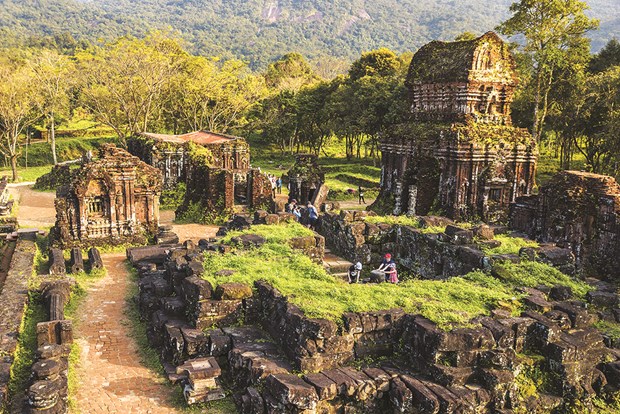 Hue 
What To Do In Hue?
The most practical option is to hire a driver and a guide for a half or full-day. In this early part of the planet, there is a lot to see. In Hue, Origin Travel offers Vietnam land tours. That pagodas and tombs can be found almost anywhere in Hue, making it an ideal place to visit and satisfy your appetite.
Furthermore, these websites will not only provide you with the appropriate entertainment. They will, however, prompt you to reflect on Hue's culture and traditions.
The Citadel Or Forbidden Purple City
Hue's Citadel is probably the most well-known historical site in the city. You can't call it early because it's old. During the reign of the first Nguyen Dynasty ruler, the construction of the palace began in 1805.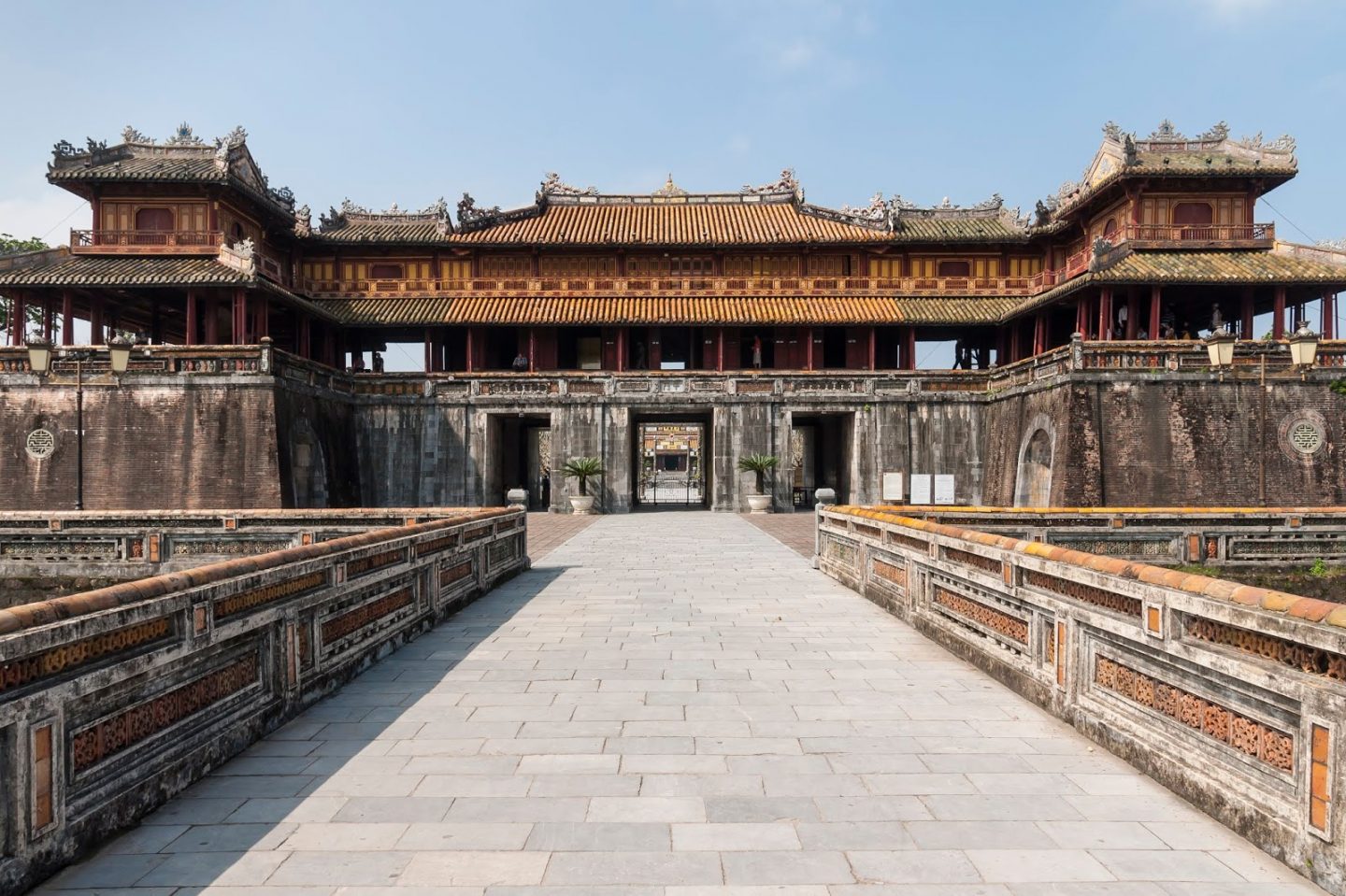 The Complex Of Kings' Tombs
In Hue, there are numerous tombs worth visiting. Six of them are now open to the public for exploration. There is an entrance fee for Gia Long, Minh Mang, Tu Duc, Thieu Tri, Khai Dinh, and Dong Khanh. Each one has its own distinct beauty and architectural style. The majority of them are in Oriental style, with the exception of Khai Dinh's tomb, which is a mix of Western and Oriental styles.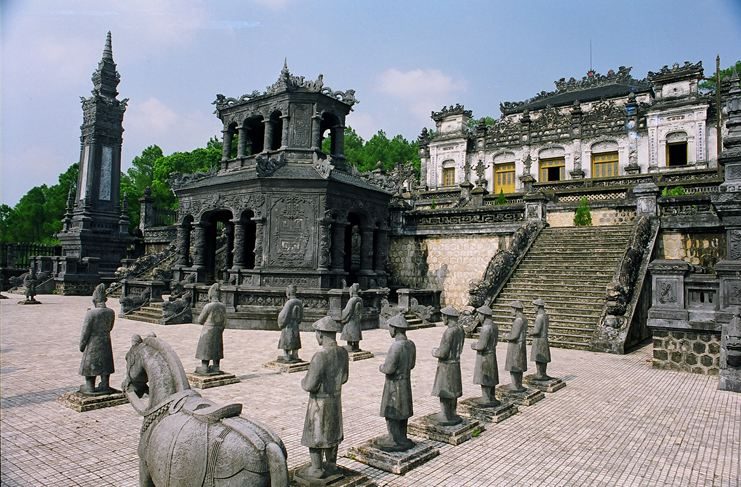 Thien Mu Pagoda
Thien Mu Pagoda, also known as Linh Mu Pagoda, is one of Hue's oldest temples and a good example of religious architecture. Visiting the Pagoda as part of a Hue City Tour that includes a boat cruise along the lovely Perfume River. In fact, Hue is known as the "Land of Pagodas," and visitors will see pagodas all over the city. A few pagodas can be seen within a few meters.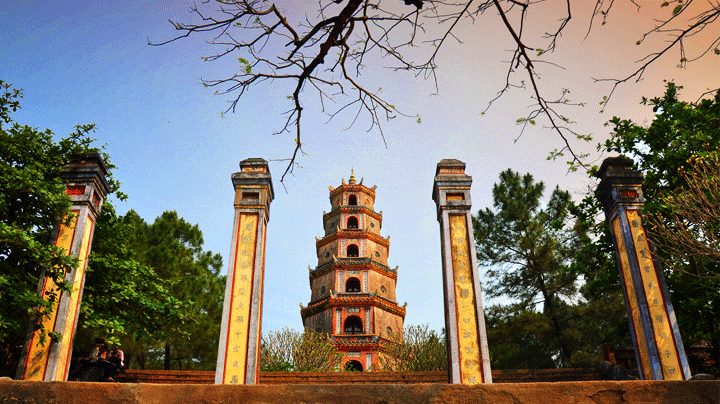 Elephant Springs
Elephant Springs should be a must-see for anyone visiting this part of the world in search of natural beauty.
It's a spectacular natural spring about 53 kilometers from Hue that'll leave you speechless.
On hot days, visitors enjoy cooling off in the natural pool beneath a small waterfall. It is best to visit this location on weekdays if you are looking for privacy. You'll enjoy the solitude, but keep in mind that you won't be able to eat because the food stalls are only open on peak days.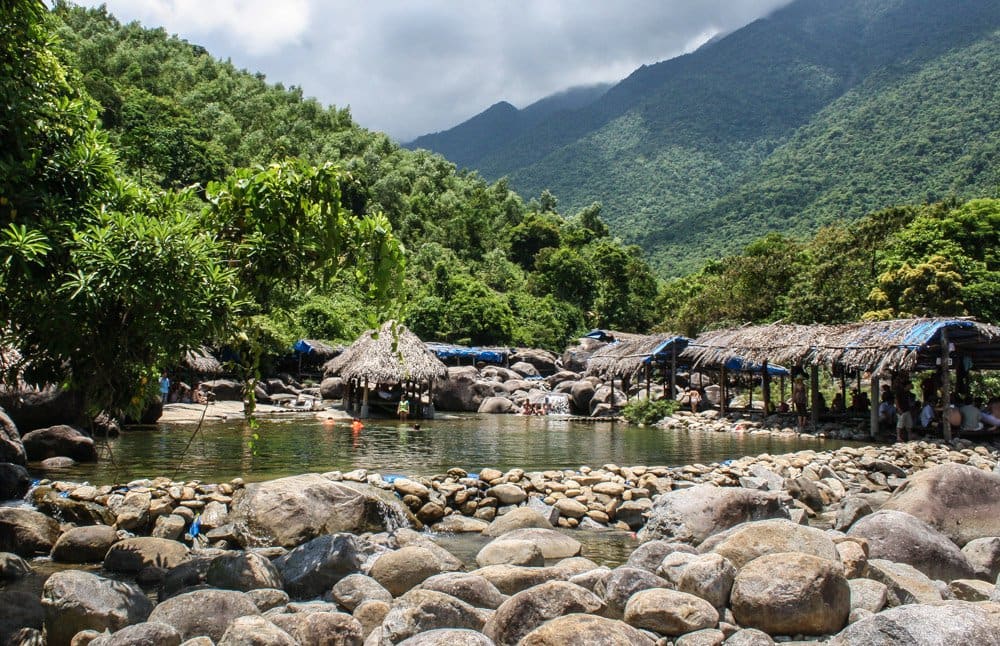 Thuan An Beach
If you don't mind traveling 15 kilometers from Hue, Thuan An Beach is a fantastic option for your Cambodia and Vietnam itinerary.. This lovely stretch of sand on the East Sea is ideal for family fun or relaxation.
On the beach, however, you will not receive the best service. You'll be able to get an umbrella and chairs to relax and enjoy the sea, sand, and scenery.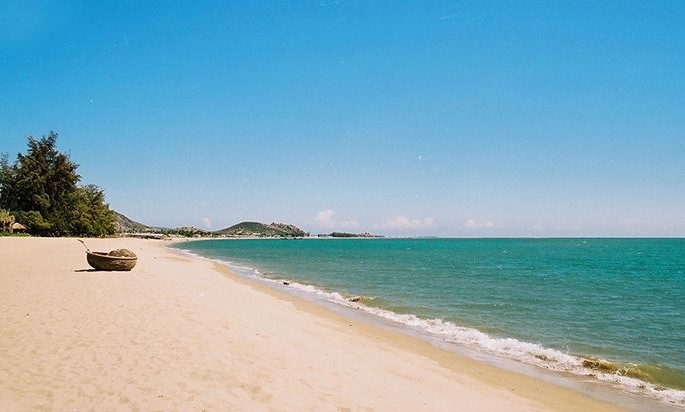 Countryside Villages
Make a full day of it by visiting the beautiful villages that surround Hue city, such as Phu Mong Garden Houses, Phuoc Tich Garden House, and Ceramic Village, Phu Cam conical hat making, Thuy Bieu eco-tourism, Huong Long eco-tourism, and so on.
Hanoi 
THINGS TO DO IN HANOI
Explore Historical Hanoi
Hanoi is a fascinating city for your Cambodia and Vietnam itinerary. It may be old and crumbling in places, but it's a city full of personality. It's a fun place to walk around because of the abundance of French colonial architecture, lakes, and tree-lined boulevards. Unlike Saigon, it's a very walkable city that takes about two days to explore.
You can use our Hanoi itinerary to help you decide which attractions to see. You can easily explore Hanoi on your own, but if you prefer, you can book a guided tour through Klook or Get Your Guide.
Temple of Literature, Hanoi, Vietnam
An inside look at the Hoa Lo Prison, also known as the "Hanoi Hilton." This former prison was used by French colonists for political prisoners, then by North Vietnam for US prisoners during the Vietnam War. It is now a museum.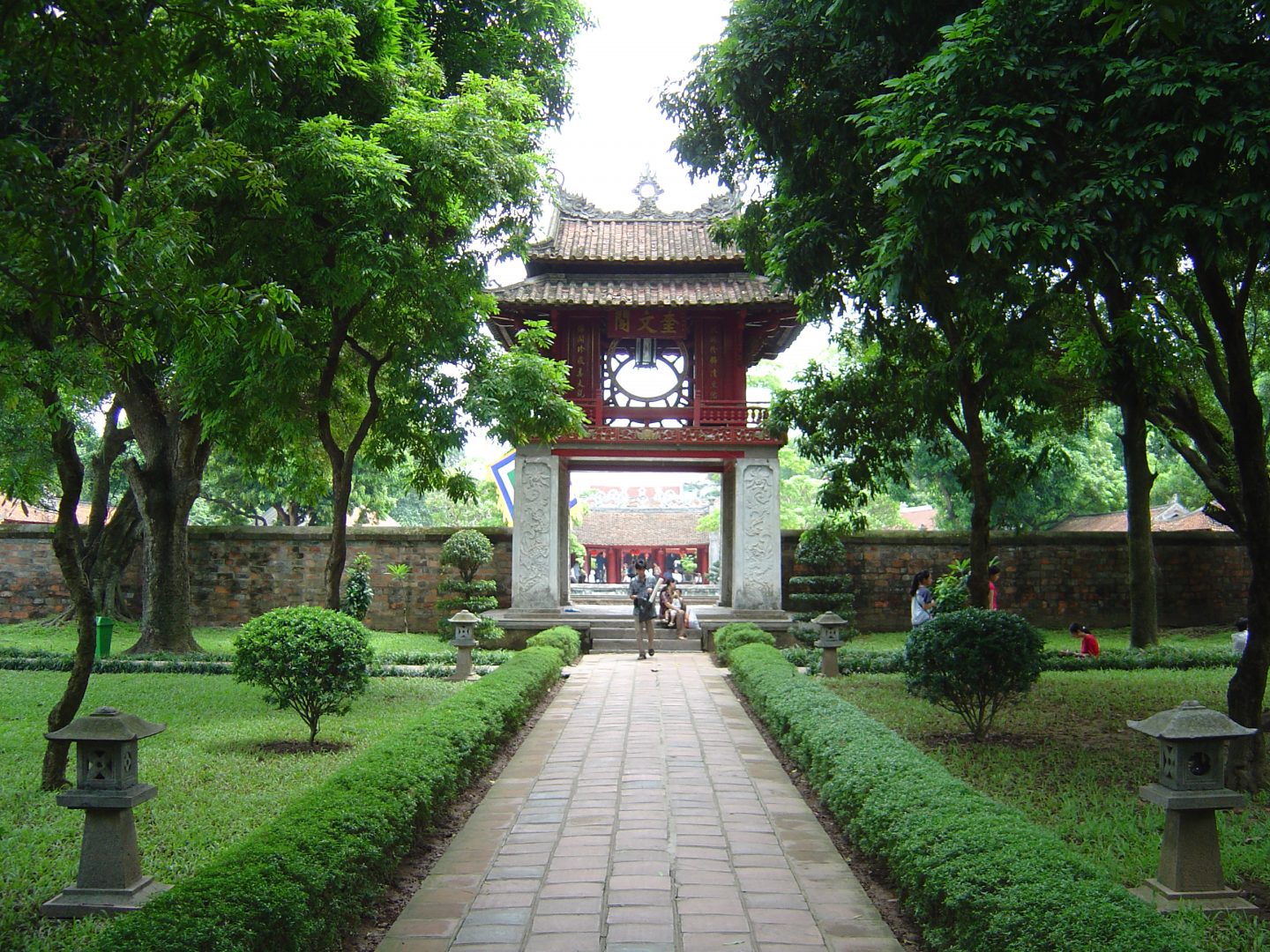 Hoa Lo Prison, Hanoi, Vietnam
Estimated Time to Spend: Full Day
Admission: Various (per attraction)
Take a Selfie on Train Street
Ordinary train tracks have become a popular tourist attraction in Hanoi on your Cambodia and Vietnam itinerary, which I find strange, but that is exactly what has happened on Train Street. We can probably thank Instagram for that.
You may have seen photos on social media of these train tracks running through a narrow residential corridor. Cafes have sprouted on both sides of the track due to their popularity. I believe there will be clusters of cafes along the tracks at various points, but the photos below were taken near my Airbnb, between Ly Nam De and Phung Hung Streets. Every day on my way to and from the Old Quarter, I'd pass these tracks.
The tracks are easy to find and visit on your own, but if you're a serious Instagrammer who wants to be taken to some of Hanoi's most beautiful spots, this Hanoi Instagram tour might be for you. On a motorbike, you'll be taken to some of Hanoi's most Instagrammable locations, including Long Bien Bridge, Phung Hung Mural Street, and Train Street.
Hanoi train tracks, Vietnam
Take a look at the sign below. Because these are active train tracks with the potential for danger, it's unusual to see cafes with outdoor seating on either side. Although I was never present when a train passed through, trains do pass through these tracks on a daily basis. I'm interested to see how people react when this occurs. Do the tables and chairs get packed up? The train appears to be able to pass through the narrow corridor.
The situation is getting out of hand, according to this CNN article, so the local government is forcing these cafes to close. It remains to be seen whether or not this is implemented. The trains that pass through here transport both passengers and cargo between Hanoi and Haiphong, in case you were wondering.
Watch a Water Puppet Show
If you want to see a cultural show that is unique to your Cambodia and Vietnam itinerary., go to Thang Long Water Puppet Theater and see a water puppet show. You'll be treated to an hour-long performance of water puppets reenacting Vietnamese folktales and legends, accompanied by a live orchestra, near Hoan Kiem Lake.
I bought tickets at the gate for a show the next day, but if you'd like to see a show as part of a tour, perhaps with a guide explaining it to you, these Hanoi city tours from Klook and Get Your Guide might be of interest. They're given tickets to a water puppet show at the end.
Thang Long Water Puppet Theater, Hanoi, Vietnam
Length of Show: About 1 hr
Admission: Starts at VND 100,000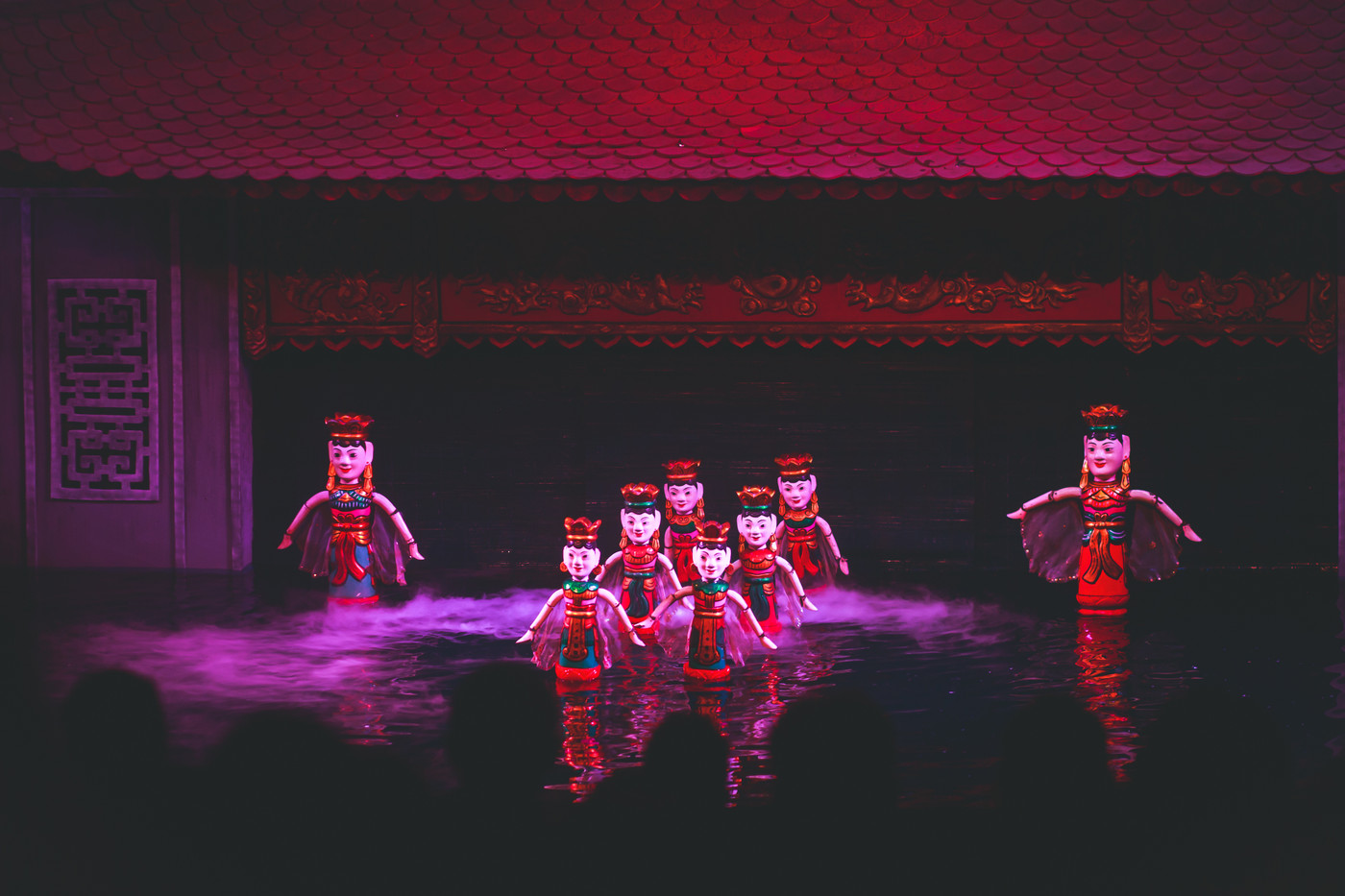 Blend in at Phung Hung Mural Street
Another popular backdrop for your Cambodia and Vietnam itinerary is Hanoi, and one of the stops on the Instagram tour mentioned earlier. This wall, which runs parallel to Train Street and is located on Phung Hung Street, has approximately 20 murals depicting scenes from everyday Vietnamese life. They're painted realistically, with actual-size figures, so they appear almost lifelike in your photos.
When it comes to Instagram, if you really want to up your game, rent a Vietnamese ao dai dress and a Non La hat. They'll result in much better photographs.
Go on a Food Tour
There's no better way to get a taste of the local cuisine than by taking a food tour. I've gone on food tours all over the world, and they always take you to hidden gems that aren't easily found on Google. On my most recent trip to Hanoi, I went on two street food tours, both of which were fantastic.
On a Hanoi street food tour with Backstreet Academy, I tried this green papaya salad with Chinese-style beef jerky. It's a 2.5-hour eating spree that takes you to some of Hoan Kiem's best local haunts to sample classic Vietnamese dishes such as pho, ca cuon, and banh goi. More pictures and information about this Hanoi street food tour can be found in my article. If you enjoy it, you can reserve a spot on the tour directly through Backstreet Academy.
Hanoi Street Food Tour
The second food tour I took was with A Chef's Tour on my Cambodia and Vietnam itinerary., which was a fascinating chef-led food and market tour. It begins at 4 a.m. and takes you to three of Hanoi's busiest markets at their busiest hours. If you like street photography as much as you like street food, you'll want to join this tour. Aside from leading this tour, the chef also teaches a popular cooking class in Hanoi.
Check out Klook and Get Your Guide if you want to sift through even more food tours. There are a plethora of options!
Go on a Coffee Tasting Tour
Vietnam is the world's second-largest coffee producer, trailing only Brazil. They make excellent coffee, which is why I recommend taking a coffee tasting tour there. In Vietnam, I visited as many cafes as I could, but the coffeehouses in Hanoi were the most interesting to me. Ca phe trung, or egg coffee is one of the city's most well-known homegrown coffee creations.
It's simple enough to go cafe hopping on your own, but if you prefer a guided tour, Backstreet Academy's coffee lovers walking tour may be of interest. I was taken to three of the city's oldest cafes to sample unusual coffee blends such as egg coffee, yogurt coffee, and cinnamon coffee. That's why you must try coffee in your Cambodia and Vietnam itinerary
Coffee Lovers Walking Tour in Hanoi, Vietnam
Length of Show: About 3 hrs
Cost: USD 26
Take a Cooking Class
We had so much fun in Hoi An taking this cooking class that we now try to take one on every trip. As much as we enjoy visiting restaurants and taking food tours, nothing beats taking a cooking class to learn more about the local cuisine. It's like peering under the hood of the cuisine.
Cooking is an online booking service that specializes in one-day cooking classes. Cooking classes are available in many cities around the world, including Hanoi. I don't think there's a better place to find a cooking class when traveling than Cookly, because they focus solely on cooking classes. To see their list of cooking classes in Hanoi, click on the link.
As previously mentioned, Chef Duyen, who also runs a popular cooking class in Hanoi, led one of the food tours I went on. You should take her cooking class in Hanoi because she's energetic and knows her stuff.
This is the end of Cambodia and Vietnam itinerary that we recommend for you. If you have any questions, feel free to contact us via: https://mettavoyage.com/contact-us/