Vietnam is a full-fledged assault on the senses, surprising, interesting, and bewildering all at the same time. It's a country with frenzied metropolises and peaceful beach towns, towering skyscrapers and centuries-old temples, fine dining, and simple street food.
While the sights, sounds, and smells of this high-octane country may initially overwhelm you, give it a chance and you'll quickly see why Vietnam is one of Southeast Asia's most captivating places
Are you ready for a Vietnam itinerary north to south? Here's how you spend a quintessential Vietnam North to South itinerary. Let's get a plastic stool and prepare for an invasion of motorbikes.
With the exception of the United Kingdom and a few other nations, you will almost certainly require a visa to enter Vietnam. You can apply for a visa at a Vietnamese embassy or consulate near you, or you can apply for an e-visa online (which is a cheaper and faster option). See new restrictions here.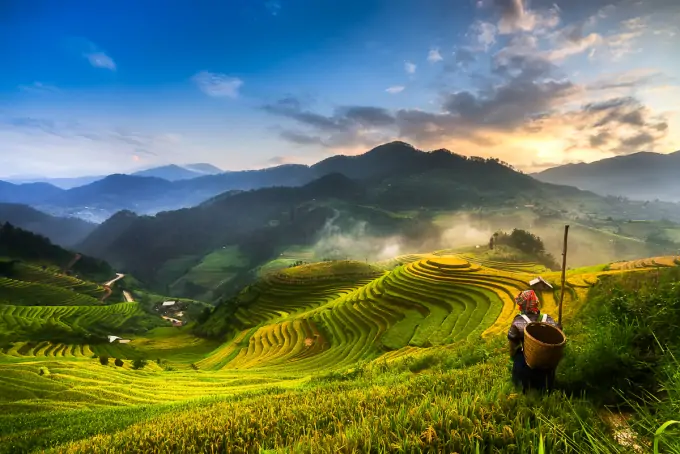 1. Traveling in Vietnam
You can travel through Vietnam in one of two directions, thanks to its long, serpentine shape: north to south or south to north. Both the south (Ho Chi Minh City) and the north (Hanoi) have significant airports, so you can begin your Vietnam north-to-south itinerary in any city.
If you're flying in from another country, your journey will most likely begin at Ho Chi Minh City (HCMC), which is home to Vietnam's largest airport and main flight hub. You can simply begin your adventure in either Hanoi or HCMC if you arrive in Vietnam from another Southeast Asian city.
In Vietnam, trains and buses are two of the most prevalent and cost-effective modes of transportation. Coaches with air conditioning run between all of the popular backpacker locations, while trains are the favored means of transportation for longer overnight journeys.
Domestic flights in Vietnam are also quite cheap, and they're generally the best option for those long journeys (like between Hoi An and Hanoi, for example). For internal trips, Vietnam Airlines and Jetstar Pacific are two dependable low-cost carriers.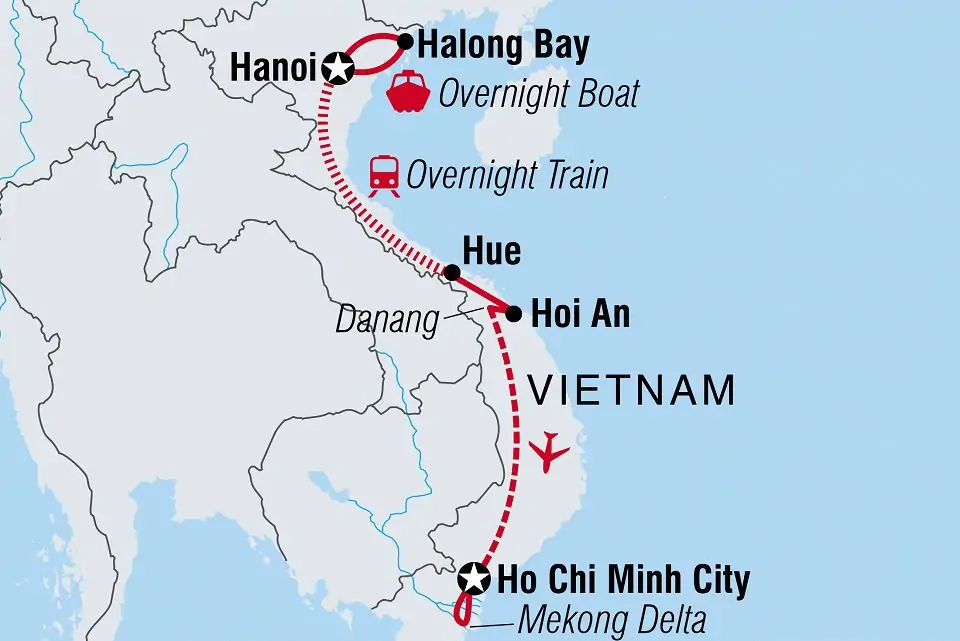 2. Vietnam Itinerary North to South for two weeks
This tour, which begins in HCMC and ends in Hanoi, will take you to some of the country's most intriguing cities and breathtaking natural treasures. It's not a comprehensive schedule, but it'll give you a good idea of what to see on your first visit if you just have two weeks.
Each destination has a suggested duration of stay, but you can tailor this route to your individual interests and tastes. When planning your trip, don't forget to include additional travel time!
Traffic on the streets of Hanoi, Vietnam, captured in bokeh.
3. Hanoi
2–3 days is the recommended length of stay in Vietnam's north to South itinerary.
3.1. Where to visit?
Walking through Hanoi's maze of winding alleyways is the greatest way to get to know the city. Begin your exploration in the Old Quarter, the city's historic heart and commercial core, where you can gain your bearings and see sights like Dong Xuan Market and Bach Ma Temple.
Hoan Kiem Lake is another must-see attraction in the neighborhood; local Vietnamese students are eager to see tourists and practice their English, so don't be shocked if you're approached by numerous people for a friendly talk.
When hunger strikes, order a hot bowl of "Bun Rieu Cua" or "Banh Cuon" (crab noodle soup with tomato and tofu) (rice-flour pancakes stuffed with minced pork and black mushrooms). "Ca Phe Trung" (egg coffee), a Hanoi specialty created with coffee and a creamy, custard-like mixture of sweetened condensed milk and egg yolks, is a delectable way to end your meal.
After the sun sets, head to Bia Hoi Corner, or Beer Corner, a renowned nightlife hotspot at the intersection of Ta Hien and Luong Ngoc Quyen, as the people do. Shops and eateries provide freshly produced lager to individuals perched on little plastic chairs that flow out onto the street in this busy hotspot. What is Bia Hoi Corner's best feature? A glass of draught beer costs only 5,000 VND (0.17 GBP/0.20 USD) per glass.
Hanoi is also an excellent starting point for trips to Halong Bay, Sapa, and the country's hilly north.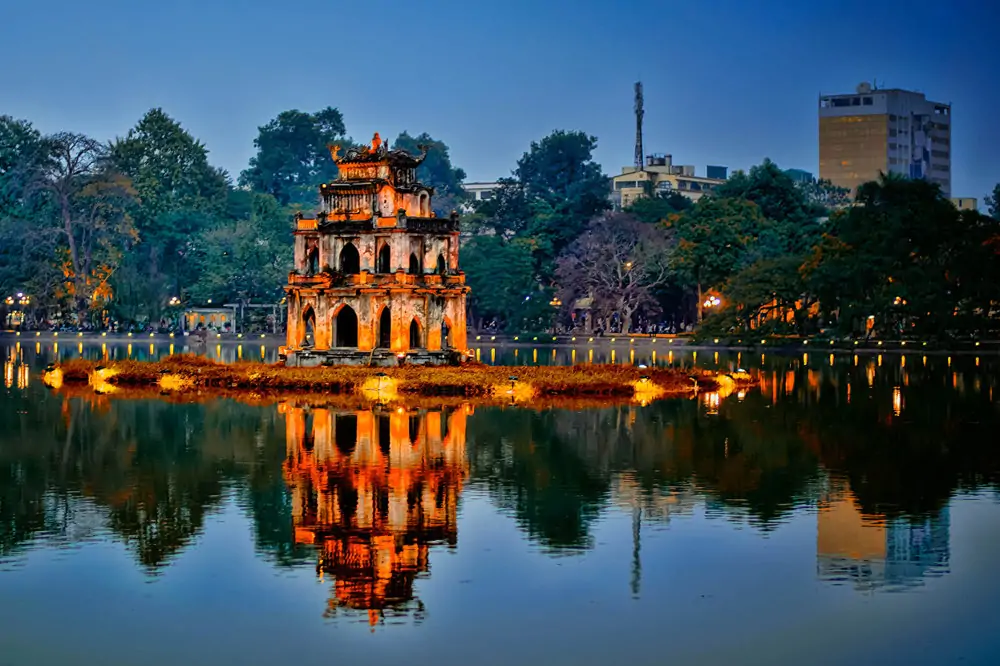 3.2. The best things to do in Hanoi:
On a food tour, delve into the city's famed culinary scene.
Experience Hanoi has a thriving coffee culture.
A long walk around Hoan Kiem Lake, including the Temple of Literature, Ho Chi Minh Mausoleum, and the Imperial Citadel of Thang
Bia Hoi Corner Shop in Hanoi's night market is a great place to get beer and mingle with the locals.
Sitting on the street in Hanoi, Vietnam, eating and drinking beer.
3.3. Where to stay?
Hanoi has lots of hotels from 2 to 5 stars, homestays, motels,… The best choice for tourists is to stay at a hotel in the center of the capital, it'll let you easily move around Hanoi. Some hotels with good condition and service we could recommend for you are:
Capella Hanoi: 11 Ward Le Phung Hieu, Trang Tien, Hoan Kiem, Hanoi 100000 VND
La Belle Vie Hotel Hanoi: 105 Nguyen Truong To, Quan Thanh, Ba Dinh, Ha Noi
Meliá Hanoi : 44 Ly Thuong Kiet, Tran Hung Dao, Hoan Kiem, Ha Noi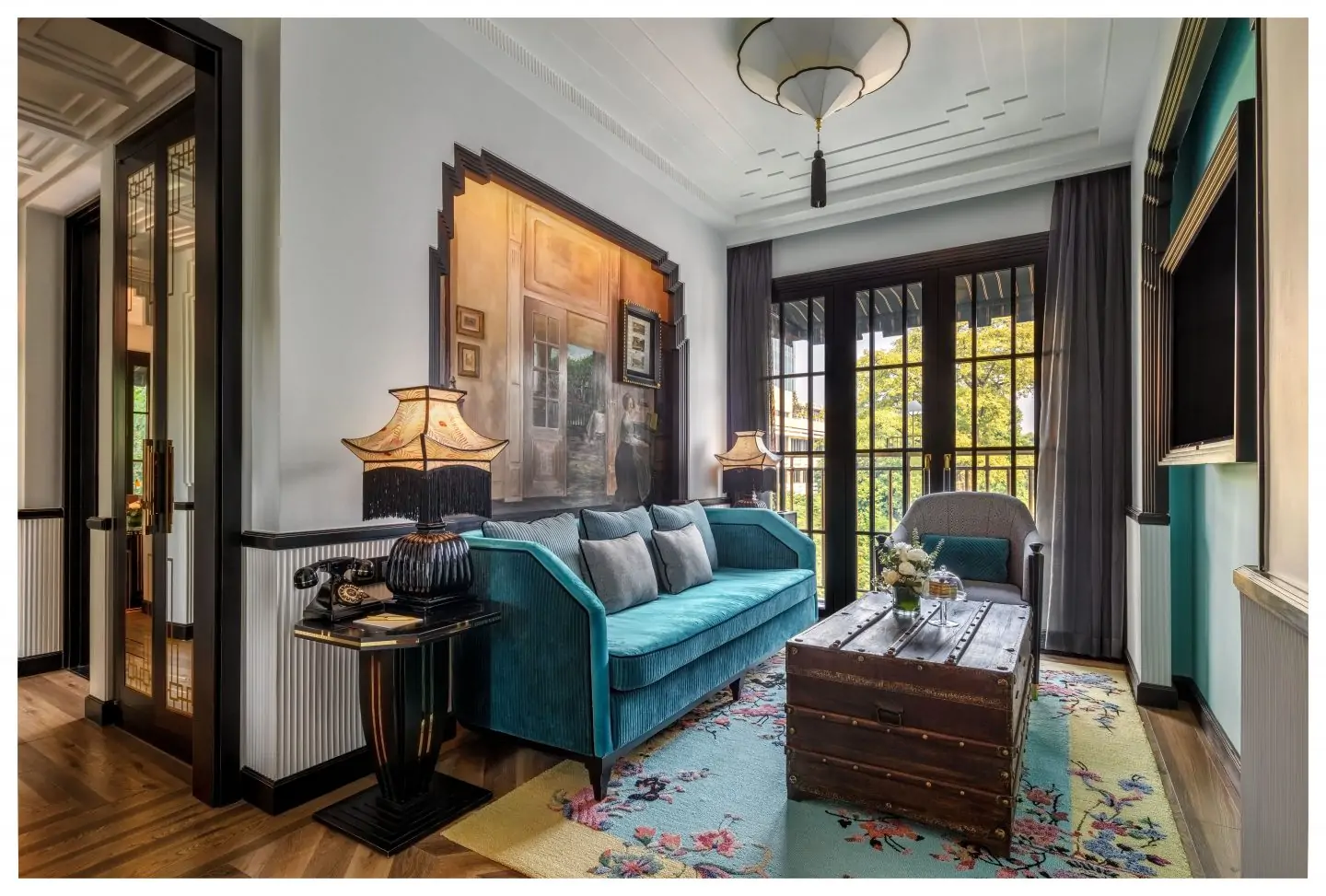 4. Halong Bay
2–3 days is the recommended length of stay.
The sight of Halong Bay's astounding limestone pillars is undoubtedly the first thing that comes to mind when you think about Vietnam. This is the country's finest natural wonder, and one of the most-visited places in Southeast Asia, with jungle-clad islands, stalactite caverns, and a large expanse of emerald-green water. This is the place you should never miss when you do a Vietnam north-to-south itinerary
The most common method to see Halong Bay's unearthly vistas is to take an overnight or multi-day cruise, which normally includes a cabin on a traditional junk boat, a guide, and all meals onboard.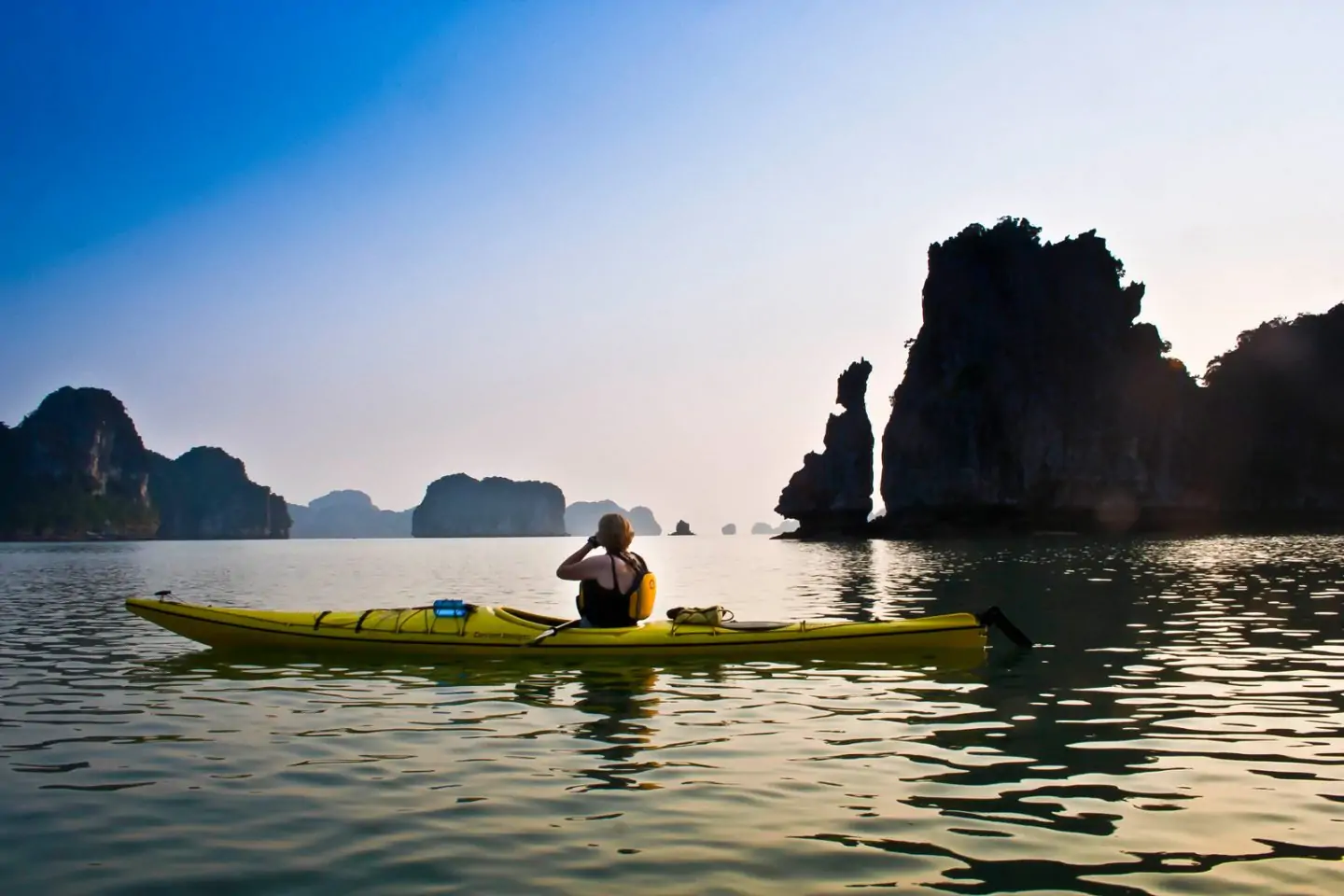 4.1. Top things to do in Halong Bay:
Go swimming, kayaking, or diving
Visit Cat Ba Island
Tour floating villages
Explore Hang Sung Sot Cave
4.2. Where to stay?
Coming to Halong Bay, the best choice is to stay on a cruise visiting all the famous places there, taste the seafood, participate in cooking classes on a cruise, admiring the beautiful dust in the early morning,… There are some cruises we'd like to recommend for you:
President Cruise: Tuan Chau Island, Quang Ninh
Heritage Cruise:  Binh Chuan, Cat Ba
Stellar of the Seas: Tuan Chau Island, Quang Ninh
5. Hoi An
3–4 days is the recommended length of stay.
A word of caution regarding Hoi An: if you're anything like many other backpackers, you'll fall in love with the place and want to remain forever — or at least for the rest of your time in Vietnam.
The city is breathtaking, with French-colonial architecture, gorgeous lantern-lit lanes, and a wonderful riverbank location, but there's something else about Hoi An — a certain je ne sais quoi, if you will — that's tough to describe. It's that unique, difficult-to-describe quality that will entice you to stay a little longer.
The Japanese Covered Bridge, Chuc Thanh Pagoda, and Hoi An Museum of History & Culture are all located in Hoi An's Old Town, which is small enough to explore on foot.
Hoi An is also the place to go for economical and high-quality tailoring; the city's tailoring services are well-known, and you can acquire custom-made apparel, purses, shoes, and more for a fraction of the cost you'd pay back home.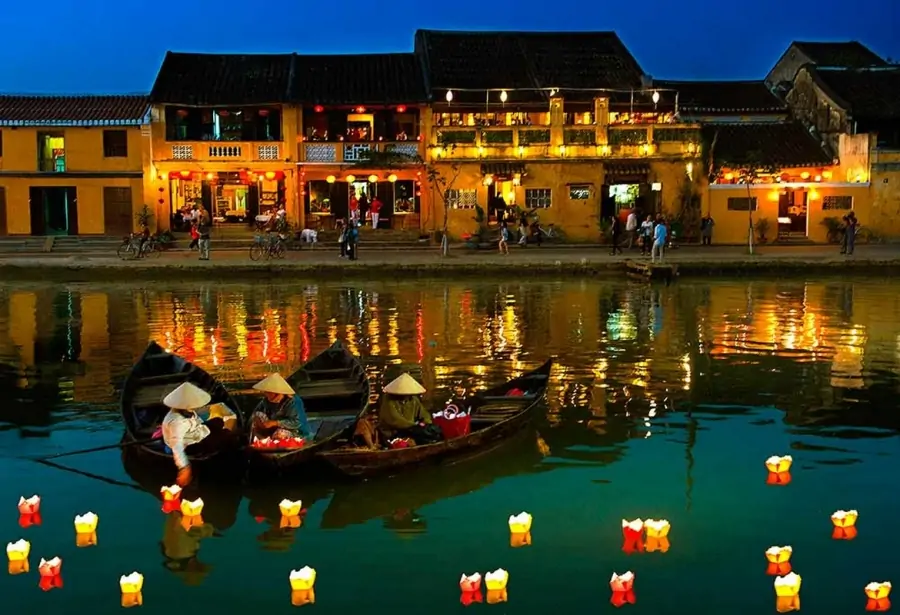 5.1. Top things to do in Hoi An:
Immerse yourself in Hoi An's beautiful food scene (Lao cau, white rose dumplings, and Madam Khanh's — AKA the Banh Mi Queen — are just a few local favorites you shouldn't miss).
Take a look around the Central Market in Hoi An.
Invest in custom-made apparel.
Take a stroll through Old Town at night, when the streets and businesses are lit up with hundreds of lanterns.
Spend the day at neighboring An Bang Beach sunbathing.
Take a cooking class in Vietnamese cuisine.
A bike tour of the surrounding region is a great way to see the sights.
In Hoi An's Old Town, a fruit vendor sells his wares.
5.2. Where to stay?
Same as Hanoi, you should stay in the center of Hoian for moving around easily. There are some hotels you can stay at:
La Siesta Hoi An: 130 Hung Vuong, Cam Pho Ward, Hoi An, Quang Nam 560000 VND
Anantara Hoi An Resort: 1 Pham Hong Thai Street, Cam Chau, Hoi An, Quang Nam
Four seasons hotel and Resorts: Block Ha My, Dong B, Dien Ban, Quang Nam
6. Nha Trang
2–3 days is the recommended length of stay.
After a few days of visiting HCMC in Vietnam north to south itinerary, you'll be ready for some relaxation, and Nha Trang is the ideal destination to do so. Nha Trang is known for its six-kilometer stretch of sandy coastline and crystal-clear blue seas, which are dotted with tropical islands, postcard-perfect beaches, and thriving reefs.
Go island hopping in Nha Trang Bay, eat fresh seafood, try snorkeling or scuba diving, or simply sunbathe to your heart's content – this seaside town is a beach bum's and ocean lover's dream come true.
There are also several tourist opportunities in this area (if you can manage to pull yourself away from the beach, that is). Nha Trang's town center is close to cosmopolitan restaurants, 19th-century Buddhist temples, mud spas, and hot springs.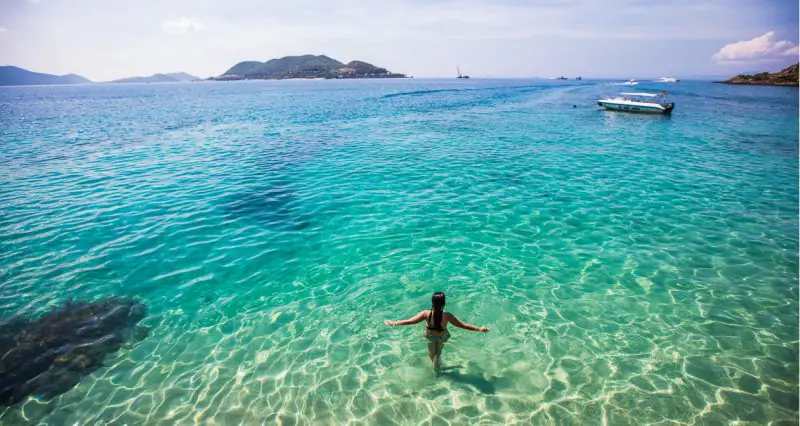 6.1. Top things to do in Nha Trang:
Experience a mud bath
Go snorkeling or scuba diving
Take an island-hopping tour around Nha Trang Bay
Visit natural and man-made attractions like Long Son Pagoda, Ba Ho Waterfall, and Po Nagar Cham Towers
Tip: If you're not a fan of beach towns, you might opt to skip Hue in favor of Hue, a historically significant city known for its 19th-century citadel and ancient temples.
6.2. Where to stay?
Six Senses Ninh Van Bay: Ninh Van, Ninh Hoa, Khanh Hoa Province
Novotel Nha Trang: 50 Tran Phu, Loc Tho, Nha Trang City, Khanh Hoa 652076
The Anam Cam Ranh: Lot 3 Nguyen Tat Thanh, Cam Hai Dong, Cam Lam, Khanh Hoa 650000
7. Ho Chi Minh City
2–3 days is the recommended length of stay.
Prepare to be inundated by the frantic energy, incense-infused temples, and motorbike-filled streets of HCMC (formerly known as Saigon) when you arrive. Yes, it's a little hectic, but if you spend enough time here, you'll come to appreciate the city's addictive lunacy.
The Saigon Opera House, Jade Emperor Pagoda, Reunification Palace, and the War Remnants Museum are among the must-see attractions in Ho Chi Minh City, which are dispersed throughout District 1 (the city's most frequented district) and District 3.
And no discussion of HCMC would be complete without mentioning the city's exquisite gastronomy. Set aside some time while you're here to try some of the world's best street food, such as pho, Banh Xeo, and the incredibly delicious banh mi sandwich.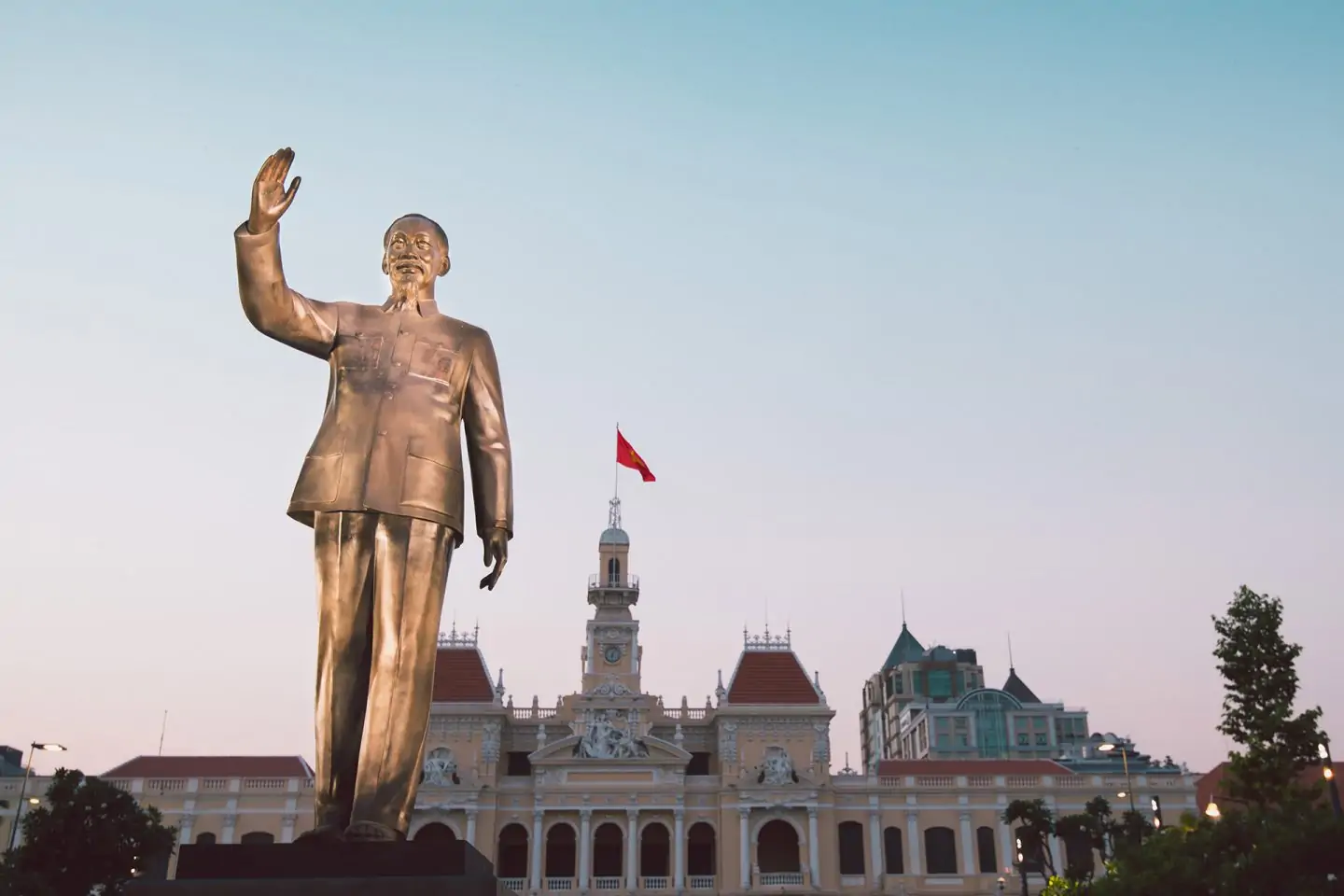 7.1. Top things to do in Ho Chi Minh City:
Ben Thanh Market, a bustling market with everything from Vietnamese silk to souvenirs and street food, is a great place to practice haggling.
The War Remnants Museum, the Jade Emperor Pagoda, and the Reunification Palace are all worth seeing.
Vietnamese coffee is worth a try.
From one of the city's many rooftop bars, sip cocktails while admiring the vista.
Visit the Cu Chi underground tunnels or the Mekong Delta for a day trip.
At night in Ho Chi Minh City, Vietnam, a busy street is bustling with people.
7.2. Where to stay?
La Vela Saigon Hotel: 280 Nam Ky Khoi Nghia Road, Ward 8, District 3, Ho Chi Minh City 700000
Vinpearl Luxury Landmark 81 Saigon: Vinhomes Central Park, Binh Thanh, Ho Chi Minh City
Mia Luxury Boutique Saigon: 2-4 Street No. 10, An Phu, Thu Duc City, Ho Chi Minh City 700000
8. Two weeks in Vietnam cost
Vietnam north to south itinerary is a very cheap country, therefore your money will go a long way. It is possible to travel for as low as 40 GBP/50 USD each day if you plan to stay in hostels and keep to a tight budget. While lodging, transportation, and meals are all reasonably priced in Vietnam, activities, and excursions are likely to consume a significant chunk of your budget.
For a two-week trip to Vietnam, budget anything from 460 GBP/560 USD to upwards of 820 GBP/1000 USD, depending on your specific travel style.
Contact us via: https://mettavoyage.com/contact-us/
Our others media:
Facebook: https://www.facebook.com/mettavoyage