Would you like to know how to stabilize your mind and achieve emotional balance? If so, then a retreat with meditation is just what you need. And there couldn't be a better place than vibrant Thailand to practice this. There are so many meditation centers here that will cater to all your needs with pleasure. Take a meditation retreat Thailand to escape from the stresses of your daily life.
I. Popular Meditation Retreat Thailand Destinations
1. Chiang Mai
In the north of Thailand, Chiang Mai is a beautiful city where you can find wellness retreats, Buddhist temples and practice your yoga. As Chiang Mai is a town for ex-pats, your yoga teacher will most likely be talking in English.  You can take a yoga teacher training course and be certified as a yoga teacher.  You could even become a teacher of meditation or learn Muay Thai.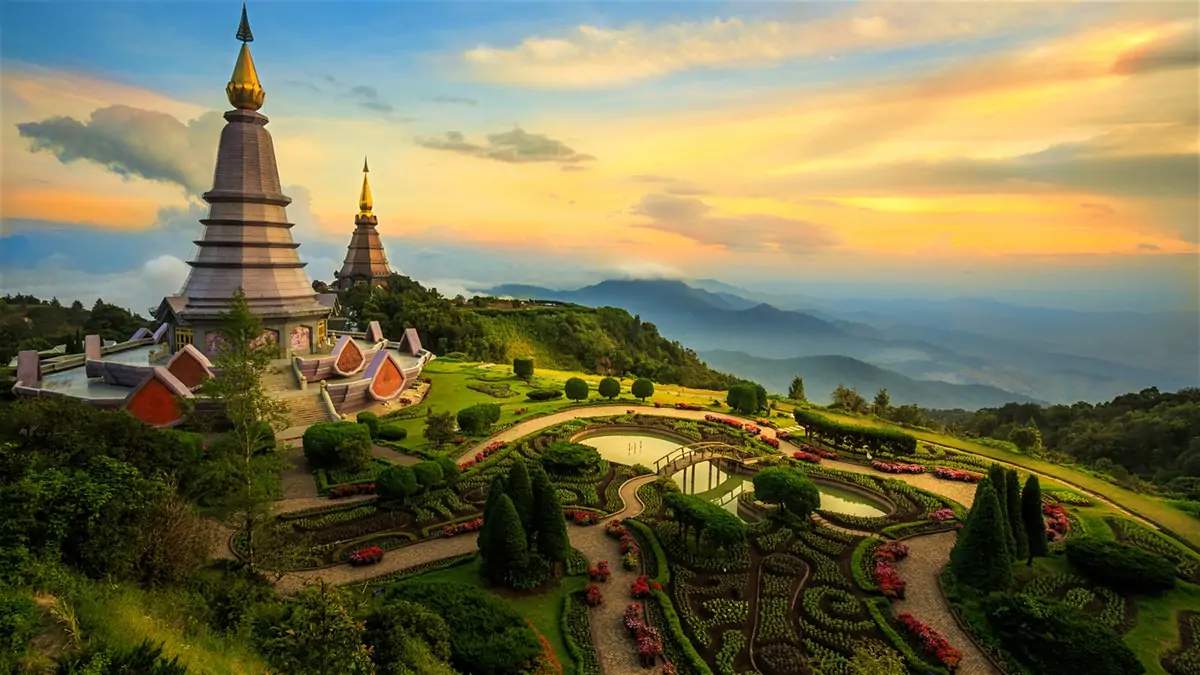 2. Phuket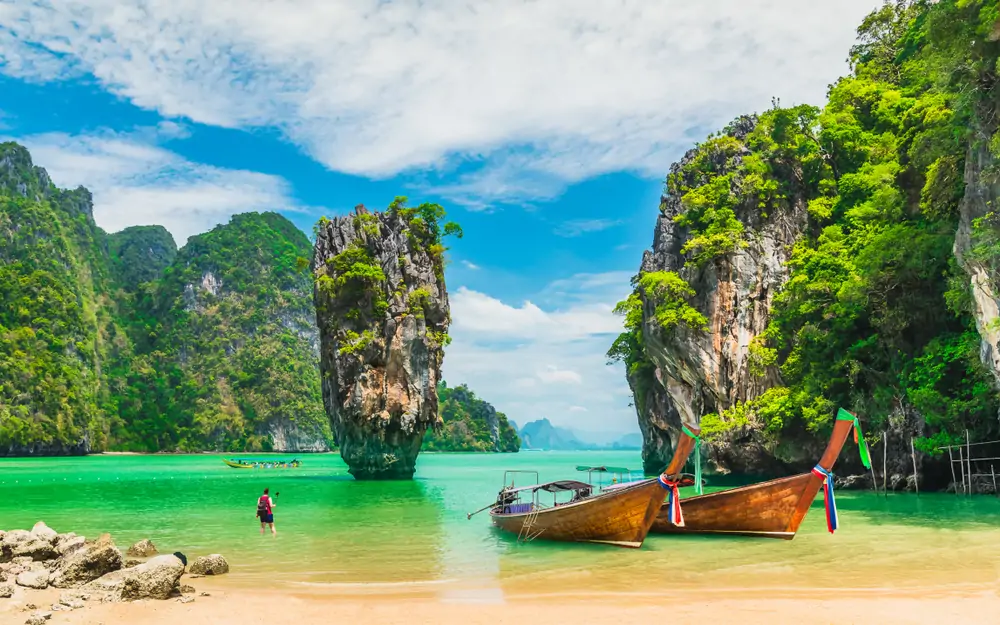 Phuket is an island surrounded by jungle and rain forests in the Andaman Sea. It is an absolute sanctuary for those seeking healing from the sea, sand, and the sun. You can go for spa treatments or yoga sessions and learn everything about mindfulness and meditation. Come to a retreat program for the latest wellness treatments and head to a healing center.
3. Pai
A mountain town where you can find lush, green rice fields, waterfalls, and hiking trails is Pai or Mae Hong Son. Imagine doing yoga in the jungle's giant bamboo shala. Pai is where you'll find your dream yoga retreat in Thailand. There are also options for you if you feel like becoming a yoga expert and doing teacher training.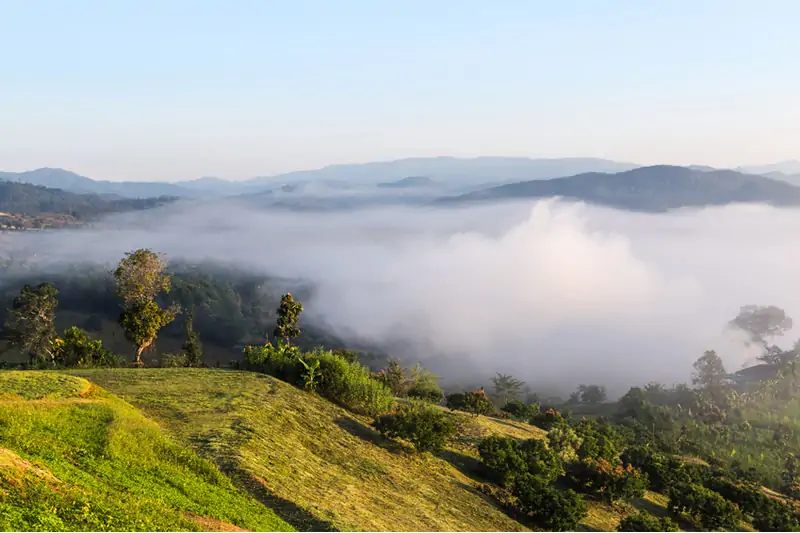 4. Bangkok
Are you looking for some peace away from this bustling town? A Bangkok meditation retreat will do just the trick. Stay in a Buddhist temple, or go to a Vipassana quiet meditation retreat.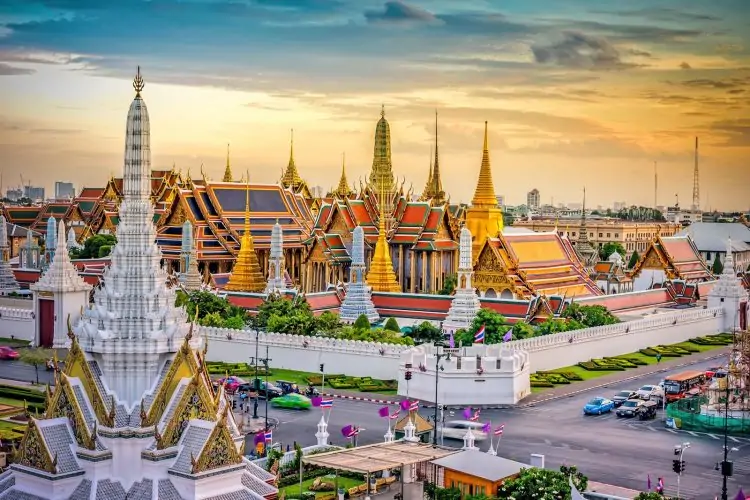 5. Koh Samui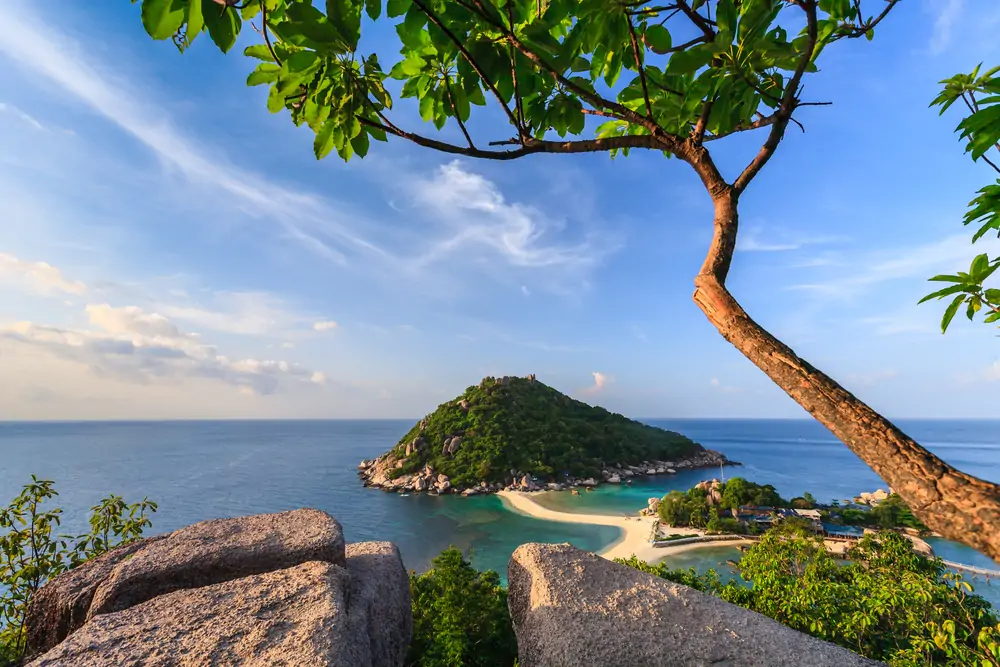 Koh Samui is a wonderful island, right across from Koh Phangan. The water is so crystal clear that your eyes are mesmerized. If you're looking for a yoga retreat in Thailand, you're going to love the tropical, chilly vibes of Koh Samui.
II. 8 Best Meditation Retreats in Thailand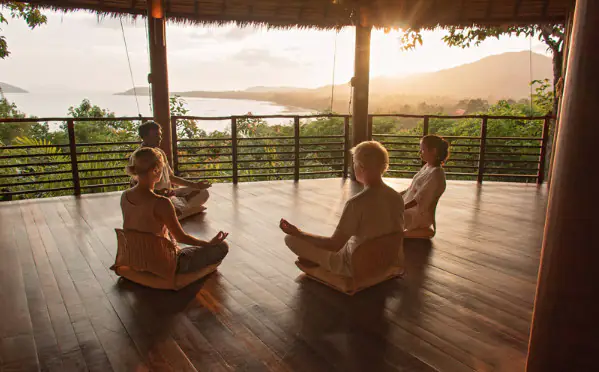 1. The Kamalaya- Koh Samui
Address: 102/9 Laem Set Road, Na-Muang, Koh Samui District, Surat Thani, Thailand
Website: https://www.kamalaya.com/index.htm
On the beautiful island of Koh Samui, The Kamalaya is an award-winning luxury meditation resort. This is a magical location with holistic programs at the top of the line and offers medical professionals customized treatments. Retreats include meditation, yoga, massage, health care, and private counseling.
The Kamala offers several meditation retreats in Thailand including the Awakening Your Essential Self retreat (7 days), Finding Emotion Balance & Freedom Retreat (6 days), and The Yin & Yang Yoga Retreat (4-days). The retreat of Yin and Yang Yoga includes most practices of meditation. This retreat is for 12 students that begins with a two-hour meditation every day and features yoga practice, gathering, and private time throughout the day.
2. Dharana Meditation and Retreat Centre- Phuket
Address: 69/509 Moo 1, Tambon Chalong, Phuket, Thailand,
Website: https://phuket-meditation.com/
The Dharana Meditation Centre and Retreat Centre, located on the beautiful island of Phuket, claims to offer one of the best meditation experiences in Southeast Asia by combining a relaxing holiday with an authentic retreat program. They offer their guests meditation classes, yoga, Qi Gong, and even counseling services. They also organize workshops on mindfulness meditation, Qigong healing, and life coaching regularly. A real and deep relaxation, healing, and life-changing experience will be found here.
A 4-day meditation retreat in Thailand in Dharana will set you back 12,500 baht but there are completely free options.  At 11:00 on Tuesdays and from 19:00 on Thursdays, the center offers free meditation classes to all those interested in learning the practice. The visit is well worth it.
3. Dhamma Kancana Vipassana Meditation Centre – Kanchanaburi
Address: 20/6 Moo 2, Ban Wang Kayai, Prang-Pley, Sangkla Buri District, Kanchanaburi, Thailand,
Website: http://www.kancana.dhamma.org/
Dhamma Kancana is dedicated to the practice of meditation on Vipassana, or meditation on mindfulness, which focuses on purifying the mind and removing adverse attachments. This meditation retreat in Thailand has 18 centers throughout Thailand and offers 10-day introductory meditation courses, where each phase of the practice is broken down. They have courses starting every day of the month, and each day consists of about 12 hours of meditation, a 1-hour video of 30 minutes, and 7 hours of rest for vegan meals.
Note that some courses are exclusively for Thai speakers. These are introductory courses where step-by-step practice is taught throughout the day. The Dhamma Kancana is a 6-hour drive from Bangkok and retreats are only available by donation to prevent the commercialization of the Vipassana practice.
4. Dipabhavan Meditation Centre – Koh Samui
Address: 101/18 Moo 3, Maret, Ko Samui, Surat Thani, Thailand,
Website: https://dipabhavan.weebly.com/
In 2005, the Abbot of Suan Mokkh, Ajahn Poh, set up the Dipabhavan Meditation Center for the Thai people and foreigners alike. Dipabhavan is translated as "a private place to learn the teachings of the Buddha" in Pali – the Buddha's ancient language
At its secluded location in the hills of Koh Samui, the Dipabhavan Meditation Centre offers week-long English language retreats between the 3-10th and 20-27th of each month. As with most traditional meditation retreat schedules in Thailand, each day begins at 4.30 am and you are advised to fully follow the schedule. It's not the most difficult retreat meditation schedule out there, but it's not the easiest either. Meditation is mostly broken up into 30-minute increments that shift between meditations for walking and sitting. This makes the difficulty level a huge difference.
You come here with two objectives: to free your consciousness from misery and to strengthen your connection between the mind and the body. The practice is rigorous, daunting, and sometimes inconvenient, but the mindfulness and peace you gain are worth it. The retreat is entirely free of charge. They welcome donations at the end and pared back. You won't get a full-service spa here, but your every need is taken care of by the team.
5. The Pavana Resort – Chiang Mai
Address: 196 Huaysai, Huaysai, Mae Rim, Chiang Mai, Thailand,
Fanpage: https://www.facebook.com/ThePavanaChiangMai/
The Pavana Resort, in Northern Thailand, is a secluded resort located outside Chiang Mai. At sunrise and sunset, the open-air meditation hall is particularly lovely. They offer a three-day introduction to Thailand's meditation retreat, which is an excellent choice for beginners. This involves 9 private meditation sessions, 3 walking meditation sessions, and 3 Buddhist philosophy sessions, as well as a Thai massage, 3 Thai herbal steam or infrared sauna sessions, and meals. Prices start at $1142, which is fairly reasonable for the range of offerings included in the package.
The resort's restaurant features raw food from its organic garden, and a class of raw food can be arranged. They also have different detox packages on offer.
6. Jungle Yoga – Surat Thani
Address: Khao Phang, Ban Ta Khun District, Surat Thani, Thailand.
Website: https://jungleyoga.com/
Jungle Yoga offers meditation retreats in Thailand as well as their regular yoga retreats. Meditation, talks, individual and group meetings, and mindful movement classes are included in the schedule. Located within Khao Sok's incredible natural beauty, this stunning setting is a floating paradise in southern Thailand, since each building on the lake is connected by bridge paths.
You will stay at an exquisite bamboo yoga venue during the retreat, floating peacefully on Khao Sok lake, deep inside the national park. Jungle Yoga is a rustic and spectacular retreat center composed of separate bamboo huts with interconnecting bamboo walkways and a floating bamboo yoga pavilion. Everything is connected to the lakeshore securely. The only structures on the land are shared bathrooms and showers. There will be a bamboo bungalow for each participant.
7. Wat Suan Mokkh International Dharma Hermitage – Surat Thani
Address: Lamet, Chaiya District, Surat Thani, Thailand.
Website: http://www.suanmokkh-idh.org/index.html
On the 1st of every month, Wat Suan Mokkh hosts 10 days of silent retreat. This is a serious retreat and for the entire duration, you are required to stay. During the retreat, phones and all electronics will be stored in a safe and you are required to remain silent.
Meditation sessions talk about Buddhism, yoga, and daily chores are part of the daily schedule. This retreat for meditation is considered more of a retreat for beginners. This is still a physically and mentally challenging experience, though considered easier than other Vipassana Meditation retreats in Thailand, many consider it a life-changing experience as well.
Besides, it's not for the weak-hearted, as you've only got a stubborn, wooden pillow and slim blanket to sleep in a concrete layer. Wat Suan Mokkh is 600 kilometers or so from Bangkok.
8. New Life Foundation – Chiang Rai
Address: 49 Moo 1, Don Sila, Wiang Chai, Chiang Rai, Thailand,
Website: https://www.newlifefoundation.com/th/
The New Life Foundation is a community of non-profit, conscious recovery and self-development for individuals suffering from burnout, depression, stress, abuse, trauma, addiction, or individuals who want to discover tools to find a new direction in life. It is now a center for mindfulness that runs Thailand meditation retreats and other retreats for everyone related to wellness. A lake, a teak tree forest, rice fields, and orchards that offer a unique and peaceful environment are included in their facility in Chiang Rai, North Thailand.
Their program offers meditation, yoga, sustainable agriculture, natural construction, life coaching, the practice of mindfulness, art therapy, Enneagram, TRE, prevention of relapses, compassionate sharing, dance therapy, retreats, workshops, and more. With community support and staff guidance, each person develops an action plan that allows them to discover their potential and find meaning and purpose in life again.
If you have any questions, feel free to contact us via: mettavoyage.com/contact-us/