Golf tourism is in high demand and has become a popular tourist trend because of its safety, restricted contact, and ability to attract high-spending visitors. Visitors that come to play golf do so with the intention of staying at the resort and exploring the area. Let's learn about Golf tourism with Metta as well as attractive golf tourist destinations in Vietnam.
I. What is Golf tourism?
Golf Tourism is a high-end type of sports tourism that is becoming increasingly popular around the world. This type of tourism allows visitors to combine golfing with sightseeing, visiting golf courses as well as relaxing at luxury resorts around the golf course area. This tourism trend is gaining traction throughout Southeast Asia, particularly Vietnam, and is quickly becoming one of the fastest growing types of sports tourism.
Golf tourism not only helps tourists, particularly golfers, to relax, decrease stress, and improve their health, but it also allows them to encounter a variety of interesting, appealing, and eye-opening experiences. If you are a golf enthusiast who enjoys traveling, combining both golf and traveling is a great idea. Vietnam will be one of the best destinations for your golf trip in Asia.
II. Golf tourism in Vietnam
Vietnam – Wonderful Golf Destination
Favored by nature for a multitude of beautiful places and ideal climate, Vietnam is gradually becoming a golf paradise for golfers and tourists. After many years of being introduced to Vietnam, Golf Tourism has been developing strongly to meet the needs of tourists. From North to South, there are countless beautiful famous golf courses and it was even voted as "Asia's Best Golf Course" for 5 consecutive years (Ba Na Hills Golf Club).
In 2021, World Golf Awards (WGA) revealed Vietnam as 'Asia's Best Golf Destination' and 'World's Best Golf Destination'. This is the second year that Vietnam has been honored as World's Best Golf Destination (2019, 2021) and for five consecutive years as Best Golf Destination in Asia since 2017. That's our pride for Vietnam to be a wonderful golf destination for golfers worldwide.
Best time for Golf tours in Vietnam
This is definitely one of the topics that many golfers who want to travel to golf wonder about. Golf is a subject that is greatly influenced by the weather, so choosing the right time for a golf trip will bring you convenience when traveling and you can also balance the cost of the trip. This information below will be useful for your upcoming golf tour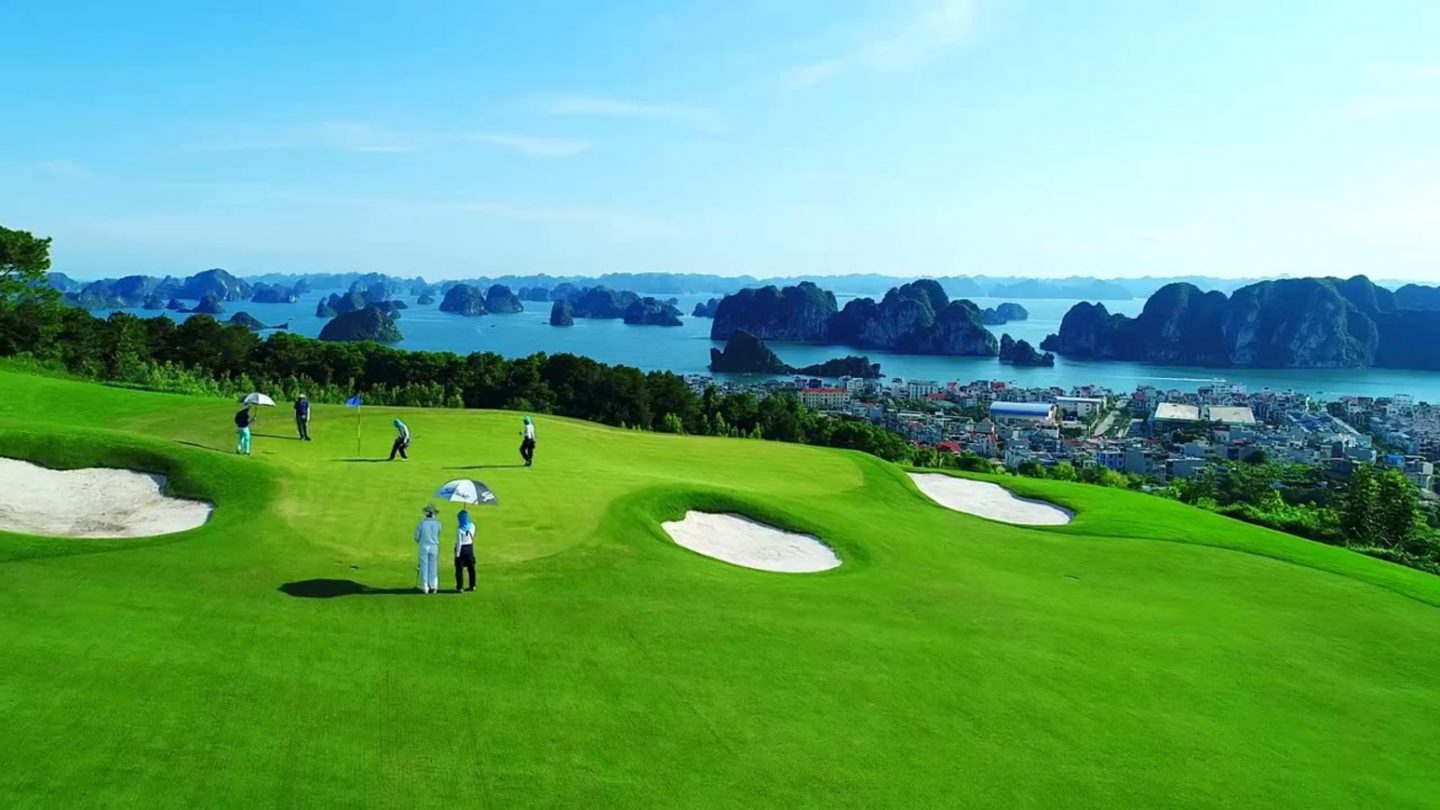 In general, Vietnam's climate is divided into 2 seasons: rainy season (last from May to October) and dry season (last from November to April next year). The most favorable time and also the "High season" of golf tourism in Vietnam is the dry season, especially from December to February next year. At that time, the favorable weather is very suitable for golfing, but the cost at this time may increase. Golfers should consider the choice of the travel time to make sure it does not affect your golf travel experience.
Preparation of necessary items for Golf tours in Vietnam
Golf clubs:
Of course! Go fishing must have a fishing rod and go golfing cannot be without a golf club. Normally, golfers will often use their set of clubs because of its comfort and familiarity. However, if you are a foreign tourist, please find out in advance about checked baggage regulations when traveling by plane! In addition, you can consider the option of renting clubs at the golf course at a reasonable cost.
Golf balls:
The couple that goes with the club is the golf ball. Unlike clubs, visitors can completely prepare golf balls in advance. Because buying golf balls is relatively expensive due to the difference in exchange rates. Preparing 1-2 boxes of golf wheels in advance will help golfers be more flexible and active.
Other items:
Hat, gloves, suncream: On sunny days, these items are a must. They will protect you from the negative effects of the sun
Raincoat/ umbrella: If the downpours come without warning, they will help you protect yourself, golf bag, and personal items.
On-site first aid kit: In any case, this is essential
III. Best Golf Courses In Vietnam
With its natural beauty, geographical diversity and warm weather, Vietnam is the perfect new destination for golfers. Golf Tourism in Vietnam is therefore constantly developing. Currently, from North to South, the number of golf courses increases in both quality and quantity. Here is a list of the best golf courses in Vietnam by region that golfers will be interested in:
1. Northern Vietnam
Wyndham Skylake Resort & Villas (Skylake Resort & Golf Club)
Regarded as the most challenging golf course in Vietnam with an area of 65 000m2, Skylake Golf Club offers a perfect place for golfers to experience and enjoy. The golf course is about 40km from the center of Hanoi and can be moved by many different means. It is also famous for the hardest 36-hole course in Hanoi and its unique design with beautiful scenery and qualified course grass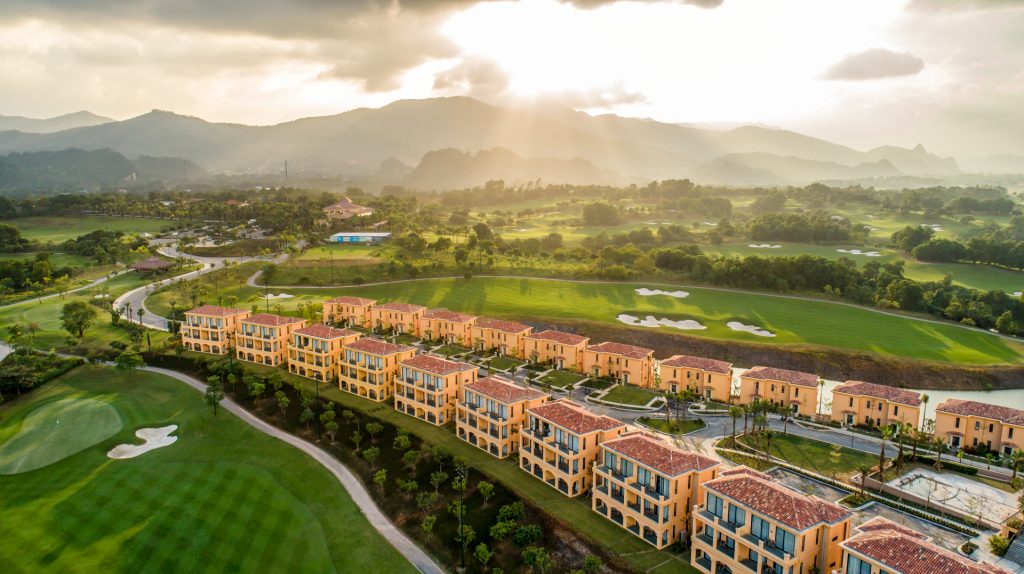 In addition to the diverse services at the golf course, guests also have the opportunity to stay at Sky Lake Resort & Golf Club. The villa in the golf course area is designed to be modernly built facing the golf course to bring the best feeling of relaxation and rest for golfers. Also, the 5-star hotel system stands out with the design style of separate villas and the system of villas with swimming pools, all with panoramic views of the golf course, mountains and lake. Full and classy utilities will give you the best experience!
Address: Van Son Lake area, Chuong My District, Hanoi, Vietnam
Opening hours: 5:30AM – 7:00PM
Green fees: $20 – 35/ 18 holes
Tam Dao Golf & Resort (Tam Dao)
Located about 65km from the center of Hanoi and 45km northwest of Noi Bai International Airport, Tam Dao golf course is in the midst of the majestic natural scenery of Tam Dao region. Designed and managed by IMG, the golf course with lakes, streams and waterfalls, and sand traps strategically placed will bring interesting challenges for golfers.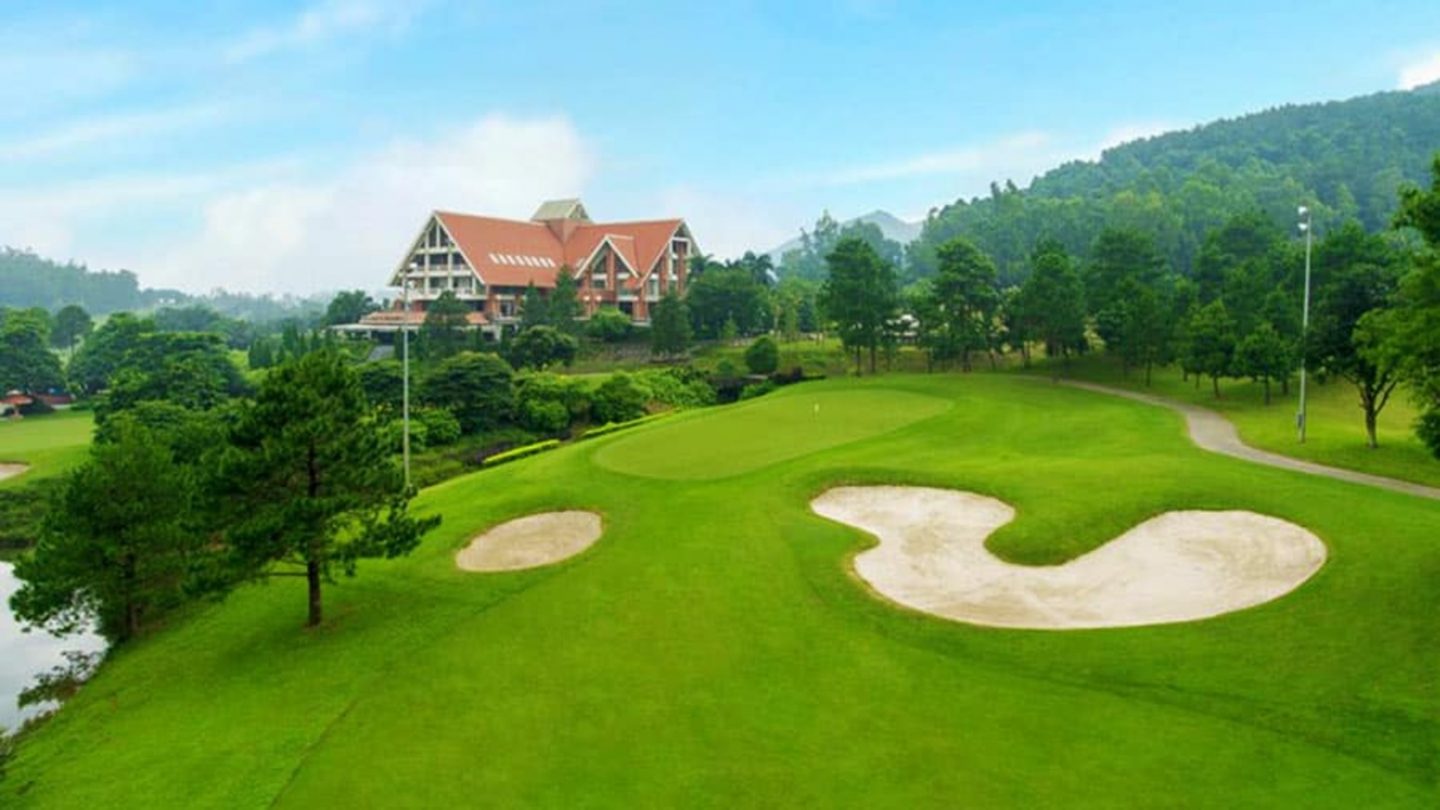 The golf course takes advantage of its all-natural beauty, in particular, the ancient course of Tam Dao Golf Club is planted with Salam Paspalum grass and Sea Isle 2000 to ensure the ideal grass surface all year round. The trap branches are also designed to create challenges and difficulty for players.
Address: Hop Chau Commune, Tam Dao District, Vinh Phuc Province, Vietnam
Opening hours: 5:30AM – 10:30PM
Green fees: $95/ 18 holes
FLC Halong Bay Golf Club & Luxury Resort (FLC Quang Ninh Golf Course)
FLC Quang Ninh Golf Course is one of the ideal golf courses highly appreciated by golfers in the North. In the top 3 most beautifully designed golf courses in the world was voted by the famous American golf magazine – Golf Inc. It not only has a large space, beautiful view and majestic scenery, FLC Halong Bay Golf Club also offers many utilities that make every golfer satisfied.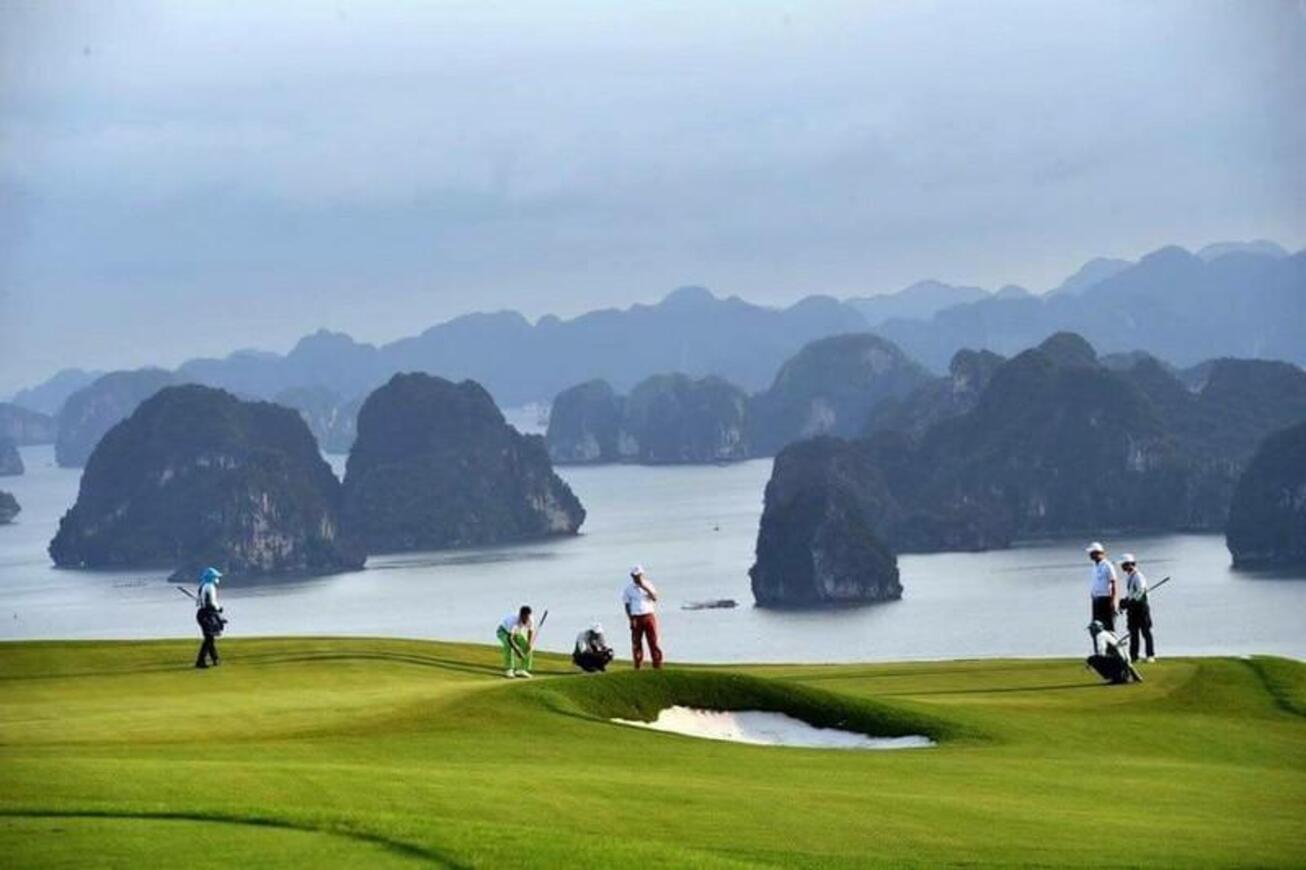 Besides being an ideal destination with beautiful natural space, FLC golf course in Quang Ninh province also offers a series of 5-star standard utility services. The luxurious modern clubhouse covers more than 2000m2 with a system of restaurants, bars, Proshop stores providing golf items. Training ground system and trams, caddy, kiosk services,… Make sure to bring the best experience to golfers when participating in golf here.
Address: Nguyen Van Cu Street; Hong Hai Ward; Ha Long City
Opening hours: 8:00AM – 5:0PM
Green fees: from $102
2. Central Vietnam
BRG Da Nang Golf Resort (Danang)
Da Nang is known as the "most liveable city in Vietnam" with beautiful coastline, long sand beaches running poetic. This city is also known in the sports world for being the first in Southeast Asia to own a golf course with a classic traditional style — BRG Danang golf course. Located close to the coast, this golf course is the perfect product of Mother Nature and the legendary Greg Norman.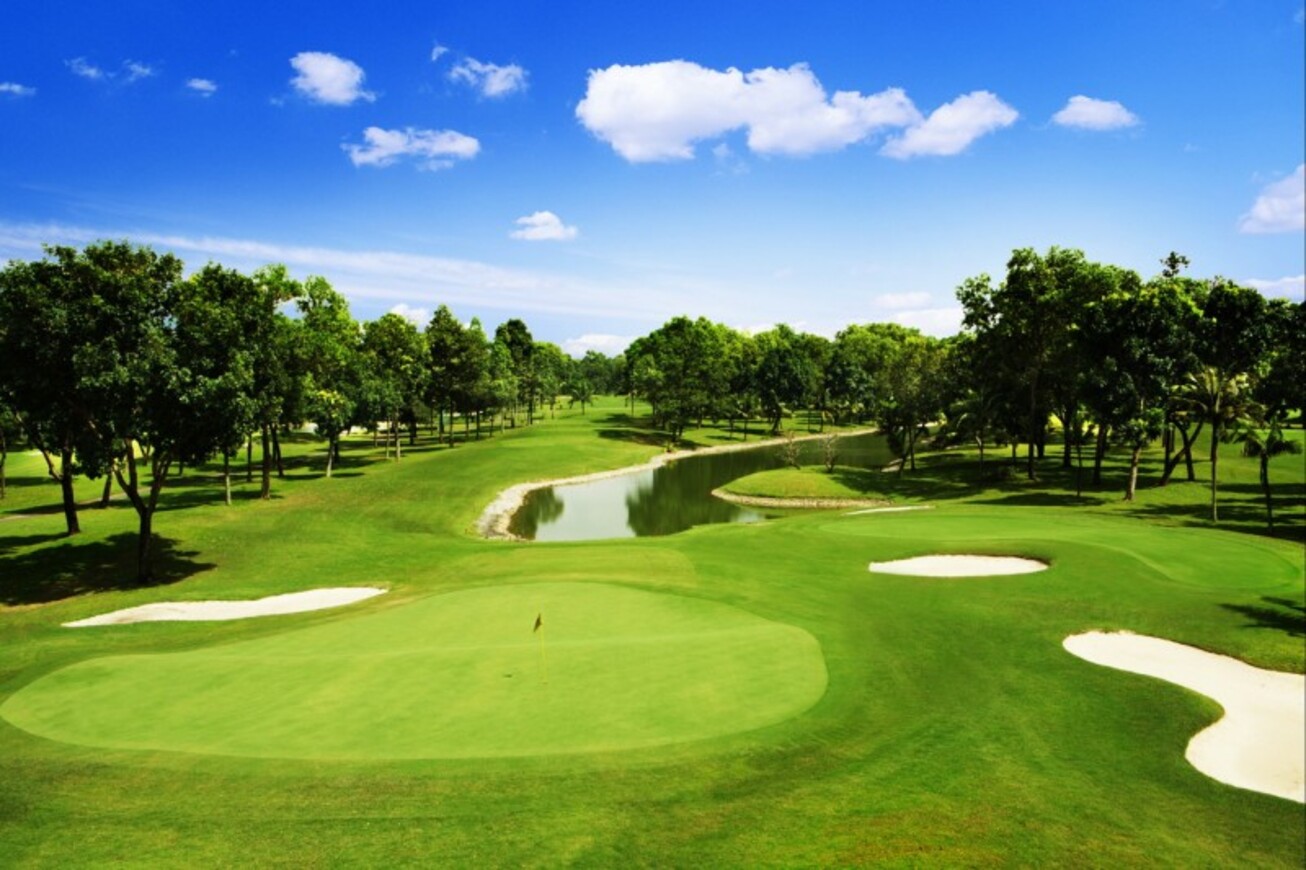 BRG Danang Golf Resort, with its conquering 18-hole golf course, is definitely the best place for tourists to have a fantastic golfing experience while also using first-class service. Furthermore, when visiting here, you should not ignore the utility services, which include a spa area with full facilities after the game, a shopping experience at the Proshop, and dining services to fulfill all guests' demands.
Address: Son Tra – Dien Ngoc Coastal Street, Hoa Hai Ward, Ngu Hanh Son District, Danang City, Vietnam
Opening hours: 6:00AM – 9:00PM
Green fees: from $131
Bana Hills Golf Club
Only about a 30-minute drive from Da Nang city center, BaNa Hills Golf Club is a world-class establishment located in the famous BaNa foothills on the central coast of Vietnam. Designed by British former world number one Luke Donald, this stunning 18-hole masterpiece of Luke Donald has won numerous important honors, including "Vietnam's Best Golf Course," "Asia Pacific's Best New Golf Course," and "World's Best New Golf Course."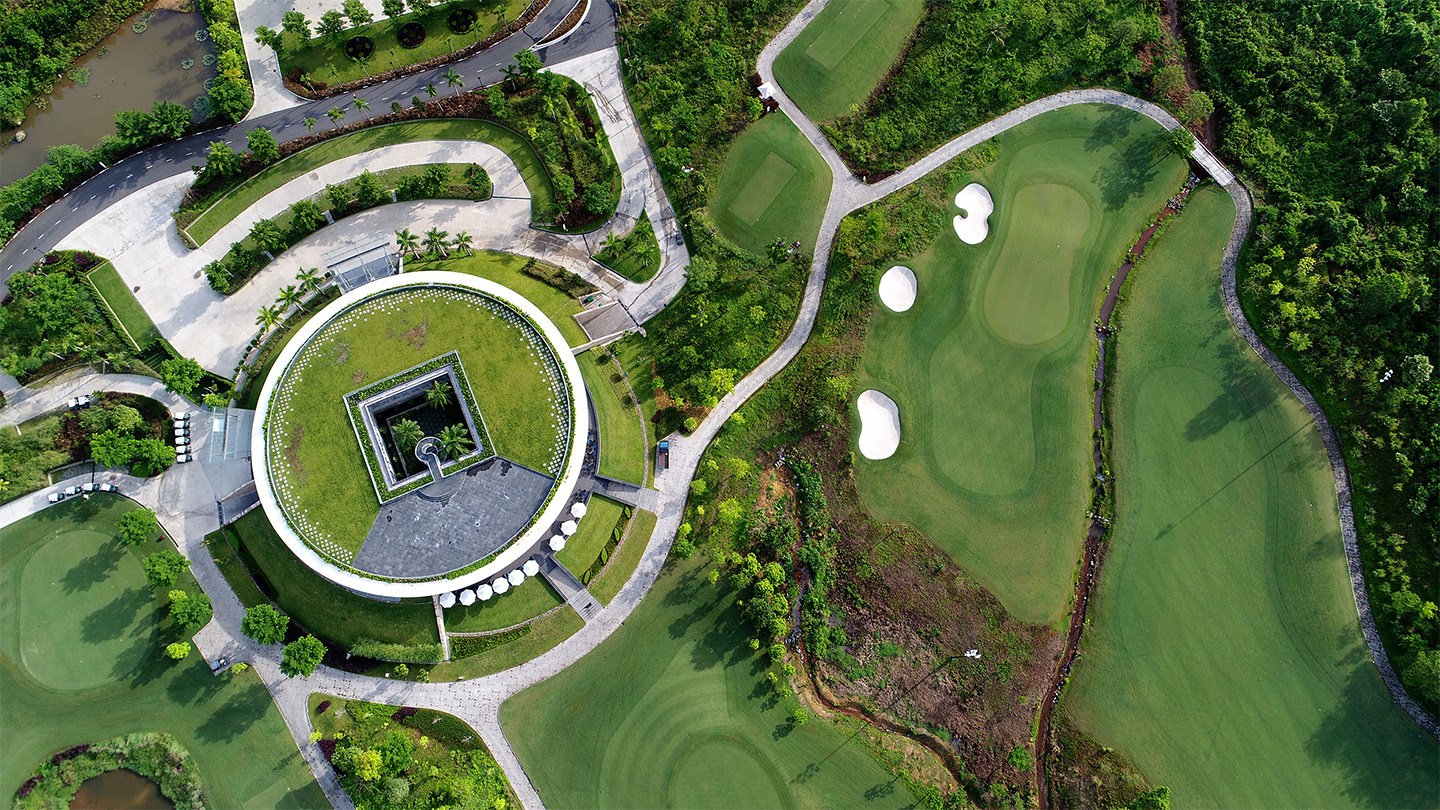 The course lies on a hill covered with tranquil streams and luscious verdure. Aside from the visual feast, its versatility is a remarkable feature. Floodlights have been installed across the course to help with night golfing. Bana Hills Golf Club has earned its reputation for a reason.
Address: An Son Commune, Hoa Ninh Ward, Hoa Vang District, Da Nang City, Vietnam
Opening hours: 8:00AM – 7:00PM
Green fees: $122 – 162/ 18 holes
3. Southern Vietnam
Vietnam Golf & Country Club (Saigon)
Located just 20 kilometers from the center of Ho Chi Minh City, Vietnam Golf and Country Club is the nearest golf club to the city. Vietnam Golf & Country Club, widely recognized as one of the closest outstanding 36-hole courses to Ho Chi Minh City, has long been a favorite weekend getaway for local professional golfers.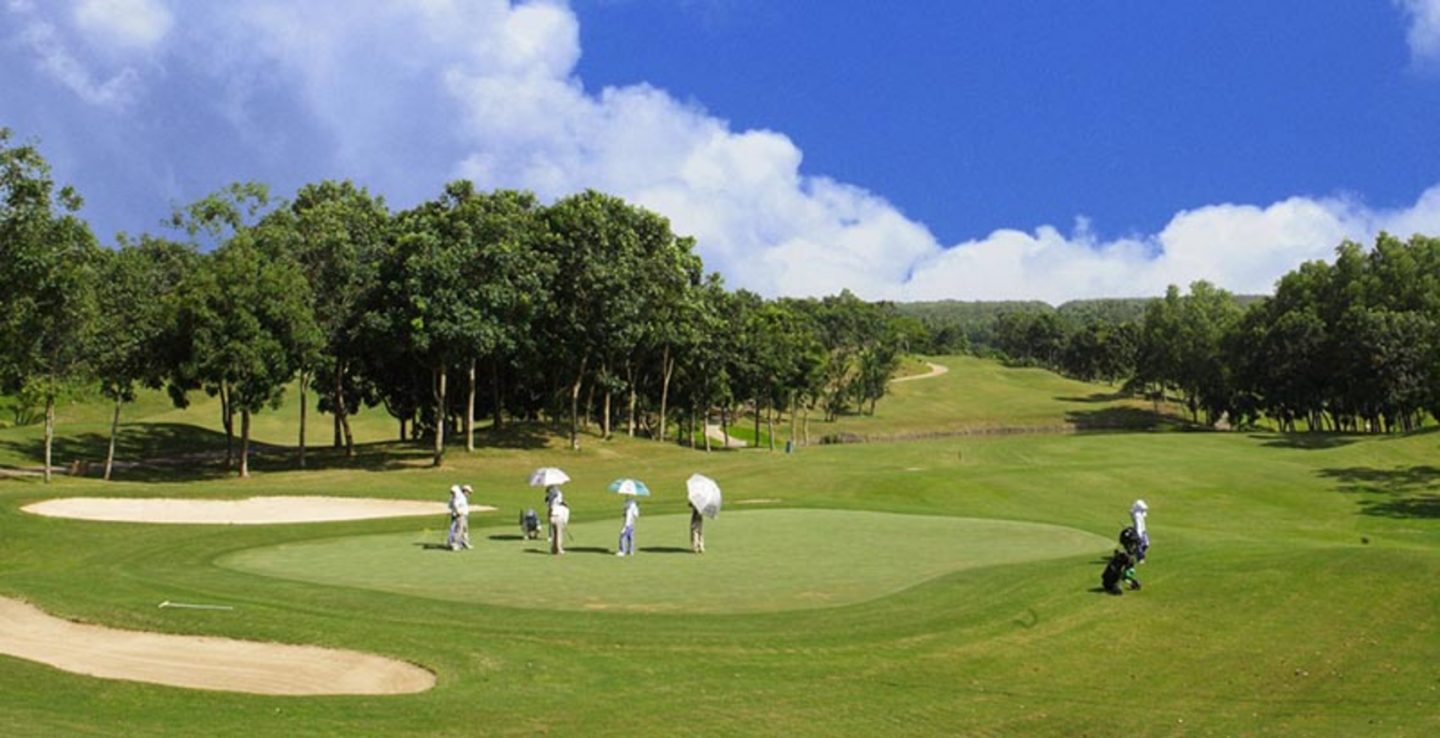 The West includes tree-lined fairways and softly shaped greens, while the East has more expansive fairways, punishing bunkers, and water hazards. The greens are well-kept, and caddies are available to offer advice when the course becomes too difficult. Vietnam Golf & Country Club offers a diverse range of golfing opportunities for players of all skill levels.
Address: The ClubHouse Long Thanh My, Ward District 9, Ho Chi Minh City, Vietnam.
Opening hours: 6:00AM – 6:00PM
Green fees: $90 – 120/ 18 holes
VinPearl Golf Club in Phu Quoc
Designed and managed by IMG, Vinpearl Golf Phu Quoc has the beauty of neoclassical Europe, and is the most beautiful sunset viewing place in Phu Quoc.  It is located in the middle of unspoiled forest in the North of Phu Quoc which brings the feeling of being immersed in nature. Its stunning surroundings and one-of-a-kind golfing experience are sure to impress players on the road.
Golfers can enjoy the undulating courses and shapes that perfectly weave and undulate across Phu Quoc Island's gorgeous terrain, commanding a breathtaking, panoramic vision of the tropical forest against the stunning backdrop of the clean East Sea. Vinpearl Golf Phu Quoc deserves to be at the top of every golfer's bucket list.
Address: Ganh Dau, Phu Quoc, Kien Giang
Opening hours: 6:00AM – 6:30PM
Green fees: from $55
In recent years, Golf tourism in Vietnam has grown quickly, attracting many world-class golf course designers and golfers to visit. Simply come and challenge yourself, these best golf courses in Vietnam will not disappoint you!
Above are the golf travel experiences that we recommend to you. Save this for your next golf trip!
Contact us:
Website: mettavoyage.com
Email: [email protected]
Hotline 24/7: + 84 989 383 572
Facebook fanpage: https://www.facebook.com/mettavoyage