Overview 7 days in Vietnam Itinerary
7 days in Vietnam Itinerary will take you from North Vietnam (Hanoi, Halong Bay) to South Vietnam (Ho Chi Minh City, Mekong Delta). They are two capital cities in Vietnam with countless heritage, historical-cultural relics, and scenic spots. To learn more about Vietnam, let's discover Vietnam in our following itinerary. 
Day 1: Hanoi Arrival – Hanoi Tour
To start the Vietnam itinerary, visitors will first arrive in Hanoi.
After a long flight, visitors will check in the hotel room to rest in Hanoi city, then visit some outstanding places in Hanoi such as the Temple of Literature, St. Joseph's Cathedral, the Imperial Citadel of Thang Long, cycling around the Lakewest in the afternoon and walk around Hoan Kiem Lake in the evening. And enjoy Hanoi's traditional dishes during a scenic tour.  
The best places you can visit
Temple of Literature
Temple of Literature: located right on the 4 main streets of Dong Da, Ha Hoi. As the first school in Vietnam, is also the first school of our country's cultural and historical relic. Many students before taking the exam want to come here to pray for good luck to have a successful exam.
Entrance fee: 15.000VND for students, 30.000VND for adults/foreign tourists.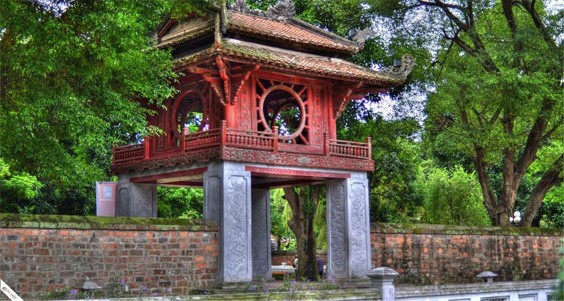 St. Joseph's Cathedral
St. Joseph's Cathedral is the cathedral of the Archdiocese of Hanoi located in the center of Hanoi. It has a neo-Gothic style of the 19th century with typical European symmetry towers and shafts. This place regularly takes place in the religious activities of the parishioners of the Archdiocese of Hanoi.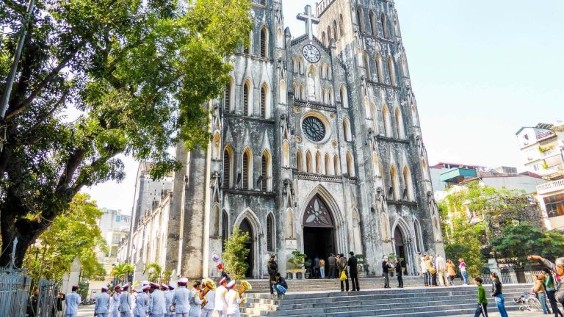 The Imperial Citadel of Thang Long
Imperial Citadel of Thang Long: formed in 1010, is a massive architectural work built through many feudal dynasties of Vietnam. With the historical and cultural values that this special architecture brings, in 2010, UNESCO recognized the central relic area of Thang Long Imperial Citadel as a World Cultural Heritage and became a UNESCO World Heritage Site scientific research as well as famous tourist attractions of Hanoi.
Entrance ticket price:
Adults: 30.000VND/person

Students, people over 60 years old: 15.000VND/person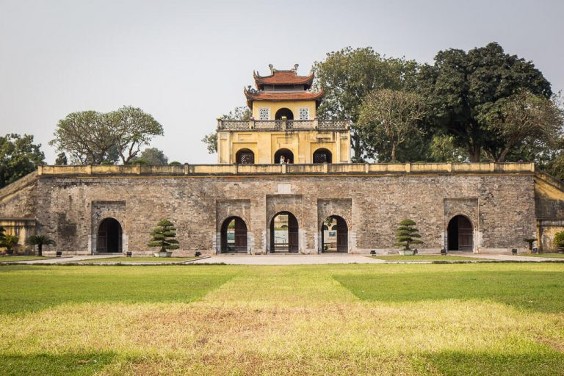 Where will you stay in Hanoi?
Hanoi has a lot of large and small hotels for you to choose from. Here, we will bring you the most luxurious, modern, and famous hotels in Hanoi such as JW Marriott Hotel, Sofitel Legend Metropole Hotel, Mövenpick Hanoi Hotel, Apricot Hotel.
Day 2: Transfer to Halong Bay – Night cruising
Visitors can still stay to see the beauty of Hanoi, but to understand more about the nature and culture of Vietnam, so the second day you will move by car to Halong Bay. 
Halong city is 170 km from Hanoi, which will give visitors experiences on the water, enjoy the fresh seafood dishes of the inhabitants of the sea, or the caves of the bay.
Overnight on cruises is an experience that you should not miss in your journey to visit and explore Ha Long Bay. Because when you spend the night on the bay, you can not only admire the shimmering sea view, immerse in the quiet space at night, but also watch the super romantic sunrise and sunset on the sea.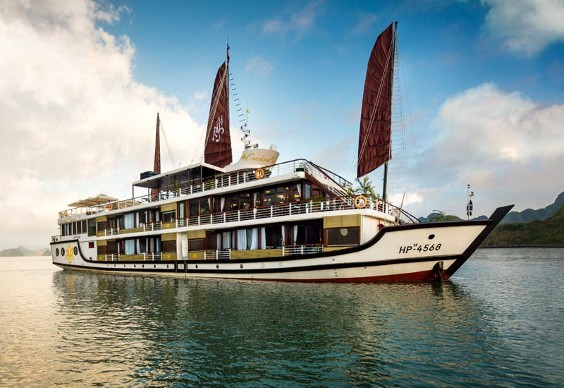 The main sightseeing routes on the cruise
Halong Bay route: Cruises will depart from Tuan Chau international tourist port. The cruises here are fleets of many years of experience and high-class service. Some typical yachts can be mentioned such as Paradise cruise, Pelican cruise,…
Bai Tu Long Bay route: Cruises will depart from Hon Gai – Vinashin ferry terminal or Halong International Cruise Port. The most typical cruises are Signature Cruise, Dragon Legend Cruises,…
Lan Ha Bay – Cat Ba route: Cruises will depart from Got or Tuan Chau ferry terminal. The most prominent ones are Capella Cruise, Le Theater Cruise, Orchid Cruise,…)
Facilities on 5-star cruises
High-class rooms: private bathroom, air-conditioner, television, minibar, window or balcony overlooking the sea,…

Luxury restaurant

The bar offers a variety of drinks

Sundeck: relax, read, sunbathe

Spa, massage: health care and recovery services

Gym, reading room, small swimming pool, plunge pool
Day 3: Experience in cruises
In Ha Long Bay visitors have the opportunity to practice Yoga or Tai Chi to exercise.
After a night of activities on cruises, visitors will be able to visit other famous caves by boat, which are majestic and beautiful caves.
Main activities
Visit cave, swimming, boating, kayaking, speedboat ride, sightseeing on the bay, cooking class, night fishing, Tai Chi exercise,…
Some attractions you can explore in 2 days on the cruise
Sung Sot Cave is located on Bo Hon Island, in the center of Ha Long Bay, Bai Chay Ward, Quang Ninh Province. When setting foot on Bo Hon island, visitors will have to climb 50 high stone steps and then continue down 10 stone steps to reach the cave entrance and explore Sung Sot cave. Sung Sot Cave is one of the destinations on tour route number 2 in Ha Long Bay.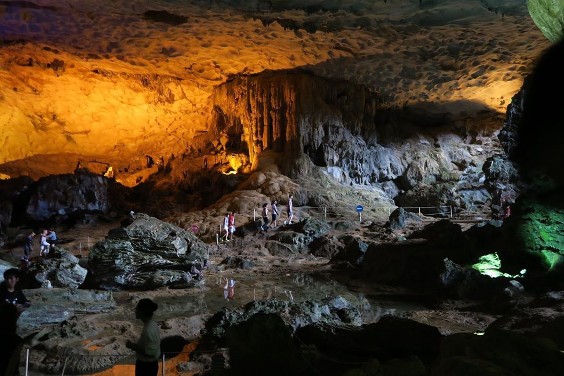 Ti Top Island is known as one of the most beautiful islands in Ha Long Bay, located only about 7-8 km from Bai Chay tourist area. The island leans against Cua Luc Bay, in front is Bo Hon Island, Sung Sot Cave, on the right is Dam Nam Island. This is also an ideal stopover place for tourists on their journey to visit Ha Long Bay.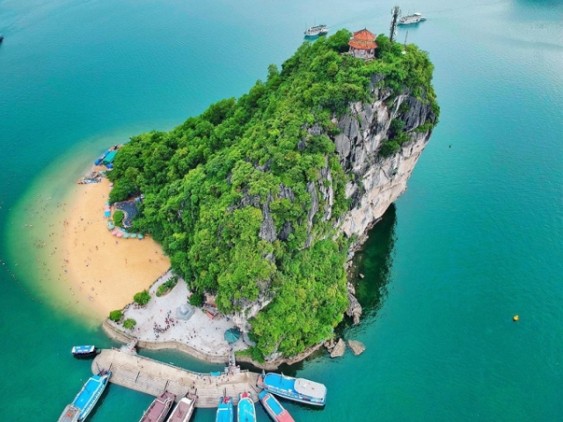 Soi Sim is an island located in the Southeast of Ha Long Bay. Soi Sim Island is 12km from Tuan Chau international tourist port, equivalent to about 90 minutes by boat. Unlike the vibrant and bustling Ha Long Bay, Soi Sim Island is quieter and rustic. However, with the fresh and fresh atmosphere, endless white-sand beaches, rich ecosystems,… this place still captivates many tourists.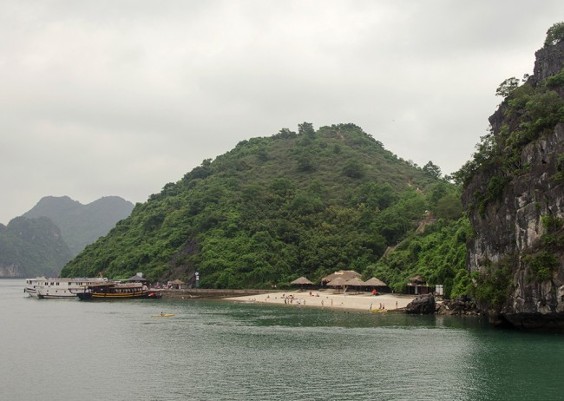 Day 4: Fly to Ho Chi Minh City
In the afternoon, transfer to Van Don airport to move to Ho Chi Minh City. Visitors will say goodbye to the North of Vietnam to continue to explore the South Vietnam Itinerary. 
Here, visitors will feel the difference between the North and the South, from eating habits, lifestyle or fashion taste are completely separate.
You can walk around Nguyen Hue Street and enjoy delicious and famous dishes in this street.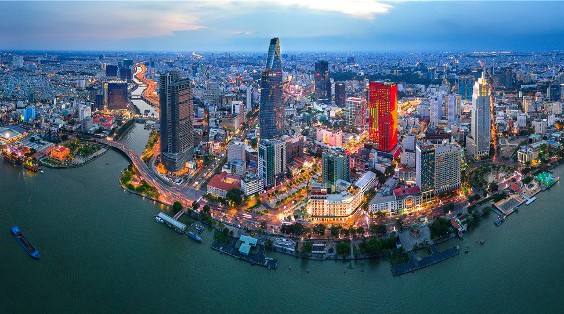 Where you stay in Ho Chi Minh City
Ho Chi Minh City is a busy city, so you won't be short of hotels to stop by, but we will give you the best hotels for your reference: Lotus Saigon, La Vela Saigon, Muong Thanh Saigon, Vinpearl Landmark Luxury81,…
Day 5: Ho Chi Minh City Tour – Cu Chi Tunnel
After an overnight stay at the hotel in Ho Chi Minh City, you will begin a tour of major landmarks and historical sites of South Vietnam.
Move to Cu Chi tunnels, just one hour drive from the city center. Visitors will learn about the difficulties in the process of gaining national independence of the Vietnamese people. 
The best places tourist destinations in Ho Chi Minh City
Independence Palace
Bring the pride of the nation, about a heroic time against the colonial invaders. Coming to the Palace, in addition to learning about the nation's history, visitors can also visit many beautiful scenes around. Therefore, choosing a place to stay is essential to make the trip convenient and quick.
Sightseeing tickets
Adults: 65.000VND/person.

Student: 45.000VND/person.

Children: 15.000VND/person.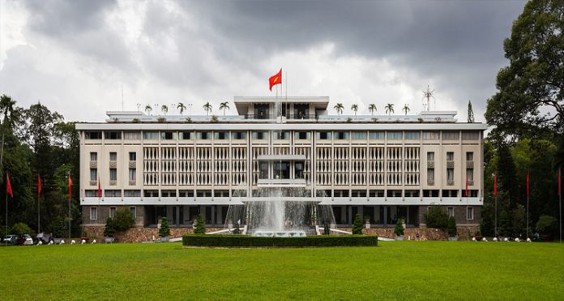 Notre Dame Cathedral
Featured with ancient French architecture, spacious space from outside to inside the cathedral. This is a place that tourists cannot miss when visiting the magnificent Ho Chi Minh City. When visiting the church, visitors will be impressed by the bell tower. This work is like to the soul of the church.
Ticket price: Free of charge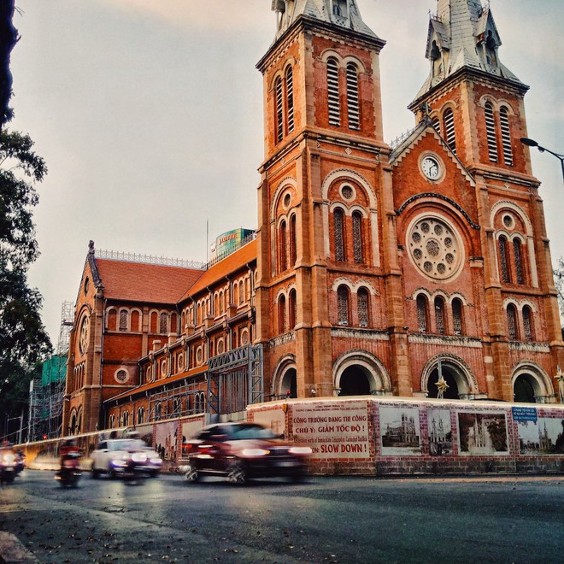 Vietnam History Museum
A place to preserve and promote the value of local cultural heritage. Just 365 steps around the History Museum, visitors can go through thousands of years of Vietnamese history and culture.
Ticket price: 30.000VND/person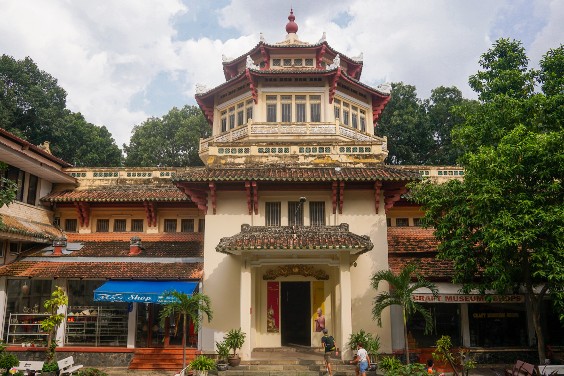 Cu Chi Tunnels
Visitors will have to travel about 70km from the center of Ho Chi Minh City. Traveling to Cu Chi tunnels would be incomplete if you missed exploring the tunnels deep underground. Visitors can admire the tunnels – where our troops and people operated during the war.
Here, you are also free to enjoy dishes with bold local flavors – these are the dishes that people in the old days still ate in the tunnels such as: Potatoes, cassava,…
Activities in Cu Chi tunnels
Dismantling guns, testing shooting skills, breaking war zones, visiting wildlife rescue stations

Visitors can experience Cu Chi tunnels, learn about unique weapons processed by our army and people in historical wars. These works are the main evidence for the extremely heroic history of Cu Chi tunnels and also show the cruel vestiges of war.
Day 6: Have a trip to Mekong Delta
Known as: "Rice Bowl of Vietnam". The service sector of the Mekong Delta includes the main industries: import and export, water transport, and tourism. Producing mainly rice and coconut products. Rice exports account for 80% of the country.
Coming to this land, visitors will be able to go on a boat to local craft villages, learn how to make handmade coconut candy.
Return to Ho Chi Minh City in the afternoon, and have dinner at the hotel. 
The best places tourist destinations
Cai Rang floating market
It is a popular tourist attraction when coming to Can Tho. The market operates quite early, around 5 AM and ends at noon.
Mainly trading in daily items, mostly local specialty fruits depending on the season such as: custard apple, mango, durian, custard apple, pineapple.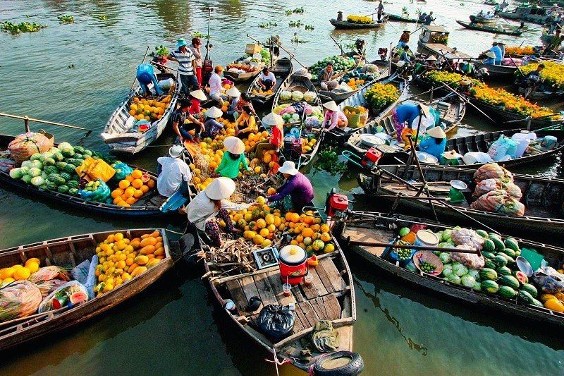 Lam Truc Phuong Nam Zen Monastery
Located in a fairly large land area in My Khanh area, Phong Dien district. Visitors to visit will be very pleased by the feeling of peace and tranquility.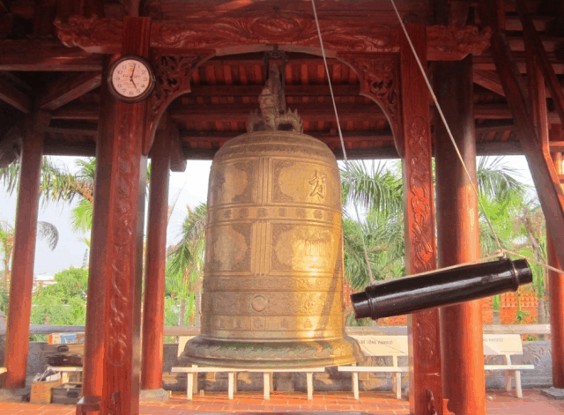 Day 7: Ho Chi Minh City – Come to the airport
Morning in Ho Chi Minh City. End of Vietnam itinerary. Relax in the hotel and go to the airport to return home.
Why you should visit Vietnam
Very friendly people

Traveling to Vietnam is very cheap

Quality food, delicious

Vietnam has a lot of places to visit

Very friendly people

Pleasant weather

Vietnam has a great history
https://www.youtube.com/watch?v=RY6pZ5pRTVI
7 days in Vietnam Itinerary, what will travelers feel? 
See the difference between the North and the South.

Enjoy the culinary quintessence during the trip, each region has its own culture passed down from a long time ago. Fortunately, visitors can learn about them right in Vietnam.

Visitors can also row their boats to the caves, relax on cruises, and practice sports during the trip.

Vietnam is a hospitable country, the people are kind and enthusiastic to help.
Are you satisfied with our tour schedule? 
Let Metta Voyage be your reliable choice when coming to Vietnam. You will experience the best service packages.
Contact us:
Website: mettavoyage.com
Email: [email protected]
Hotline 24/7: + 84 989 383 572
Facebook fanpage: https://www.facebook.com/mettavoyage