Vietnam is a country which you must visit in your life. If you find it difficult to choose a destination in Vietnam Itinerary, here is some of the best information for you, and we hope this information helps you. Especially, we definitely will you many memorable experiences after the itinerary in Vietnam.
1. Why Vietnam is the best country to visit in Southeast Asia?
1. Many places to visit
North: Ha Noi, Halong Bay, Ninh Binh, Sapa, Vinh Phuc
Central: Hue, Hoi An, Da Nang, Nha Trang, Quang Binh
North: Ho Chi Minh City, Mekong Delta, Cu Chi Tunnels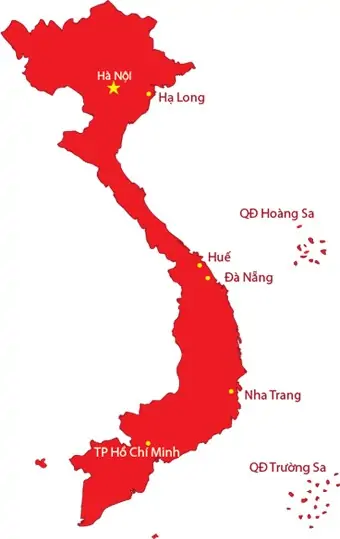 2. The people are friendly, kind
3. A destination with a price to suit everyone
4. Have a fascinating history
5. Majestic natural landscape
2. Best time to visit Vietnam
2.1. North Vietnam:
Northern Vietnam is characterized by extremely pleasant weather, but in summer it is very hot and sunny. The best time to travel to the North is in spring (from March to April) and autumn (from September to November)
2.2. Central Vietnam:
The wet season from August to November is typhoon season, so it will be difficult if you want to go. The best time for travelers to come to Vietnam is between February and August with pleasant weather, and about 30oC is from July to August.
2.3. South Vietnam:
The weather is warm and pleasant year-round, it's very good for travelers to take a tour at any time. From December to May is usually the dry season and from June through November is the rainy season.
9 DAYS TOUR IN VIETNAM ITINERARY: NORTH – CENTRAL – SOUTH
3. Day 1: Country in Vietnam – Hanoi Arrival
Hanoi is a beautiful city with countless colors, an indispensable destination in the journey of tourists if coming to the North of Vietnam. The city is famous for its historical sites, temples, literature museums and amusement parks, beautiful check-in locations. Not only that, but delicious traditional dishes with cheap prices are also the strength of this city.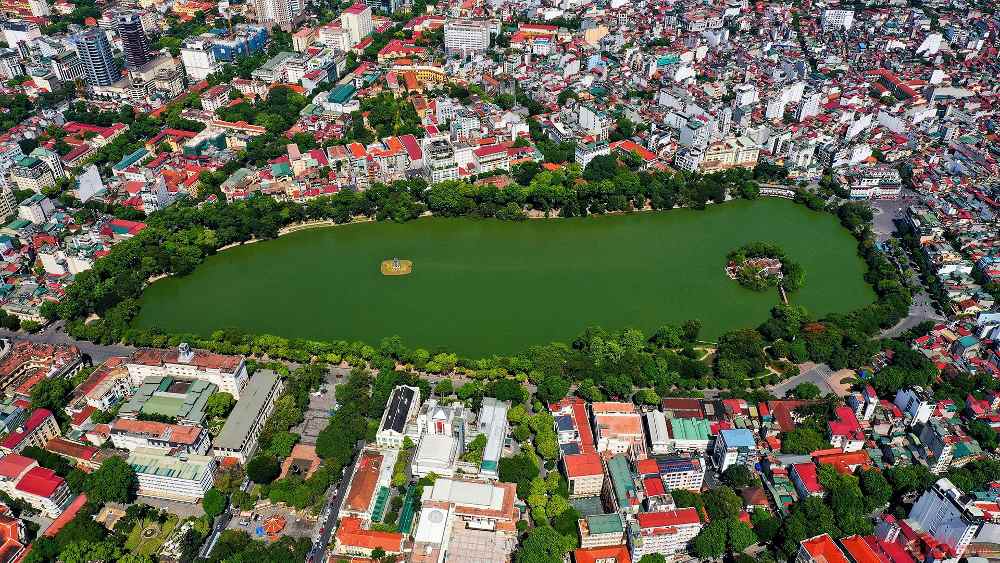 4. Day 2: Hanoi City Tour
4.1. Where to visit?
Hanoi with countless amusement parks, temples or famous streets with young people you can visit
Temples:
One Pillar Pagoda
Address: One Pillar Pagoda Street, Doi Can, Ba Dinh, Hanoi
Opening hours from 7 AM – 6 PM daily.
The temple is open completely free of charge to visitors who are Vietnamese citizens.
For foreign tourists, the entrance fee will be 25,000VND/ticket/way.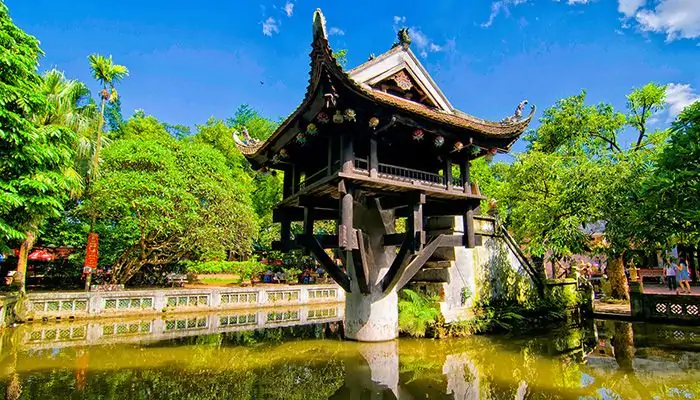 Tran Quoc Pagoda
Address: Thanh Nien Street, Yen Phu, Tay Ho, Hanoi
Opening hours are from 8 AM and close at 4 PM
The price to enter Tran Quoc Pagoda is quite cheap, only 5000VND/person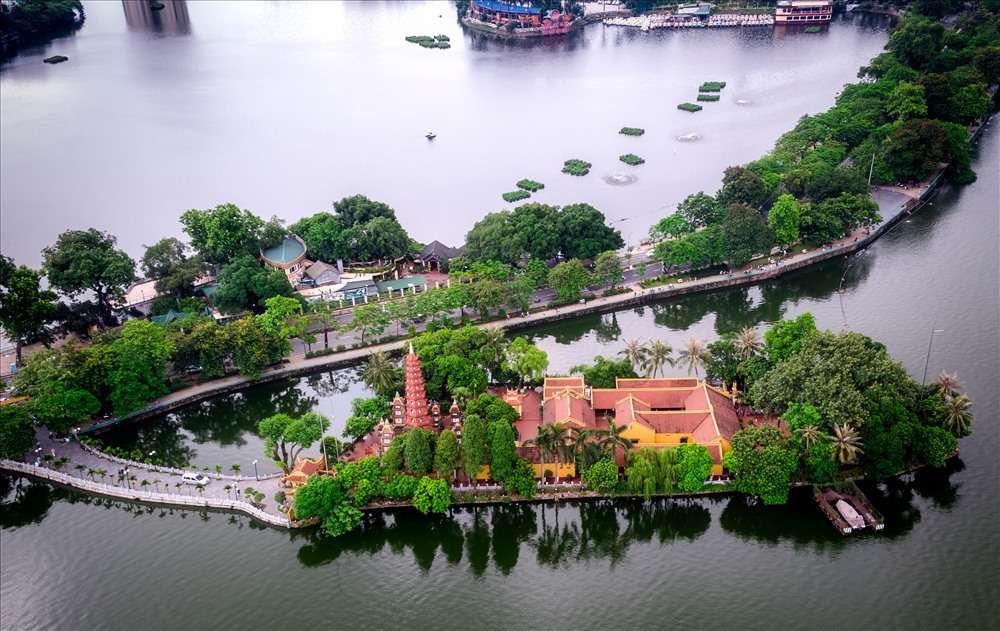 Hanoi Perfume Pagoda
Address: Huong Son, My Duc, Hanoi
The scenic ticket price is 80,000 VND/person for the entire Huong Son landscape relic (21 points).
The boat ticket price is 50,000VND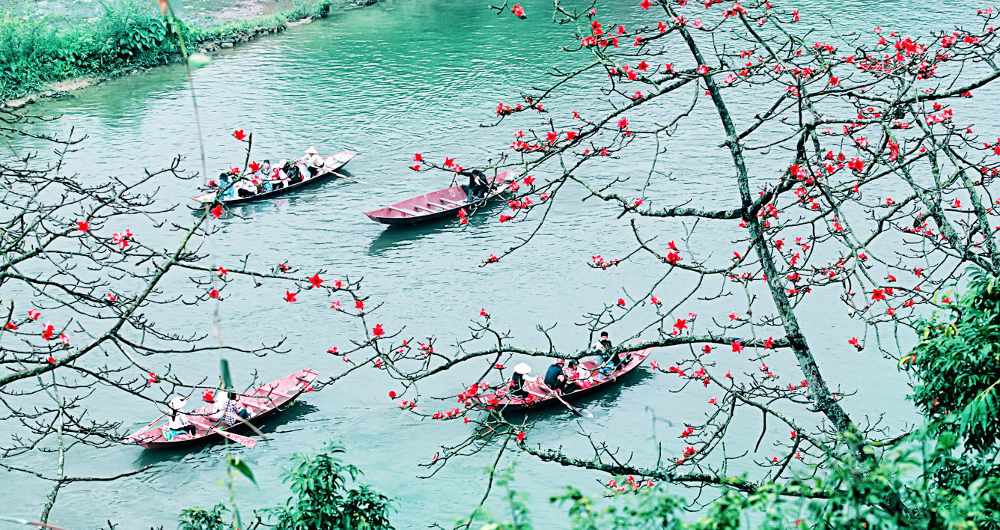 Phap Van Pagoda Hanoi
Address: 1299 Giai Phong, Hoang Liet, Hoang Mai, Hanoi
Price: Free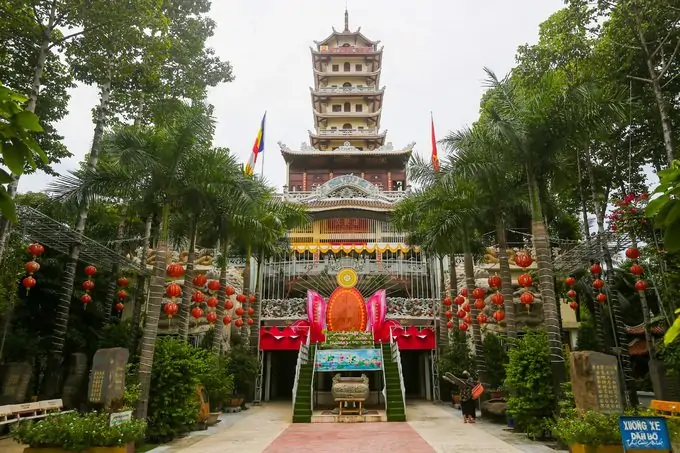 Famous streets:
Hoan Kiem Lake Walking Street Hanoi
Address: Address: Dinh Tien Hoang, Hang Trong, Hoan Kiem, Hanoi
West Lake
Surrounded by Thanh Nien – Thuy Khue – Au Co – Nghi Tam – Lac Long Quan streets
4.2. What to eat?
Coming to Hanoi, visitors cannot miss the traditional dishes of this place such as Bun cha, Pho, Bun dau mam tom, banh mi, or sticky rice,…
Bun cha
Price: 30.000VND – 40.000VND
Pho bo
Price: 30.000VND – 55.000VND
Bun dau mam tom
Price: 30.000VND – 55.000VND
Banh mi
Price: 15.000VND – 30.000VND
4.3. Where to stay?
There are many 4-star, 5-star hotels which we want to offer you: Intercontinental Hanoi Landmark72, Sofitel Legend Metropole Hanoi, Mercure Hanoi La Gare, Apricot Hotel, Dolce Hanoi Golden Lake Hotel,…
5. Day 3: Transfer to Halong – Experience in cruise
Halong is a beautiful city with thousands of large and small islands, spectacular scenery and is recognized by UNESCO as a World Cultural Heritage.
5.1. Where to visit?
Unique experiences you can do: kayaking at Ao Ech, visit islands such as Ti Top island, Soi Sim island, or take a boat to visit Hang sang, Hang toi, visit pearl farming area.
5.2. What to eat?
2 days 1 night or 3 days 2 nights cruises usually include all meals onboard.
Most meals are designed with seafood. Each cruise will have different menus to suit the needs of customers. So rest assured.
5.3. Where to stay?
There are countless cruises that you can choose as a place to participate in sea activities. Each cruise will bring you different experiences, but in general, they will give you the best services. It will be a memorable experience for you after your journey.
Here are a few of the cruises with the highest level of service that we would like to offer you.
Lux Cruises
Indochine Cruises
Orchid Cruises
Heritage Cruises
Stellar of the Seas Cruises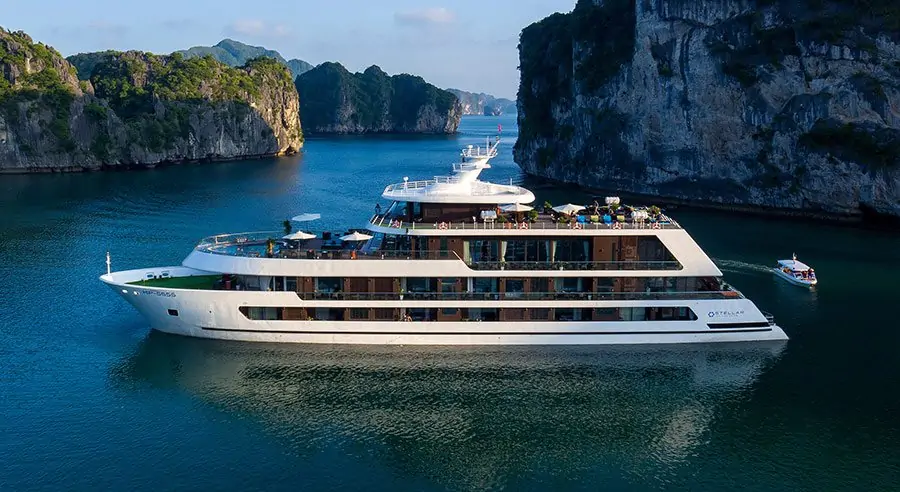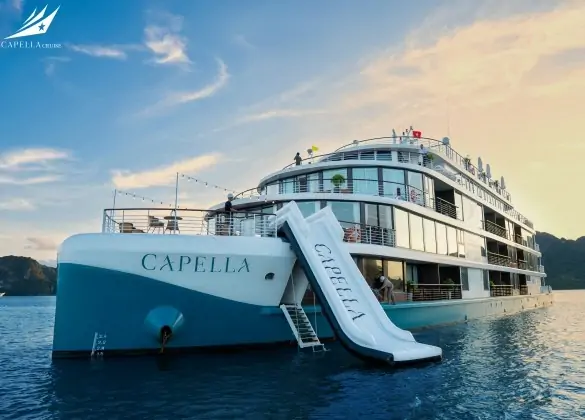 6. Day 4: Halong Bay Cruise – Fly to Da Nang
Da Nang – as one of the cleanest cities in the world, with fresh air. Not only international guests but also Vietnamese people like Da Nang because of its atmosphere.
6.1. Where to visit?
Some places you can visit and discover when traveling to Da Nang
Bai But
Address: Hoang Sa, Bai But, Son Tra Peninsula, Da Nang City
Bai But is one of the best free tourist attractions in Da Nang. And also where many domestic and foreign tourists choose as a place to visit, swim, see coral, … when traveling in Da Nang.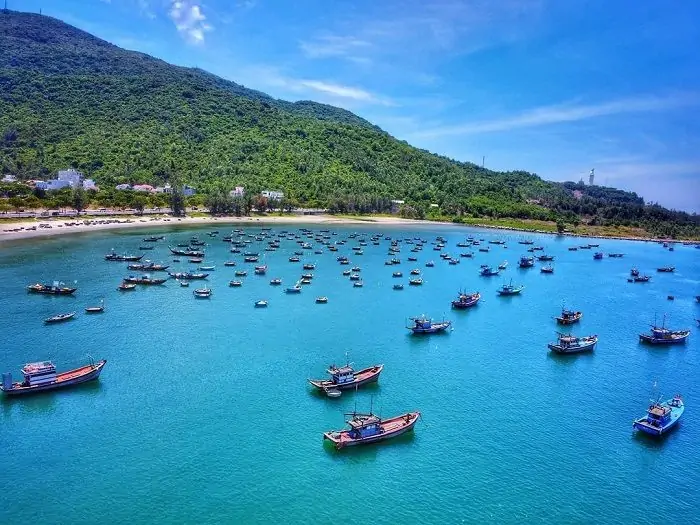 Ghenh Bang
Address: Hoang Sa, Tho Quang Ward, Son Tra District, Da Nang City
About 20km from the city center, Ghenh Bang is a tourist destination in Da Nang that attracts a lot of young people to come here to check-in and take pictures. And visitors when coming here are spoiled for swimming, seeing corals, camping, enjoying fresh seafood,…
Cau Rong
Address: An Hai Tay Ward, Son Tra District, Da Nang City
As one of the new tourist attractions in Da Nang attracting tourists. With a unique design in the shape of a dragon crossing the romantic Han River. You can see the dragon spitting fire and spitting water if you come here on the weekend.
Marble Mountains
Address: 81 Huyen Tran Cong Chua, Hoa Hai, Ngu Hanh Son, Da Nang City
This is one of the 10 most prominent tourist attractions in Da Nang and is recognized as a National Historical and Cultural relic.
Hai Van Pass
Address: Bordering between Da Nang city and Thua Thien Hue province. Belongs to tt. Lang Co, Phu Loc, Thua Thien Hue
Here visitors can sit on the top of the pass overlooking the sea, hunt clouds, watch the beautiful sunrise and sunset.
6.2. What to eat?
Coming to Da Nang, you can't miss the following dishes: Quang noodles, Beef noodle soup, bun mam nem, banh canh, banh xeo, nem lui Da Nang, mit tron or "che sau". The dishes that have made the brand for this place.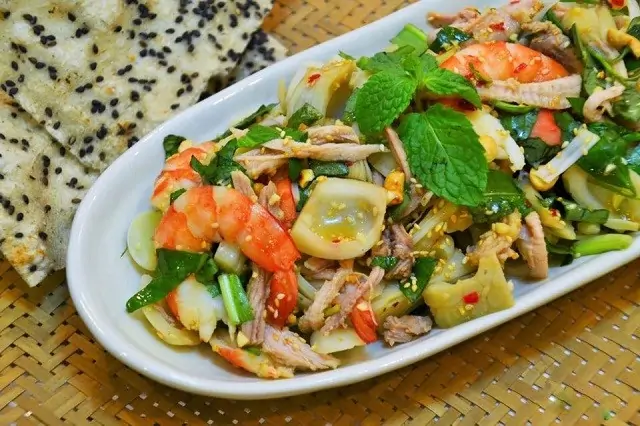 6.3. Where to stay?
Each hotel will have different services for you, depending on your demands and abilities, to be able to choose the most suitable accommodation for you.
A few hotels and resorts you can refer to: Pullman Danang, Intercontinental Danang, TIA Wellness Resort, Furama Resort Danang,…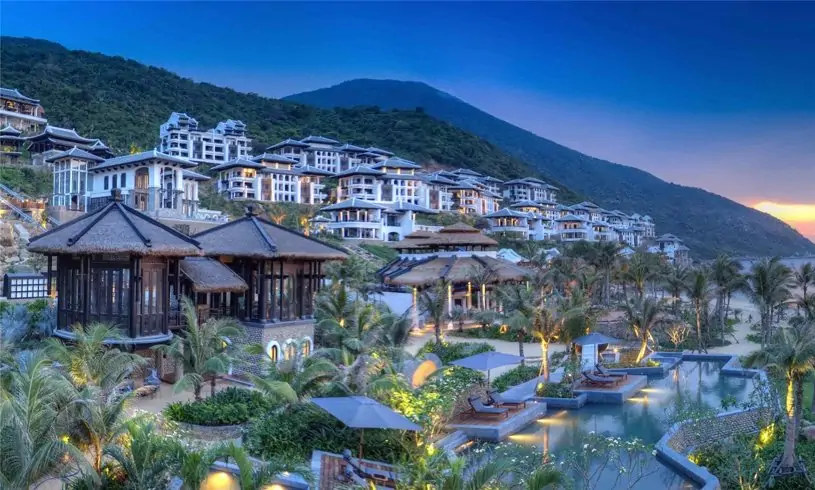 7. Day 5: Da Nang – Hoi An Tour
Hoi An – An old city with classic but no less sophisticated architecture. Hoi An is an Ancient city but still maintains and preserves its beauty that visitors can only encounter here. The tourist attractions and experiences in Hoi An will bring visitors back to an ancient, ancient and idyllic life.
7.1. Where to visit?
When coming to Hoi An, you should visit the following places:
Rung dua Bay Mau
Address: Cam Thanh Commune, Hoi An City.
Hoi An Ancient Town
Address: Minh An Ward, Hoi An City.
Phung Hung Ancient House
Address: No. 4, Nguyen Thi Minh Khai Street, Hoi An City, Quang Nam
Assembly Hall of Chaozhou
Address: 157 Nguyen Duy Hieu, Hoi An City
Hoi An Handicraft Workshop
Address: 9 Nguyen Thai Hoc street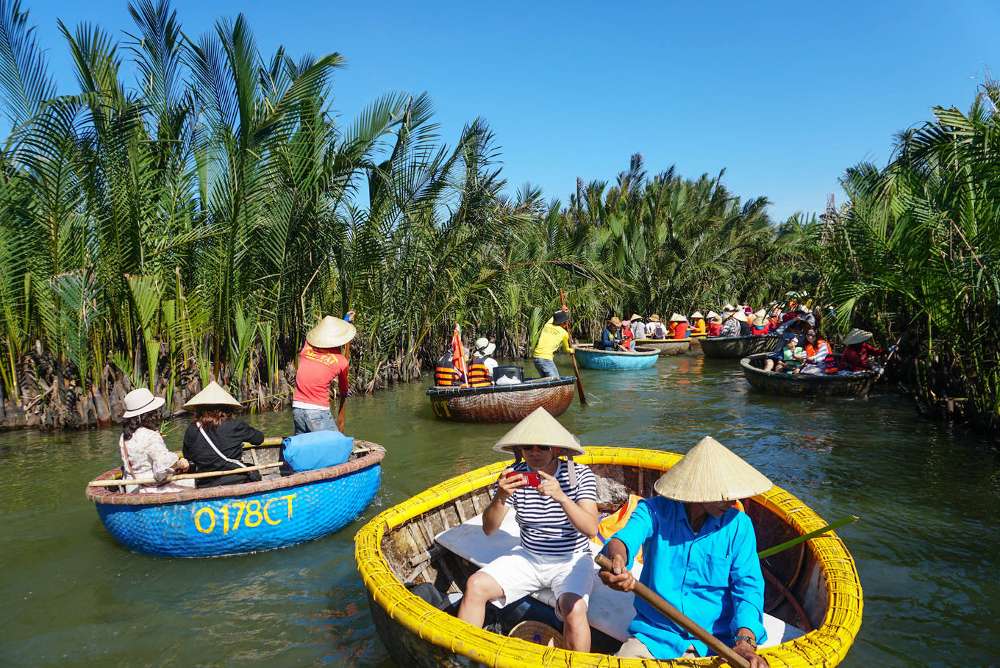 7.2. What to eat?
Coming to Hoi An, you not only visit famous spots but also enjoy traditional, specialty, and extremely affordable dishes such as Cao Lau Hoi An, Quang Hoi An Noodles, Mi quang, Hoi An chicken rice, Banh mi Hoi An,…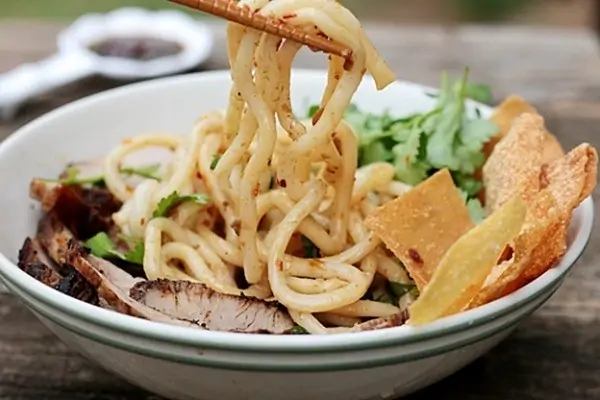 7.3. Where to stay?
Hoiana is the hotel that we want you to experience in your travel itinerary in Hoi An.
Or Le Pavillon is also a place you cannot miss
Anantara Hoi An, Victoria Hoi An Beach Resort & Spa are hotels, resorts that will also give you the perfect experience.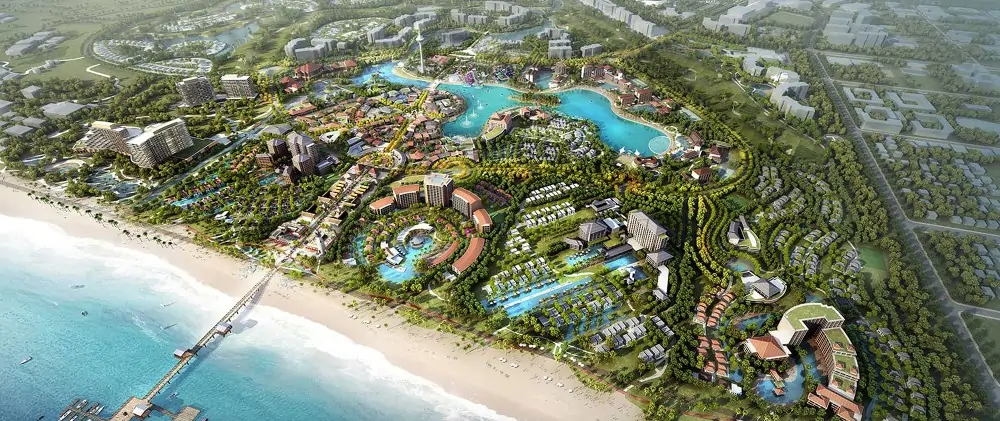 8. Day 6: Da Nang – Hue
Hue is a land of civilization with a rich history, unique culture, many heritages, and unique festivals. The peace of the landscape and the people here make the city special and attractive.
8.1. Where to visit?
Come to Hue with countless ancient architectural works, along with natural scenes with poetic and charming features in the quiet space of the ancient capital.
Hue Citadel
Address: Phu Hau, Hue City, Thua Thien Hue
Thien Mu Pagoda
Address: Huong Hoa, Hue City, Huong Hoa Hue City, Thua Thien Hue
Hue mausoleums
Tu Duc Tomb
Address: Duong Xuan Thuong village, Cu Chanh canton, Tu Duc Tomb
Minh Mang Tomb
Address: Highway 49, Huong Tho, Huong Tra, Thua Thien Hue
Khai Dinh Tomb
Address: Khai Dinh, Thuy Bang, Huong Thuy, Thua Thien Hue
8.2. What to eat?
Hue dishes always know how to make tourists remember when coming here. Because the ancient capital of Hue is famous for its unique cuisine, creating its own characteristics with delicious dishes in Hue created and handed down from the old royal chefs.
Banh Canh
Suggested address: No. 16, Pham Hong Thai, Hue
Reference price: 5.000VND – 10.000VND.
Va tron
Address: Dong Ba Market, Tay Loc
Reference price: 10.000VND – 20.000VND
Com hen
Suggested address:
Com Hen ba Cam, No. 2 Truong Dinh, Hue
Vermicelli, Hen Ty Hon, 3 Han Mac Tu, Vi Da, Hue
Reference price: 10.000VND – 35.000VND
Bun thit nuong
Suggested address:
Bun thit nuong Ba Ty
81 Dao Duy Tu, Phu Binh, Hue
Reference price: 20.000VND – 30.000VND
Banh nam
Price: 20.000VND – 40.000VND
Bun Bo Hue
Reference price: 20.000VND – 40.000VND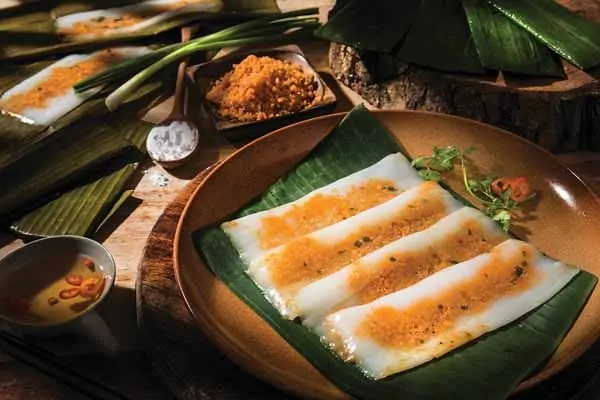 8.3. Where to stay?
Some hotels you can choose in your travel
Silk Path Grand Hue Hotel
Azerai La Residence Hue
Laguna Park Homes Lang Co
9. Day 7: Explore Hue – Fly to Ho Chi Minh city
Ho Chi Minh is considered the most entertaining city in Vietnam, visitors can see the number of people hanging out and eating at the extremely crowded restaurants at night.
9.1. Where to visit?
To fully explore Ho Chi Minh City, you will realize that this is a bustling city on every street, this place never ceases to be bustling even at night. That land is always full of life and brilliance, making people curious.
Some places to visit that you cannot miss: Independence Palace, Notre Dame Cathedral, Ben Thanh Market, Suoi Tien Tourist Area, Vietnam History Museum, Cu Chi Tunnels,…
9.2. What to eat?
Bot chien
Address:
Van Thanh bot: Alley 185 Vo Van Tan, District 3, City. Ho Chi Minh
Bot Chien Dat Thanh: 277 Vo Van Tan, Ward 5, District 3, City. Ho Chi Minh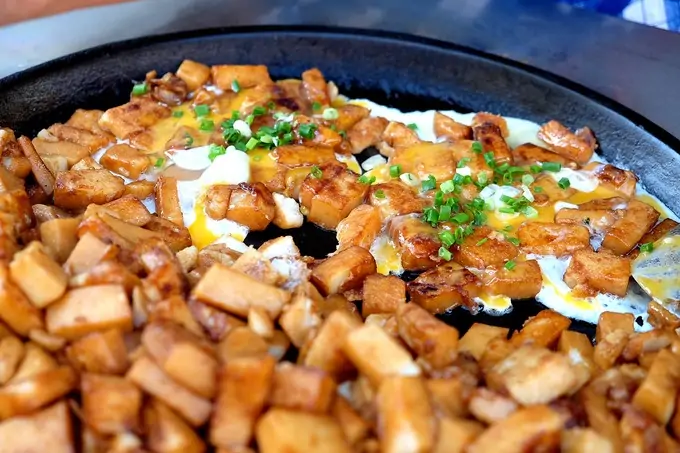 Crap Soup
Address:
Ut Le crab soup: 210 To Hien Thanh, Ward 15, District 10, City. Ho Chi Minh
Soup with crab and pork leg: 181/6 Xom Chieu, Ward 16, District 4, City. Ho Chi Minh
Crab soup: 720 CMT8, Ward .5, Tan Binh District, City. Ho Chi Minh
Bot soup: 453/50 Le Van Sy, Ward 12, District 3, City. Ho Chi Minh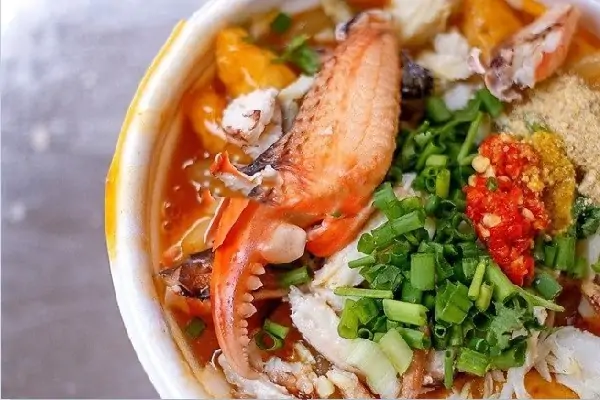 Banh mi Sai Gon
Address:
Banh Mi Kho Bo Phuong Lien: 12 Nguyen Huy Tu, Da Kao Ward, District 1, City. Ho Chi Minh
Banh mi pha lau Ba 6: 104 Hoang Dieu, Ward 12, District 4, City, Ho Chi Minh
Huynh Hoa Bread: 26 Le Thi Rieng, Ben Thanh Ward, District 1, City. Ho Chi Minh
Banh mi pha lau Tam Ky: 823 Nguyen Trai, Ward 14, District 5, City. Ho Chi Minh
9.3. Where to stay?
Hotels you can refer to such as La Vela Saigon, Lotus Saigon Hotel, Muong Thanh Saigon Hotel, New World Saigon Hotel, Sofitel Plaza Saigon Hotel, Intercontinental Saigon,…
10. Day 8: Ho Chi Minh – Have a trip to Mekong Delta
Mekong Delta is fertile land and extremely developed in terms of tourism, a land worth visiting for tourists to experience
10.1. Where to visit?
Top tourist attractions in Mekong Delta:
Can Tho River Tour
Mekong Experience Tour
Mekong Eco Tour
Tra Su Melaleuca forest
Chau Doc
Ben Tre
Some private places you can visit: Cai Rang Floating Market, Sam Mountain, Binh Thuy Ancient House, Ong Pagoda, Truc Lam Phuong Nam Zen Monastery
10.2. What to eat?
An indispensable dish in the West, crispy fried giant fish wrapped in Rice-Paper, Beef wrapped in Rice-Paper, Grilled river shrimp, Coconut candy, Grilled banana cake, assorted fish sauce, Banh bo with jaggery,…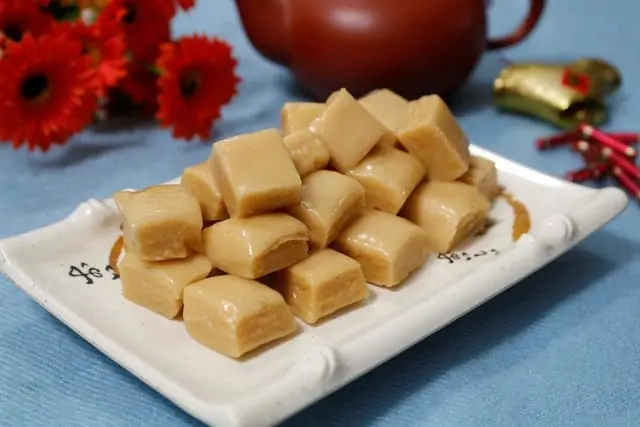 10.3. Where to stay?
Countless places you can refer to: Azerai Can Tho Resort, Victoria Can Tho Resort, Can Tho Ecolodge, Mekong Delta Ricefield Lodge, Diamond Stars Ben Tre Hotel,…
11. Day 9: Ho Chi Minh Departure
End of 9-day journey in Vietnam, thank you for choosing us for your vacation
12. Have a sim card in Vietnam Itinerary 9 days tour
We recommend you get yourself a SIM card when traveling in Vietnam, it's very convenient to find information and the price is also very cheap. There are SIM cards such as Vinaphone, Mobile, Viettel
13. Things to bring when traveling to Vietnam
Documents required: ID card/ passport
Clothes/ Personal toiletries
Cash/ credit card
Personal belongings
Contact us
Website: mettavoyage.com
Email: [email protected]
Hotline 24/7: + 84 989 383 572
Facebook fanpage: https://www.facebook.com/hanhtrinhtinhtan