Vietnam is one of the most friendly and welcoming countries in the world. A country which is famous for its diverse street food, delicious food with Southeast Asian characteristics. The food is not only tasty but also low-priced for tourists. Vietnam itinerary will bring visitors meaningful trips and authentic experiences.
Let's explore the city together, the top attractions in Vietnam itinerary.
1. TOP 1: Sapa – the foggy city: The overall best place in Vietnam Itinerary
Sapa is a highland district of Lao Cai province, located between Hoang Lien Son and Con Elephant ranges, known to many people for its majestic and poetic mountain scenery.
Sapa is a creation that nature bestows beauty like a magnificent fairy picture. Therefore, in the Vietnam itinerary, Sapa is one of the Northwest tourist attractions in the Vietnam itinerary with lots of famous places like Y Ty, Ban Gioc Waterfall, Fansipan Mountain, Muong Hoa Valley, Bac Ha Market, Mu Cang Chai,…
1.1. The best time to visit Sapa
Sapa's climate is cool year-round with the stable temperature making it the best time for tourists to admire the poetic beauty and trekking. The weather is especially comfortable for tourism from March to May range from 15-26oC, at this time visitors will have the chance to see the picturesque scenes of green fields and many colorful flowers. Besides, with fresh air and warm temperature, in Sapa itinerary it will be a perfect idea for trekking and outdoors activities. September to mid December with an average temperature of 15 to 25oC, making it the perfect time for photos and trekking.
1.2. Transport
To visit Sapa guests can travel by their own private vehicle according to their travel preferences. But for the trip to be safe and fast, it is very reasonable to book a trip by tourist bus or overnight train from Hanoi to Sapa. During the itinerary, walking is the best and convenient way to visit Sapa Vietnam. There are also taxis, buses and motorbike taxis around.
1.3. Accommodation
In Sapa itinerary, booking a room to stay depends on the income and preferences of each person. Some following hotels which visitors can choose: KK Hotel Sapa, Sapa Jade Hill  Resort & Spa, Topas Ecolodge, Cat Cat Hill Resort Spa,…
1.4. Things to do in Sapa



There are many things that visitors can do in Sapa travel itinerary like going into small local villages, visiting museums, hiking Fansipan mountain, walking to the Silver Waterfalls, enjoying local dishes to feel the taste of the area, admiring the charming scenery in Muong Hoa Valley, where there is a small winding stream up to 15 km or Sapa Market where you can buy specialties as gifts in Sapa, buying some amazing local handicrafts or having a tour the rice fields,…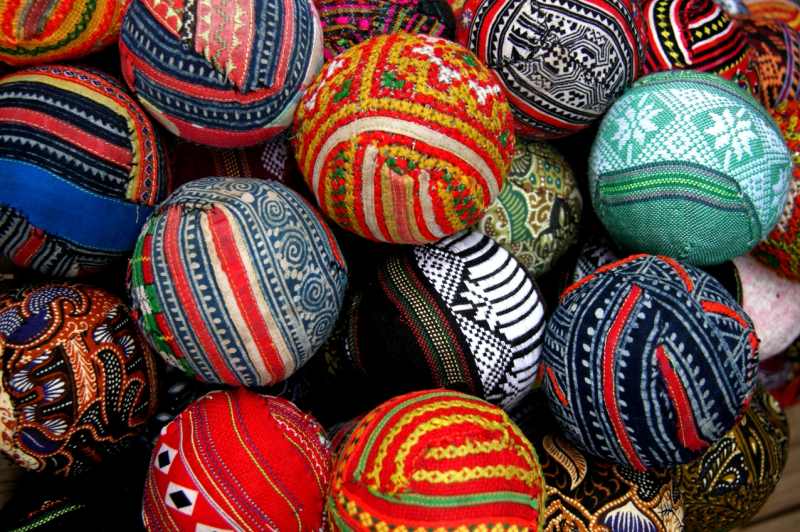 2. TOP 2: The bustling city Ha Noi:  The most beautiful place in Vietnam Itinerary
Hanoi is the capital of the north. It is one of the great places in Vietnam that people all over the country want to go to. A busy and chaotic city but it's the highlight here. Hanoi Vietnam always attracts tourists with a distinctive color and an unmistakable way of life.
In Vietnam Itinerary, visitors can visit famous attractions such as Hoan Kiem Lake, West Lake, Ba Dinh Square, Temple of literature, Hanoi Cathedral, or want to learn about the culture and lifestyle of the people of Trang An, you cannot ignore the Old Quarter Hanoi, one of the extremely attractive tourist areas for tourists,…
2.1. The best time to visit Hanoi
Visitors can visit Hanoi at any time, but to have a truly meaningful itinerary, the best time of year to visit Hanoi Vietnam is from March to April and from September to November (avoid traveling in the rainy season) and Hanoi travel in flower season. Daisy not only bloom in a single season of the year, but this flower only appears mainly in the northern provinces, especially Hanoi Vietnam. If tourists visit Hanoi from late October to early December, it is easy to see daisies on every street or any road.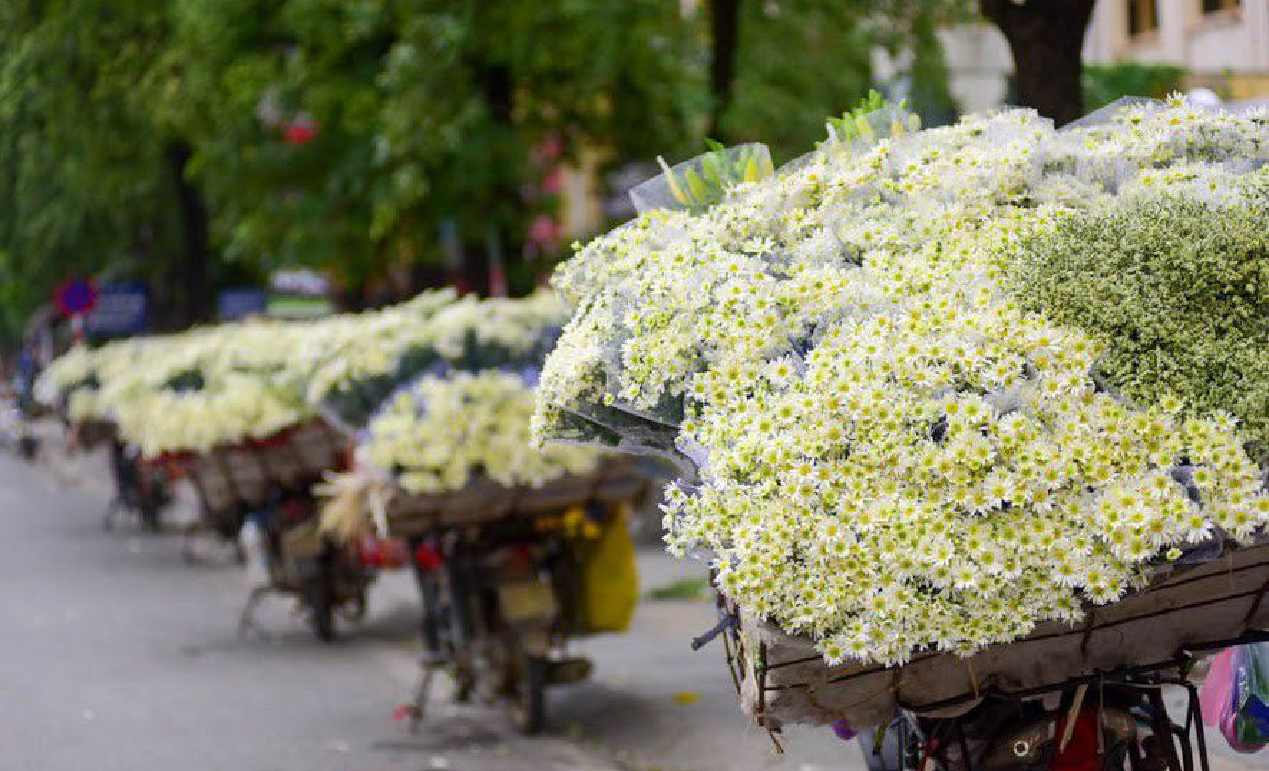 2.2. Transport
There are many ways to get around in Hanoi Itinerary, from walking to Grab motorbike to bus to taxi to Cyclo. Taxi/Grab is the fastest way to get around but it's very expensive. Besides, visitors can rent a motorbike to experience the streets of Hanoi by themselves for only 100,000 – 150,000VND/day.
2.3. Accommodation
A bustling Hanoi, appear many different 4-5 star hotels, so visitors can easily find out and book a place to stay in classic or modern style depending on their preferences in Hanoi itinerary like JW Marriott Hanoi, Sofitel Legend Metropole Hanoi, Meliá Hanoi, La Siesta Premium Hang Be Hotel,…
2.4. Things to do in Hanoi
A beautiful and antique Hanoi, it will be a waste if you don't get around the West Lake o walk around Hoan Kiem Lake, or visit the typical landmarks of Hanoi, the streets, visitors can experience Hanoi City with Hop on – Hop off tour,  visit the Museum of Ethnology, enjoy Hanoi cuisine, go to Uncle Ho's mausoleum for the flag raising ceremony at 6 a.m or for flag lowering ceremony at 9 p.m on the same day.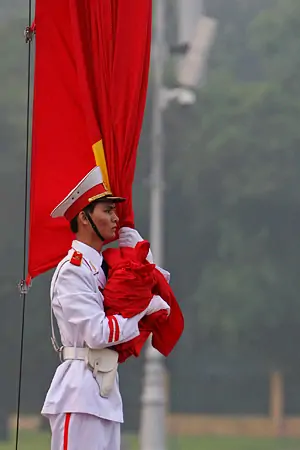 3. TOP 3: Hoi An Ancient Town: The best place in Vietnam Itinerary
Hoi An is one of the top destinations of Central Vietnam with many beautiful landscapes and unique cuisine, 30km from Da Nang city center. Without the hustle and bustle, Hoi An looks calm and ancient. Also, visitors will clearly feel the interference of cultures between Vietnam and other countries (Japan, China,…) in Hoi An itinerary.
In Hoi An Vietnam visitors have the opportunity to admire the unique architectural heritage, museums, temples, Cu Lao Cham, My Son ruins, Cua Dai Beach, or to participate in famous and unique traditional festivals like Wandering Soul Day, Whale Worshiping Festival, Mid Autumn Festival, Lady Thu Bon Festival,…
3.1. The best time to visit Hoi An
The ideal time to visit Hoi An Itinerary is from February to April every year with warm temperature and rainfall is low, so it's very suitable for tourists to visit. During May – June, the weather has some hot sunny days but this is a great time to dive and see corals in Cu Lao Cham.
3.2. Transport
Hoi An is easily to stroll around on foot, but to explore Hoi An ancient town, visitors can choose one of the following transport:
Motorbike: this is a personal vehicle that should be prioritized, price range from 120,000-150,000 VND. Moreover, visitors can also use taxis, cyclos or bicycles to visit this wonderful city, all of which are ideal options for tourists to get around and discover the peaceful beauty.
3.3. Accommodation
For the most convenient travel to Hoi An ancient town, you should choose a hotel near Hoi An for convenient transportation. It also depends on your preference and price to book the perfect place to stay during Hoi An itinerary.
3.4. Things to do in Hoi An
Although Hoi An ancient town is small, the culinary culture is extremely rich. You should enjoy dishes such as chicken rice, Cao Lau, banh beo, Quang noodles, wonton,…
In the Hoi An itinerary, visitors should walk around the Old Town, visit Hoi An Museum. It is impossible to ignore the ancient houses with bold ancient architecture or Hoi An market – food paradise, sample Cao Lao, trip to My Son ruins,…
4. TOP 4: Ho Chi Minh City travel – A busy city
Ho Chi Minh City is the most dynamic and bustling city in Vietnam with lots of fun spots. And visitors can experience a variety of activities at tourist attractions for all ages here.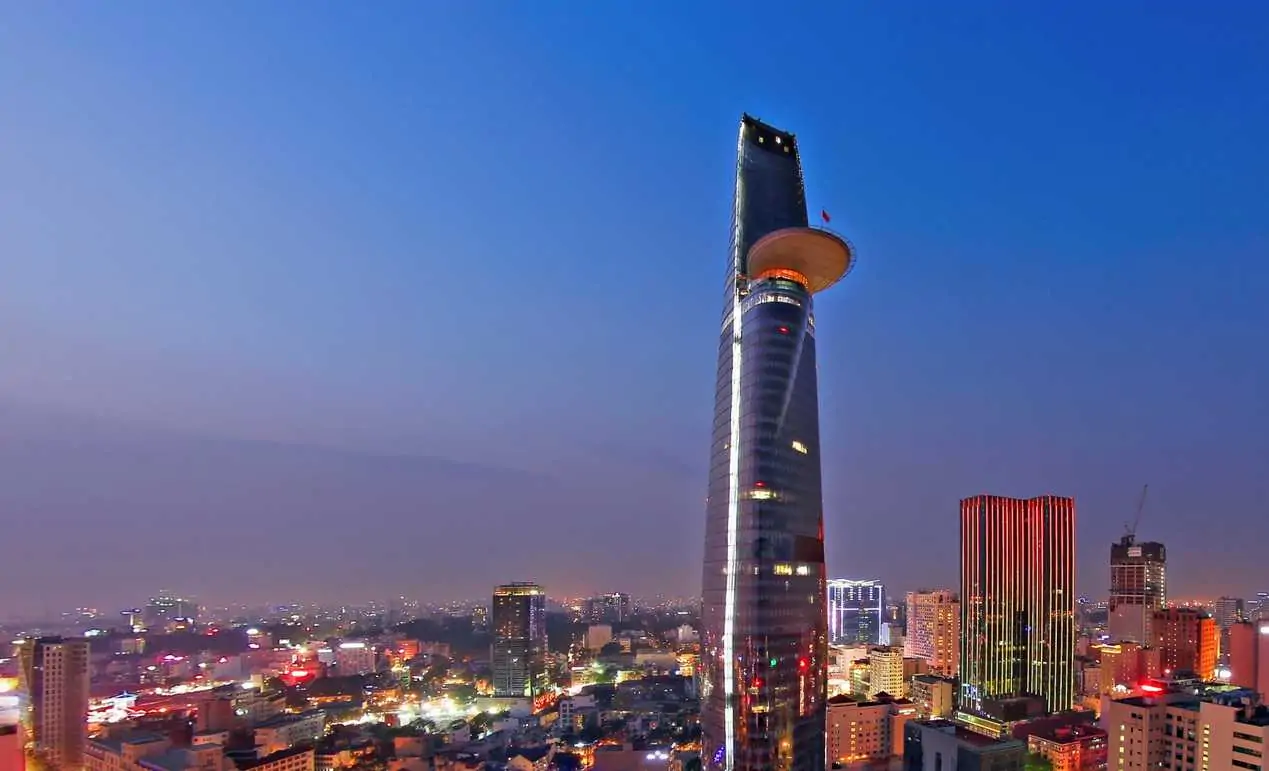 During Ho Chi Minh Itinerary, visitors can visit the city's highlights such as Nguyen Hue pedestrian street, Nha Rong Wharf,  Binh Tay Market, War Remnants Museum, Cu Chi Tunnels, Thanh An Island,…
4.1. The best time to visit Ho Chi Minh City
Ho Chi Minh City has 2 distinct seasons: rainy season from May to November. In the rainy season, Saigon is famous for many sudden rains so it is the perfect time to visit Ho Chi Minh City in Vietnam Itinerary during the dry months from December to April (21-34oC).
4.2. Transport
The main means of transportation for tourists in Saigon itinerary are motorbikes, then cars, bicycles, buses (the cheapest public transport) and cyclos.
4.3. Accommodation
There are many choices to book a place to stay, depending on the traveler's finances during a travel itinerary. Visitors can stay in Lotus Saigon Hotel, La Vela Saigon, Muong Thanh Saigon,…
4.4. Things to do in the itinerary
It is a pity if visitors do not see the vitality of the city at night, the bustling and crowded outdoor dining. Besides, visitors should have a trip to Independent Palace, Ben Thanh Market, a tour of street food, the Mekong Delta, admire the City Hall, visit the War Remnants Museum or Notre-Dame Cathedral Basilica of Saigon,…
5. TOP 5: The Pearl Island – Phu Quoc
Phu Quoc is located in Kien Giang province. Phu Quoc Island has long been famous for tourists from all over the country and international tourists. It is a beautiful island with peaceful, unspoiled natural scenery and an ideal destination for vacation activities and perfect relaxing.
Visitors will visit famous destinations such as Rach Vem fishing village, Vinpearl Safari Phu Quoc, Bai Dai, Ganh Dau cape, or night markets… in Phu Quoc Itinerary.

5.1. The best time to visit Phu Quoc
Season change is the most ideal time to explore Phu Quoc. From November to April next year, the weather conditions are extremely favorable for all activities to visit and experience. Moreover, November is the time to change the season, the temperature is about 25 to 28oC so visitors will enjoy the cool, pleasant breeze.
5.2. Transport
Phu Quoc has a very large area, about 600km2, but it only has 3 main roads for daily circulation and travel: Tran Hung Dao Street, 30/4 Street and Hung Vuong Street. If you are planning to travel to Phu Quoc on your own, motorbikes will definitely be the right means of transportation for you. Besides, visitors can choose motorcycle, taxi, bike or bus to get around during a Phu Quoc Itinerary.
5.3. Accommodation
Booking to place stay: You can choose to stay at a homestay. Or if you prefer privacy, convenience, and comfort, don't hesitate to choose a hotel or resort. However, the tourist areas in Phu Quoc are almost full, hotels in Phu Quoc near the night market are very difficult to book without a reservation.
5.4. Things to do in the Phu Quoc Itinerary
Get around Phu Quoc on a motorbike, check out Phu Quoc Beach, visit Phu Quoc Night Market, or Phu Quoc Prison, which is recognized as a national historical relic, is a destination imbued with the nation's heroic history. In addition, Phu Quoc also attracts tourists with a series of beautiful cafes, becoming a "million-like" virtual living place for Instagram followers. You can visit the "sim" wine factory, enjoy the fruit wine that is extremely easy to drink and the typical flavors and dishes in Phu Quoc.
6. Notes in the Itinerary Vietnam
To have a complete trip, you should bring the following things:
A negative test for covid 19
COVID-19 vaccine 2 dose completion
Documents required: ID card/ passport
Clothes/ Personal toiletries
Cash/ credit card
Personal belongings
Do you want an interesting trip? Are you ready to pack in your suitcase and hit the road?
To make every trip more meaningful, please contact Metta Voyage, we are ready to bring you the best services in Vietnam itinerary.
Contact us
Website: mettavoyage.com
Email: [email protected]
Hotline 24/7: + 84 989 383 572
Facebook fanpage: https://www.facebook.com/hanhtrinhtinhtan