In January, we continue to hold Webinar 2 to keep up to update travel in Southeast Asia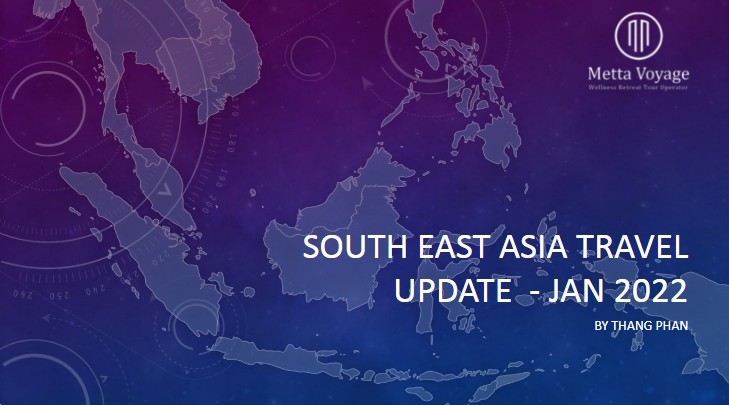 Part 1: Introduce the presentation
In the first part, we will introduce something about the Metta Voyage team. Then, there are new updates on the difficulties of tourism in Southeast Asia. Third, we present the news in the tourism industry of Southeast Asia for the first month of 2022. Finally, after wrapping up the contents of Webinar 2, we had a short discussion about the participant's questions about tourism in Southeast Asian countries.
Talking about Metta Voyage 
Metta Voyage is the Wellness Tour Operator that provides travel services handling throughout South East Asia country. Following the concept of Wellness – The Holistic Health, our experts create and lead the travelers through the spiritual and ancient healing experiences, individual immersions, and internal balance for travelers to provide the profound change besides experiencing the beautiful landscape, historical and cultural elements of destinations in Southeast Aisa (Vietnam, Laos, Cambodia, Thailand, Philippines, Malaysia, Indonesia, Myanmar, and Singapore). 
Travel restrictio
n update in Southeast Asia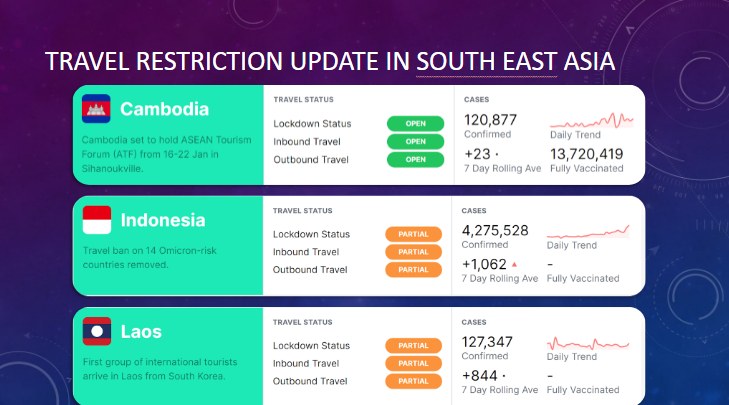 Cambodia: set to hold ASEAN Tourism Forum (ATF) from 16-22 Jan in Sihanoukville with the preparation already 90% completed.
Indonesia: Travel ban on 14 Omicron-risk countries removed. Travel inbound and outbound are partially adjusted.
Laos: The first group of international tourists arrives in Laos from South Korea. Travel inbound and outbound are partially adjusted.
Malaysia: Government looking opening VTLs with Thailand and Indonesia, NRC recommends borders reopen. 
Myanmar: Singapore, Malaysian governments criticize Cambodian PM's Myanmar visit outcomes. 
Philippines: the Philippines implements "No vax, no ride" policy, including domestic flights.
Singapore: At the moment Changi Airport reaches 15% of pre-pandemic levels in December
Thailand: Start Tourism Ministry plans to implement a 300 THB tourist from April, trade calls for postponement of the scheme. And for the first two weeks of January, they were still very concerned to reopen the new Sandbox program but now they have committed to reopening the Sandbox program in three more places in Thailand
Vietnam: For the Health Ministry already to stop relying on daily cases, they had reclassified how to define the positive cases that are the ones who had focused on hospitalization and death rates instead. Although the number of cases in Vietnam is still rising, the number of death cases and hospitalization is going down. That's why Vietnam is now confident about reopening to welcome international tourism upcoming time.
Part 2: About the travel industry news in January 2022
Thailand
They have already carried out the plan to set the target for tourism 2022 with three scenarios: Best case (total revenue 1.9 trillion baht), base case (total revenue 1.6 trillion baht), worst case (total revenue 1.3 trillion baht).
The first one is about the reopen the three more Sandbox destinations from 11 January 2022. Thailand's Centre for COVID 19 Situation Administration (CCSA) has reopened 3 more Sandbox destinations – Krabi, Phang-Nga, and Surat Thani – in addition to Phuket. 
Note: If they have planned to continue the journey to other destinations in Thailand, travelers must stay at least 7 nights within Sandbox destinations. Or if they stay less than 7 nights, travelers must leave Thailand to another country immediately.
Thailand will resume its quarantine-free travel scheme from February 1, officials said Thursday, after the program was suspended due to the fast-spreading Omicron COVID-19 variant. It is very good news and a very good effort of the government in terms of the opening country 
Singapore 
The second about Singapore, for a few weeks they close in terms of concerning about Omicron variant that pressing in the country, but after few weeks that they don't see the high reach of the hospitalization and the death it variant,  plans to reopen its travel lanes again and add more destinations.
At the moment Airline tickets sales for the Vaccinated Travel Lane (VTL)  have been suspended since Dec.23 ass the country struggles with its own wave of Omicron cases. They start selling tickets to visitors from Germany, the United Kingdom, Canada, Denmark, France, Italy, the Netherlands, Spain, and the United States under their VTL scheme in the next few weeks. 
Cambodia 
Cambodia fully opening and is hosting the 40th ASEAN tourism forum (ATF 2022) from January 16 to 22 in Preah Sihanouk. 
The highlight of this news: The surprise announcement from Cambodia that they were scrapping their original 3-stage reopening plan and, instead, fully opening the country to vaccinated travelers with immediate effect. 
Following is about the ATF that they are carrying out: ​The official opening ceremony took place last evening in Sihanoukville under the presidency of Prime Minister Hun Sen who is also ASEAN Chair 2022. Some 100 national and international delegates are physically attending the ATF 2022 and other related meetings. 
Vietnam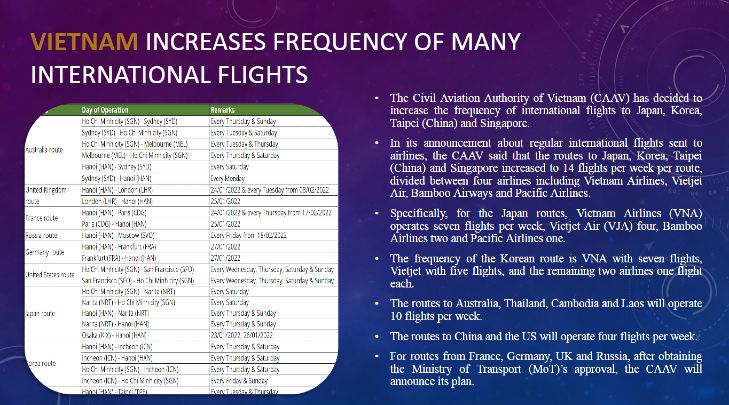 The very good news about Vietnam is many different charter flights from outside come back to Vietnam and increase the frequency of many international flights. 
Vietnam Airlines also with the other airline already carry out online their plan for the route to different countries. The first face in January and February, the nine countries already have the direct flight and connect quickly with Vietnam like Australia, United Kingdom, France, Russia, Germany, United States, Japan and Korea. 
The Civil Aviation Authority of Vietnam (CAAV) has decided to increase the frequency of international flights to Japan, Korea, Taipei (China) and Singapore.
In its announcement that this for the country increased to 14 flights per week per route, divided between four airlines including Vietnam Airlines, Vietjet Air, Bamboo Airways and Pacific Airlines.
Specifically, for the Japan routes, Vietnam Airlines operates seven flights per week, Vietjet Air four, Bamboo Airlines two and Pacific Airlines one flight. It means that Vietnam has focused the development with the japan to carry out different airlines to come to Vietnam.
And why we are choosing Japan – Because at the moment, Japan is like the tube that connects to many different countries around the world, many different airlines that coming from the US, even from European countries. 
Next, the frequency of the Korean route in Vietnam Airline with seven flights, Vietjet with five flights and the remaining two airlines one flight each. For this January that every week Vietnam already received many different charter flights coming from to happen from the Vietnamese to all around the world.  
We would like to share with you that two days ago, the direct flight from Frankfurt in Germany, the government already accept the non-Vietnamese nationality clients can go on this flight to come to Vietnam.  Now Vietnam is opening step by step for international travelers. 
The other one, the route to Australia, Thailand, Cambodia, and Laos will operate 10 flights per week.
The routes to China and the US will operate four flights per week.
Other routes from France, Germany, UK, and Russia, after obtaining the Ministry of Transport (MoT)'s approval, the CAAV will announce its plan.
Every month we will send you the updated plan for the reconnect international flight going to Vietnam and from Vietnam to the other countries.
Indonesia
Indonesia lifts ban on foreign arrival for a tourism boost.
The first action, Indonesia removes all 14 heavily-infected nations from its travel ban list, allowing travelers from countries including South Africa and the UK to enter its borders starting from Jan.12, even as local Covid-18 infections continue to climb.
The second action, Bali reduces quarantine from 10 to 7 days for all travelers
Laos
It can be said that Laos is quite similar to Vietnam. Begins reopening its borders for tourism.
As of 1 January 2022, Laos is officially open for tourism for citizens of 30 countries. The plan, labeled as the "Lao Travel Green Zone Plan" will be implemented in three phases and will require all visitors to be fully vaccinated. While some finer details will still need to be settled in the weeks ahead, below is an overview of the plan as it is currently laid out.
The Travel Green Zone includes 5 provinces: Oudomxay, Xayaburi, Xiengkhouang, Khammouane and Champasak. 
When can you travel to Asia?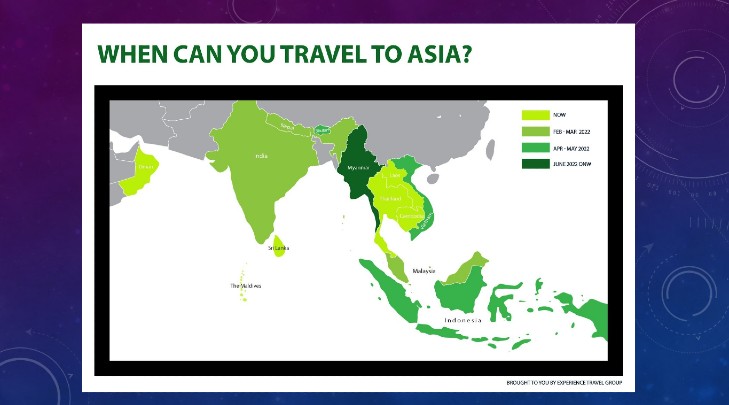 This one is very good for everyone to make a plan. 
Now, you can travel to Cambodia, Thailand, Laos. This is one to the first face that you can start planning the booking for travelers. 
February – March 2022, India, Nepal, and Malaysia are the next countries that you can start planning programs for them. 
April – May 2022, you can start making the plan in these countries like Vietnam, Indonesia, Bhutan. 
June 2022 ONW, you can start doing for Myanmar 
This one you can start step by step to kick back your business plan or in promoting the different country in SouthEast Asia travelers.
The booking recommendation
Different countries will have different steps to open for inbound tourism without quarantine and you can based on the below picture start your marketing plan or sale plan to reach back to travelers to send the clients coming to SouthEast Asia.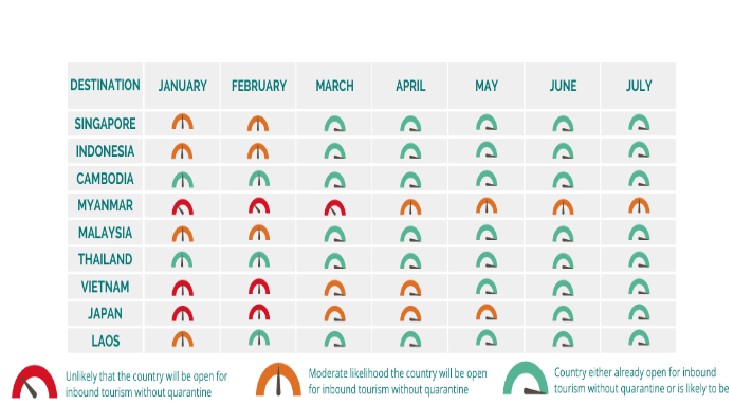 Discussion
1. I just want to ask you about Vietnam. With Vietnam destinations, you would think that the country will be open first? 
As you can see at the moment in Vietnam, the beach destination and the highland destination is the first one to reopen. So in our country, Phu Quoc, Cam Ranh, Van Don, Hoi An still be the first destination to open for international travelers coming to Vietnam.
2. How can I travel if I want to fly to Vietnam?
From January, even from late December. We have already received some pilus flights to Vietnam, from Korea, from Japan, also from different countries coming to the Sandbox area like Hoi An. Outline on Dec 24, the flight from Korea coming to the Vinpearl Phu Quoc, travelers can stay 7 days, they freely to visit, to enjoy the specific destination inside the program.
3. How about the cruises during that time? 
At the moment, we still don't have cruise ship that has stopped our country yet. If we have any requests coming for the cruise, our government consider that.
IF YOU HAVE ANY QUESTIONS, FEEL FREE TO SEND US AN EMAIL! 
Thank you for listening and spending your time with our team Metta Voyage! 
———————————
FOLLOW METTA VOYAGE FOR MORE INFORMATION! 
———————————
© METTA VOYAGE – proud to be the first resort and wellness tourism experience designer in Vietnam.
Website: mettavoyage.com
Email: [email protected]
Hotline 24/7: +84 989 383 572
Facebook fan page: https://www.facebook.com/mettavoyage
Business License & MST: 109041780
#mettavoyage #dulich #vietnam #combo