Vietnam is a beautiful country with countless gorgeous spots, heritage sites, and delicious food. A country winding shape of an S on the coast of the East Sea, with three regions North – Central – South – also three different cultural regions,  all have their distinctive features in human personality or specific specialties and natural beauty of each region but blended. The country of Vietnam has a distinct beauty, a Vietnamese beauty. First, we will give you information about the travel in the Central itinerary. 
Central Vietnam Itinerary
Continuing the chain of Vietnam's itinerary, that is the Central region, which is the convergence of many cultures and unique human creativity, the richness of natural landscapes, historical relics, lifestyle, language, food, and people. All will bring visitors a very different feeling and special.
For 5 days in Central  Vietnam Itinerary, the most popular tourist attraction in central Vietnam is Da Nang. A city famous for its cleanliness, fresh climate. Around Da Nang are also monuments and cities bearing many imprints of the feudal era.
Day 1: Da Nang arrival – Explore highlights in Da Nang tour
Da Nang is the central and largest city in the Central – Central Highlands. Also is a destination that attracts tourists by not only the attraction from the attractive natural landscape but also the hospitality and friendliness of the locals.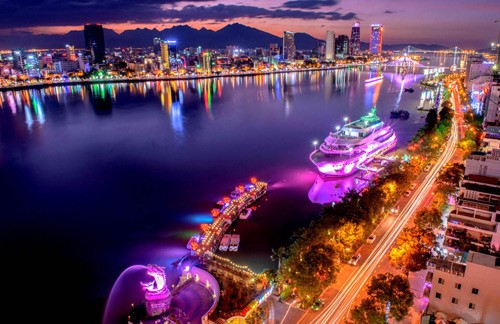 The best places tourist destinations
Referring to Da Nang, you will visit tourist areas such as Asia Park – with the Sun Wheel having reached the altitude of the top 5 largest wheels in the world with a height of 115m. Next is the Dragon Bridge – one of the most beautiful bridges in the world, if you come here at 9 PM on Saturday, Sunday, or on major holidays, you will have the opportunity to see the Dragon Bridge spitting water and spitting fire.
Ba Na Hills has located about 25km from the center of Da Nang, praised by the press as the "Green Lung of Central region".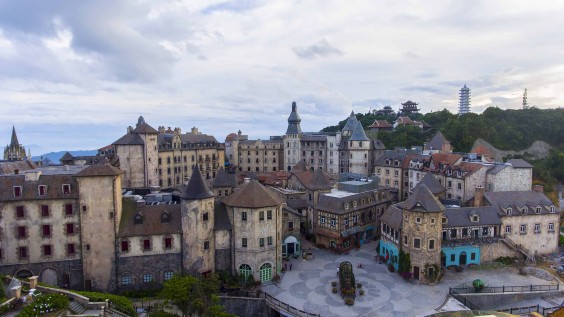 Visitors can go to Marble Mountains, which is the most suitable destination for those who both love to explore and enjoy spiritual tourism. Or Cu Lao Cham where you will fully enjoy the salty breezes of the sea, the vast surrounding space, the clear blue sea color you can see through to the bottom. Or if you travel with your lover, you will visit the love bridge, it is modeled after the most famous love bridges in the world in France, Italy, Russia, Korea, etc. demonstrate and preserve the love of couples when coming to Da Nang.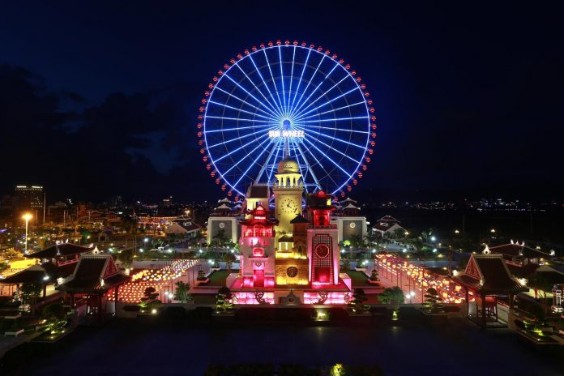 What foods will you enjoy?
In the Central Vietnam travel itinerary, countless delicious dishes are waiting for you to enjoy such as Quang noodles, Cao Lau, chicken rice, beef vermicelli noodles, seasoned vermicelli,  Fermented Fish Sauce and Pork, thick noodle soup (Banh Canh), nem lui, banh xeo. Or specialty "Che" like "Che sau rieng". 
Quang Noodles
Address: 53 Quang Trung, Hai Chau, Da Nang
Facility 2: 176 Ha Huy Tap, Thanh Khe, Da Nang
Opening hours: 6 AM – 9 PM
Price: 25,000VND – 40,000VND
Cao Lau Hoai Pho
Address: 255 Nguyen Chi Thanh, Hai Chau, Da Nang;
Opening hours: 8 AM – 9 PM
Reference price: 20,000VND – 40,000VND
Restaurant 144 – Da Nang braised beef bread
Address: 144 Huynh Thuc Khang, Hai Chau District, Da Nang
Opening hours: 6 AM – 10 PM
Price ranges: 30,000VND – 55,000VND
Che Xuan Trang
Address: 31 Le Duan, Hai Chau, Da Nang
Opening hours: 8 AM – 10 PM
Price: 10,000VND – 33,000VND
Day 2: Danang – Hoi An. Explore Hoi An tour 
Move to Hoi An, which is located 30 km from Da Nang and is a colorful ancient city. It is a world heritage site which is recognized by UNESCO, with ancient features, poetic ancient style with a little bit of Chinese, Hoi An ancient town always gives visitors a feeling of peace and tranquility. And is a place that many domestic and foreign tourists love to choose to visit.
The best places tourist destinations
Famous tourist sites in Hoi An you should visit such as Cau Pagoda, the temple is considered a symbol of Hoi An and has been printed on the 200,000 VND by the government. 
The Fujian Assembly Hall has the largest and deepest space, with ancient architecture. Visit Trieu Chau Assembly Hall, the assembly hall has a very rustic name "Ong Bon Temple", built in 1845. Visitors can also visit the Museum of Cultural History, which was established in 1989. There are over 200 ancient artifacts. 
Or experience cycling around Hoi An Ancient Town. With all the cultural, human, and architectural values, Hoi An Ancient Town still retains diverse intangible cultures.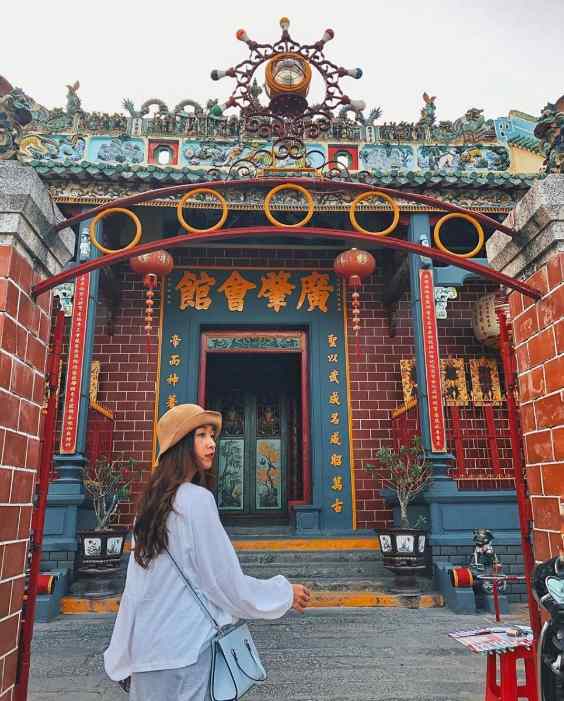 What foods will you enjoy?
Chicken rice – Hoi An specialty, or no matter how rich and diverse Hoi An cuisine is, Cao Lau is still the soul food of this land, banh beo, Hoi An wonton, potato cake recipe,…
Cao Lau Hoi An Green Space
Address: No. 687 Hai Ba Trung Street, right in the city center Hoi An, Quang Nam
Opening hours: 9:30 AM – 9 PM
Reference price: 30,000VND – 50,000VND
Hoi An Chicken Rice Restaurant – Mrs. Buoi
Address: No. 22 Phan Chau Trinh, Hoi An
Opening hours: 11 AM – 7 PM
Price: From 35,000VND – 50,000VND depending on request
Wonton Anh Dung Hoi An
Address: 14 Ba Trieu, City. Hoi An
Opening hours: 7 AM – 11:30 PM
Reference price: 20,000VND – 50,000VND
Banh Beo Ba Bay
Address: No. 2, Hoang Van Thu Street, City. Hoi An
Opening hours: 1 PM – 7 PM
Each cup of banh beo costs only 3,000VND.
Day 3: Visit temples at My Son Holy Land
My Son Holy Land is an extremely unique architectural heritage with many unique Champa temples. This place used to be a place of worship as well as the tombs of the ancient Champa kings and was surrounded by mountains.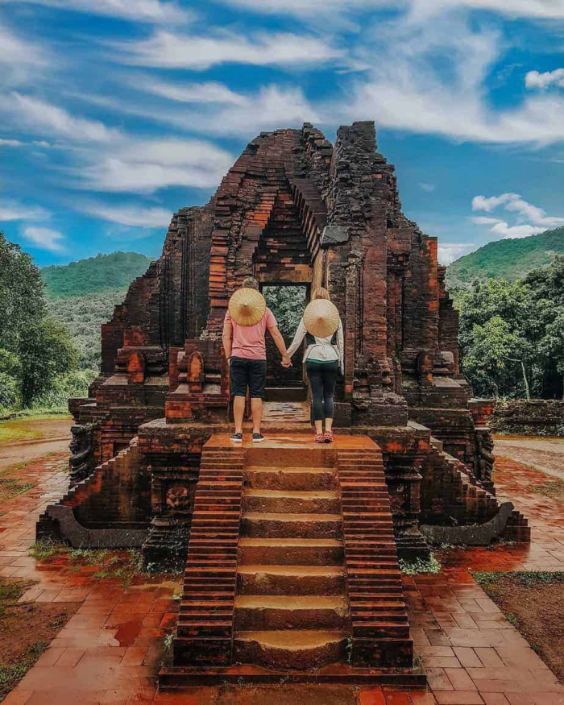 What to do in My Son Holy Land
Explore the panorama of My Son holy land
Address: Duy Phu, Duy Xuyen, Quang Nam.
Ticket price: Foreigners: 150,000VND; Vietnamese: 100,000VND.
Opening time: 18h30 – 5h30 from Monday – Sunday.
Experience the unique ancient road
Enjoy the Apsara dance inspired by Apsara sculpted sandstone statues. This is considered a smooth and flexible dance with the title "Soul of the stone".
Immerse yourself in the traditional Kate festival.
What foods will you enjoy? 
Be thui Cau Mong
Address: Thanh Hoa street, Tam Ky city
Phu Chiem Noodles
Address: Ong Hai Quan – 6A Truong Minh Luong, City. Hoi An, Quang Nam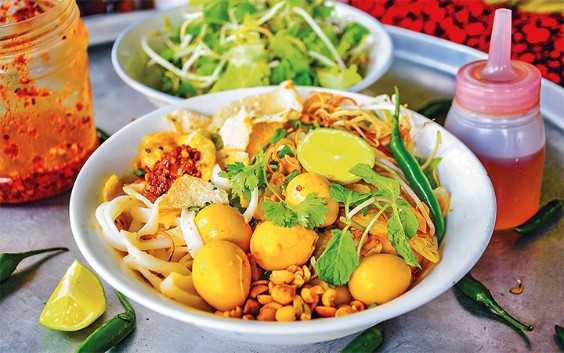 Banh dap
Address:
679 Hai Ba Trung, City. Hoi An, Quang Nam
Cam Nam Commune, City. Hoi An, Quang Nam
Banh to
Address: 12 Hoang Hoa Tham, Da Nang city.
Banh xeo
Address: Aunt Nhi's shop – foot of Ai Nghia bridge, Dai Loc, Quang Nam.
Day 4: Transfer to Hue – Hue City Tour
Hue – a place bearing the mark of many heroic histories of the Vietnamese nation. It used to be the capital of Vietnam in feudal times under Tay Son and Nguyen dynasties. It is not only a place of convergence of natural beauty but also architectural beauty. So, all the beauty of  Hue is recognized by UNESCO as a world heritage. The architecture of Hue city is extremely diverse and rich: modern architecture, royal architecture, folk architecture.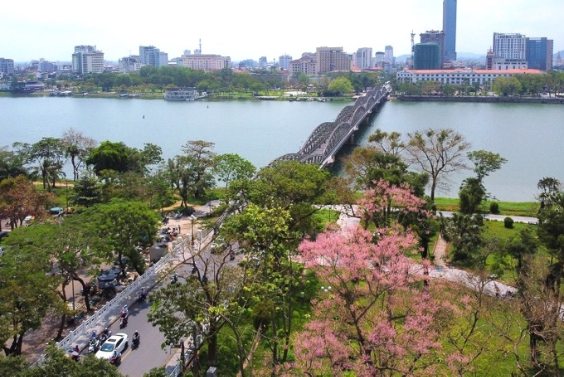 The best places tourist destinations
Hue itinerary has places you must visit such as Hue Imperial Citadel, where the peak architectural beauty of the Nguyen feudal era converges, Hue Mausoleum, Truc Lam Bach Ma Zen Monastery – tourists can be satisfied when looking at the ancient beauty of the temple, enjoying the pure space for a feeling of relaxation, lightness, free from all worries, and the Perfume River, the river with a length of up to 80m, is considered as an invaluable gift that nature has bestowed on this land.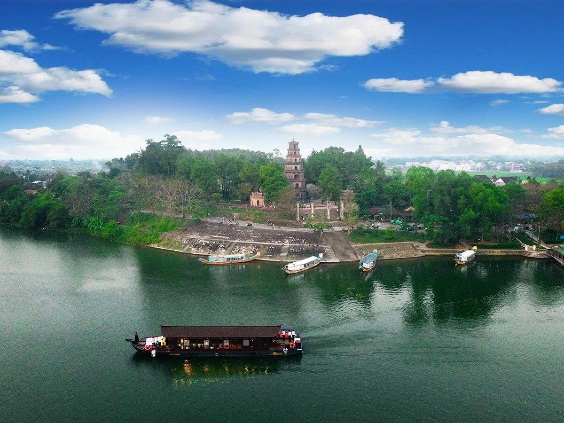 What foods will you enjoy?
Hue cuisine has its characteristics, many dishes show ingenuity and sophistication, and use a variety of available and simple ingredients to create an attractive taste. The first thing you have to do in your Hue itinerary is to enjoy mussel rice. This dish can be found everywhere and is very cheap. Next, the famous dish not only in Vietnam but also in the world – Hue beef noodle soup. You will be able to eat "Com Am Phu" or quench your thirst with "Che Hem". 
Com Am Phu
Address: 35 Nguyen Thai Hoc, Phu Hoi Ward, Hue City, Thua Thien Hue Province
Opening hours: 10 AM – 10 PM
Reference price: 20,000VND – 30,000VND
Che Hem Hue
Address: No. 1, 29 Hung Vuong, Phu Hoi, City. Hue
Opening hours: 2 PM – 10 PM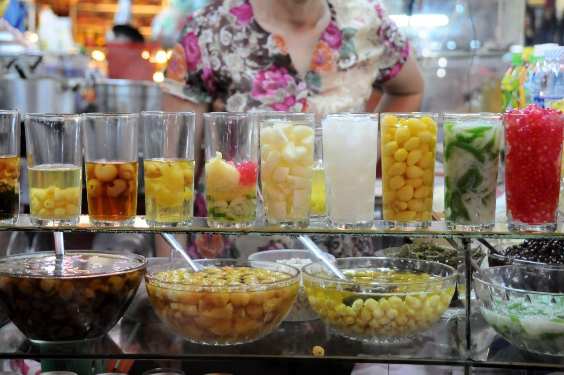 Day 5: Hue – Move to Phu Bai Airport
End the journey to central Vietnam in 5 days. Thank you for choosing us for your trip
Central Itinerary – The best time to travel 
To choose the most ideal time, visitors need to understand the rainy season in the North Central region, which lasts from July to October. In the Coastal areas, it rains from October to December. Therefore, you should arrange the time to travel to the Central region from January to June is the safest so that your travel days are not "locked up" at the hotel due to the weather.
How much does it cost?
Airplane ticket 

Transportation 

Accommodation

Food expenses
Are you satisfied with our tour schedule? 
Do you want to experience trips in your Vietnam itinerary with Metta Voyage? 
With many years of experience in the tour organization, we are sure to bring you the overall best experience. Let Metta Voyage be your reliable choice when coming to Vietnam. 
Contact us:
Website: mettavoyage.com
Email: [email protected]
Hotline 24/7: + 84 989 383 572
Facebook fanpage: https://www.facebook.com/mettavoyage