The pandemic COVID-19 leaves negative effects and feelings for all of us, and that's totally normal. What we need is a vacation to get rid of every burden, pressure and sadness. In other words, we strongly recommend a holiday focusing on stress release in Vietnam.
While the rest of the World is still fighting the fierce battle with the novel coronavirus, the last community-infected case of Vietnam was in April 2020. The country has shifted back to normal mode for nearly 4 months. Thanks to Vietnam's timing measures and preventions, the outbreak of COVID-19 was put to an end. If you are looking for a safe destination after the pandemic, a stress release vacation in Vietnam will do.
Not to mention, there are a lot of Vietnam travel deals at the moment. So a trip in Vietnam is not only mentally stress release but also financially stress release.
Let's find out 5 amazing destinations for stress release in Vietnam!
1. Halong Bay – Stress release in Vietnam's bay
It will be a shame if you did not mention Halong Bay in Vietnam's bucket list. Listed as UNESCO World Heritage Site in 1994, this bay stands out because of its pristine, natural and undeniable beauty. Halong Bay can be explored on an overnight boat in the sea, floating around the limestone islets to let travelers truly immerse in nature.
Halong Bay will be an ideal holiday for stress release in Vietnam thanks to its surreal scenery, diverse biodiversity and convenient location. If you prefer a quiet stress release vacation in Vietnam, it is recommended to stay in Cat Ba Island which is very near Halong Bay. The island is less touristy but interesting to visit.
Recommendations:
2. Sa Pa – Stress release in Vietnam's mountain 
In the past few years, Sa Pa has witnessed some substantial growth which will amaze a lot of tourists. This mountain town is home to different ethnic groups of Vietnam including Hmong, Giay and Red Dzao people. 
If you'd like to have a holiday for stress release in Vietnam focusing on learning new cultures, Sa Pa is your must-visit destination. You can choose to stay in a homestay in the surrounding villages instead of booking a luxurious hotel in the town center. Sa Pa has also considered the top trekking destination in Vietnam thanks to its breathtaking towering peaks, rippling hills and Vietnam's tallest mountain Fansipan. If you are an active person, Sa Pa is a great location for your trip to stress release in Vietnam. 
Recommendations: 
Sapa Jade Hill – Cầu Mây, Group 3, Sa Pa, Lào Cai 
Silk Path Grand Sapa Resort & Spa – Doi Quan 6, Group 10, Sa Pa, Lào Cai
3. Ninh Binh – Stress release in Vietnam's countryside
Ninh Binh is often a chosen destination for a day trip from the capital of Hanoi. If a short break from life is what you are looking for, don't hesitate to visit Ninh Binh for a stress release in Vietnam. While Ninh Binh has 2 separate seasons including dry and rainy seasons, both seasons have unique beauty for travelers to visit all year round. The dry season has cooler weather with less rainfall but the rainy season is when rice fields are the most impressive with its greenery. 
There are a lot of activities to enjoy in Ninh Binh. A boat ride around Trang An Grottoes, a visit to Hoa Lu Temple and a hike to Hang Mua Temple will wipe out your boredom, tiredness and pressure. Cuc Phuong National Park and its biodiversity will also be a wonderful destination for your stress release in Vietnam. 
Recommendations:
Ninh Binh Hidden Charm Hotel & Resort – No 9, Tam Coc – Bich Dong Tourist Center, Hoa Lư, Ninh Bình

Mua Caves Ecolodge – Khê Hạ, Hoa Lư, Ninh Bình

An's Eco Garden – Thôn Bình Khê, Hoa Lư, Ninh Bình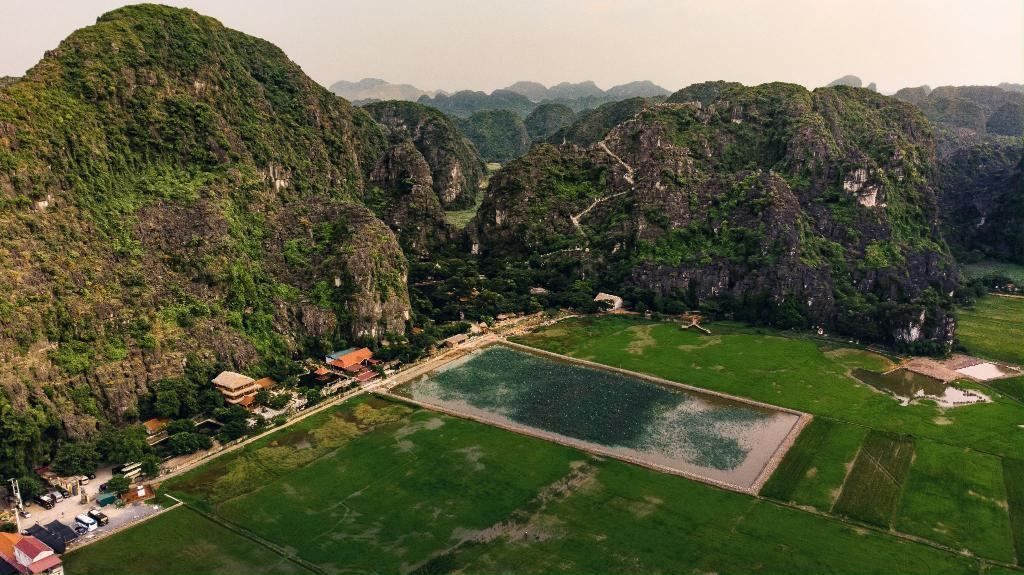 4. Hoi An – Stress release in Vietnam's old town 
If you only have limited days staying in Vietnam, try your best to include Hoi An in your bucket list. This is a guaranteed location for your stress release in Vietnam.
Formerly known as Fai-Fo, Hoi An has been a top star of Vietnam's tourism for a long time. Located in Quang Nam Province and 30 kilometers south of Danang City, this small town welcomes a huge number of visitors every year thanks to its unique and rustic beauty of a trading port from the 15th to the 19th century in Southeast Asia. 
Once you set your foot on Hoi An, your living space will definitely slow down. You get to look at life more thoroughly and slowly. This lantern-lit town of Hoi An is also filled with professional yoga studios. Yogis will have plenty of choices in terms of styles, budget and experiences.
Recommendations:
Sunrise Premium Resort Hoi An – Âu Cơ, Cửa Đại, Hội An, Quảng Nam
Le Belhamy Beach Resort and Spa – Biển Hà My, Quảng Nam
Four Seasons Resort The Nam Hai – Block Ha My, Dong B, Điện Bàn, Quảng Nam
5. Phu Quoc – Stress release by Vietnam's beach 
Being the largest island of Vietnam, Phu Quoc is located in Kien Giang Province and the Gulf of Thailand. It is well-known for resorts and the white-sand beaches along the palm-lined southwest coast of Vietnam. With high mountains and dense tropical jungles of Phu Quoc National Park, the clear air here can't be more suitable for a stress release in Vietnam.
Recommendations:
Fusion Resort Phu Quoc – Hamlet 4, Vũng Bầu Beach, Cửa Cạn Ward,, Phú Quốc, tỉnh Kiên Giang
Vinpearl Resort & Golf Phu Quoc – Bai Dai, Phú Quốc, Kiên Giang
Cassia Cottage – KP7 Dương Đông, Trần Hưng Đạo Street, Dương Tơ, Phú Quốc, Kiên Giang
Visit Metta Voyage now to get updates on interesting and useful information about wellness lifestyle & holiday!