According to a survey in 2018 by TripAdvisor, the world's most used and popular travel guide website, Vietnam is among the 10 best places in the world to visit. Traveling to Vietnam is a highly recommended experience by a great number of global travelers' sites. Vietnam is loved by tourists from all over the world for its natural beauty, vibrant energy as well as hospitable and welcoming locals.
On top of that, Vietnam is a rising destination for wellness and detox retreats, for the tranquility and peacefulness, the beautiful country has to offer. In recent years, there has been an increasing number of wellness resorts in Vietnam that will guarantee you a luxurious and relaxing retreat experience.
Let's explore what are the best 5 wellness resorts in Vietnam that could be the next location for your detox retreat.
A wellness resort vs a normal resort: what're the differences?
For some travelers to Vietnam who are new to the concept 'wellness', there are certain differences when comparing a wellness retreat and a typical holiday, as well as between a wellness resort and other regular resorts and spa.
A wellness retreat, by definition, is traveling for the purpose of improving one's wellbeing and health while stepping back from the stresses and responsibilities of the day-to-day routine. One seeks a wellness retreat with a particular purpose and objective, whether it's to reconnect with a healthier lifestyle, improve fitness and wellbeing or lose weight. Therefore, it is important that you choose where to achieve your wellness goals, providing that it offers the utmost comfort and relaxation, as well as the facilities and services to assist your wellness journey.
Luckily, these 5 best wellness resorts in Vietnam are perfectly capable.
Location: Ninh Thuan Province, Vietnam
Located on a mountainous promontory inside Nui Chua National Park, alongside the spectacular coastline of Ninh Van Bay, Amanoi is a 'secluded retreat where adventure and serenity meet', as they claim to be. The name 'Amanoi' derives from the Sanskrit word 'aman' for 'peace' and 'oi' as an intimate calling in the Vietnamese language.
Amanoi Vinh Hy Bay is the only 6-star resort in Vietnam and is considered the most exclusive and luxurious wellness resort in Vietnam at the moment. When staying at Amanoi, enjoy the comfort of being far away from civilization and daily life, among the world's most biodiverse regions with a very rich variety of natural lives. However, despite the wellness resort's remote setting, it is only a 75-minute drive away from Cam Ranh airport, which welcomes a wide range of domestic and international flights from around the world.
On top of that, Amanoi's wellness center and services is truly a 'retreat within retreat', offering a journey of restoration and rejuvenation through customized wellness activities to fit individual health and wellbeing objectives of each guest. A combination of ancient healing methods with modern facilities and spa treatments, surrounded by the mountainous greeneries and a lotus-filled lake, a vacation at Amanoi wellness resort is your perfect retreat in Vietnam.
Location: Nha Trang, Vietnam
Just across from Nha Trang, Six Senses enjoys one of the most spectacular settings by the beachfront of magnificent Ninh Van Bay, just at the meeting point of the crystal clear waters and the mountainous peninsula. Set away from over-touristy destinations of the big cities in Vietnam, Six Senses Ninh Van Bay offers the ultimate secluded retreat experience as the wellness resort can only be accessed by water.
Despite the massive scale, Six Senses wellness resort follows a simple and eco-friendly layout that maximizes the natural beauty of outdoor surroundings on the beautiful Ninh Van Bay. The architecture is truly an elegant masterpiece that reflects the signature chic style of Six Senses Ninh Van Bay through rustic and understated interior designs, blending perfectly with the subtropical settings that create a haven of tranquility on Earth.
Six Senses Ninh Van Bay's spa center and wellness sanctuary are tucked away up the hilltops, providing luxurious treatments from head to toe that will guarantee your satisfaction. In case you are in urgent need of an energy recharge, try a 3-7 Sleep Wellness program at Six Sense Ninh Van Bay. With the combination of professional advice from prestigious in-house sleep doctors and therapists, with the wide range of wellness activities such as yoga, meditation or mindfulness therapy, the program is set to help you destress and release your body and mind from worries and pressures, while slowly establishing a healthy sleeping routine.
Rest assured, you will leave Six Senses Ninh Van Bay feeling healed, restored and set to overcome whatever challenges coming ahead.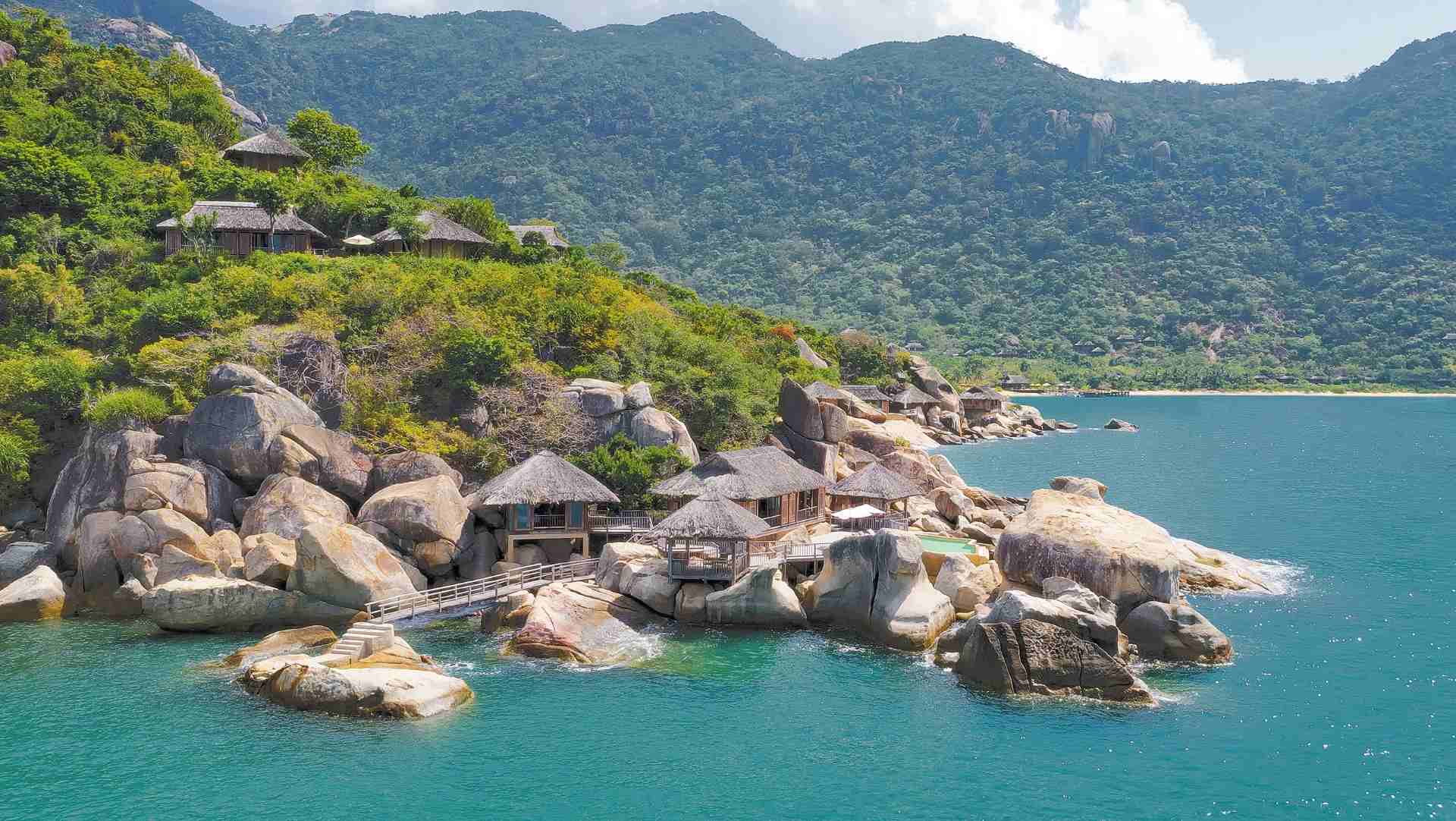 Location: Thua Thien Hue Province, Vietnam
Welcome to mystical Central Vietnam, the home of Banyan Tree Lang Co, an ultra-deluxe and award-winning wellness resort, nestled between the waters of the East Vietnam Sea and the Truong Son mountain range. Banyan Tree Lang Co enjoys a secluded, remote location stretching on a 3-kilometer long beachfront, overlooking a rugged and majestic natural landscape, a signature of beautiful Hue and Vietnam in general.
The architecture and design of Banyan Tree Lang Co perfectly complement the artistic heritage of past dynasties in Vietnam, reflecting through signature images of massive wood doors, stone walls, or regal purple fabrics. All 49 deluxe villas at this wellness resort are pool-included, walled gardens with snippets of the sea views, creating a private and relaxing experience.
As one of the highest-ranked wellness resorts in Vietnam, Banyan Tree Lang Co provides a wide range of spa treatments and wellness packages for guests seeking a healing and restorative journey. With remedies containing tropical aromatic ingredients, your senses will be awakened under the skillful hands of well-trained therapists and spa professionals, leaving nothing but a fresh and rejuvenating feeling afterward.
Visit Metta Voyage now to get updates on interesting and useful information about wellness lifestyle & holiday!