In 2020, The Culture Trip published a blog post called "Why Hoi An Is Vietnam's New Yoga Paradise" by Samantha Nguyen. But what makes this lovely ancient town of Hoi An a yoga paradise of Vietnam?
Formerly known as Fai-Fo, Hoi An has been a top star of Vietnam's tourism for a long time. Located in Quang Nam Province and 30 kilometers south of Danang City, the only way to get to Hoi An is by road as there is no airport or train station in this town. Yet, this small town welcomes a huge number of visitors every year thanks to its unique and rustic beauty of a trading port from the 15th to the 19th century in Southeast Asia.
Every shop, store, restaurant and house remains the indigenous and foreign influences in the past, making Hoi An as a unique heritage site of Vietnam.
1. The Cross-culture of Hoi An reflects the yoga spirit
Travelers who are looking for mindful relaxation are likely to find the little Hoi An town an inspiration. Some might even compare Hoi An as a haven for spiritual adventure. The rustic and antique beauty of Hoi An is something that other popular cities in Vietnam can never replicate. Fai-fo owns a deep sense of spirit that makes Hoi An a top destination for a yoga retreat.
The most special feature of Hoi An is how this town successfully preserves its old streets, ancient houses, pagodas, temples, wells and tombs although centuries have passed. The architecture of this little town is a cultural mixture of Vietnamese, Chinese and Japanese influences. It reflects how Hoi An is a symbol of culture – and how yoga practitioners can open their hearts to learn about themselves while discovering a different culture.
Until today, the locals still do their best to preserve their folk festivals, traditions, beliefs and the culinary art of this Vietnam's town. Don't miss your opportunity to find the answers to your questions while learning from another culture in a yoga retreat in Hoi An.
You can see more about yoga in Vietnam here: "The ultimate guide to wonderful yoga experience in Vietnam"
2. Diversity in sacred sites
Thanks to Hoi An's cultural blend, this town has impressive diversity in terms of sacred sites. A long time ago, yogis, healers and spiritual seekers from different cultures were gathered in Fai-fo and started to build their own community. Their heritages are well-preserved until today, making Hoi An a top yoga destination for its spirituality.
In Vietnam, Buddhism, Taoism and Confucianism are widely practiced and influenced in terms of social and spiritual lives. The Tran Family Home and Chapel built in the 1800s by a mandarin is a symbol of Taoism practices in the past. It was a place to worship the ancestors – a custom Vietnamese still practice until now.
Meanwhile, Hoi An's Confucius Temple was built on the northwest edge of the city to honor the teachings of the great philosopher. In addition, as one of the oldest Buddhist temples, Van Duc Pagoda serves as a place to show respect to local monks and deities. This shows how this Quang Nam's town brings a sense of personal and cultural morality. For travelers who are looking for a spirituality location to practice yoga, Hoi An will be a perfect destination.
Maybe you need this: "7 things to know before taking your first yoga class in Hoian, a beginner's guide"
3. Hoi An's cross-cultural culinary art
For a lot of yogis, yoga practice is more than just on a mat. In Hoi An, yoga practice can also be extended to the table to keep your mind clear and your body nourished. The cuisine of this town provides fresh and healthy ingredients cooked by world-renowned chefs, creating a healthy and delicious flavor for all yogis coming to Hoi An for yoga.
Influenced by cross-cultural experiences and spice trade, Hoi An's chefs have sophisticated techniques mixed between European and Vietnamese styles. All ingredients and cooking methods can satisfy both your health and cuisine preference, especially for yoga practitioners in Hoi An.
Scott Blossom – Ayurveda educator and yoga teacher in the U.S. regards eating as the most important act for yoga practice. Besides Hoi An's impressive culinary art, The Culture Trip – a UK travel website also listed Vietnam cuisine among the top 10 healthiest cuisines in the World. As a town of Vietnam, Hoi An proves to be a perfect destination for a yoga holiday.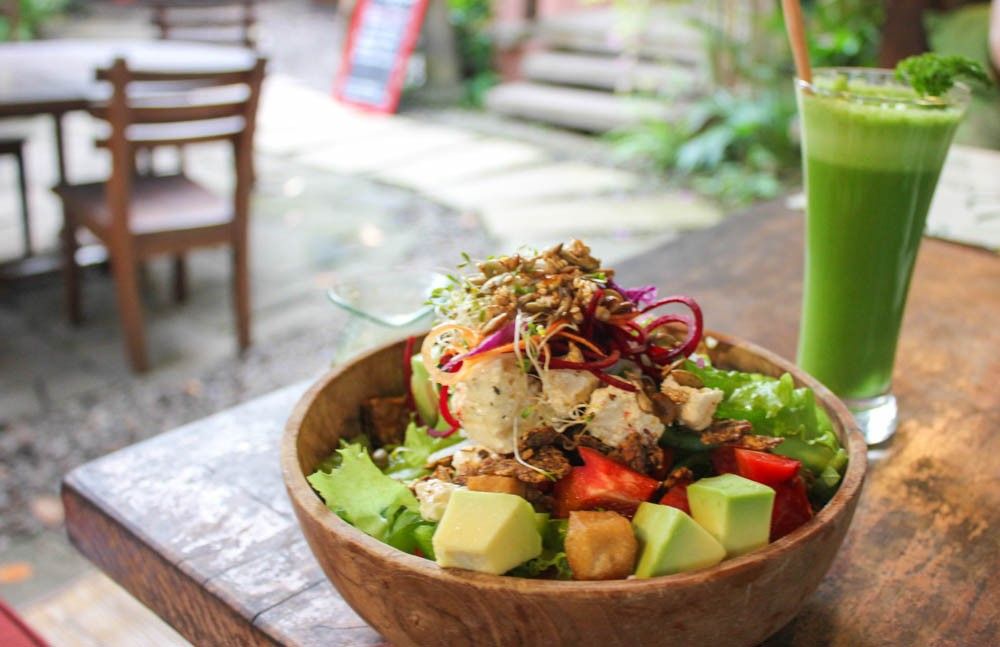 4. A variety of Hoi An's yoga studios
Finally, this lantern-lit town of Hoi An is filled with professional yoga studios. Yogis will have plenty of choices in terms of styles, budget and experiences. Some of Hoi An's yoga studios include Nomad Hoi An, Aum Yoga Vietnam, Annen Yoga, Om Yoga and My Chi Spa Hoi An at Almanity Wellness Resort, etc.
Maybe you are looking for yoga studios in Hanoi: "Top 5 yoga centers for foreigners in Hanoi"
a. Nomad Yoga Hoi An
Website: https://nomadyogahoian.com/
Address: 22 Nguyen Du, Hoi An, Quang Nam, Vietnam
One of the most popular studios is Nomad Yoga Hoi An. Located in the ancient town of Hoi An near the Japanese Covered Bridge, Nomad Yoga Hoi An is a yoga retreat and studio for travelers who aim to take well care of their mental and physical health. This is an ideal destination for you to take a deep breath and allow time for yourself to truly relax with different types of yoga including ashtanga, vinyasa, hatha, yin, restorative and gentle yoga.
b. My Chi Spa Hoi An
Website: http://www.mychispa-hoian.com/
Address: 49 Nguyen Cong Tru, Hoi An, Quang Nam, Vietnam
My Chi Spa Hoi An is a luxurious spa that provides ancient traditions so that visitors can seek self-discovery and balance. This yoga studio also offers wellness treatments including the daily spa, yoga, tai chi and such. A monthly pass can be expensive but you can pay for a daily pass to try a one-day experience.
c. Annen Yoga
Website: http://www.annenhoian.com/
Address: 471/7 Cua Dai, Hoi An, Quang Nam, Vietnam
Annen Yoga used to be a vegetarian restaurant before becoming a yoga studio in Hoi An. This studio is great for the Sivananda tradition and 5 principles related to a synthesis essence of yoga. You can enjoy yoga sessions in spacious rooms away from the busy roads in Hoi An.
Visit Metta Voyage now to get updates on interesting and useful information about wellness lifestyle & holiday!