Known as the paradise for foreigners to enjoy the picturesque landscape, the top-world food culture, etc for a very reasonable price, Vietnam now has become a paradise for anyone who is interested in wellness tourism, especially practicing yoga among nature. So why is it? And where is the best place to do yoga in Vietnam?
In this article, Metta Voyage will give you a clearer look at Vietnam so that you can choose where your final decision to enjoy a healthy but interesting holiday would be.
1. A well-off food and drink culture
In his trip to Vietnam in 2007, Philip Kotler – the founder of modern marketing had called Vietnam as the kitchen of the world to show the variety of food culture in Vietnam. Moreover, on 31 August 2020, Vietnamese cuisines officially achieved 5 culinary world records, recognized by World Records Union (WorldKings) after careful consideration.
In your country, you may find Pho, Bun Cha, Banh mi, coffee …etc that symbolize the Vietnamese food and beverage style. But Vietnamese cuisines go beyond that because each type of dishes may be different in tastes and flavors depending on where you are. And practicing yoga in Vietnam is not only about practice but also about the rich culinary scene.
Besides, most of the clients traveling with Metta Voyage send feedback about their experience highlighting their impression of the healthy, fresh, and delicious dishes of Vietnam. So if you are food-lovers and yoga practitioners, don't miss out on this wonderful country.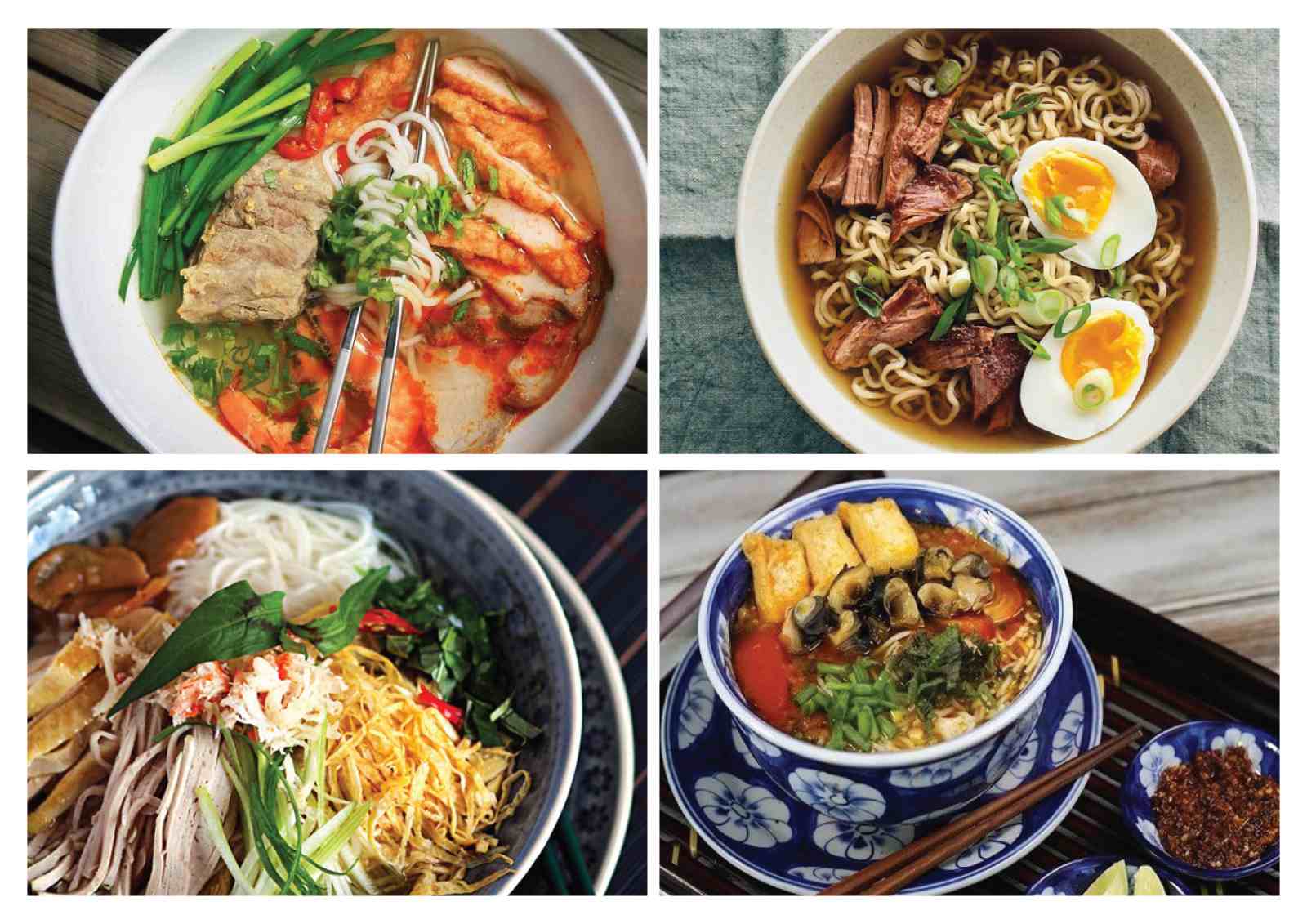 2. Various breathtaking landscapes with beaches, caves, and mountains
Vietnam is famous for its 8 heritage sites ranging from natural beaches, caves to man-made ancient towns, namely Halong Bay, Phong Nha Ke Bang National Park, Hoi An Ancient Town, etc. The more provinces you travel, the more you discover the hidden charm of Vietnam.
For example, if you love sunbathing, listening to the rhythm of water, doing yoga retreat on Vietnam beaches, or on the cruise in the middle of Ha Long bay, or yoga north Vietnam should perfectly match your needs. Meanwhile, the mysterious mountain of Sapa or the adventurous Phong Nha Ke Bang national park will be the best option for any risk-takers to discover while connecting their heart and soul with yoga in Vietnam and nature.
You can go to Phu Quoc, Vietnam to practice yoga outdoors with beautiful scenery. See more: "Stunning outdoor spots for yoga practice in Phu Quoc"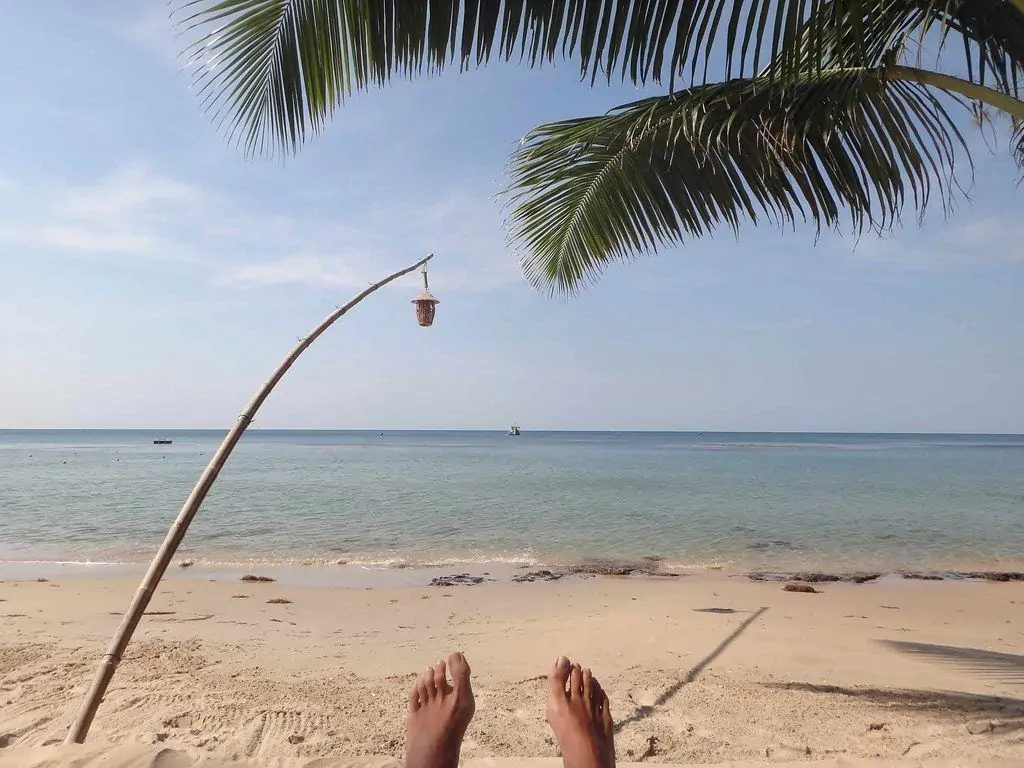 3. Yoga of all types are welcomed 
Vietnam is a country with no discrimination of all types. It is similar in Yoga, whether you are practicing whatever type of Yoga, Vietnam always can get your needs met. Here is the list of some popular yoga types in Vietnam that you can choose from.
a. Vinyasa Yoga
Vinyasa yoga is a physical style with spiritual components. It consists of six series of specific poses that were practiced respectively. Vinyasa means the place in a special way in breath and movement. In this retreat, you can immerse yourself in the peaceful jungle and find inner peace in your body and soul. Vinyasa yoga is suitable for those who've never tried yoga as well as those who've been practicing for years.
Who might be interested: One who enjoys physical activities while doing spiritually.
b. Hatha Yoga 
In Sanskrit, Hatha means sun and moon, so it is one of the best Yoga for balancing ourselves.
This stems from the whole concept of strength and flexibility, mental and physical, the body and soul. It is a shortcoming if we forget to mention the benefits of Hatha yoga. Not only does it become a physical therapy for your body and keep it healthy, but it also helps you lose weight effectively. In short, Hatha is the foundation for different yoga styles and nurtures your self-inquiry.
Who might be interested: One who prefers gentle yoga and a balanced lifestyle.
c. Yin Yoga
Different from many types of Yoga, Yin yoga mainly focuses on the slow and peaceful style of yoga. Rooted in India and China, Yin yoga takes advantage of traditional medical concepts to heal inner peace in mind. It is very effective in terms of connective tissues and slow breath.
Although called Yin yoga, this type of yoga still practices both Yin and Yang postures, which contains a series of long-held, passive floor poses that strengthen the lower part of the body—the hips, pelvis, inner thighs, lower spine.
Who might be interested: One who loves to stretch out after hard training sessions or wants to enjoy the slow-paced lives.
d. Ashtanga Yoga
Ashtanga Yoga is a style of yoga that concentrates on lively energy, long breath and flexible movements. It is regarded as the modern version of classical Indian yoga. Ashtanga Yoga consists of 8 types such as yama, niyama, asana, pranayama, pratyahara, dharana, dhyana, samadhi to help people build up their self-discipline. If you have been practicing ashtanga yoga for a while, you will certainly see substantial changes in both body and soul.
Who might be interested: One who wants to build strong commitment and self-discipline for long-term objectives.
e. Restorative Yoga
Doing restorative yoga is a great chance for you to take a deep relaxation in your body. Immersing yourself in the dimmed light and soft music, you can get full of your inner peace. Moreover, this type of yoga lets your muscles relax deeply and gain back its original strength after a stressful day. Research has proved that restorative yoga can decrease depression in cancer survivors; improve symptoms of anxiety, depression, and pain symptoms in cancer patients; and help patients manage the toxicity of cancer treatments.
Who might be interested: Anyone who wants to decrease stress and nurture inner peace.
f. Sivananda Yoga
Sivananda yoga is a form of hatha yoga based on the teachings of Hindu spiritual teacher Swami Sivananda. Classes are generally relaxing: while most yoga classes end with savasana (a final relaxation/corpse pose), Sivananda starts with this pose, then moves into breathing exercises, sun salutations, and then 12 basic asanas.
Who might be interested: Those looking for a gentler form of yoga, anyone who wants a more spiritual practice.
In modern daily life, we have to face up with many hardships and difficulties. Enjoying a yoga retreat or yoga detox in the natural landscape is the best way to put your mind at ease. Let's find out more with Metta Voyage.
4. Friendly and hospitable locals
Vietnam is regarded as one of the most friendly countries in the foreigners' eyes. No matter where you travel to, streets, restaurants, hotels, tourist attractions, etc, you can easily see the local people smile and talk friendly with you.
Especially, in Vietnam, you can find no discrimination on race, gender, religion. One of the typical examples is the famous saying named after the anti-war movie "No Vietnamese Ever Called Me Nigger" by David Loeb Weis. Thus, you can freely do yoga in Vietnam or practice your wellness journey without worrying about anything.
5. Amazing Yoga destinations around Vietnam
In Vietnam, there are many yoga studios in Vietnam customized specifically for ex-pats and tourists. They not only provide us with native English-speaking teachers but the different types of yoga in Vietnam suit all levels. Below are some of the recommendations of Metta Voyage for you.
a. Topas Ecolodge – Yoga in the jungle of Sapa
Location: 15 Lê Văn Tám, TT. Sa Pa, Sa Pa, Lào Cai
Listed as one of the places to stay if you care about the Earth, Topas Ecolodge is the perfect destination to do a wellness retreat or yoga in the middle mountains of Hoang Lien National Park. Here, you can easily enjoy the minimalist lifestyle as well as the exquisite ethnic minority culture.
In terms of Yoga in Sapa Vietnam, Topas Ecolodge offers mountain wellness retreat for yogis, beginners, or anyone who is escaping from the metropolis to the jungle to find peace in their soul. At Metta Voyage, we also offer you 3-day-journey to do yoga in the jungle with a very reasonable price of 283$ in Topas Ecolodge.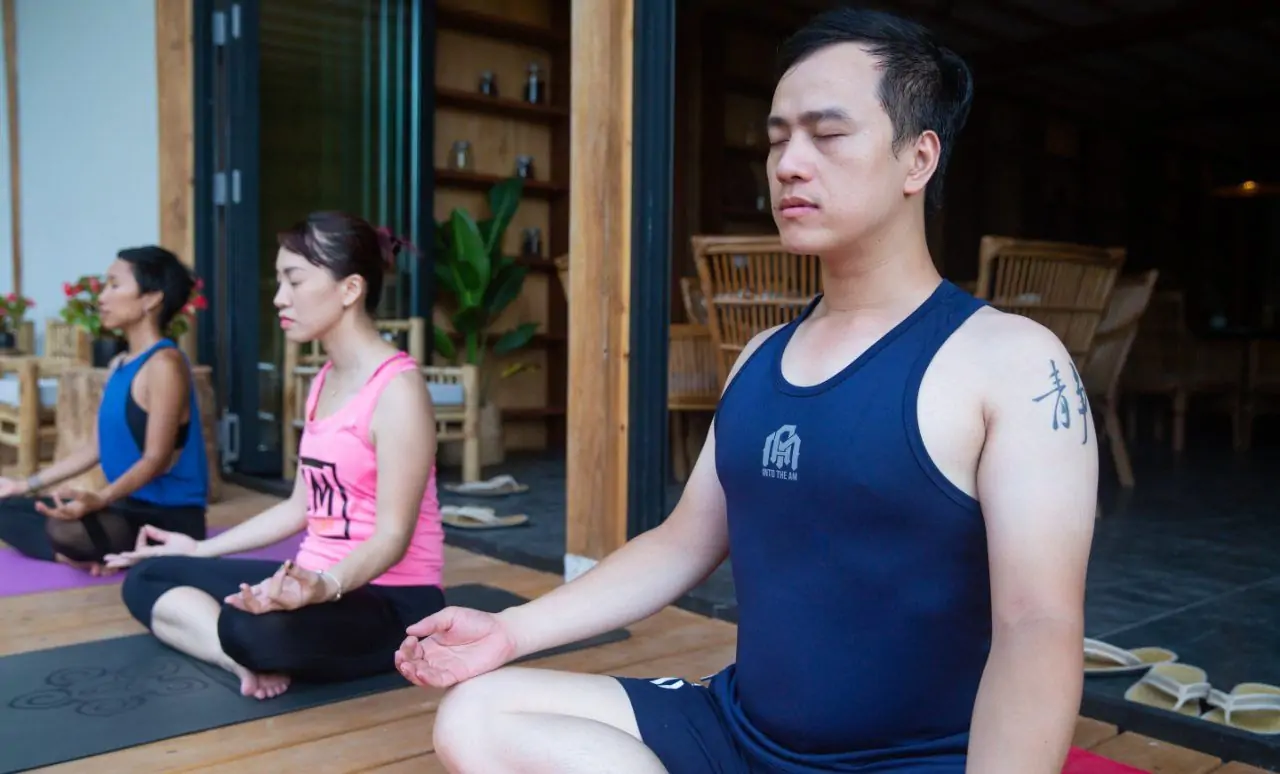 b. Zenith Yoga – Green Island in Hanoi
Location
Branch 1: 6 Floor, No. 2, Alley 371, Kim Ma, Hanoi
1st & 2nd Flr, Westlake Suite Building No. 99B, 275 Au Co, Tay Ho
Regarded as Green Island amidst the chaos of Hanoi, Zenith Yoga is a place that allows everyone to explore and become the best version of ourselves through nurturing inner health like our soul and mind. This community also encourages a more nature-centric lifestyle by practicing Yoga, Pilates, holistic therapy methods, and easy, delicious plant-based nutrition options to improve participants' healthy lives.
Besides, the studio also provides us with online courses so that you can self-practice at home in the period of COVID-19. This is a very interesting experience when practicing yoga in Vietnam.
Website:  https://zenithyogavietnam.com/
Email:  [email protected]
Phone:  0904.821.020
You can find some yoga centers in the Vietnamese capital here: "Top 5 yoga centers for foreigners in Hanoi"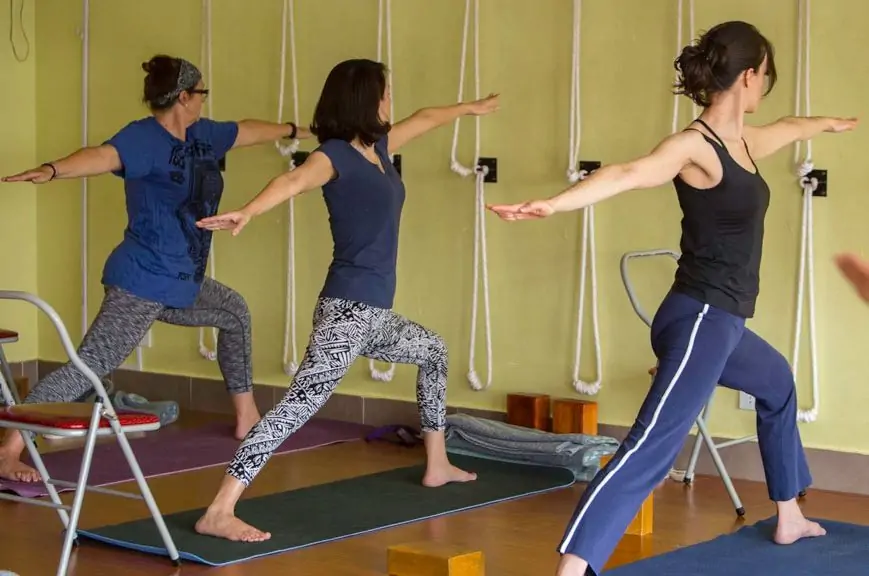 c. Aro Yoga Center – Modern Oasis in Da Nang
Location
Branch 1: 54 Tran Cao Van, Thanh Khe District, Da Nang.
Branch 2: 4th Floor, Bach Dang Building, 51 Xo Viet Nghe Tinh Str, Hai Chau District, Da Nang.
Aerial Yoga is a wonderful combination for Yoga-practitioners in both English and Vietnamese. The center brings us a wide range of Yoga choices like hot yoga, gentle yoga in Vietnam, Hatha, easy stretch,…
Moreover, if you are interested in dancing and moving, this studio suits you the best. The studios provide us with lively dance classes from Hip-hop, Western classic to Street or Zumba.so you can totally immerse yourself in the fast rhythm of music and chill.
See more about yoga in Da Nang here: "Where to do Yoga in Da Nang Vietnam for foreigners"
d. Nomad Yoga – Peace amidst the bustling city of Hoi An
Location: 22 Nguyen Du, Hoi An, Quang Nam, Vietnam
Located in the bustling center of Hoi An, Nomad Yoga is a lovely quiet space on a river for individuals to put your mind at ease and get the feeling of peace in the mind. Not only can you find the lectures of Gentle Hatha, Yin Yoga, Ashtanga, Meditation…but you can make friends with the cool "nomadic" yoga teachers. There some things you need to know before taking the first class of yoga in Hoi An, it will help you if you need it.
Besides, the studio also holds many training classes for Yoga teachers. The teachers are very passionate and friendly so that you can freely enjoy the environment here.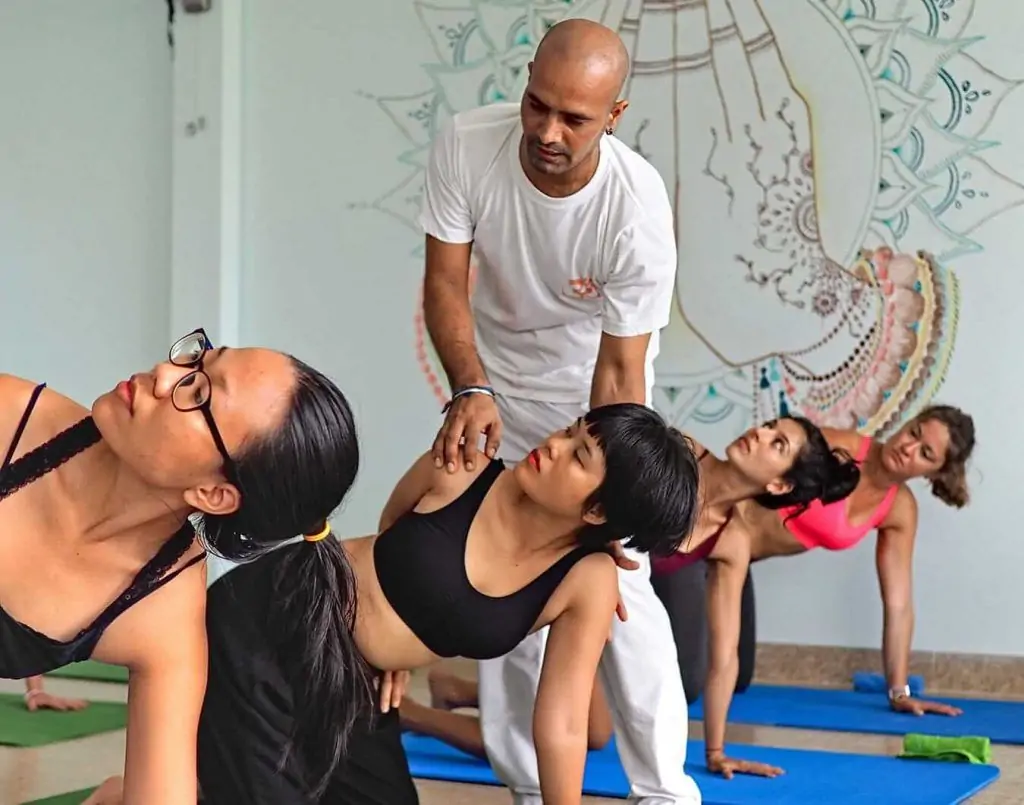 e. Sivananda Yoga Resort And Training Center – Yoga in the pristine pine forest of Da Lat
Location: K'lan Resort, Hoa Hong Street, Ward 4 by the Tuyen Lam Lake Da Lat, Vietnam
This is one of the largest studios for Yoga and retreat in Vietnam where you can spend your leisure time in a complete natural pristine setting. The fresh air and scenic beauty of the pine forest will certainly impress your retreat here.
In terms of Yoga, Sivananda Yoga Resort And Training Center offer us yoga sessions for all levels as well as all yoga experiences including yoga asanas (yoga poses), yoga breathing exercises (pranayama), relaxation techniques (savasana), yoga meditation techniques, etc.
Website: https://sivanandayogavietnam.org/
Email: [email protected]
Phone: (+84) 263 650 1100
Maybe you want to find more information about yoga in Da Lat: "All about yoga in Dalat, Vietnam: Find your inner peace"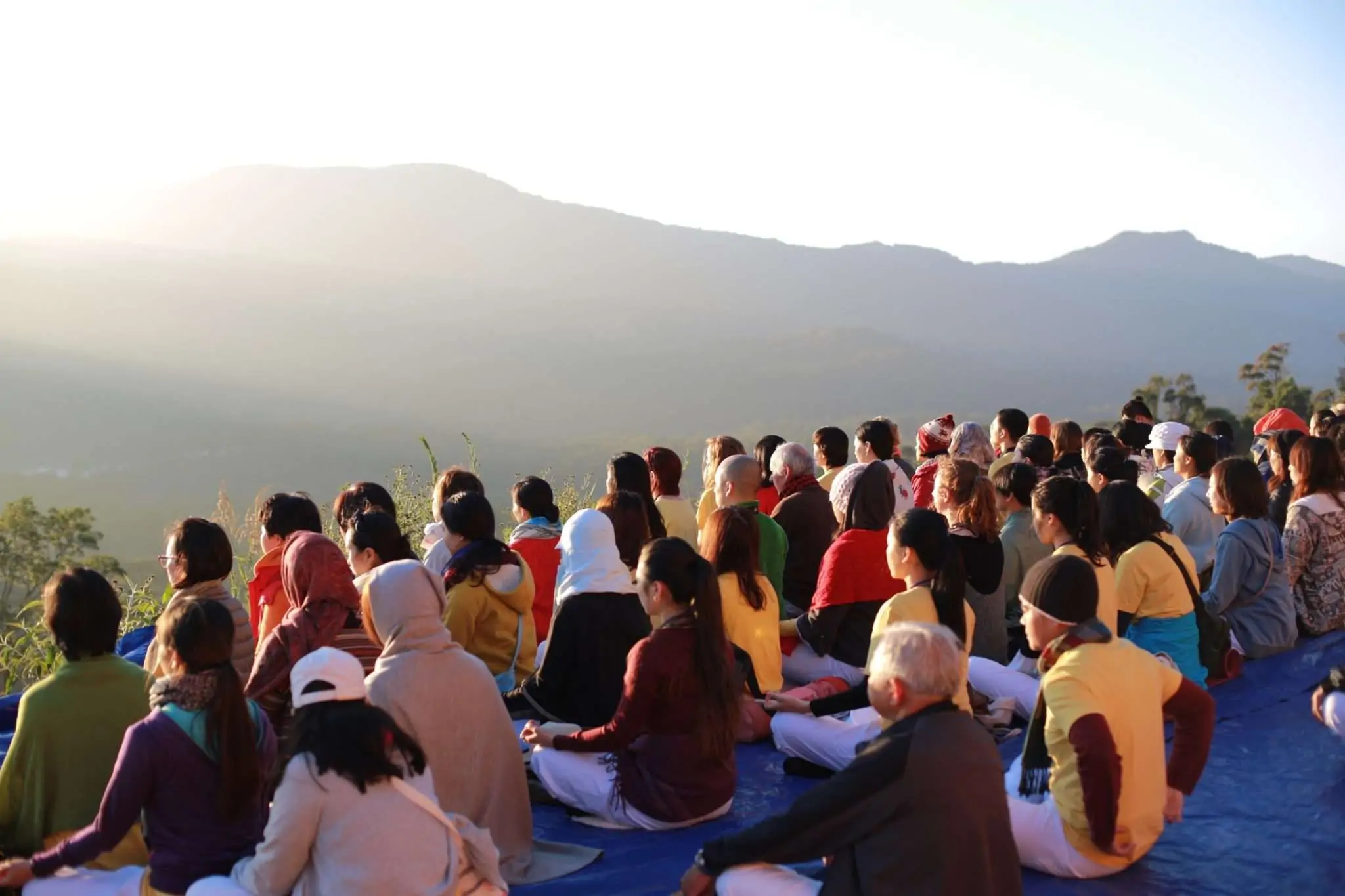 4. Body by Jovie – Urban boutique yoga studio in Ho Chi Minh
Location: Riverside Residence, Nguyen Luong Bang Street, Phu My, 7 District, Tan Phu, Ho Chi Minh City.
The studio is the mixture of gym and yoga studio that fulfills the needs of any customers. The facility doesn't only have maximum capacity but concentrates on the utmost quality and customized attention to all practitioners for the best results.
In Body by Jovie, you can also find many helpful types of equipment to maximize your practices such as TRX Suspension Systems, ViPR Sets, Kettlebells, etc. In short, it is a very suitable place for family health improvement together.