Da Lat is given many names: "city of thousand flowers", "city of love" and "city for the dreamers". Each one tells a different story, but all suggest that Da Lat (Vietnam) is a yoga perfect destination.
What you consume with your eyes, ears, mouth and body will affect the soul. It is scientifically proved that physical surroundings have a great impact on mental health. Air pollution, neighbor noise, crowded streets, car honks and buildings after buildings – have you ever found it difficult to feel peaceful living in big cities?
Our living conditions make us more prone to stress and anxiety. And we might often get too carried away with our busy schedules to take care of our well-being. Once in a while, it is necessary to take a short break from the hustle and bustle of the cities, spend time away from urban life to relax, clear your mind and gain positive energy.
A yoga retreat to Da Lat does just that! Da Lat is given many names: "city of thousand flowers", "city of love" and "city for the dreamers". Each one tells a different story, but all suggest that this is a must-go destination. Let's find out more!
1. Yoga for the body in Da Lat
Situated on Lam Vien Highland (Lam Dong province), approximately 1500m above sea level, the plateau of Da Lat has 'sweater weather' all year round. With its chilly summer and cold winter, the city is like a gem for people in the Southern region of Vietnam who always have hot weather or anyone seeking a short escape from the burning heat.
Nature thrives in Da Lat. The city is made of grassy hills, lakes and forests of pine trees. Fresh air is guaranteed. Such perfect conditions for outdoor exercises including practicing yoga in Da Lat Vietnam. A yoga retreat to Da Lat, Vietnam would rejuvenate your physical health. It is time for you to fill your lungs with fresh air, go for a hike up the hills or into the woods and reduce cortisol with a peaceful time by the lakes.
The famous spots are Langbiang mountain where you can have the best view of Da Lat from above, Tuyen Lam lake with crystal blue water and Thien Phuc Duc hill – explorers' favorite. If you like green scenery, this is the place for you. The slopes of Da Lat will also make walking much more like a light fat-burn exercise for your body.
Moreover, Da Lat is a wonderland for fresh vegetables, fruits and flowers of all seasons. It is the only place in Vietnam with strawberries. You can indulge in all of the luscious and healthy food while knowing for sure that they are served from farm to table. For some, you can even visit the farms and pick your own food. Your body will be strengthened and nurtured.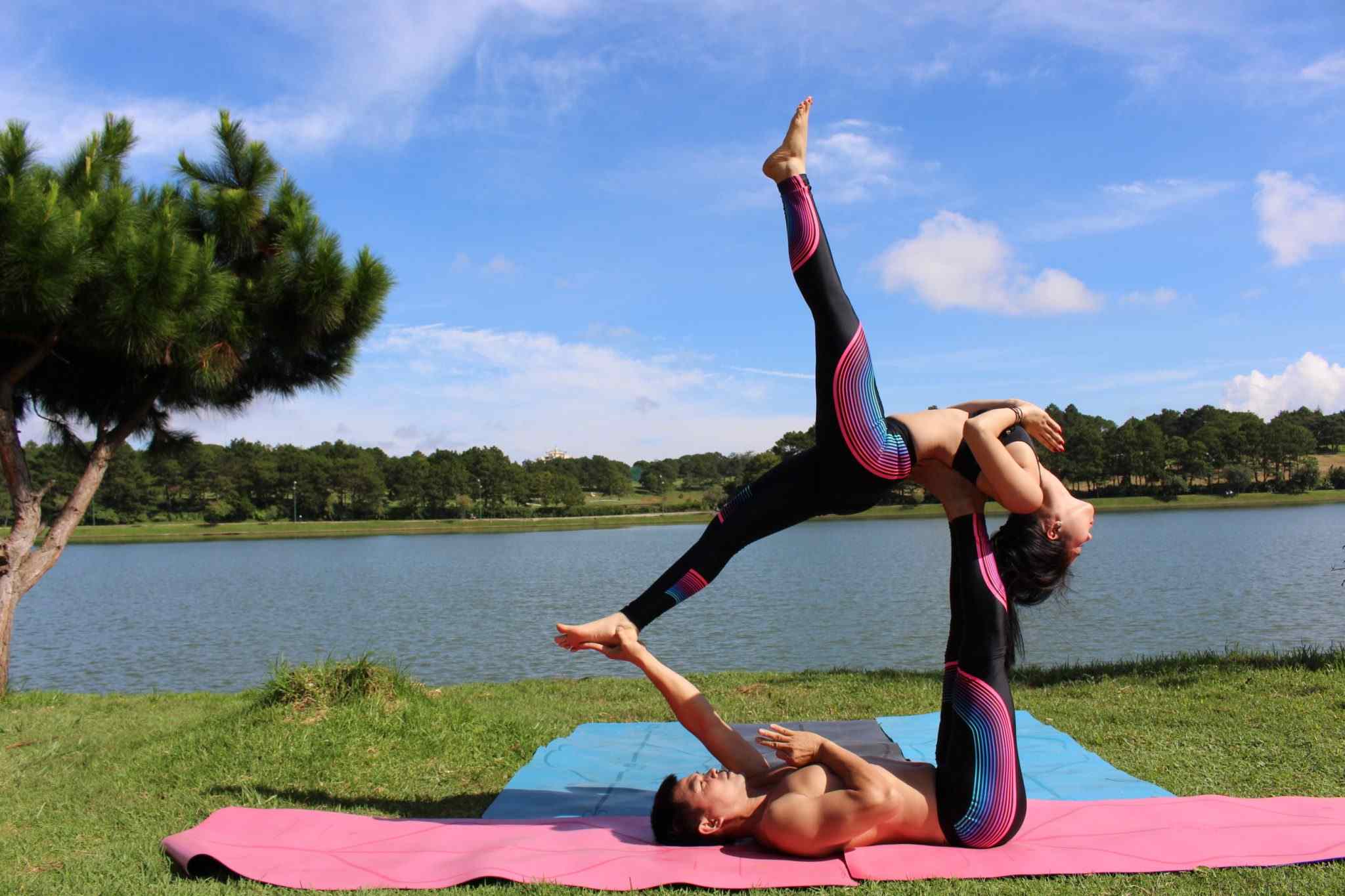 2. Yoga for the mind in Da Lat
Yoga in Da Lat is part of yoga in Vietnam but has its own characteristic in the land of the flower. Staying close to nature improves our mental well-being, according to a recent study. A yoga retreat to Da Lat allows you to spend time in the open air, near the trees, listening to the soft sounds of the wind while practicing meditation. It's an escape from the concrete rooms and busy traffic that tire you out every day.
There is healing power in being deeply connected to nature. In addition, Da Lat's yoga retreat will distract you from the daily alerts, demanding emails and social media buzzes. It does not necessarily mean a digital detox, yet, the notifications would not be your priority when you are outdoors immersing in the beauty of nature and exploring the local life of Da Lat.
Being away from work and social media is already stress relieving. Through yoga sessions, you will learn how to detach your mind from daily life pressures and relax. Furthermore, one of the significant characteristics of Da Lat is a slow and simple life. Here, people sleep early and rise early. A few days blending in the calming lifestyle gives you some time to refresh the mind and find balance within yourself.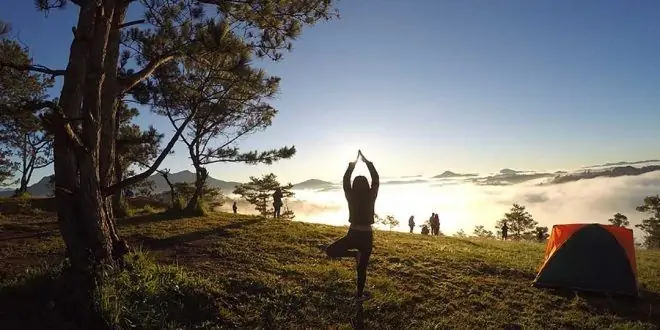 3. Yoga for the heart in Da Lat, Vietnam
There are many reasons why Da Lat is called the "city of love" and "city for the dreamers". It is difficult not to fall in love with this dreamy city once you've visited. A yoga retreat in Da Lat would definitely be a therapeutic session for your soul. Amazing sunrises with blankets of fluffy white clouds, daytime bathed in warm sunlight and cool breeze, technicolor sunsets and starry nights, your heart will be filled with the genuine joy of being alive. Participating in a yoga retreat in Da Lat, you would learn to be more grateful and how to find small but certain happiness in your daily life.
Da Lat was actually discovered by doctor Alexandre Yersin in 1893 and later built by the French when Vietnam was under colonization. Thus, many constructions have been influenced by French architecture. You can indulge yourself in Da Lat's unique romance – a mix of France and Vietnam among lush scenery and wildflowers everywhere in the city. The signature spots are King Bao Dai's palace, Da Lat's gas station and Des Oiseaux Convent. It would be a lovely experience in addition to yoga activities.
It is the romantic beauty of Da Lat that makes people fall in love not only with the city but also with each other. Adding to the list of Da Lat's famous attractions is the love stories it holds. Believe it or not, there is a wide known myth that Da Lat is the land of breakups, that all couples will drift apart after visiting the city. This "curse" stems from some true sad love stories. However, there are more stories about people finding their other half on a trip to Da Lat, and many couples have visited and come back without any problem, the city even helps warm up their relationships.
Da Lat is also a popular destination for pre-wedding photos because of its loving atmosphere. So, this would be an opportunity to gather some love stories to reflect on your own relationship, or merely find solace in the stories. Or who knows, your lifetime partner? Da Lat might be an ideal city to explore love.
Maybe you want to find information about yoga in other places in Vietnam, I think Da Nang is one of the best places for travel and yoga too. You can find in this article: "Where to do Yoga in Da Nang Vietnam for foreigners"