Da Nang is undoubtedly the most picturesque and livable city for foreigners and ex-pats in Vietnam. But why? The answer is rather simple.
In this bustle and hustle rhythm of city lives, you can easily find yoga in Da Nang Vietnam by many centers of every size and stripe to take a deep breath and put your mind at ease. In this blog, Metta Voyage will share with you the top 4 yoga studios for ex-pats in Da Nang.
1. Aerial Yoga by Avi
Aerial Yoga is a great mixture of Yoga-practitioners in both English and Vietnamese. The studio provides different types of Yoga for many kinds of customers such as pregnants, children, adults, etc. Moreover, the studio is just 5 minutes walking from My Khe Beach with a nice and peaceful atmosphere to relieve your stress and heal your pain.
And, if you are a nature-lover, Yoga on the beach from Aerial Yoga is a really ideal decision. In this class, you may stretch yourself on the beach in the sunshine to get more connected with your inner peace and soul.
Address: No.5, An Cu 5 Street, Son Tra District, Da Nang, Vietnam

See more at

http://www.aerialyogabyavi.com/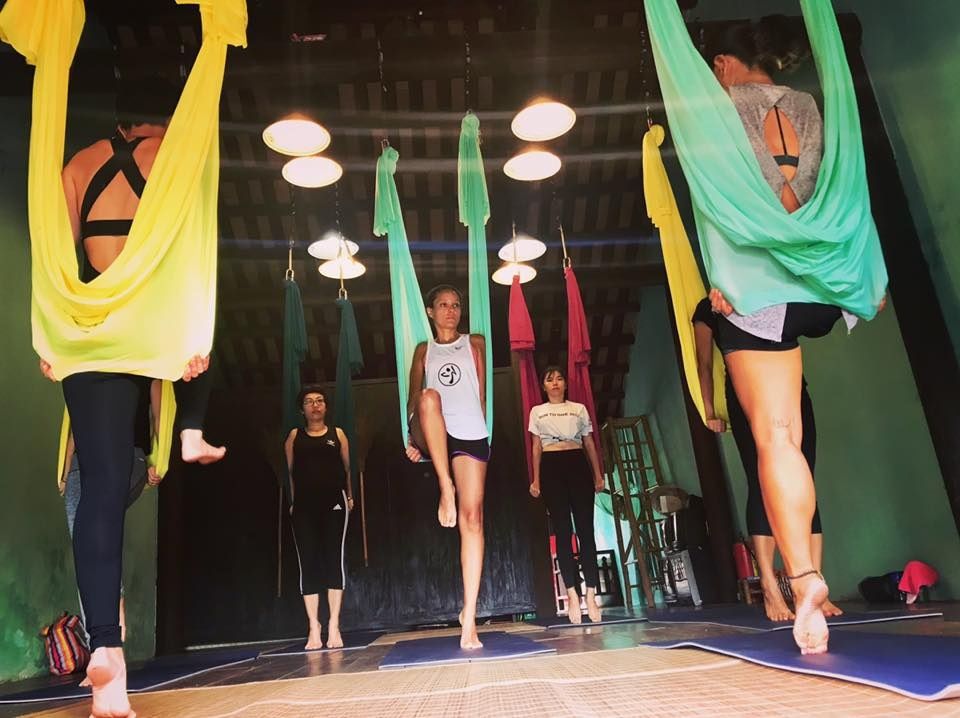 2. Aro Yoga Center
ARO Yoga is an energetic place with highly motivating and friendly instructors for you to enjoy Yoga as an essential remedy. In the studio, you can access not only high-intensity yoga facilities but also a restorative experience for different levels. The instructors can be a good plus if you are looking for professionals from India with many years of experience in a variety of Yoga fields.
Apart from Yoga, the studio also provides us with lively dance classes from Hip-hop, Western classic to Street, or Zumba dance. This is a great opportunity to immerse yourself in different types of activities.
– Branch 1: 54 Tran Cao Van, Thanh Khe District, Da Nang.
– Branch 2: 4th Floor, Bach Dang Building, 51 Xo Viet Nghe Tinh Str, Hai Chau District, Da Nang.
See more at

http://aroyoga.com.vn/en/trang-chu/
3. ÊM Yoga and Healing Center
If you are searching for a yoga studio that integrates both a healthy diet and an exciting healing experience, Êm Yoga should be of your great choice. Êm Yoga concentrates on Hatha Yoga, Vinyasa Yoga as well as Prana Breath, which are very practical and beneficial to healing pain in your soul and physical body. The studio is going to make Mindful Eating Club for those who really care about Food – Health and/or Traditional Natural Healing by Food based on the philosophy "Food is Medicine" & "You are what you eat".
More than that, the studios also held many free workshops and sessions so that everybody can join in. For example, Breath: Pranayama and Sound Healing; International Yoga Festival, etc.
4. Himalaya Yoga Studio
Himalaya yoga, the first-ever studio in Da Nang with nice views of Bana Hills. Not only can yogis enjoy fresh air from many windows, friendly & family environments, professional enthusiastic teachers but they provide yoga tools to assist practitioners as well. Yoga in Vietnam is very rich and diverse, stretching all over the country.
Especially in the time of COVID 19, they are one of the first yoga centers which open an online Yoga class through Google Meets. Further, free yoga lessons are also live-streamed on their Facebook page that attracts many yoga learners from all over the world.
– Branch 1: 125 Phan Dang Luu Street, Hai Chau District, Da Nang.
– Branch 2: 1077 Ngo Quyen, Son Tra District, Da Nang.
"If you are looking for a customizable wellness tour, don't hesitate to contact Metta Voyage for more details. As a wellness tour operator in Asia, we guarantee that we will bring you the best local and nature experience to help you balance your mind and soul"