Vietnam is an amazingly vibrant country, known for its bustling cityscape and tranquil mountains and seas. If you are a yoga lover who is additionally keen on exploring the sights and sounds of Vietnam, you will consider doing a yoga retreat at one of the various places in North Vietnam that have attention on health and wellbeing.
So, practicing yoga in Northern Vietnam will be a great idea of relaxation and enjoy relaxing in the picturesque landscapes.
1. Why is North Vietnam a great place for yoga lovers?
Northern Vietnam is home to some stunning picturesque areas and remote regions crammed with ethnic minorities. It is also a neighborhood filled with history and an upscale variation of cultures. By connecting with nature, you will have an epic trip.
Northern Vietnam is also home to the UNESCO World Heritage Centre, Ha Long Bay, and is a place must-see if visiting Vietnam. It is said that no trip to the north of Vietnam is complete without a visit to spectacular Ha Long Bay.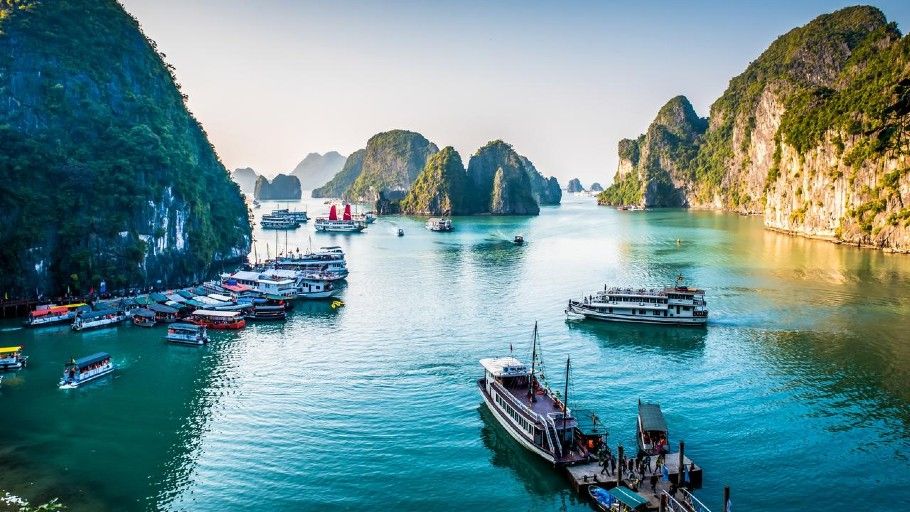 Likewise, this part of Vietnam is home to some spectacular cliffs, trees, valleys, and caves. The scenery is so vast and attractive you will not want to go away. Take an outing to conserve and replenish your flow.
If you combine yoga practice with the picturesque landscapes of northern Vietnam, it will take you to the ultimate destination of relaxation, leave you with a sense of fulfillment and self-actualization.
2. Best places to practice yoga in north Vietnam
a. Pu Luong Retreat
Location:   Don village, Thanh Lam commune, Ba Thuoc district, Thanh Hoa province, Vietnam
Tucked away on a hillside with the most stunning panoramic views of the region, Pu Luong Retreat gives you a sense of relaxation, away from the hustle and bustle just 160km – 4 hours drive from Hanoi.
Pu Luong Retreat is part of Pu Luong Nature Reserve in Ba Thuoc District, central Thanh Hoa Province, a place with majestic mountain views. Many experiences like meditation, yoga, spa retreats, a cycling tour, and swimming are definitely awesome.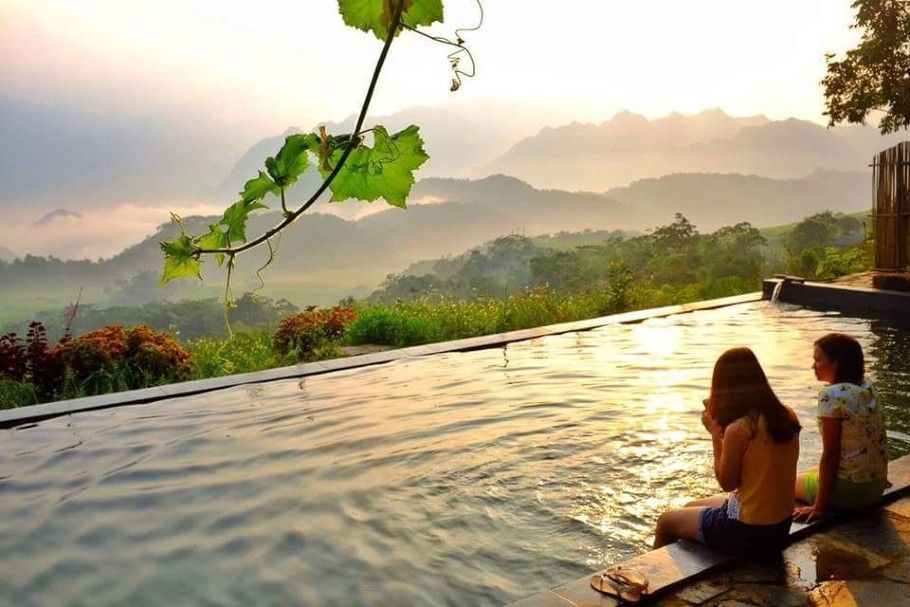 Pu Luong is quite unknown among most tourists, but that does not make it less worth a visit. Pu Luong contains all the highlights of northern Vietnam. Pu Luong is a "microcosm" of Northern Vietnam. Containing the magnificent mountain ranges of Sa Pa, the stunning rice terrace fields of Mu Cang Chai, the scenic rivers and waterfalls of Cao Bang, the breathtaking mountain passes of Ha Giang, and the authentic villages of ethnic minorities in Mai Chau.
Pu Luong Retreat offers 9 comfortable bungalows, a traditional stilt house with 16 comfy beds, an outdoor restaurant with delicious cuisine, an infinity pool, spa, and rock garden, to explore hidden details are built by hand from the ground up, with meticulous attention.
If you're at all into yoga or meditation, doing a little while you're here. There's nothing more chilled. Pu Luong Retreat has a yoga floor, which is designed in a prime location on the premises of the resort. With views overlooking the valley of Pu Luong and the majestic scenery of mountains and forests of Thanh Hoa province, the yoga floor will definitely not escape your sight to create beautiful pictures in your Pu Luong journey.
Practicing yoga in the morning will awaken your senses, body, spirit, and give you abundant energy for a long day of exploring the majestic Pu Luong mountain forest. Waking up early and doing yoga on the stilt house area of ​​Pu Luong Retreat, breathing the fresh air from nature will bring you an unforgettable relaxing feeling.
What is better than being able to relax in an open space while being immersed in nature while improving your own health?!
b. Mai Chau HideAway Lake Resort 
Location: Suoi Lon village, Tan Mai, Mai Chau District, Hoa Binh province, Vietnam
Website: http://maichauhideaway.com
Mai Chau HideAway Lake Resort is a special ecological resort in the heart of Hoa Binh lake. It is also the first and only fully ecological resort complex in northern Vietnam. Come to this resort, you can feel freedom, peace, and relaxation thanks to the immense green space-the green of wide-open nature with lake, trees, and mountains.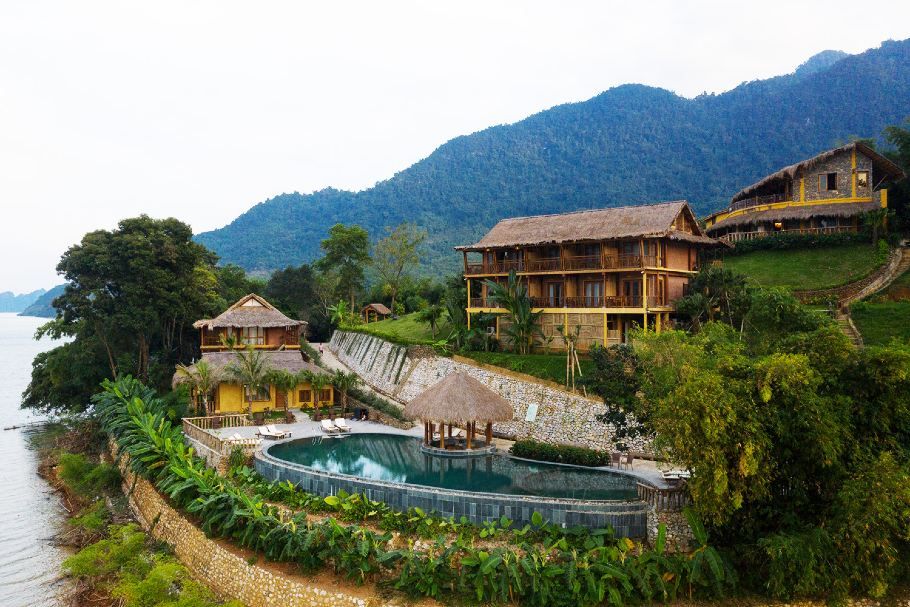 The resort is built in a rustic style with five rustic stilt-houses, where you can fully enjoy the cultural features of ethnic minority communities in the northern mountainous area of Vietnam like Thai, Muong, Dao, Hmong.
The resort surrounded by forests and mountains, allows guests to be part of an awesome experience such as yoga, kayaking in the Hoa Binh lake, cooking classes, or relaxing at the spa.
Joining yoga class at the most peaceful place. It will connect your soul, mind, and body easily. When you get along, your journey in life will be calmer, happier, and more fulfilling.
c. Ha Long Bay Cruise
Location: Ha Long City, Quang Ninh province, Vietnam
If your yoga room can not make you feel relaxed, Ha Long Bay Cruise is an ideal place for yoga practice. It can help you break out of your daily routine and experience something new. Furthermore, you will try a higher level of yoga retreat on Ha Long Bay Cruise and take a deep breath in the fresh air. There are many difficult yoga poses and positions that you can easily practice in the right place.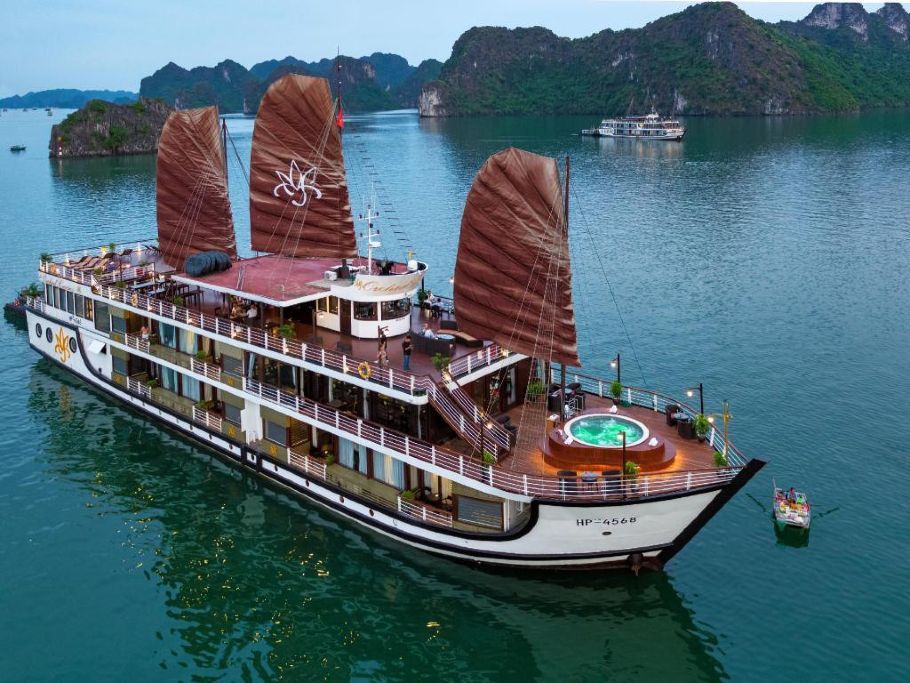 Freshness and relaxation are the first impressions when you stand on Ha Long Bay Cruise. Imagine waking up early in the morning after a comfortable night on the bay, then you start practicing yoga in the fresh air. Only you are blended in with Mother Nature. Simultaneously, you will hear the natural sound of birds in some limestone surrounding.
However, practicing yoga in the morning or afternoon is both really helpful. Yoga is a must-have practice that will bring benefits for you physically, mentally at any time of day.
d. Emeralda Resort Ninh Binh
Location: Van Long Nature Reserve, Gia Van Commune, Gia Vien District, Ninh Binh Province, Vietnam
For domestic and foreign yogis, Emeralda Resort Ninh Binh has become famous in the north of Vietnam because it is the only resort offering free daily yoga classes with detox and body cleaning services.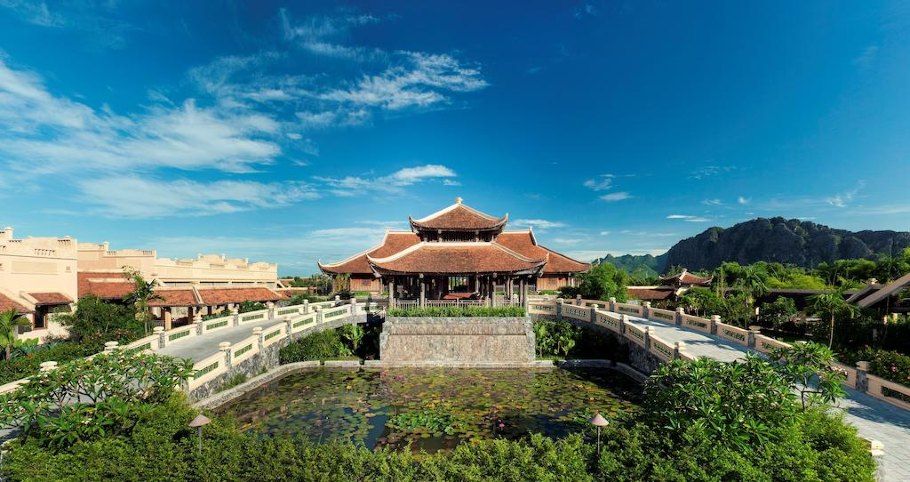 This charming resort offers a space especially ideal for an outdoor yoga class. It is designed in the traditional Vietnamese architecture and possesses the rustic and rustic beauty of the village. This is the ideal hideaway for those who want to study the most fundamental yoga philosophy and get inspired to live a more authentic, happy, and fulfilled life.
In the five-star Emeralda Resort Ninh Binh, visitors will experience yoga in beautiful nature, experience unique yoga techniques like detoxification, cleansing the body, breath, and conditioning the airflow to achieve harmony between nature and humanity, and nurture positive energy for the new day.
The journey combined with yoga will help you indulge in peace nostalgia and immerse yourself in nature and enjoy the scenery of the ancient northern Vietnamese villages.