Mui Ne is a beautiful place in Vietnam and very suitable for leisure trips as well as wellness tours. Let's check out the top 5 centers for yoga in Mui Ne Vietnam and why you should choose this place for your next destination.
I. Mui Ne, the paradise of leisure travel in Vietnam
1. About Mui Ne, Vietnam
Located in the South Central of Vietnam, however, Mui Ne is less affected by storms and has a typical climate of dry and hot topics. Mui Ne, Phan Thiet is one of the famous tourist destinations in Vietnam with big sand dunes and clear blue beaches. This beautiful place is also home to many luxury resorts and attractive activities. Coming to Mui Ne, visitors will have the opportunity to enjoy delicious dishes and experience the diverse culture here as well.
2. Place must go in Mui Ne
There are many places to visit when coming to Mui Ne as follow:
a. Mui Ne beach
Mui Ne is one of the most beautiful beaches in Vietnam. The beaches here are quiet with golden sand, green coconut trees, and a clear blue sea. You can blend yourself in the seawater or participate in extremely fun activities. Or just lying on the sand and enjoying your vacation.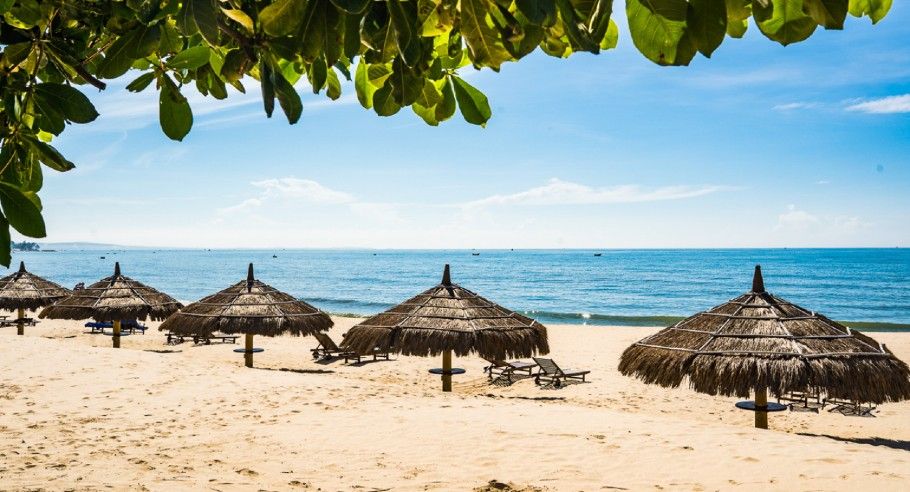 Nha Trang is a place that has beautiful beaches like Mui Ne, you maybe want to read this article: "Yoga in Nha Trang: Where should I practice?"
b. Mui Ne golden sand dunes
The golden sand dunes are the most famous tourist destination of Mui Ne. Endless golden sand dunes make you feel like you are in a hot desert. Along with that are adventurous activities such as off-road driving or slide-out.
c. Ke Ga Lighthouse
This is a work of both cultural and historical heritage as well as a tourist attraction in Vietnam. Ke Ga Lighthouse was built in 1897 and is considered the most beautiful lighthouse in Southeast Asia with a height of 41m and a light radius of up to 22 knots.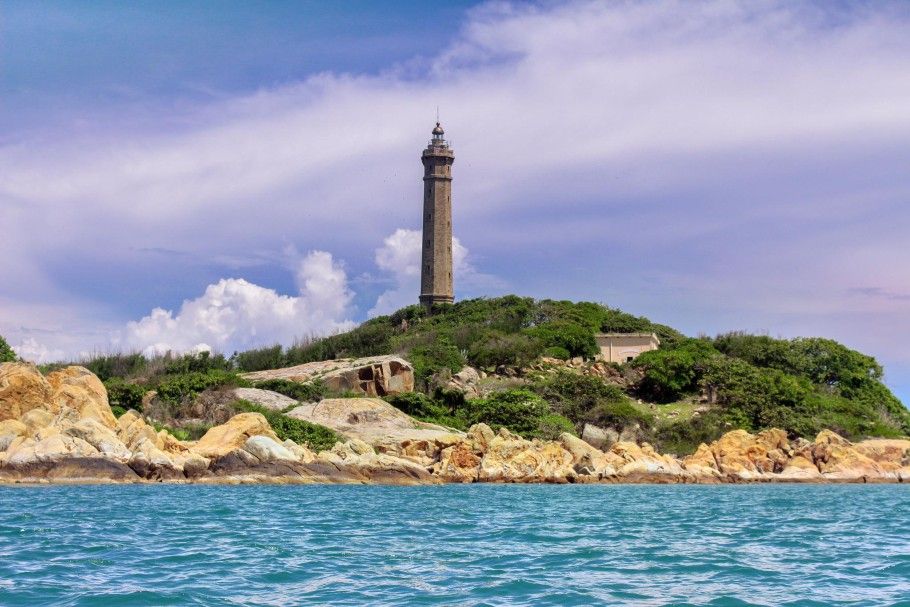 d. Ta Cu Mountain
Not only deep-sea Mui Ne also has high mountains. Ta Cu Mountain is a rich tropical forest ecosystem at a height of 457m. On the mountain, there is an ancient temple built in 1897 with the largest lying Buddha statue in Vietnam.
e. Fishing Village of Mui Ne
If you want to experience the simple life of fishermen, you can visit the fishing village of Mui Ne. Every early morning there will be a lot of fishing boats coming ashore and gathering a lot of buyers. You can also choose fresh seafood and eat on the spot.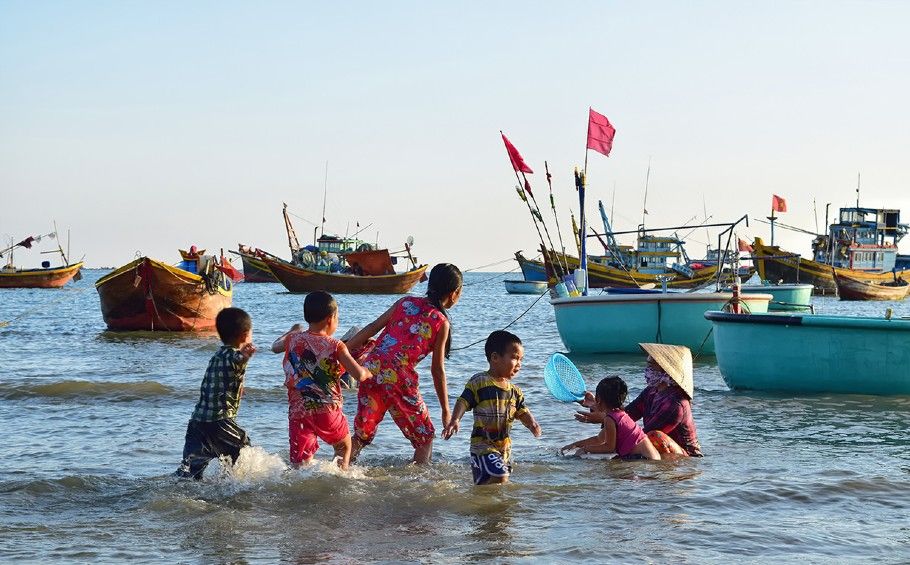 3. Food should try in Mui Ne
When visiting Mui Ne, you have to try some specialties such as:
Fish cakes bought at Phan Thiet market are made from fresh and delicious fish, so they are chewy and sweet, they can be bought as gifts for friends or ingredients for noodles.

Re Cake made from sweet potatoes and tapioca sold in front of the sand dune. They are delicious and cheap snacks only available in Mui Ne.

Quai Vat Cake is a traditional dish that can be found anywhere in Mui Ne and can be eaten at any time of the day.

Grilled squid teeth are a unique dish only Vietnam has with an aromatic buttery scent and spicy satay.

Dragon fruit and crab salad: As the land of dragon fruit, it is indispensable for dishes processed from dragon fruits in Mui Ne. The salad dish is tasty and healthy.
II. Top 5 centers of yoga in Mui Ne Vietnam
1. Yoga Dom Na Gore – Most recommended place for yoga in Mui Ne Vietnam
As the most famous center of yoga in Mui Ne Vietnam, Yoga Dom Na Gore is a favorite place of many yoga lovers and recommended by a lot of people when traveling here. This is the first Russian yoga center in Vietnam, which opened in 2011.
This hilltop yoga center is the perfect location to create a quiet space and harmony with nature for yoga lovers. With ancient Chinese architecture, sea views, and the wind blowing all day, this place will fulfill you with peace and health.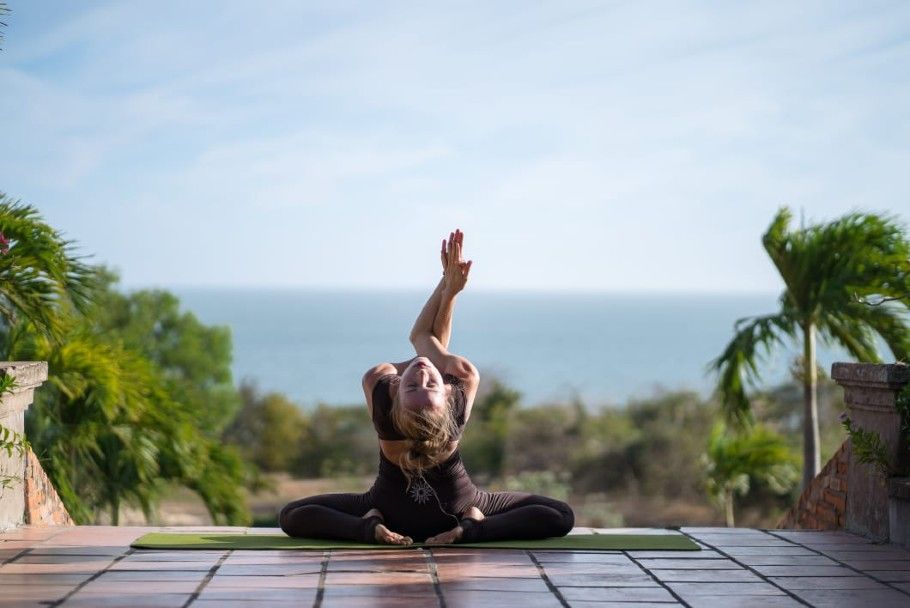 The Yoga classes are great too. Yoga Dom Na Gore has all types of yoga for all levels. The teachers can also communicate in English and Russian, so even if you are a foreign tourist there is no need to worry about classroom communication.
2. Yoga Classes of Pandanus Resort
Pandanus Resort is a luxury accommodation in Mui Ne. There are also activities such as a spa, swimming pool, gym, tennis, and even yoga here. The yoga class is held at 3 pm every day. Classes are held in a wooden room with a view of the sea creating a comfortable atmosphere. Not specializing in yoga, yoga classes here are more suitable for those who come to rest here and want to maintain practicing yoga in Mui Ne Vietnam trip.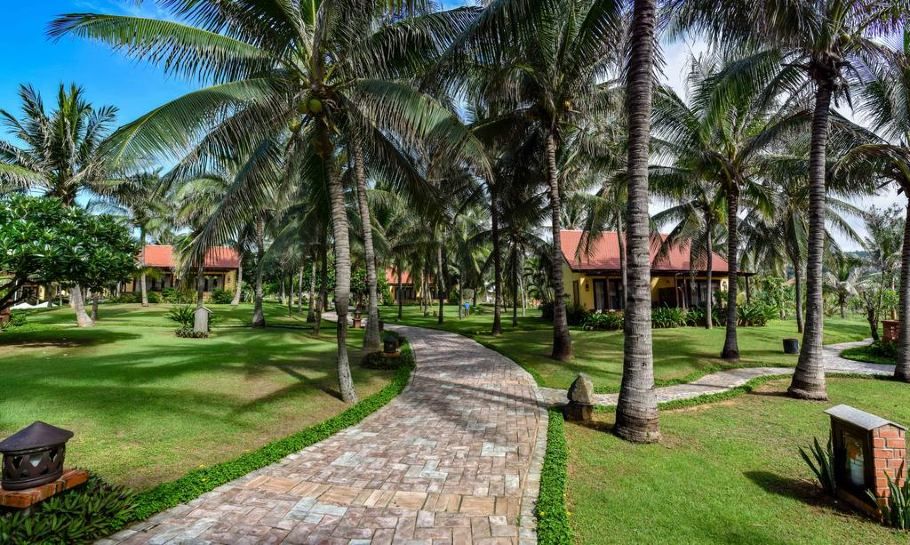 Yoga classes here are only held every Tuesday and Saturday after sunset. So it can be a little bit inconvenient to schedule your time. But in return, the clean and airy space here will energize your body and cleanse your spirit. This yoga class is also completely free for guests here and there are both beginner and intermediate classes. If you want to take a private class, you can register and pay a separate fee for the resort.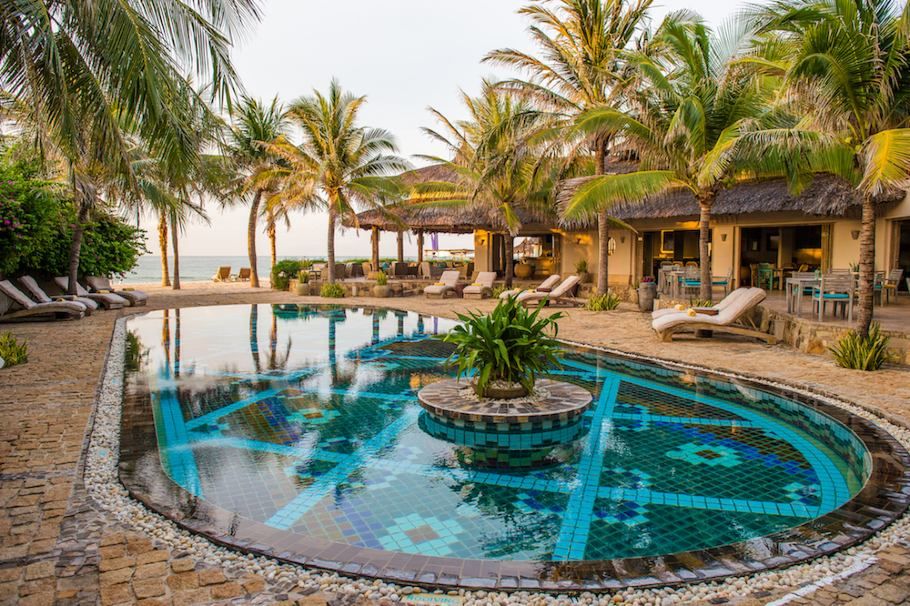 Villa Aria Mui Ne resort is another place that has classes for yoga in Mui Ne Vietnam. But these classes are held in a nearby center, not inside the resort. So you can walk through as a kind of extra exercise and sightseeing. An advantage is that if you have your own schedule or want to do practice alone, you can ask Villa Aria to arrange a private class.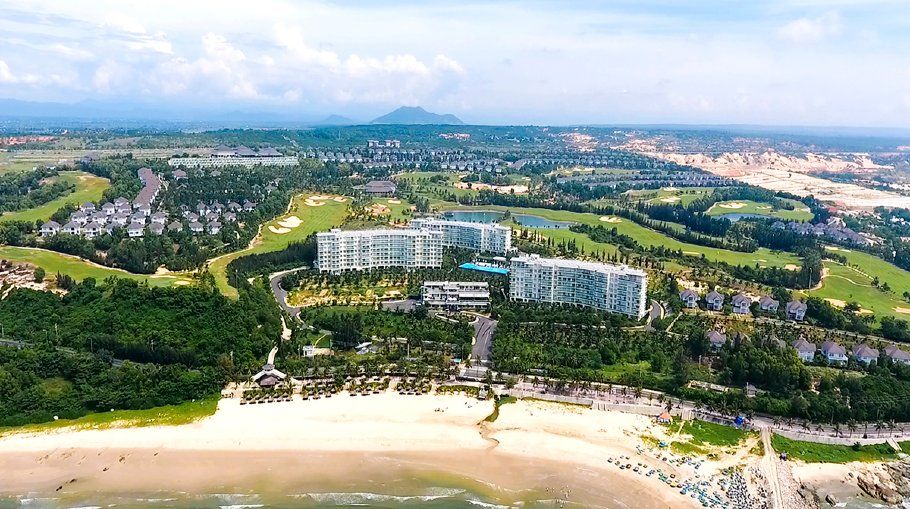 5. Yoga at Mui Ne Mineral Mud
Mui Ne Natural Mineral Mud Center, also known as Mui Ne mud bath has its own yoga classes too. The yoga classes of Mui Ne Mineral Mud are combined with mud baths to bring pleasure, relaxation, and the best for health. This mud bath combination yoga is also great for keeping in shape and lighting up your skin.
III. What to expect from a wellness tour in Mui Ne Vietnam
Yoga in Mui Ne Vietnam is now developing with the increase in both quantity and quality. With a beautiful coast, convenient transportation, pleasant weather, mild climate, developed infrastructure, Mui Ne is exactly what you need for a wellness tour. Health tourism is also a new trend when more and more people want to escape the hustle of life and take care of their bodies. So wellness tours and wellness tourism are also being developed in Mui Ne and in Vietnam. This is definitely a must-visit if you love health travel and want to choose Vietnam as the next destination for your vacation.