Yoga is slowly, but steadily becoming a vital part of the modern-day world. If you have a trip to a remote place, it's always hard to adapt to a different time zone. That's equally true for our bodies and minds.
Surprisingly, Vietnam is one of the most "fitness-friendly" countries in Southeast Asia. Vietnam is a very warm country, the beautiful nature allows you to relax, enjoy the fresh air, and concentrate on your routine.
If you're visiting Nha Trang for the first time, location is the key to a satisfied and budget-friendly Vietnamese stay. But a vacation is not a reason to stop exercising. Because everyone knows how hard it is to stay in shape. However, there's always one way, especially if you want to keep yourself in shape no matter where you go. In Nha Trang, you can find some yoga centers to suit every taste and at affordable prices.  We put all centers of yoga in Nha Trang on a map so you can easily find them.
1. Nha Trang's best wellness experiences
Nha Trang, located in southern Vietnam, is well-known for its peaceful atmosphere and delightful scenery. It boasts a picturesque 6km coastline with lush green mountains, pristine beaches, and more than 19 neighboring islands. As one of the most visited tourist attractions in Vietnam, Nha Trang offers a variety of accommodation options such as modest hostels and a beachfront five-star resort with luxurious amenities.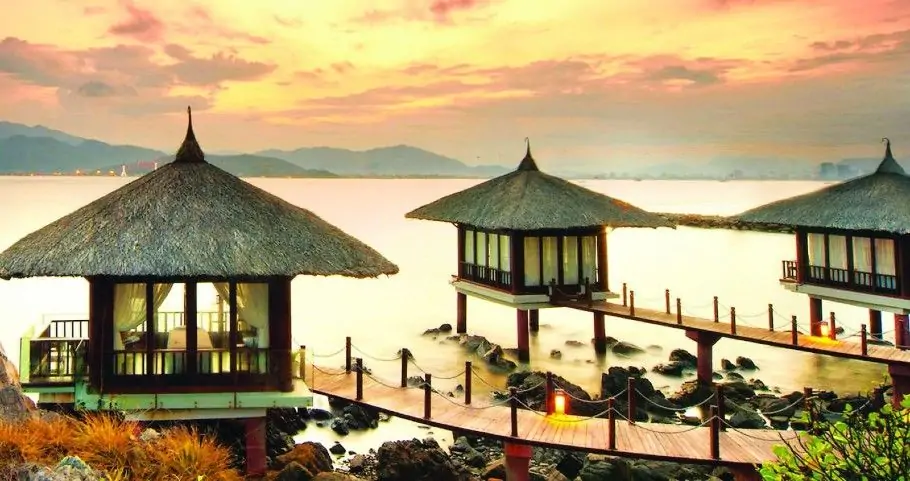 But travelers could also be surprised to seek out this coastal area that also has an abundance of natural healing resources. Some of Vietnam's top spa resorts have haunted shores around the city, and in recent years, that city has become a legitimate destination for wellness, from luxury spas, holistic treatments to famous yoga centers in Nha Trang.
2. The 5 best yoga centers in Nha Trang
To help you decide where to practice yoga in Nha Trang Vietnam, we've compiled a quick rundown of its famous centers as well as the pros and cons of each location. Here are the top 5 Nha Trang yoga centers' wellness experiences to think about.
Location: 4-floor, Nha Trang Center Building, No. 20, Trần Phú Street, Nha Trang City
Practicing yoga in Nha Trang, we can't help mentioning California Fitness and Yoga. It is the largest, the foremost prestigious, and opulent fitness club in Nha Trang.
The club may be a member of the chain which has 22 clubs everywhere Nha Trang. It is characterized by a modern interior, high-quality equipment, and sort of group and individual programs. Yoga, dance, kick it, MMA, stretching, pole dance – and this is often a few complete lists of activities, proposed by the club.
There are the foremost advanced fitness equipment, free weights zone, cardio area with a sea view within the gym. All services, typical for European fitness clubs, are offered here: lockers, towels, fridge, shower, sauna.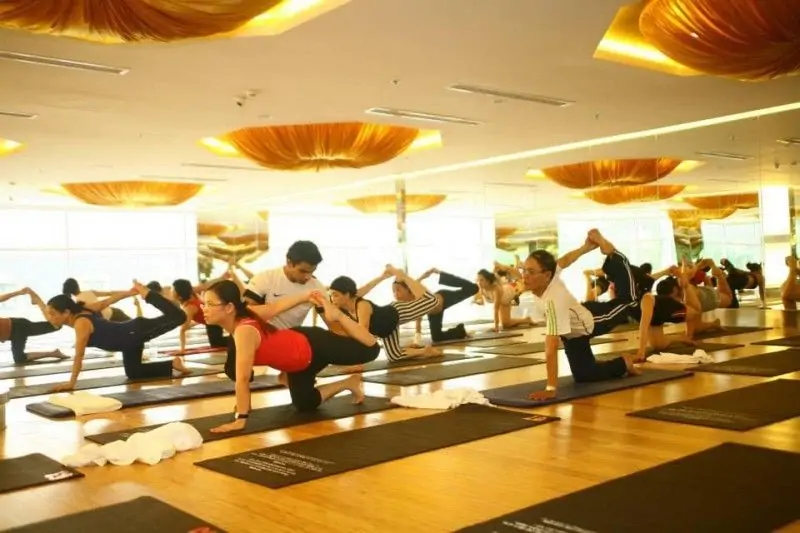 Location: 09 Hung Vuong, Loc Tho Ward, Nha Trang City
The Olympic Gym & Fitness club isn't as luxurious as California, but it's also quite large and high-quality equipped. It has two gyms — one is found within the northern part of the town, the opposite — within the touristic part, on the brink of the night market.
There are exercise devices for all muscle groups, weight and cardio machines, massage apparatus within the gyms. Here you'll also buy sports nutrition. A flexible price policy is a plus. The price for training depends on: time of the visit, using weight machines only or using weight and cardio machines, age, location of the yoga retreats in Nha Trang.
On the negative side, there are too many visitors and not enough ventilation in the gyms, as it looks like a large hangar with no air conditioning, only internal ventilation fans. The club also lacks a place for group pieces of training. Women consider it an important disadvantage.
Location: 6A Ngo Thoi Nhiem, Tan Lap Ward, Nha Trang City
NT Fitness club offers an optimal balance between services and costs. NT Fitness is the hottest Nha Trang fitness center. It has three floors, where there is a cardio area, a gym with sports facilities and a place for yoga and fitness.
There aren't numerous different group programs, as "California" club offers, but the modern gym provides state-of-the-art equipment and runs a selection of classes: yoga, step aerobics, stretching, Zumba, boxing. Probably, there aren't numerous exercise machines, as "Olympic" has, but there are all machines you would like.  Work out at NT Fitness Gym, a friendly and motivational place for those who want to get in shape.
The cardio area is provided with race tracks, elliptical machines, fitness cycles. Gyms are not large, but clean and cozy. And most importantly, they are equipped with air conditioning and a ventilation fan.
Washrooms for men and ladies are located on different floors. You can rent a towel. Coolers are placed in places reserved for group training only. They offer protein cocktails at the reception.
Cons: There are also lower standard gyms in Nha Trang, economy class.
d. Hoang Gia Fitness & Yoga Nha Trang Vietnam
Location: 75C Nguyen Thi Minh Khai, Phuoc Hoa Ward, Nha Trang City
Hoang Gia may be a sports complex with outsized parking, located within the Nha Trang center. Besides, Hoang Gia focuses on investment in infrastructure including 2,000m2 with an exercise room, there also is a place for group fitness training, 2 tennis courts, and a couple of badminton – playgrounds.
This yoga center has lots of exercise machines, weight platforms, bars, free drinks, sauna for ladies, at attractive prices.
In particular, you will be enthusiastically and attentively supported by the staff here, you will receive a free consultation about your current body condition and Hoang Gia Fitness & Yoga will suggest solutions and methods arrange for you to have the best workout and get the best results soon.
Hoang Gia is also a place for professional yoga practice in Nha Trang, with instructors being members of the famous yoga center system. Not only opening classes for those who love this subject, but Hoang Gia is also the first place to open yoga classes for pregnant women, initially highly appreciated by many students.
With the motto "Be healthy for success and happiness", quality of service, and its price, Hoang Gia confidently assures customers that "Come to Hoang Gia, it is great!".
Cons: old equipment, lots of people, prevalently locals.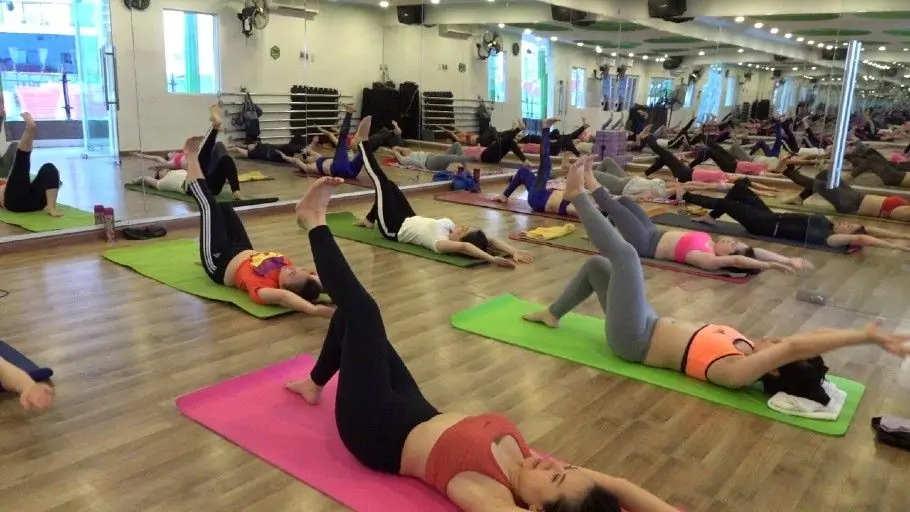 e. Yoga Victoria
Location: 14 Nguyen Trung Truc, Tan Lap Ward, Nha Trang City
Focusing on the experience rather than the end goal, Yoga Victoria Nha Trang caters to your individual needs and needs as we work towards relieving you of your stress and building inner harmony through many of our yoga therapies. You can relax and do yoga at your own pace in our comfortable center.
Yoga Victoria offers classes for all levels, from beginners to experienced students. So, if you're looking for a good workout but you haven't done yoga before, then sign up for beginner lessons. With professional instructors, you'll learn the right way to practice yoga, so you can continue to practice it at home. Bring some drinking water and a towel – you may need it after an advanced class.
This yoga center in Nha Trang is a small yoga studio that is clean and comfortable, easy to follow. The teacher is very friendly, will help you reach the fitness goals that you have always dreamed of.
Cons:  Be prepared for it to be a hot yoga class as the room is quite hot.