Vietnam is home to ancient and spiritual traditions of healing with historical roots that are thousands of years old. Beautiful yoga resort locations from sacred mountain peaks to hidden islands make Vietnam the perfect destination for rest, reflection, and revival.
If you are a yoga lover and also want to explore the sights and sounds of Vietnam, you might consider doing a yoga retreat at one of the many yoga resorts in Vietnam that have a focus on health and wellbeing. We find options for resorts that are both located in the city center and in nature.
1. How easy is it to find a yoga resort in Vietnam?
Vietnam is definitely not as popular as destinations such as Indonesia, India, or Thailand for yoga retreats and thus anyone thinking about yoga-ing it up in the country has got to do a little bit more research. However, Vietnam is becoming more and more popular for practicing yoga these days.
Vietnam has many amazing resorts for yoga getaways. Yoga retreats in Vietnam give you the chance to do yoga in the most picturesque of sceneries. Prepare to restore your sense of well-being now.
2. Top 4 luxury yoga resort in Vietnam
With so much to choose from and a rich heritage to draw upon, it's no wonder so many people look to Vietnam as the perfect place for a wellness escape. We've put together a list of the most luxurious yoga resorts in Vietnam to help you make the most of your time away.
a. Anantara Hoi An Resort 
Location: 1 Pham Hong Thai Street, Hoi An City, Quang Nam Province,  Vietnam
Link: https://www.anantara.com/en/hoi-an
Anantara Hoi An Resort is a charming luxury hideaway, boasts a wonderful setting, less than a kilometer from the historic quarter of Hoi An, in lush gardens in front of the Thu Bon River and UNESCO World Heritage Site of Hoi An.
Anantara offers the Balance Wellness program. It combines holiday unwinding with healthy movement, cuisine, and spa therapies. Start each day of wellness in Vietnam with riverside yoga and fresh juices. Exercise on your sightseeing adventures, go to the pool or the gym. Choose from comprehensive wellness programs that are then tailored to your needs.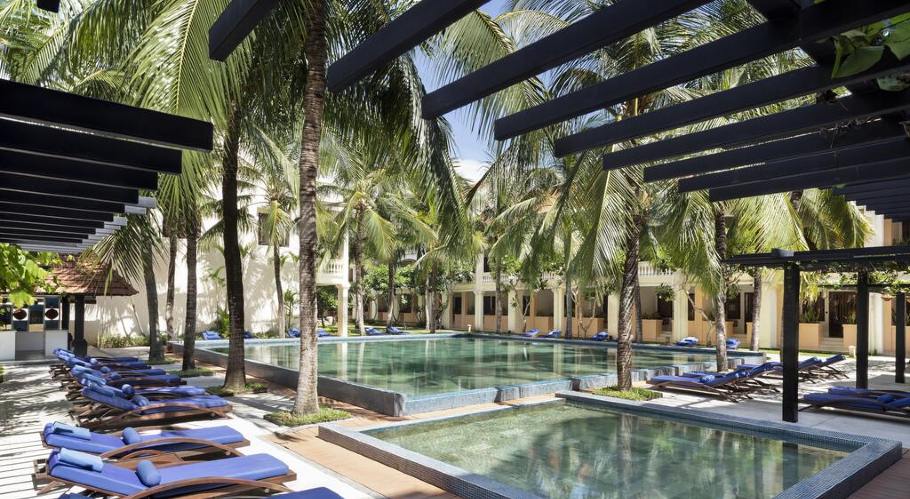 Whether you want to focus on weight loss and toning, detox and anti-aging, stress relief or a holistic cure, or simply the satisfaction of returning from your vacation to your looks and feeling great, Balance Wellness invites you to choose the elements for you, from personal experiences with full freedom to relax and enjoy between shows, to programs fit to get maximum benefit.
The Balance Wellness program made you shape up, boost energy, and clear your mind with an inspirational and comprehensive range of fitness activities. Connect movement and breathing with yoga. Find your natural rhythm with Tai Chi. Master the practice of mindfulness to gain a deeper understanding of yourself. Put life coaching tools into practice for a more balanced and healthy feeling.
b. Amanoi Yoga and Meditation Immersions
Location: Vinh Hy Village, Vinh Hai Commune, Ninh Hai District, Ninh Thuan Province, Vietnam
Link: https://www.aman.com/resorts/amanoi
Amanoi is in the top 100 Greatest Hotels in the World by Harper's Bazaar Travel Guide 2018. It is a luxury yoga resort in Vietnam on the impressive coastline of Vinh Hy Bay, close to Nha Trang. Amanoi is a place of mental and physical balance, where specialists offer a wide range of Vietnamese and international therapies in a peaceful and beautiful setting.
With wellness programs tailored to meet guests' personal health and wellbeing goals, Amanoi's Wellness Immersions are holistic, wellness therapies that combine movement and bodywork, nutrition, mindfulness, and spa treatments. Lasting from 3 to 21 days, each spa retreat is developed to deliver tangible, promote lasting inner peace, and encourage profound, deliberate change in lifestyle and human life.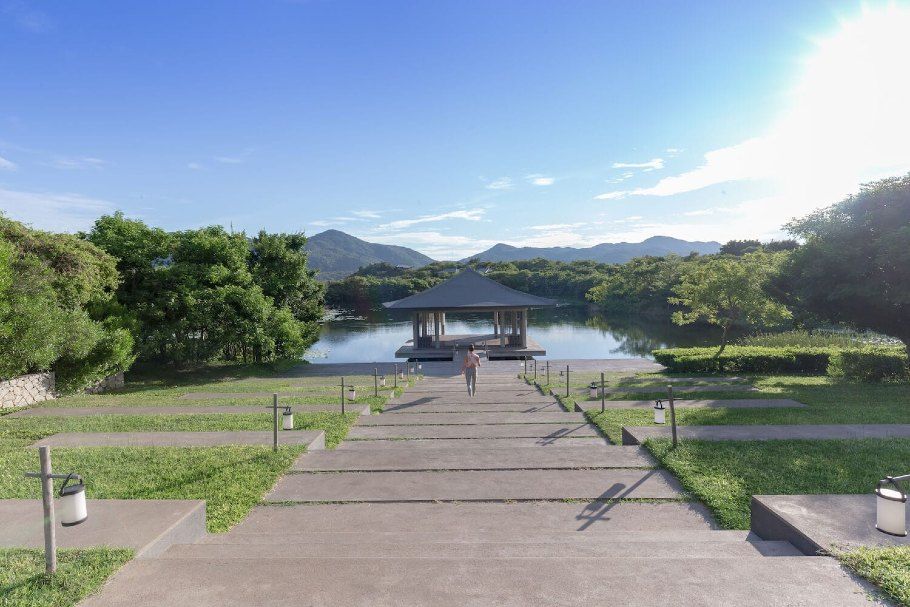 Amanoi's Wellness Immersions has 3 paths for you to choose:
Management of Weight & Transformation (3 or more days): For those hoping to achieve a permanent healthy weight, this Immersion draws on the principles of traditional Eastern philosophy to boost metabolism, improve digestion and maximize health.

Detox & Cleansing (3 or more days): For those seeking to rejuvenate the body, refresh the mind and promote long and healthy life, this Immersion is designed to gently stimulate the body's natural cleaning and regenerative processes.

Mindfulness & Stress Management ( 3 or more days): For those hoping to achieve lasting inner calm, this Immersion combines meditation practices and mindful movement to inspire renewed internal focus and a heightened sense of spiritual connection.
c. Avani Quy Nhon Resort
Location: Bai Dai Area, Ghenh Rang Ward, Quy Nhon City, Binh Dinh Province, Vietnam
Link: https://www.avanihotels.com/en/quy-nhon
Avani Quy Nhon Resort is located in the charming coastal city of Binh Dinh province, 10 km from Quy Nhon city center set on an exceptionally beautiful private sandy beach with stunning views of a vast bay and two uninhabited islands. This yoga resort won an award for offering rooms decorated in medieval Vietnamese style with a balcony overlooking the sea.
At Avani Quy Nhon Resort, you are never short of exciting things to do, such as snorkeling, fishing, kayaking, and exploring local cultures. Avani Quy Nhon Resort is the perfect yoga resort in Vietnam to rest and relax.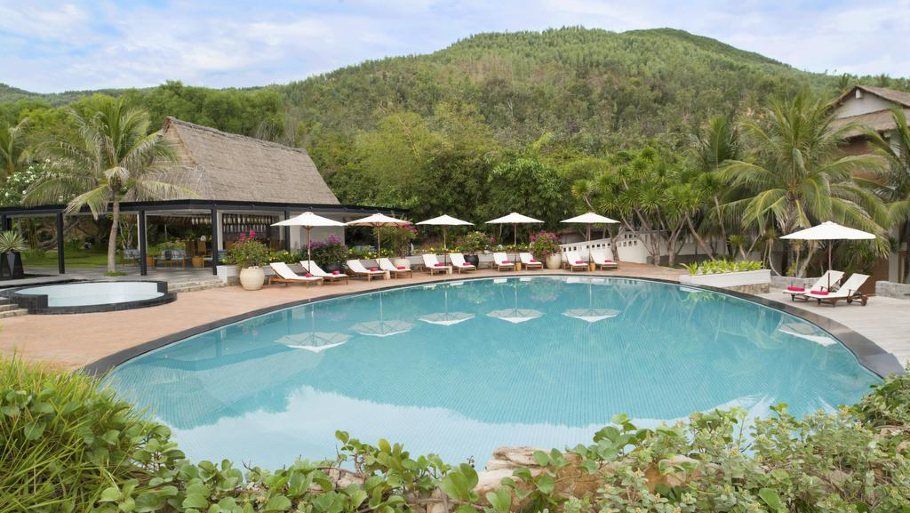 Some of the wellness programs you can try are:
– Yoga: Practice the basic positions of Yoga. Focus on breathing and physical movements to enhance circulation and adaptability. Start your day with a blank canvas, clear your mind, and dream of what the day or the longer term holds.
– Tai Chi: Enjoy a Tai Chi workout with sand between your toes. Panoramic ocean view helps you to focus on this ancient discipline of deliberate breathing and mental focus, in combination with slow, sustained physical movements.
– The action of Neuromuscular Integrative: A fitness exercise that combines dance, martial arts, and art of healing with music. Dedicated to the enjoyment of movement, it encourages freedom of expression using one's own body, at one's own individual pace.
– Walking Meditation: Walking meditation may be a sort of meditation that will be practiced on a day today. Easy and practical, it is essentially about heightening the awareness of each basic movement of taking one step at a time. Concentration on this simple action creates peace and clarity of mind.
d. Azerai Can Tho
Location: Con Au Islet, Hung Phu Ward, Cai Rang District, Can Tho City, Vietnam
Link: https://azerai.com/resorts/azerai-can-tho
Yoga fans and health enthusiasts will learn to master key poses while calming the mind and re-energizing the body with the healthy multi-day yoga retreat at Azerai Can Tho.
Azerai Can Tho is located on a private islet on the Hau River in the Mekong Delta of Vietnam and can only be reached by boat. The yoga resort is located secluded but close to Can Tho city.
This yoga resort in Vietnam offers a peaceful natural setting for a vacation, with an outdoor yoga pavilion view of these banyan trees and lush greenery.  The retreats are for both experienced practitioners and newcomers alike. All the retreats feature yoga sessions twice daily, daily spa treatments, and healthy "yogic menus" specially designed for breakfast, lunch, and dinner.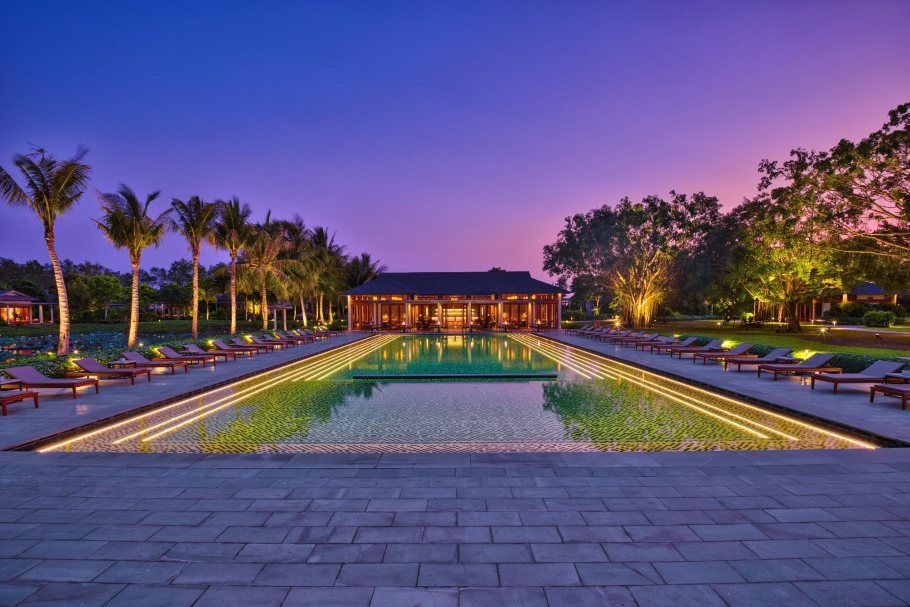 Start the morning with a special detox tea made with turmeric, ginger, lemongrass, and orange peel. Then, make time for your first day's two yoga sessions: a 60-minute dynamic hatha yoga and static asanas session.
During the stay, you will be served breakfast aboard the resort's luxury boat for sightseeing and enjoyment of the Mekong Delta. All meals served as part of a healthy yoga retreat feature detailed calorie counts and dietary highlights, with most dishes including vegetarian options containing diet foods. Free from gluten, eggs, and dairy.