A yoga retreat is no longer a strange concept for travelers who take good care of their wellbeing and health. While there are several mainstream destinations, a yoga retreat in Vietnam promises to bring you unique and novel experiences that will wow your mind and body.
With 8 World Heritage sites, this Southeast Asian country is famous for its peaceful and natural sceneries from North to South. These are ideal features that attract international tourists to Vietnam for a yoga retreat. Here is a list of places that are highly recommended for a yoga retreat in Vietnam.
1. Halong Bay: Yoga retreat over the water
It would be a huge mistake if we left out a yoga retreat on this magnificent island in Northeast Vietnam. It is not a coincidence that UNESCO recognized Halong Bay as a World Natural Heritage site.
Halong Bay is famous for its emerald waters and thousands of impressive towering limestone islets topped by green rainforests. However, the true "delicacy" of this incredible destination is cruising. There is no better way to explore the beauty of Halong Bay than by cruises.
Recommendation
On a yoga retreat at Metta Voyage, the cruise tour will take tourists into the serene bay and past the limestone islands. This is a chance for visitors to truly immerse in nature. Imagine doing yoga on the deck at sunrise while being surrounded by the emerald water gently tapping into the boat. It brings absolute mindfulness and peace. This is the perfect destination for a yoga retreat in Vietnam.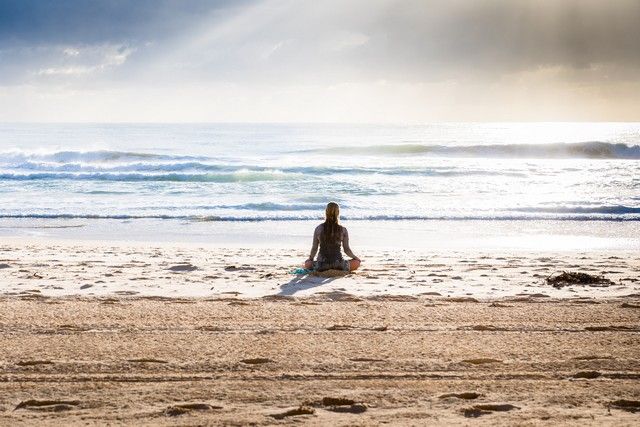 2. Hue: Yoga retreat in the ancient capital 
Yoga is about self-acceptance, and yoga retreat is about relocating your inner light and discovering your peaceful self. In the quiet and tranquil ancient capital of Hue, you can stay focused on yourself and yourself only. There is no disturbance of a busy and noisy urban area that is often seen in other places, which makes Hue an ideal location for a yoga retreat in Vietnam.
Located on the bank of Perfume River, Hue is a UNESCO World Heritage site. This city in central Vietnam is the cradle of Vietnamese culture and used to be an educational and capital of Vietnam under the Nguyen Dynasty. It is the treasure city of temples, pagodas, tombs and monuments. It is a historical destination that evokes a lot of thoughts and feelings. 
Recommendation
If you are a member at Metta Voyage, you can spend your yoga retreat in Alba Wellness Hue Resort. This wellness resort offers healthy meals, professional therapies and onsen bathing to detox your body and mind. There are also activities such as bike rides and ziplines for active tourists.
3. Hoi An: Yoga retreat in the ancient town 
Located in the central coast of Vietnam, Hoi An is a great location for a yoga retreat. It is famous for its well-preserved Ancient Town that cut through the canals. As a former port, Hoi An is a reflection of history in its architecture. It is a combination of Chinese styles with wooden shophouses and temples, the colorful French colonial buildings, the iconic Japanese Bridge Pagoda and the traditional Vietnamese tube houses.
Regardless of the fast pace of life outside, once you set your foot in this town, your mind is instantly calm and restful. This is why Hoi An is recommended as a perfect location for a yoga retreat in Vietnam. The incredibly cozy and intimate atmosphere created by the ancient houses and the peaceful scenery will definitely put your mind at ease. 
If you are looking for a destination to release physical and emotional blockages, opt for a yoga retreat in Hoi An to find stillness and reconnect with your inner voice. 
Recommendation
Nomad Yoga Hoi An 
Address: 22 Nguyen Du, Hoi An, Quang Nam, Vietnam
Located in the ancient town of Hoi An near the Japanese Covered Bridge, Nomad Yoga Hoi An is a yoga retreat and studio for travelers who aim to take well care of their mental and physical health. This is an ideal destination for you to take a deep breath and allow time for yourself to truly relax with different types of yoga including ashtanga, vinyasa, hatha, yin, restorative and gentle yoga.
4. Phu Quoc Island: Yoga retreat on the beach
Located in the Gulf of Thailand and Kien Giang Province, Phu Quoc is the largest island of Vietnam. It is famous for the white-sand beaches and resorts along the palm-lined southwest coast of Vietnam. With high mountains and dense tropical jungles of Phu Quoc National Park, the clear air here can't be more suitable for a yoga retreat in Vietnam.
Going on a yoga retreat in Phu Quoc can heal your mental and physical health and improve your emotional issues. You can enjoy practicing yoga at sunrise on the beach, getting therapy messages and participating in meditation classes. Besides, the food from this island is fresh with a well-balanced range of flavours. You can maximize your stay in Phu Quoc by detoxing your body with the cuisine here. 
All in all, the environment, nature and cuisine of Phu Quoc Island promise to bring you the one-of-a-kind experience of a yoga retreat.  
Recommendation
Address: Hamlet 4, Cua Can Commune, Phu Quoc, Kien Giang, Vietnam
Nam Nghi Phu Quoc Resort offers a modern and luxury experience of relaxing amidst untouched nature. Your pleasant stay at Nam Nghi Phu Quoc Resort will be enhanced by the wellness experience including yoga classes and meditation at the holistic Spa Yoga Studio or Resort Garden. This is your opportunity to look for your inner peace and nurture your mind, body and soul in the pristine nature of Phu Quoc.
5. Vinh Hy Bay: Yoga retreat by the national park
Located in Ninh Thuan province near Phan Rang City, Vinh Hy Bay stands out thanks to its untouched beauty and exclusive experience offered to travelers. Similar to other coastlines in the central region of Vietnam, this destination owns a marvelous coastal line and unique landscape. 
The nearby Nui Chua National Park is an interesting and unique reservation that protects impressive unharmed biodiversity. A yoga retreat in Vinh Hy Bay will be your unique chance to immerse in the calm nature while exploring your true self. Find yourself a peaceful spot, absorb the hidden energy of Mother Nature and practice yoga to enjoy the purest form of tranquility. 
The best thing about Vinh Hy Bay is the fact that it is not overcrowded with noisy tourists but this ideal-for-yoga-retreat is serene and luxurious in its own way. 
Recommendation
Address: Vinh Hy, Ninh Hải District, Ninh Thuan Province
This can be an ideal yoga retreat in Vietnam. Amanoi offers extensive wellness activities including personally focused multi-day immersions with in-house therapists and treatments that are designed to suit individual conditions. The Wellness Immersions of Amanoi includes different health and well-being activities such as bodywork, nutrition, mindfulness and spa therapies.