Worldwide famous for having the most magnificent natural scenery, Vietnam beaches are ideal locations for a yoga retreat.
If you are all exhausted and stressed, probably it is time to reconnect yourself by nourishing, restoring and resetting your body, soul and mind – or in short, a yoga retreat. And nothing it's better than deepening your yoga practice in the sunrise on a beach in Vietnam.
Here is a list of recommended beaches in Vietnam for your yoga holiday.
1. Long Beach of Phu Quoc Island
With a 20-km long coastal area, Long Beach is the most impressive beach on Phu Quoc Island. The sunset views from this beach are simply breathtaking. It still preserves its pristine nature with a lot of palm trees and soft sands. Located on the west coast of the island, Long Beach is a perfect beach for doing yoga in the sunset.
Besides, if you are into sports and adventures to warm up your body, there are plenty of exciting activities at Phu Quoc Island. Sunbathing, swimming and snorkeling are highly-recommended at Long Beach.
There is no better way to get out of the busy and hustle life full of pressure than to spend a yoga retreat on Long Beach in Phu Quoc Island. This is your opportunity to connect with nature on a much deeper level while indulging in the tranquil natural scenery. When you are back from this yoga retreat by the beach, your soul, body and mind will be as refreshing as new.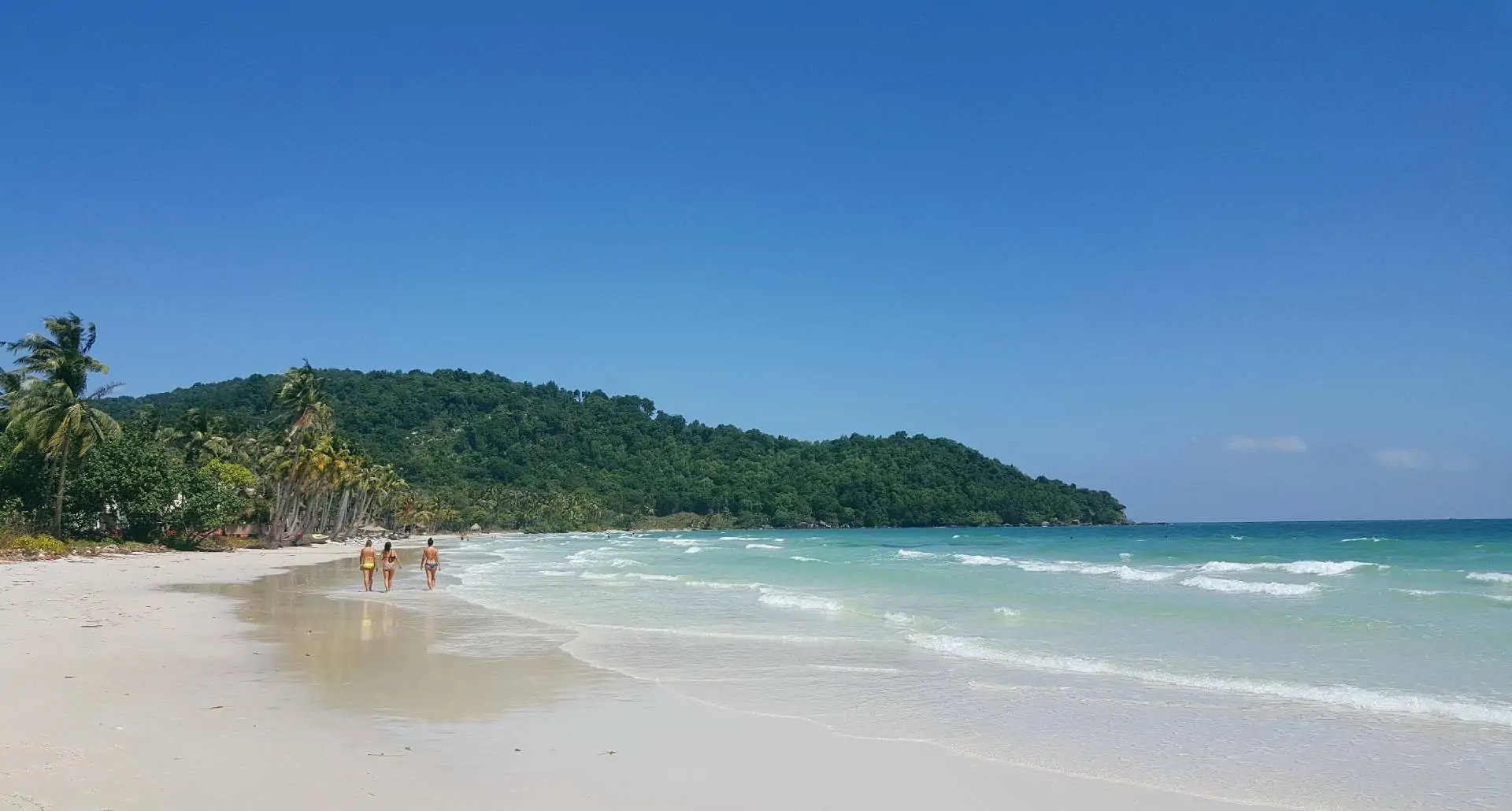 Recommendation
Nam Nghi Phu Quoc Resort
Address: Hamlet 4, Cua Can Commune, Phu Quoc, Kien Giang, Vietnam
Nam Nghi Phu Quoc Resort offers a modern and luxury experience of relaxing amidst untouched nature. Your pleasant stay at Nam Nghi Phu Quoc Resort will be enhanced by the wellness experience including yoga classes and meditation at the holistic Spa Yoga Studio or Resort Garden. This is your opportunity to look for your inner peace and nurture your mind, body and soul in the pristine nature of Phu Quoc.
2. My Khe Beach of Da Nang 
Located in the South Central Coast, Da Nang is considered one of the most beautiful coastal cities of Vietnam. Meanwhile, My Khe Beach is truly a treasure to this city. It is the most picturesque beach with smooth white sand, gentle slope and clear and warm water all year round. There are a lot of coconut trees on the beach, creating its title as "one of the most attractive beaches on the planet" according to Forbes.
With an average of 60-meter wide beach area, My Khe Beach is also a perfect destination for surfers, especially in September. Above all, the peaceful and magnificent sunrise scenery on My Khe Beach is what makes it a top beach holiday for a yoga retreat in Vietnam.
Although a yoga retreat has a bigger purpose of exploring yourself and healing your body, it is also a vacation in which you can relax and enjoy to its fullest. That is why yoga retreats are often held in beautiful destinations such as My Khe Beach. Joining a yoga retreat at a coastal city of Vietnam promises to be a unique experience for your inner growth.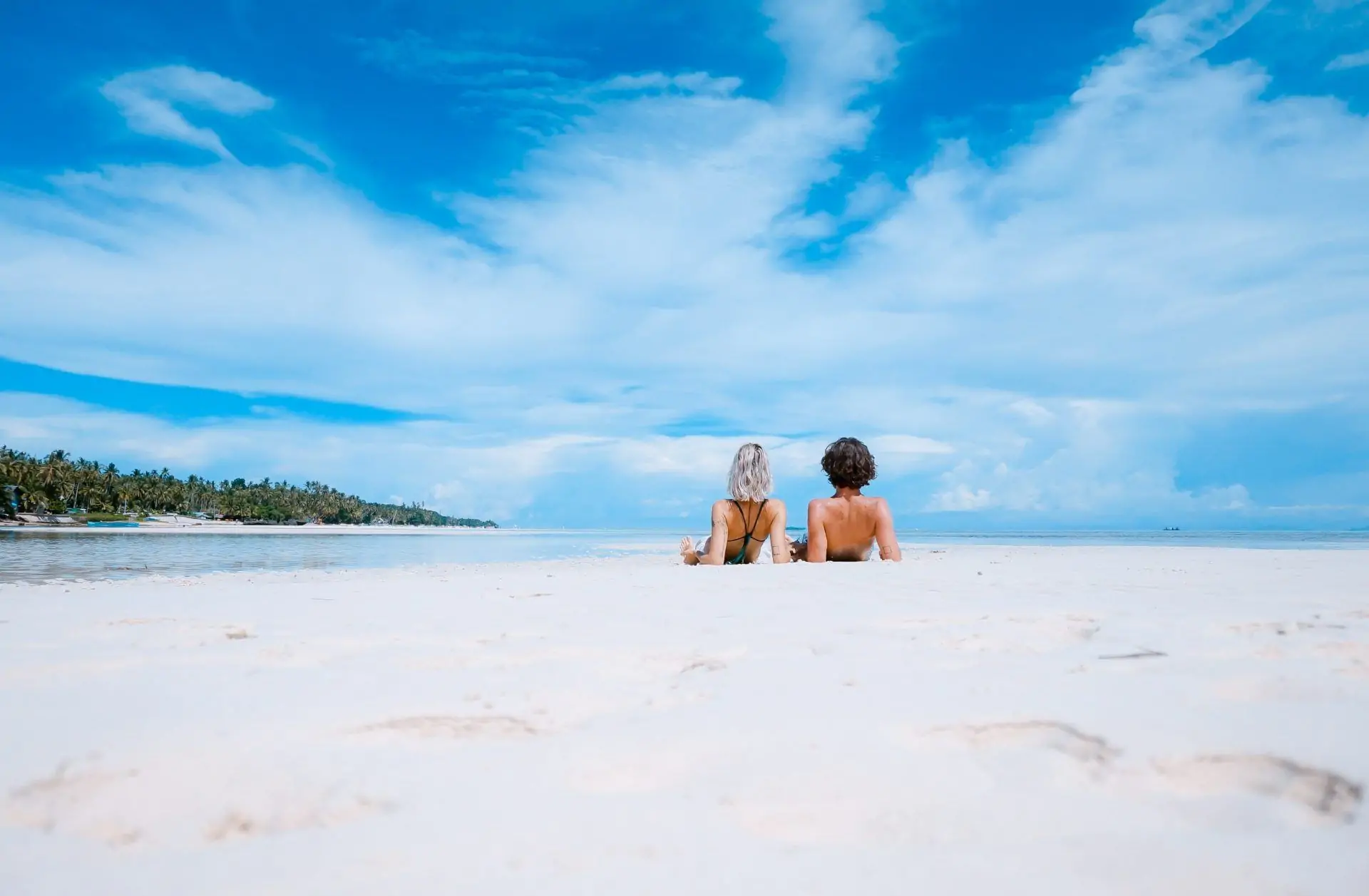 Recommendation
Fusion Maia Danang
Address: Vo Nguyen Giap Street, Khue My Ward, Ngu Hanh Son District, Da Nang, Vietnam
Fusion offers guests a holistic experience of health and wellbeing with their daily program ranging from taichi, qi gong to yoga and meditation. If you are ready to awaken your body and spirit, don't hesitate to book Fusion Maia Danang for a memorable yoga retreat.
3. Con Dao Beach of Ba Ria – Vung Tau
Consisting of 16 mainly uninhabited islets, Con Dao Islands of Con Dao National Park offers impressively large beaches with fresh evergreen trees. If you want to escape the bustling rural lifestyle and find some peace, this destination is ideal for a yoga retreat by the beach in Vietnam with lots of unspoiled beaches and fresh seafood.
The main island of Con Dao – Con Son – is an island of history in Vietnam. This place witnessed such courage and patriotism of so many Vietnamese prisoners who were kept and tortured by the French in the 1940s. As a yoga retreat is more than exploring yourself through independent activities, you can gain a lot of new things by learning the history of a foreign country and its people. Open your mind and let this yoga retreat in Vietnam bring you unique experiences.
If you can't miss the active part of a trip, outdoor activities such as swimming, diving and hiking are also offered on this island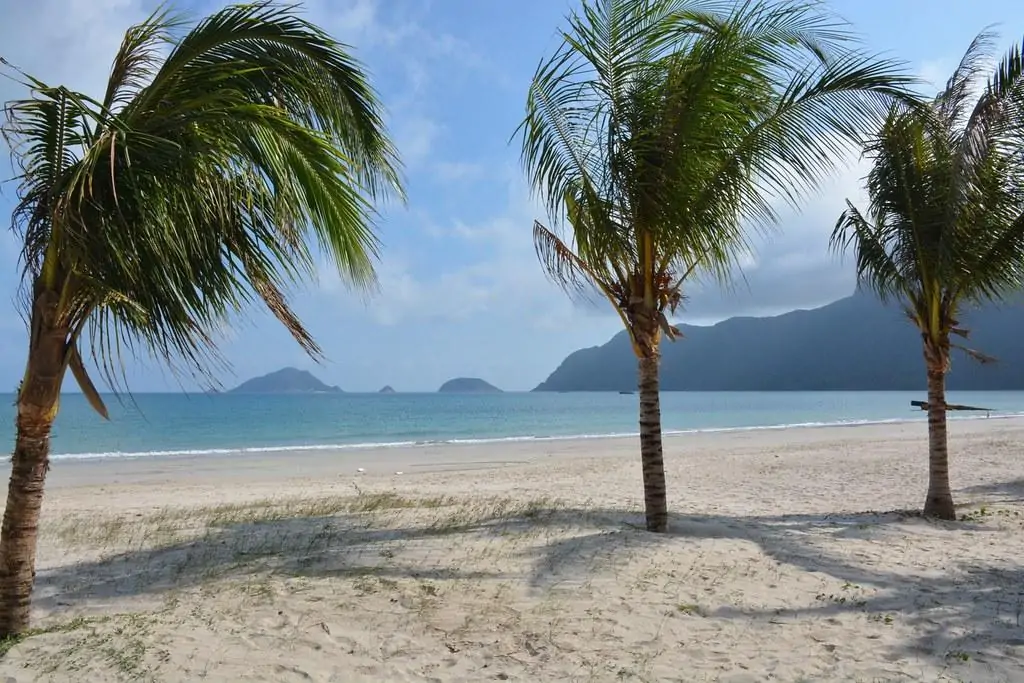 Recommendation
Six Senses Con Dao
Address: Dat Doc Beach, Con Dao Town, Con Dao District, Ba Ria – Vung Tau Province
Nothing is better than a daily practice of yoga even when you are traveling. Six Senses Con Dao offers daily hatha yoga to maintain body and mind balance. It's time to relax, get rid of all the stress, tension and tiredness with a yoga retreat in Con Dao.
4. An Bang Beach of Hoi An
Located 7 km north of the ancient town of Hoi An, An Bang Beach is one of the rare beaches in Vietnam that is still pristine and unspoiled. It is a popular location with a blue sky, white sandy beach and clean and clear water. Nearby, Hoi An Ancient Town is truly tranquil and quiet by the canals. In terms of architecture, Hoi An is well-preserved and reflective of history in its architecture.
Similar to other beaches, there are some beach activities you can enjoy. If you want to warm up your body and participate in some cardio exercises besides yoga, swimming, paddle-boarding and surfing are popular for visitors.
Both An Bang Beach and Hoi An town are ideal for a yoga retreat location as the two places bring calm and tranquil to your mind. If you are stressed out because of the current situation, don't hesitate to take a yoga retreat at An Bang Beach in Vietnam to take a step back and reevaluate your life from a distance.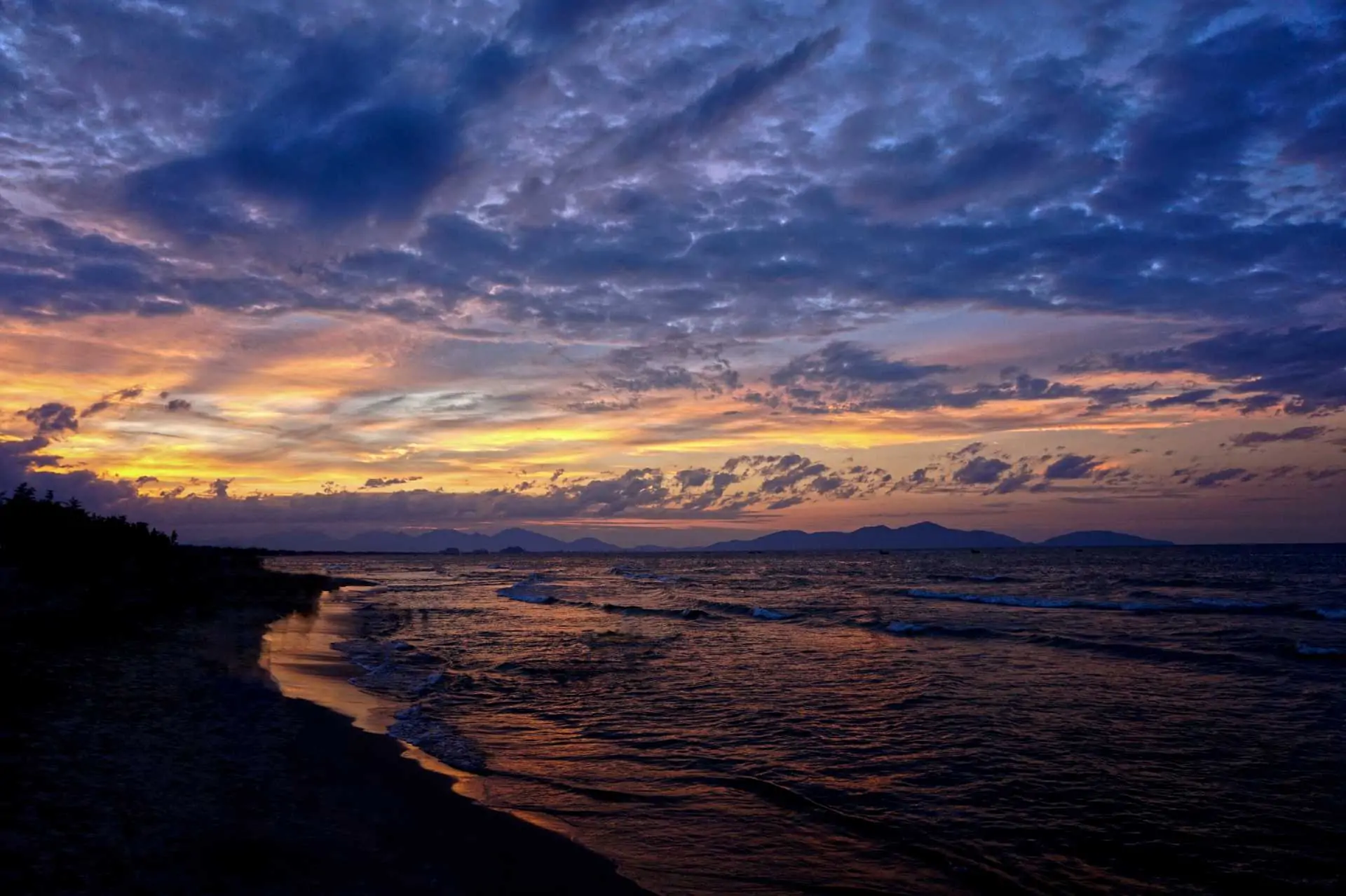 Recommendation
Nomad Yoga Hoi An
Address: 22 Nguyen Du, Hoi An, Quang Nam, Vietnam
Located in the ancient town of Hoi An near the Japanese Covered Bridge, Nomad Yoga Hoi An is a yoga retreat and studio for travelers who aim to take well care of their mental and physical health. This is an ideal destination for you to take a deep breath and allow time for yourself to truly relax with different types of yoga including ashtanga, vinyasa, hatha, yin, restorative and gentle yoga.
5. Cat Ba Island of Halong Bay
Halong Bay has recognized as a World Natural Heritage Site by UNESCO thanks to its outstanding natural beauty. Cat Ba Island is the largest island in this bay. The true beauty of Cat Ba lies in its pristine, untouched and jungle-clad scenery. The sandy beaches are located right next to rocky cliffs of the coastline, a massive national park and tiny fishing villages. There is no doubt that this destination is perfect for yoga retreat by the beach in Vietnam participants to connect with nature while being away from technology.
There is nothing more important than being in a quiet and tranquil place to focus on yourself on a yoga retreat by the beach, and Cat Ba Island can totally live up to your expectations. It is not too crowded and touristy in this area and the beaches are clean and quiet.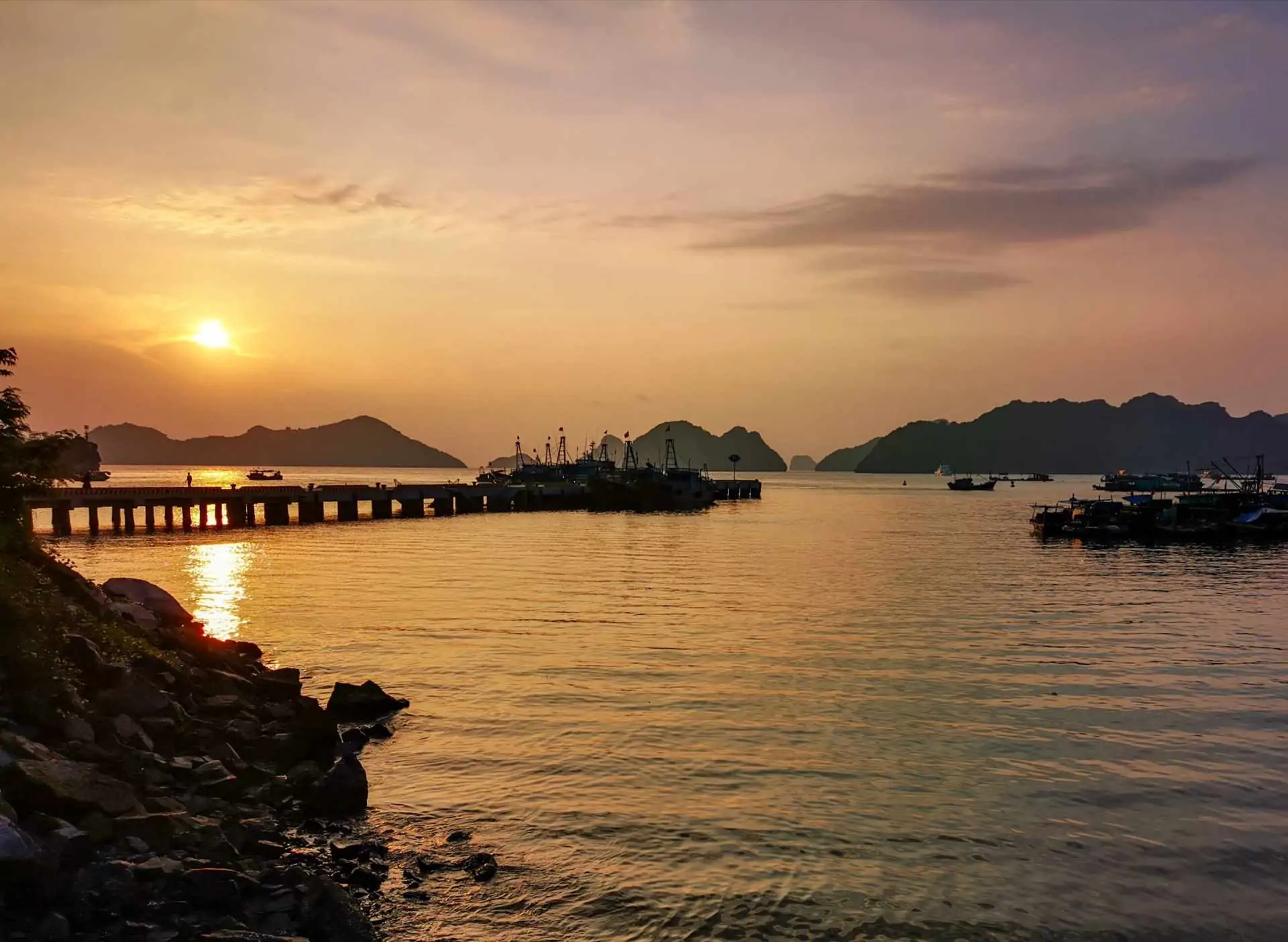 Recommendation
The best way to spend your yoga retreat in Ha Long Bay is on a cruise and do yoga at sunrise on the deck in the middle of the water. Metta Voyage tour will take you into the serene bay and past the limestone islands while offering the best yoga retreat tour in Vietnam.
Attending a yoga retreat is a way of being introduced to a wellness vacation. A yoga retreat emphasizes your wellbeing and health along with practicing yoga to cleanse your mind and body. Spending a yoga retreat by the beach can open up new perspectives in life by exploring yourself or learning about a new culture. Whatever the purpose is, Cat Ba Island is an ideal destination in Vietnam.