Hoi An is becoming a rising destination for a wellness and detox retreat in Vietnam for both locals and foreign tourists around the world. Among a range of healthy activities that are highly recommended for your restorative and rejuvenating journey in Hoi An, such as spa treatments, meditation, etc, yoga is on top of the list.
Yoga is so much more than just a trendy way of exercise, but in fact, it is extremely beneficial in creating a healthier lifestyle. Studies have proven that yoga helps relieve stress and reduce anxiety, while improving your sleeping quality, balance and flexibility, among many other perks; hence it's one of the essentials of a wellness retreat in Hoi An. 
If you are planning on taking up yoga for the first time during your retreat in Hoi An, rest assured that there is a wide variety of prestigious and professional resorts and yoga studios that will provide you with beginner-friendly classes. Take note of these few reminders before your first yoga lesson in Hoi An, for a full and healing experience.
1. Yoga is for everyone
Don't let the #yogagoals images on Instagram fool you into thinking only crazily lean bodies in skinny leggings can twist their bodies into complex poses or challenge the laws of gravity simply by balancing. In reality, anyone and everyone can practice yoga, as long as you step on the yoga mat with an open mind and a willingness to learn.
There are many levels to yoga, from beginners to advanced, and it is no requirement for you to reach a level of fitness or flexibility to enter the beginner phase of your yoga journey in Hoi An. There are many lovely and experienced yoga instructors in Hoi An who will happily guide you through the first steps of your yoga journey.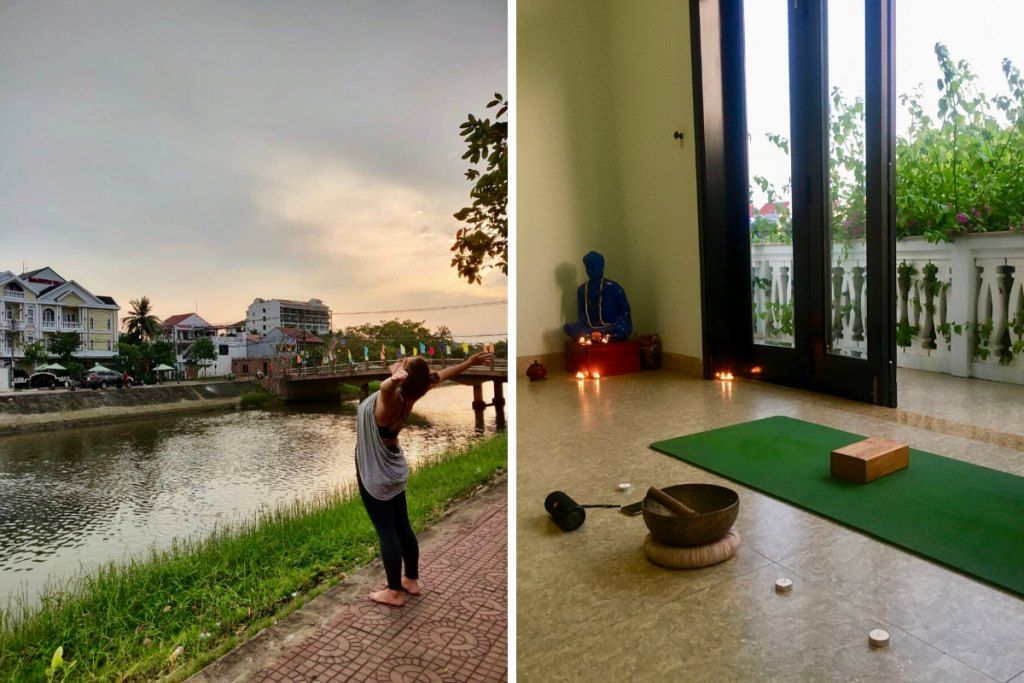 2. There are many different styles of yoga. Choose the right one for you
If you look up 'yoga' on Google, you will find that there are numerous different styles of yoga, which can be overwhelming, especially if you haven't done yoga ever before. Yoga styles vary by class and by the teacher, some are devoted to revered teachers' last names. Ashtanga yoga represents rigorous yoga styles, focusing on 'fervent postures and movements', while slower-paced yoga styles such as Yin yoga requires holding a pose for minutes at a time.
For yoga newbies visiting Hoi An, non-heated yoga classes of foundational poses and movements are the best and most suitable options. You can also try Vinyasa, which teaches the flowing movement connected to your breathing, or hatha yoga, referring to teaching physical postures.
No matter what type of yoga you're taking up, it is the guru – the teacher – that matters, especially when you are just at the starting point. A good yoga instructor/teacher doesn't need to look Indian, athletic, or spiritual, they simply need to be an authentic practitioner of yoga with a decent period of experience, who can instruct you holistically as well as delivering the yoga philosophies to you in the most balancing way.
3. Choose to wear comfortably and form-fitting
First and foremost, you should wear something comfortable. Choose a fitness outfit that is form-fitting but still allows you to move, stretch and breathe easily. A supportive sports bra, covered by a lightweight T-shirt or tank top that absorbs sweat well is the best option, especially when you are staying in a hot and humid tropical climate like Hoi An, Vietnam. Yoga leggings are what yogists commonly turn to, though you can choose to wear shorts if that's what you're comfortable with. Shoes are not needed as yoga will be performed barefoot.
4. Yoga essentials: water bottle, yoga mat and towel
A yoga mat (to perform your postures and movements), a water bottle (for hydration), and a medium-sized towel (for sweat) is the yoga essentials combo that you should bring along through every of your yoga sessions in Hoi An. Though most studios and resorts in Hoi An do provide complementarities or by rentals, it is always better to use your own, especially for health and safety reasons after Covid-19.
In case you are on holiday and have not had the chance to shop for yoga equipment beforehand, there are a good number of fitness and yoga equipment stores around Hoi An, where you will easily find exactly what you need.
5. No matter what type of class you're in, remember some basic etiquettes
Yoga is all about relaxation and tranquility, so the first rule of any yoga class is to leave your phone and electronic devices behind. Reduce the volume or put it on silent mode, as you are expected to respect the quietness of the classroom. Drop your shoes and belongings outside or in the lockers provided by your studios, instead of bringing them in and risk having them getting in the way or taking up space from others.
Pay close attention to where others are placing their mats. Though typically there won't be any marking on the grounds, more experienced students will commonly arrange their mats in rows. If the room is getting filled, adjust your mat if needed and make sure there's space for others.
Lastly, be on time and do your best to stay for the entirety of your class, out of respect for both your teachers and classmates. You wouldn't know how much of a distraction it can be.
6. You may experience some soreness afterward
Yoga tends to tackle muscles that aren't used regularly, even if you're used to sports and fitness. Therefore, expect a little soreness after your first class, as it is perfectly normal. However, look out for signs of an injury if you feel any pain in your joints or wrists. You might need to see a doctor.
7. Relax, let go and free your mind
Lastly, remember why you're taking up yoga in the first place – to heal, to relax and to restore. Step onto the yoga mat with a clear mind while you leave behind the stresses and chaos of a normal life, and only focus on connecting with your body, mind and spirit. Give yourself an opportunity to be vulnerable, with an open mind to welcome whatever yoga has to offer.
Visit Metta Voyage now to get updates on interesting and useful information about wellness lifestyle & holiday!