Located in the Gulf of Thailand and Kien Giang Province, Phu Quoc is the largest island of Vietnam. It is famous for the white-sand beaches and resorts along the palm-lined southwest coast of Vietnam. With high mountains and dense tropical jungles of Phu Quoc National Park, the clear air here can't be more suitable for yoga in Vietnam.
Let's find out the most stunning outdoor spots to practice yoga in Phu Quoc.
Ong Lang Beach
Situated between Ganh Dau Sea and Duong Dong Town, Ong Lang Beach is a stunning and unspoiled beach in Phu Quoc Island. This beach is an ideal destination to immerse in nature, admire the sea's beauty, learn about the local life through colorful fishing boats and… definitely, do yoga. Phu Quoc has a lot of natural outdoor attractions, but there is a reason Ong Lang Beach is on top of this list.
Imagine practicing yoga by the sea, enjoy the glorious and peaceful sunrise or sunset, listen to the calming rhythm of the waves, connect with nature by all senses and have your most pleasant yoga practice in Phu Quoc Island on Ong Lang Beach. As yoga is great for both body and mind, doing yoga by Ong Lang Beach offers you a memorable experience in the journey to explore yourself.
In fact, practicing yoga on sand will improve your balance significantly. As you can feel how uneven the sand is, you will focus more on keeping yourself balanced. The moment you understand deeply the feeling of sand beneath your bare feet, you are likely to become a master at self-balance later on.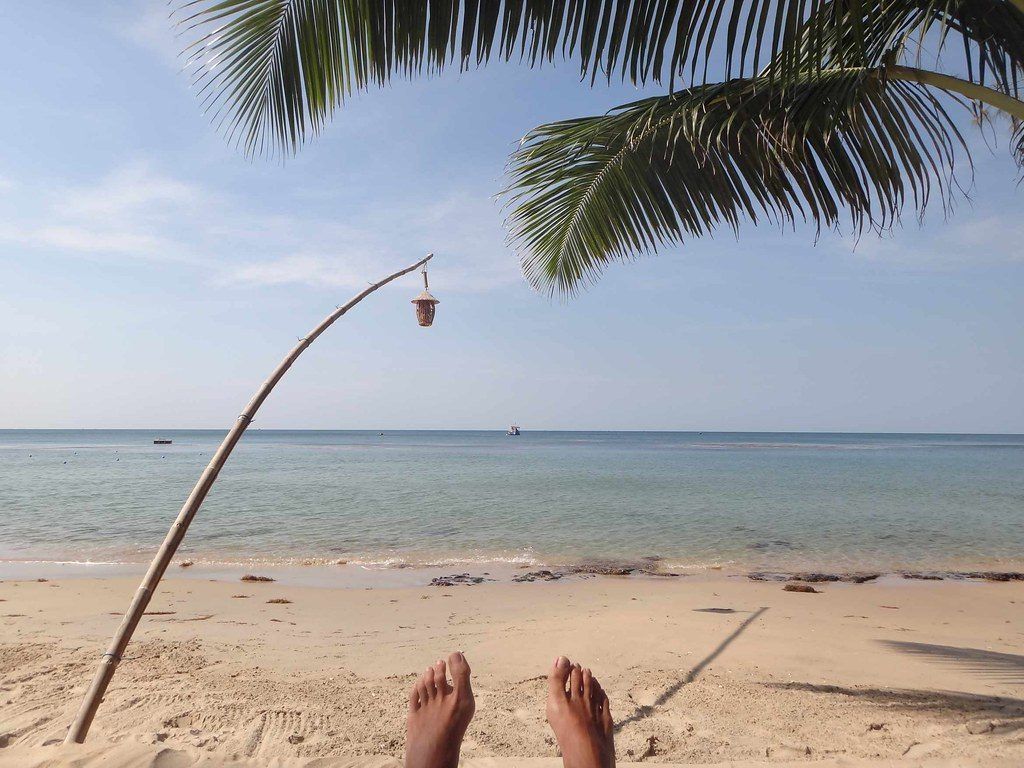 Ganh Dau Cape
Located in the Northern part of the Island, Ganh Dau Cape is a primitive destination where forests, seas and mountains remain intact – which makes it a perfect destination for yoga in Phu Quoc. This location is a little far away from the busy center of Phu Quoc, but it is what makes Ganh Dau Cape your must-visit yoga spot. On the way, you will have the chance to enjoy all types of interesting landscapes such as red soil roads that are totally different from the rest of Phu Quoc Island.
Ganh Dau Cape has the shape of a bow, which means it is curved. The beach is over 500 meters with coconut trees along the way and two mighty mountains. As this place is pristine, untouched and a lot less touristy, it opens your chance to enhance yoga practice in Phu Quoc by all means.
Doing yoga in such natural landscapes of Phu Quoc can actually replenish your depleted energy. Being outside makes your brain detect that our body is back in the native environment and send signals to stay alert. According to the International Journal of Environmental Research and Public Health research, humans have stronger feelings of vigor and vitality while being in a forested setting. And that is fuel for a dynamic yoga session in Phu Quoc.
Maybe you are finding: "Yoga retreat by sea in Vietnam – Why not?"
Suoi Tranh Waterfall
Situated in Ham Ninh Mountains, Suoi Tranh Waterfall is a four-meter-tall waterfall that impresses travelers by natural caves, rock pools and lush greenery. As it takes only 10 minutes to drive from Duong Dong to this destination, Suoi Tranh is a great spot to do yoga in Phu Quoc Island.
If you choose Suoi Tranh Waterfall as your yoga spot, there is no worry about getting bored because the diversity of activities here is amazing. For yoga practitioners who are also nature lovers, you can enjoy dynamic outdoor activities before/ during/ after yoga sessions such as camping, bird-watching and going on a picnic. You might find inspiring elements hidden in this mini yoga retreat in Phu Quoc's Suoi Tranh Waterfall.
It is extremely effective to boost your confidence by practicing yoga in a new environment such as an outdoor spot. This is an experience of stepping out of your comfort zone and daring to try new things. Imagine practicing yoga in the relaxed sound of the waterfall, the cool weather thanks to water vapor and the sun rays through the trees – all of that make up a perfect and remarkable yoga practice in Phu Quoc Island.
Remember: Yoga is the dance of every cell with the music of every breath that creates inner serenity and harmony.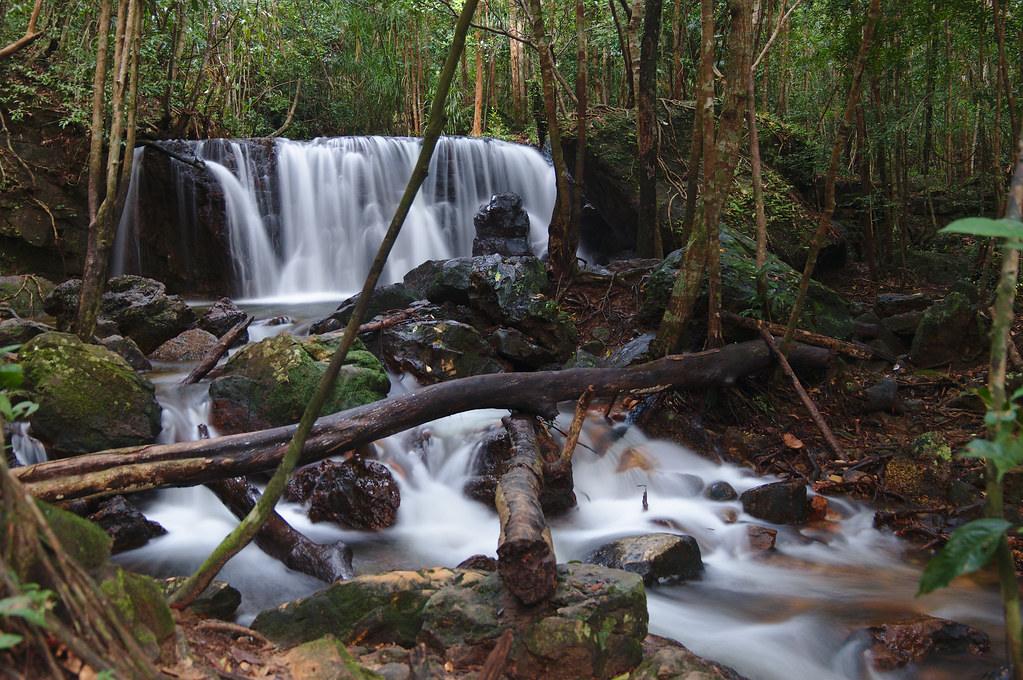 Hon Thom (Pineapple Island)
Located in the south of Phu Quoc, Hon Thom is the largest island of Hon Thom District of An Thoi Archipelago. If you want to experience a Phu Quoc's yoga session in the most beautiful island of An Thoi Archipelago, Hon Thom is a convenient destination as you can easily get there by a cable car. Also, Hon Thom is not full of resorts and hotels like the main island so it successfully remains the natural and rustic beauty of an island.
Two options for yoga by the beach are Nom Beach (southwest) and Chuong Beach (north). Both of them are often compared with the top 2 popular beaches in Phu Quoc which are Sao and Khem Beach. But Hon Thom's two beaches are more suitable for yoga practice in Phu Quoc as they are not packed with people like those beaches in the mainland.
Although we recommend you break the routine and go outside for yoga in Phu Quoc, we understand that a peaceful atmosphere is still a criterion. That is why Hon Thom will be a wonderful yoga spot in Phu Quoc thanks to its serenity. Besides yoga, you can opt for snorkeling, scuba diving and trekking on this island.
Going on a yoga retreat in Phu Quoc can heal your mental and physical health and improve your emotional issues. You can enjoy practicing yoga at sunrise on the beach, getting therapy messages and participating in meditation classes. Besides, the food from this island is fresh with a well-balanced range of flavors. You can maximize your stay in Phu Quoc by detoxing your body with the cuisine here.
All in all, the environment, nature and cuisine of Phu Quoc Island promise to bring you the one-of-a-kind experience of a yoga retreat.
Visit Metta Voyage now to get updates on interesting and useful information about wellness lifestyle & holiday!