Do you like walking along the yellow terrace or trekking on the highest mountain top of Asia? Or swimming on the warm water pool and doing a yoga retreat in the wild jungle next to the peaceful stream? A yoga Sapa Vietnam can help you to do all of that.
Topas Ecolodge with the wellness retreat tours will be your best place for a Yoga retreat in Sapa to put your mind at ease and refresh you before back to the bustle and hustle city life. Nominated as one of the best places to stay if you care about the Earth, Topas Ecolodge enables you to enjoy the perfect setting while protecting the surrounding environment and local cultures. Here are some special offers that Topas Ecolodge can offer you.
1. Mountain Yoga Wellness Retreat in Sa Pa
Your wellness retreat in Sapa first starts with a morning meditation and movement session. You are going to spend 2 hours on each session getting to know your inner peace and practicing the very basic lessons of movement. Regardless of what you do in the day time, evening yoga sessions would be a great chance for you to move smoothly, stretch your body to put away all the tensions and stress to make sure you keep a good night's sleep.
Moreover, doing a retreat session in the sunset can be regarded as an unforgettable experience in your life. In the sunset, people often feel hurt and lonely or even recall the unhappy things in the day. So if you are surrounded by a warm and cozy retreat class with a funny and experienced teacher and lovely classmates, you can easily open your heart and soul.
Moreover, if you are looking for kick-off yoga sessions for beginners, this mountain wellness can also make ends meet your needs. So just check it out now!
2. Breathtaking mountain landscapes
Located in a picturesque hillside under the mountain of Hoang Lien National Park, the bungalows are outstanding with white granite in a minimalistic chalet-style, giving you the sense of comforts in the unspoiled natural landscapes of Vietnam. There, you can easily visit many local villages, which are surrounded by the yellow rice paddy field, bringing you unforgettable moments in the sunrise or sunset.
No matter you love the outlook from your private balcony or using the bungalows as the great destination to discover the surrounding areas on foot or by bike, Topas Ecolodge will be the best and only place to go for a retreat in Sapa for those who are seeking for the greatest mountainous view in Vietnam.
3. A healthy culinary food
In Topas Ecolodge, whether you are a big fan of Vietnamese or Western food, you can easily find out what suits you best. Most of the food primarily uses the local, seasonal ingredients, and our rice, vegetables, and fruit from villages or organic gardens. Thanks to that, you can keep a healthy diet effective for your yoga Sapa Vietnam.
Besides, your meals can bring you different feelings because it's really happening in the house on the stilts. This type of house belongs to the Thai people – the second largest ethnic majority group in Vietnam so that you can enjoy immersed yourself in the part of cultures and customs.
If you need a guide for yoga in Vietnam, you can check this article with an ultimate guide: "The ultimate guide to wonderful yoga experience in Vietnam"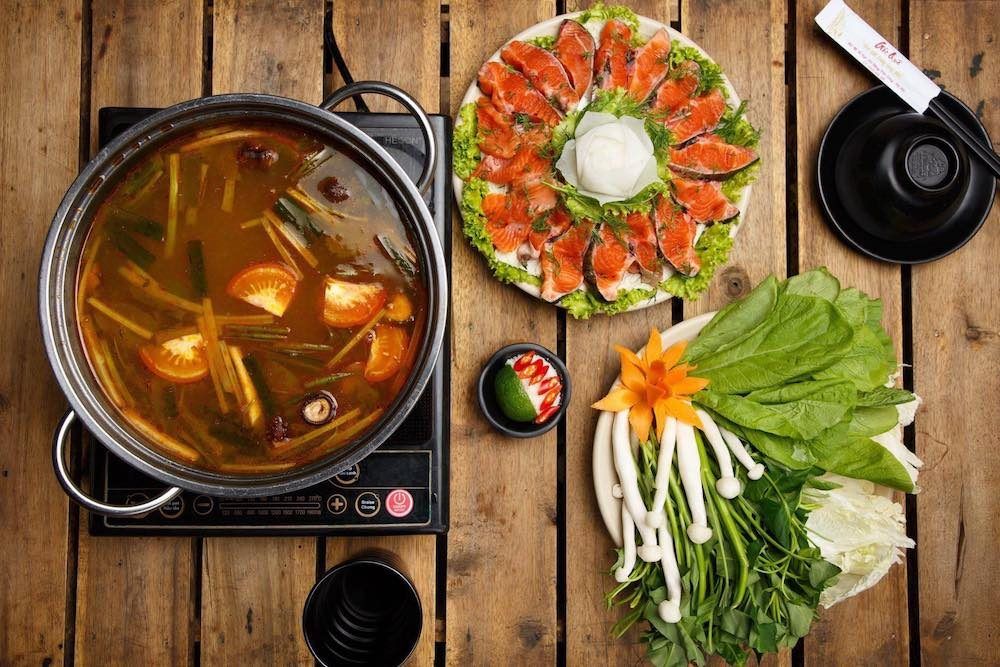 4. Social distancing in Topas style
As COVID 19 is threatening the health of everyone, Topas Ecolodge still offers you careful and conscientious high-end customer service to protect your safety while enjoying your holiday off the beaten track. Here, they will still keep the distance of different guests at least 1 meter so that you can freely enjoy your food, your space, your Yoga retreat in Sapa without worrying about the COVID-19.
 If you feel tired and bored, you can still seek for peace and comfort in a beautiful remote location surrounded by mountains, rice terraces, jungles, and valleys. Just a 45-minute drive away from Sapa, your opportunities to explore paradise is on your hand.
If you are preparing to book a Yoga wellness retreat to Sapa, Vietnam, a trip to Topas Ecolodge organized by Metta Voyage would be of your great choices. We will provide you with the most reasonable price and professional advice so that you can make the most of your holiday without worrying about anything.