In Hanoi 
1. Explore Historical Hanoi
Hanoi is a fascinating city. It may be old and crumbling in places, but it's a city full of personality. It's a fun place to walk around because of the abundance of French colonial architecture, lakes, and tree-lined boulevards. Unlike Saigon, it's a very walkable city that takes about two days to explore in your northern Vietnam itinerary.
Temple of Literature, Hanoi, Vietnam
An inside look at the Hoa Lo Prison, also known as the "Hanoi Hilton." This former prison was used by French colonists for political prisoners, then by Northern Vietnam for US prisoners during the Vietnam War. It is now a museum.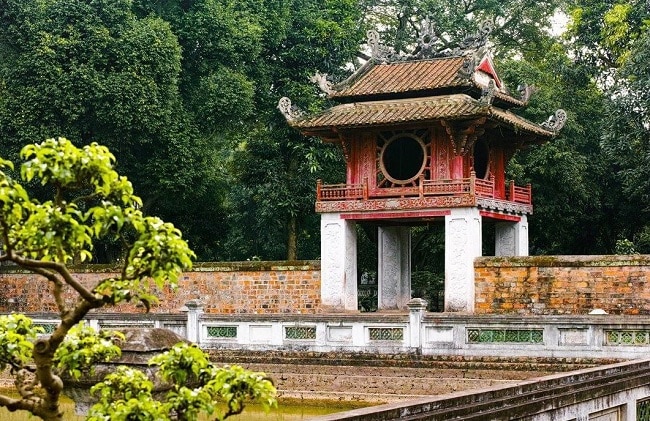 Hoa Lo Prison, Hanoi, Vietnam
Estimated Time to Spend: Full Day
Admission: Various (per attraction)
2. Take a Selfie on Train Street
Ordinary train tracks have become a popular tourist attraction in Hanoi, which I find strange, but that is exactly what has happened on Train Street.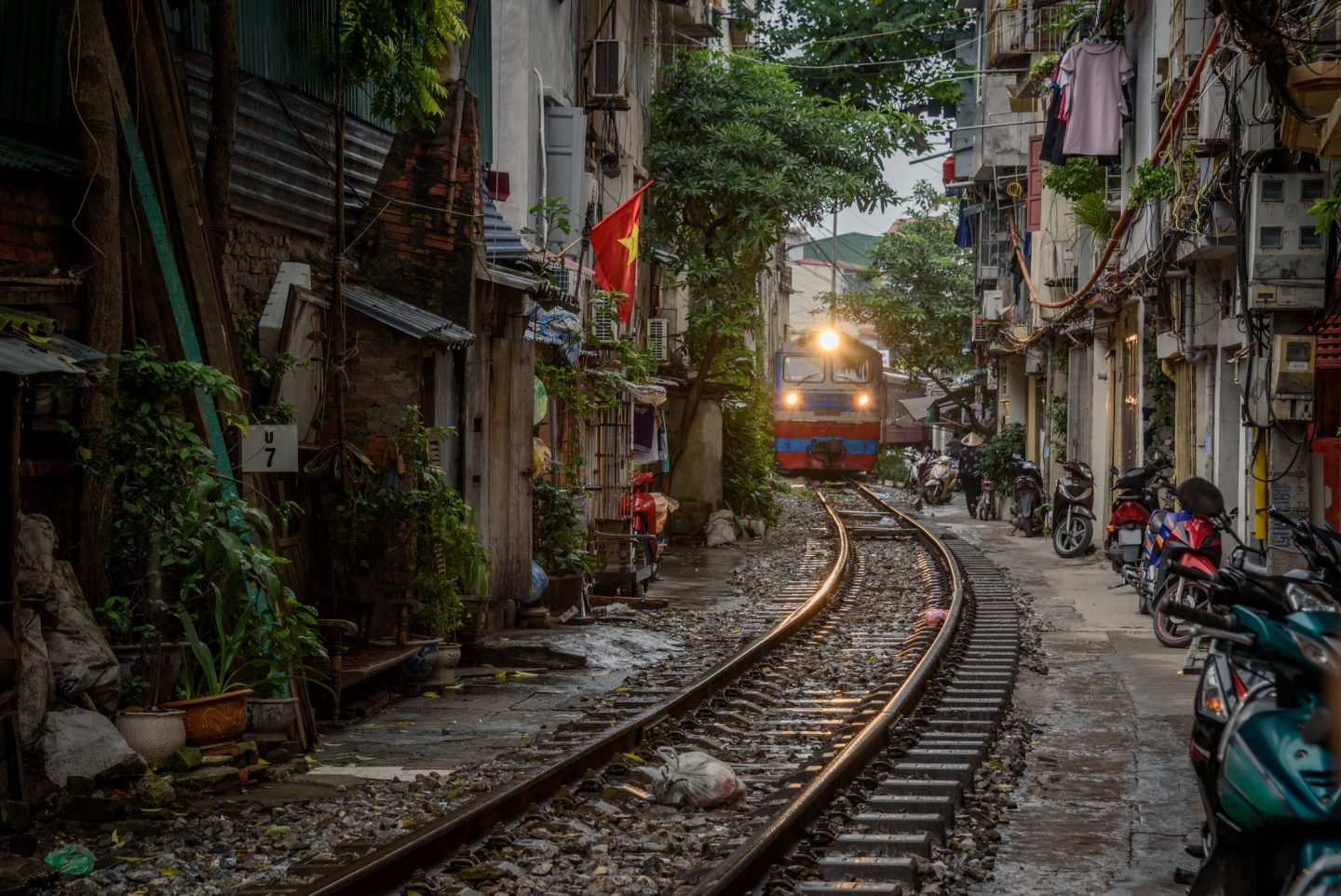 You may have seen photos on social media of these train tracks running through a narrow residential corridor. Cafes have sprouted on both sides of the track due to their popularity. 
The tracks are easy to find and visit on your own, but if you're a serious Instagrammer who wants to be taken to some of Hanoi's most beautiful spots, this Hanoi Instagram tour might be for you. On a motorbike, you'll be taken to some of Hanoi's most Instagrammable locations, including Long Bien Bridge, Phung Hung Mural Street, and Train Street.
Hanoi train tracks, Vietnam
Take a look at the sign below. Because these are active train tracks with the potential for danger, it's unusual to see cafes with outdoor seating on either side. Although I was never present when a train passed through, trains do pass through these tracks on a daily basis. I'm interested to see how people react when this occurs. Do the tables and chairs get packed up? The train appears to be able to pass through the narrow corridor.
The situation is getting out of hand, according to this CNN article, so the local government is forcing these cafes to close. It remains to be seen whether or not this is implemented. The trains that pass through here transport both passengers and cargo between Hanoi and Haiphong, in case you were wondering. 
3. Watch a Water Puppet Show
If you want to see a cultural show that is unique to northern Vietnam, go to Thang Long Water Puppet Theater and see a water puppet show. You'll be treated to an hour-long performance of water puppets reenacting Vietnamese folktales and legends, accompanied by a live orchestra, near Hoan Kiem Lake.
I bought tickets at the gate for a show the next day, but if you'd like to see a show as part of a tour, perhaps with a guide explaining it to you, these Hanoi city tours from Klook and Get Your Guide might be of interest. They're given tickets to a water puppet show at the end.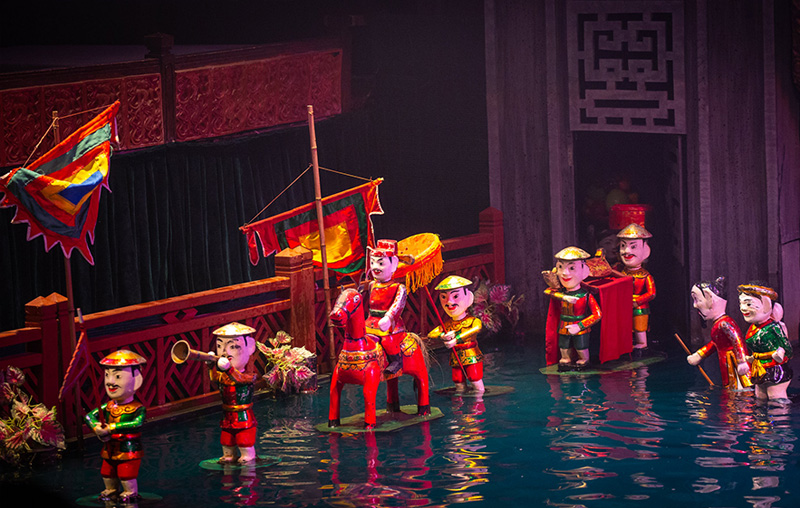 Thang Long Water Puppet Theater, Hanoi, Vietnam
Length of Show: About 1 hr
Admission: Starts at VND 100,000
4. Blend in at Phung Hung Mural Street
Another popular backdrop in Hanoi, and one of the stops on the Instagram tour mentioned earlier. This wall, which runs parallel to Train Street and is located on Phung Hung Street, has approximately 20 murals depicting scenes from everyday northern Vietnamese life. They're painted realistically, with actual-size figures, so they appear almost lifelike in your photos.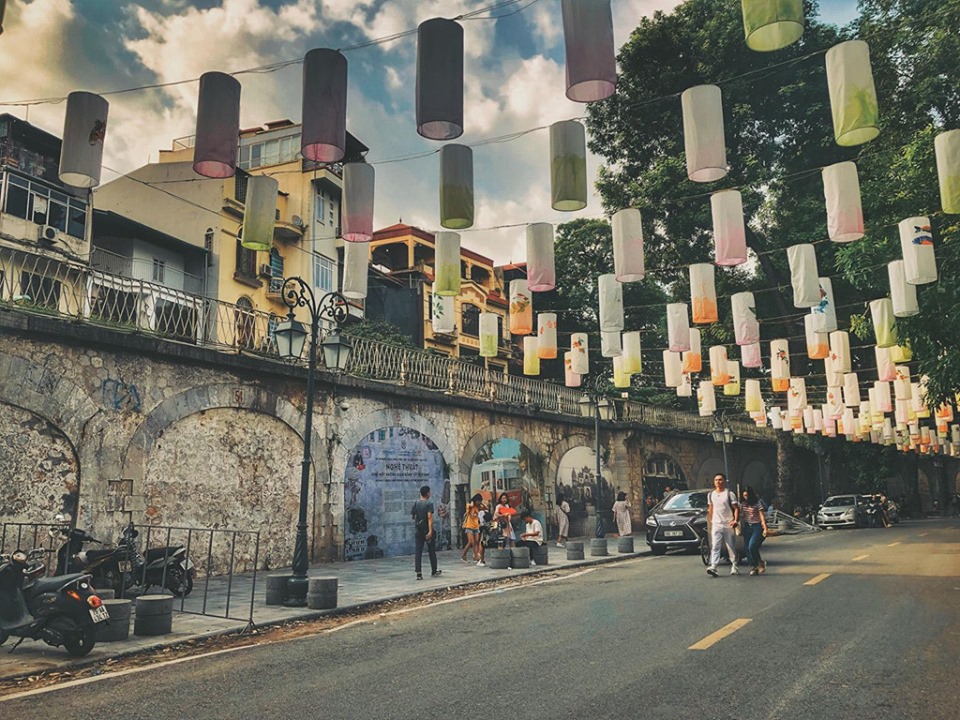 When it comes to Instagram, if you really want to up your game, rent a Vietnamese ao dai dress and a non-la hat. They'll result in much better photographs.
5. Go on a Food Tour
There's no better way to get a taste of the local cuisine than by taking a food tourin your northern Vietnam itinerary. I've gone on food tours all over the world, and they always take you to hidden gems that aren't easily found on Google. On my most recent trip to Hanoi, I went on two street food tours, both of which were fantastic.
On a Hanoi street food tour with Backstreet Academy, I tried this green papaya salad with Chinese-style beef jerky. It's a 2.5-hour eating spree that takes you to some of Hoan Kiem's best local haunts to sample classic northern Vietnamese dishes such as pho, ca cuon, and banh goi. More pictures and information about this Hanoi street food tour can be found in my article. If you enjoy it, you can reserve a spot on the tour directly through Backstreet Academy.
Hanoi Street Food Tour
The second food tour I took was with A Chef's Tour, which was a fascinating chef-led food and market tour. It begins at 4 a.m. and takes you to three of Hanoi's busiest markets at their busiest hours. If you like street photography as much as you like street food, you'll want to join this tour. Aside from leading this tour, the chef also teaches a popular cooking class your northern Vietnam itinerary.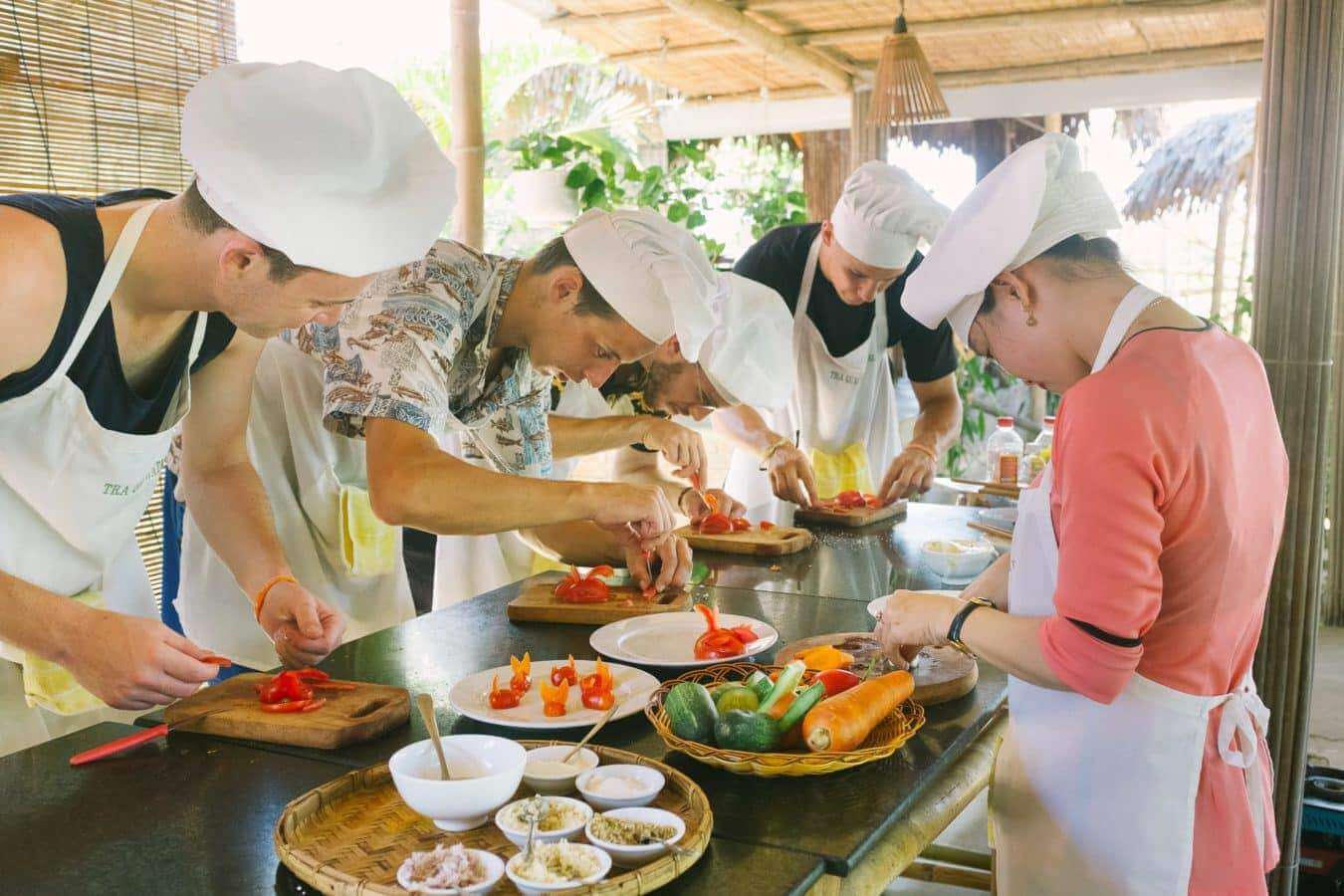 Check out Klook and Get Your Guide if you want to sift through even more food tours. There are a plethora of options!
6. Go on a Coffee Tasting Tour
Vietnam is the world's second-largest coffee producer, trailing only Brazil. They make excellent coffee, which is why I recommend taking a coffee tasting tour there. In the northern Vietnam itinerary, I visited as many cafes as I could, but the coffeehouses in Hanoi were the most interesting to me. Ca Phe Trung (egg coffee), is one of the city's most well-known homegrown coffee creations.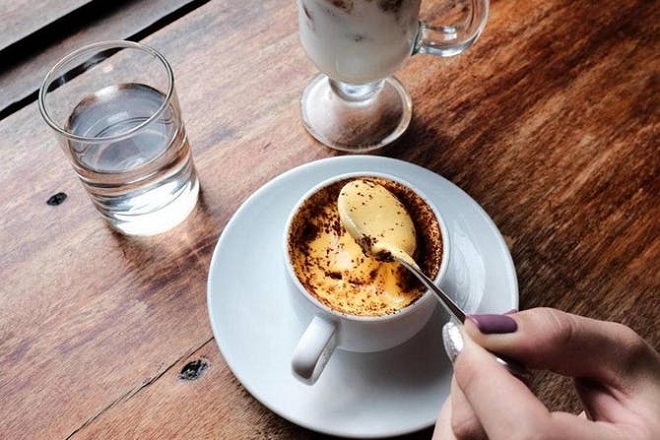 It's simple enough to go cafe hopping on your own, but if you prefer a guided tour, Backstreet Academy's coffee lovers walking tour may be of interest. I was taken to three of the city's oldest cafes to sample unusual coffee blends such as egg coffee, yogurt coffee, and cinnamon coffee. I documented the experience in a video that you can watch on our YouTube channel.
Coffee Lovers Walking Tour in Hanoi, Northern Vietnam
Length of Show: About 3 hrs
Cost: USD 26
7. Take a Cooking Class
We had so much fun in Hoi An taking this cooking class that we now try to take one on every trip. As much as we enjoy visiting restaurants and taking food tours, nothing beats taking a cooking class to learn more about the local cuisine. It's like peering under the hood of the cuisine of your northern Vietnam itinerary.
Cooking is an online booking service that specializes in one-day cooking classes. Cooking classes are available in many cities around the world, including Hanoi. I don't think there's a better place to find a cooking class when traveling than Cookly, because they focus solely on cooking classes. To see their list of cooking classes in Hanoi, click on the link.
As previously mentioned, Chef Duyen, who also runs a popular cooking class in Hanoi, led one of the food tours I went on. You should take her cooking class in Hanoi because she's energetic and knows her stuff.
In Halong Bay 
Halong Bay is a well-known tourist attraction in northern Vietnam, situated in the western part of the Gulf of Tonkin in the Northern Vietnam Sea. Thousands of magnificent islands and awe-inspiring feats of creation UNESCO has recognized Ha Long Bay as a world natural heritage site several times. Halong Tourism benefits from the beautiful scenery that appeals to both domestic and international visitors.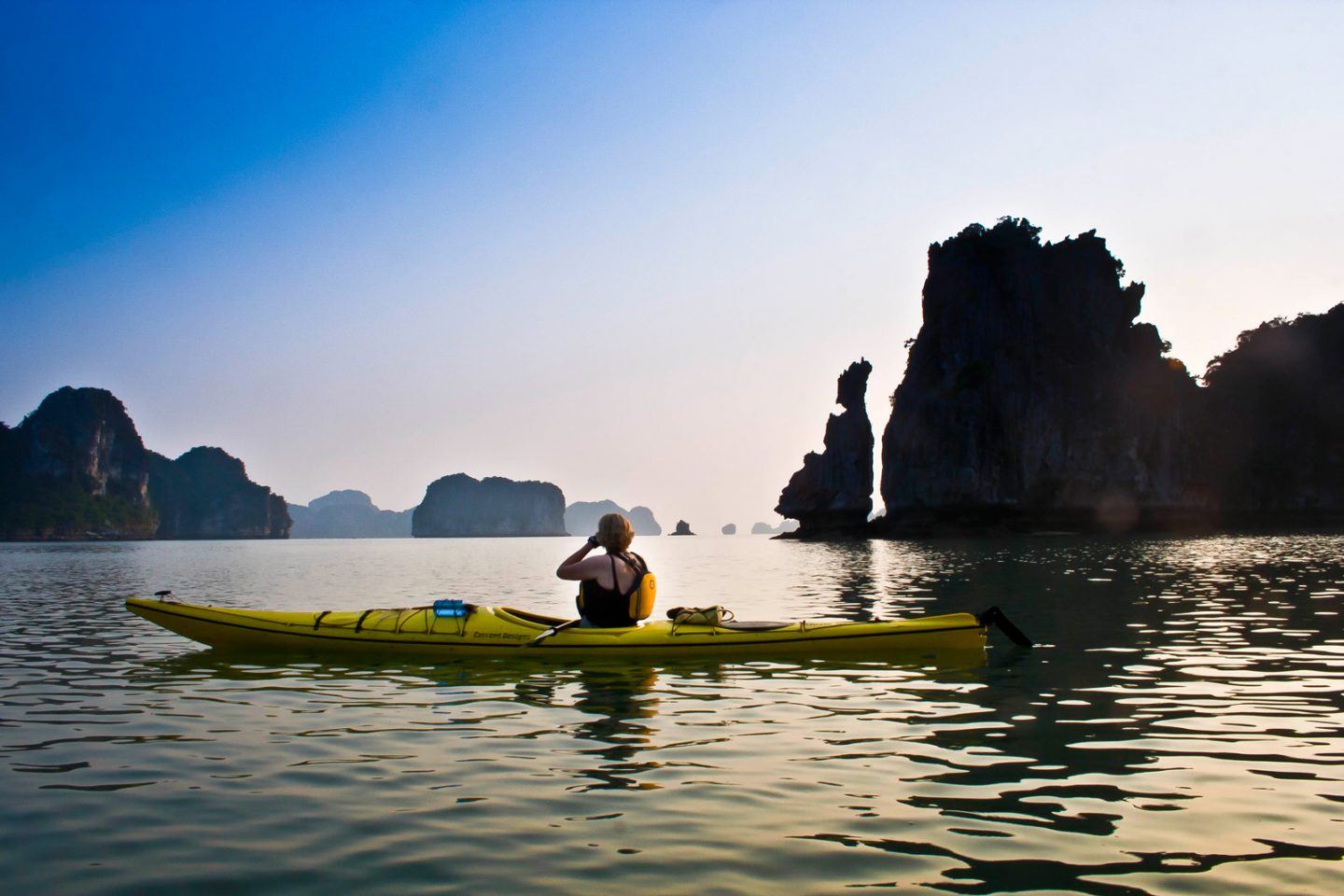 What makes Halong Bay special?
It has twice been designated as a World Natural Heritage Site by UNESCO. Halong Bay is surrounded by 1,969 islands of various sizes, which are clustered in two main zones: southeast and southwest. The bay was designated as a World Natural Heritage Site by UNESCO in 1994 for its natural beauty, and again in 2000 for its geographic and geomorphologic significance. Because of the following reasons.
The Value Of Natural Beauty in Halong Bay
Halong Bay spans 1,553 square kilometers and includes 1, 969 islands of various sizes, 989 of which have been given names. Karts are divided into two categories. It's made up of limestone and schist. The islands are between 250 and 280 million years old on average. The wonderful national poet Nguyen Trai described Ha Long Bay as "a marvel of the earth erected toward the vast skies." Visitors may become lost in a world of stone islands whose shapes change depending on the angle and light while exploring Halong Bay's beauty. Islands are given various names based on their shapes and forms. Hon Dau Nguoi, Hon Rong, Hon Canh Buom, and Hon Trong are just a few examples.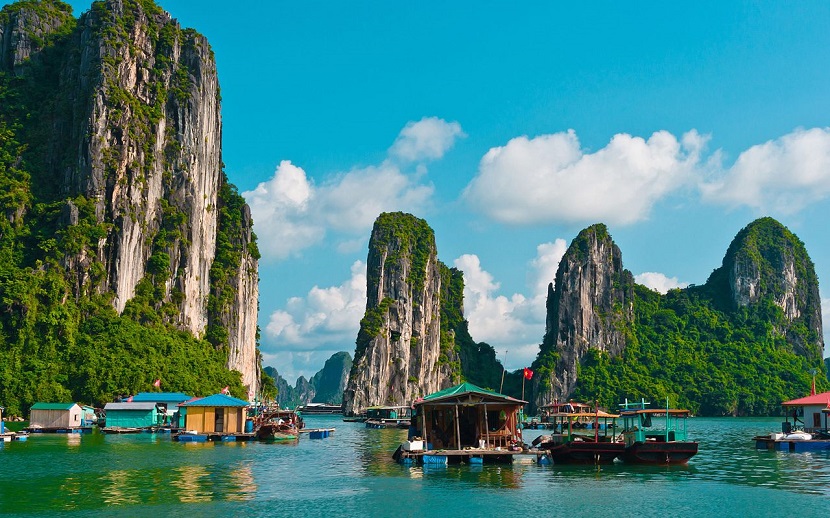 The beauty of Halong Bay, however, is not limited to the types of islands and the color of its waters. But also in its extensive system of grottos and caves. Thien Cung, Dau Go, Sung Sot, Tam Cung, Trinh Nu, Thien Canh Son, Me Cung, and Hang Luon are just a few examples. Each one is a magnificent and refined natural architectural work of art.
Value Of Geological
The advance of the sea, the raising of the bay region, and the strong erosion that has formed pure and coral blue and salted water are among the most remarkable events in HaLong Bay's history over the last 1,000 years. The rock has been eroded by seawater, adding to its fantastic beauty. Nowadays. Ha Long Bay is the result of a long evolutionary process that has been influenced by a variety of factors. Because of all of these factors, visitors to Halong Bay are not only treated to one of the world's true wonders, but also to a valuable geological museum that has been preserved in the open air for the last 300 million years.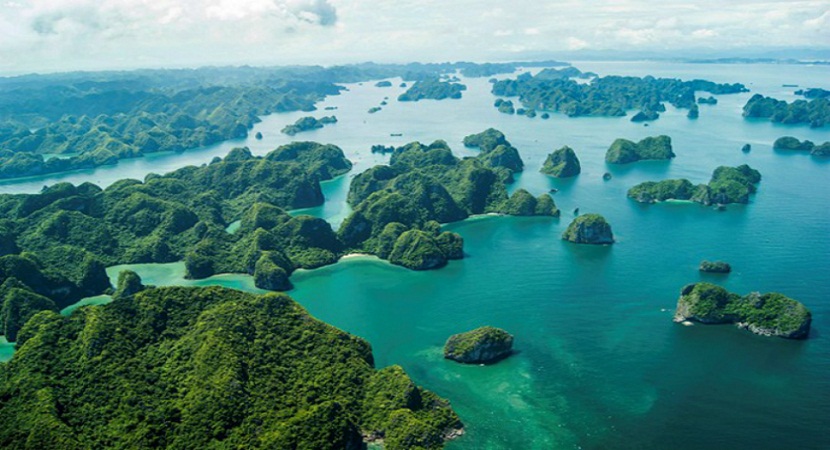 Value Of Biodiversity
According to scientific findings, Ha Long Bay contains ecosystems typical of the tropics. Like the coral reef ecosystem, which has 232 species of coral and is mostly found in the Cong Do and Bo Hon regions. There are also 81 Gastropoda species, 55 Polychaete species, 130 Bivalvia species, and 57 crab species. The saltwater flooded forest ecosystem is primarily concentrated in the Tuan Chau area. In Northern Vietnam, it has the most diverse collection of saltwater flooded plant species.
In addition, a diverse range of animals lives in this ecosystem, including migrating birds, Polychaeta, seaweed, and reptiles. Halong Bay has a tropical rainforest ecosystem with a variety of rare creatures. Things like that. Deer, weasels, squirrels, and white tabby and red-haired monkeys, in particular. In addition, there is a system of small caves along the seashore that serve as homes and breeding grounds for a variety of animals and plants, including algae, aquatic plants, algae, fish, and shrimp. Many species of shrimp, fish, abalone, and other sea specialties can be found deeper in the water.
Historical And Cultural Value
With geographical names like Van Don, Bai Tho Mountain, and Bach Dang River, Ha Long is a place steeped in Vietnamese history.
Not only that, but scientists have identified Ha Long as one of the region's earliest cradles of human existence, with archaeological sites such as Dong Mang, Xich Tho, Soi Nhu, and Thoi Gieng.
Halong Bay's Best Sightseeing
1. Bai Tu Long Bay
Hundreds of large and small islands make up Bai Tu Long Bay, many of which are large and inhabited. This is one of the most appealing destinations, comparable to Halong Bay. Because the highlight is the diverse and appealing marine eco-tourism, which includes beaches, caves, and other natural wonders… It also owns Bai Tu Long National Park, which is home to a diverse range of flora and fauna.
2. Lan Ha Bay
With over 400 islands, it is located in the south of Halong Bay. Because every island here is covered in trees, it has a unique shape. This place is known as a "sleeping paradise" because of its cool climate all year. Because the bay's beauty is comparable to Halong Bay's, it appears that tourism has only recently begun to pay attention to its development. It's here.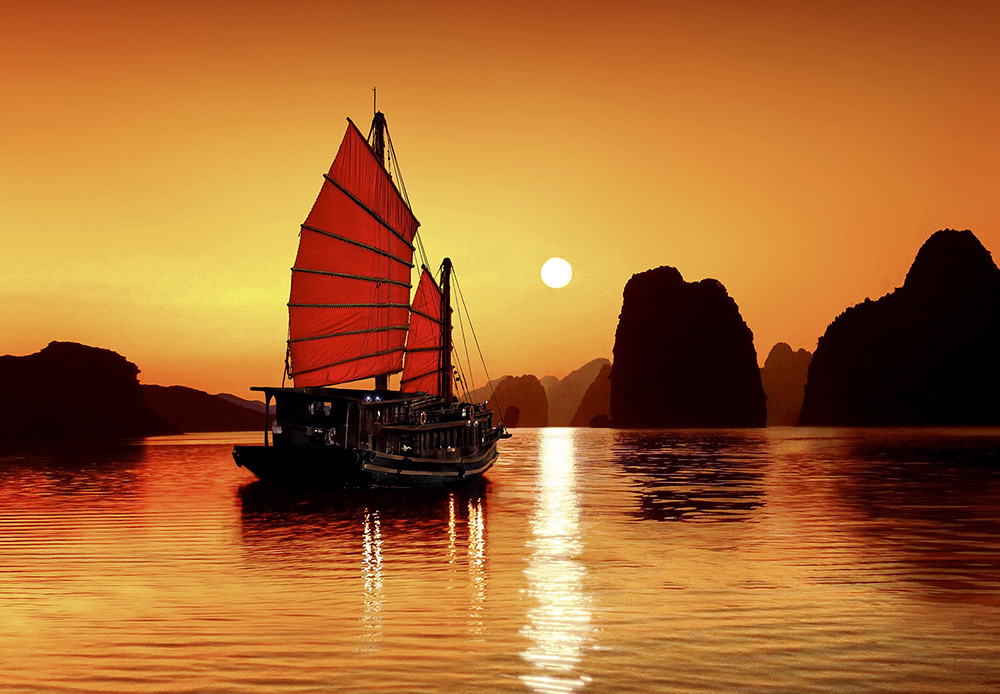 3. Soi Sim Island
Soi Sim Island is 8.7 hectares in size. It's in the western part of Ha Long Bay. A primeval forest with diverse plant life can be found on the island. Because there are many Sim trees on the island, it is known as Soi Sim. There's also Soi Sim Beach, which has a stunning view and attracts a large number of visitors each year.
4. Tuan Chau Island
This island is regarded as the most beautiful of Halong Bay's nearly 2000 islands. In addition, it is one of the most popular tourist destinations in Halong.
5. Bai Chay Beach
It is Halong City's largest beach, attracting tourists from all over the world. The man-made coastline, which stretches for more than 1000 meters and is more than 100 meters wide, is endowed with wonderful beauty, complete with blue water and beautiful clean beaches, attracting a large number of tourists. A line of endless pine trees runs along the coast, providing fresh air, peace, and the coolness of the sea breeze combined with trees.
6. Co To Island
Co To is an island district in northern Vietnamt. It's a place where the natural beauty overwhelms you, eliciting unexpected feelings. Co To offers spectacular unspoiled sedimentary rock, beautiful white sand beaches, walking paths right next to the primeval forest, delicious fresh seafood with a sea flavor, sincere and hospitable people, a romantic space, and active entertainment activities. Coming to Co To Travel will provide you with unforgettable experiences and opportunities to interact with nature.
7. Dragon Eye Island
The island waters adjacent to Bai Tu Long are home to Dragon Eye Island, which is located in the south of Halong Bay. Natural white sand beaches can be found on the island. The landscape is particularly unique, with a beautiful circular formation in the middle of the mountain. Dragon Eye Island is probably a great choice if you're looking for a private space for a family trip to northern Vietnam.
8. Quan Lan Island
Quan Lan, located 55 kilometers from Ha Long City, attracts visitors with its green, pristine, fresh space as well as historical and cultural relics. It commemorates our forefathers' glorious victory over invading armies. Its well-known beaches, such as Son Hao and Chan Tien…
9. Cat Ba Island
The picturesque white sand beach and limestone cliffs jutting out of the water will make your heart skip a beat. It's also known for its thrilling activities. Climbing Hon tilt, trekking National Park, unprotected cliff climbing, and so on…
10. Ba Trai Dao Beach
This stunning beach is well-known in Halong Bay. It is located near Cat Ba Island, about 22 kilometers southeast of Bai Chay Tourist Port. This beach is known for being clean, wild, charming, and teeming with visitors. However, visitors who come to bathe here should take care to learn about the water and be aware of the convection currents. Because this beach is only used for 2-3 hours per day and the tides engulf the entire sandy area when the tide is high.
11. Ti Top Island
Ti Top Mountain, which is situated in a prime location in the middle of the Bay, has approximately 400 steps leading from the beach to the top viewing tower. This is where visitors can take in the beauty of Halong Bay from various vantage points. Despite the fact that boats are moored here, Ti Top Mountain is still regarded as a peaceful retreat with a breathtaking view of the Bay.
12. Sung Sot Cave
One of the world's "legendary" tourist destinations. This is the most well-known cave in Halong Bay. Unlike Phong Nha – Ke Bang, where visitors can admire a magnificent cave, 100 stone steps lead to various spaces filled with the brilliant color light of geological wonders that enthrall visitors. The "royal garden" is the cave's deepest section, where a clear lake with diverse flora and fauna can be found.
13. Dau Go Cave
This cave is said to be Ha Long's largest limestone cave. It is nearly 2 million years old, with a width of 12 meters and a height of about 17 meters. The moment you enter the cave. You'll notice the amazing detail that the photographers' photographic art photos still capture, which perplexes many tourists. Especially the stalactite's reflected light. As if you'd wandered into the realms of paradise, the colors were vibrant.
14. Drum Cave And Trinh Trinh Cave
Located on the east side of the island of Bo Hon, on the wings of a small mountain arc. Sung Sot cave is about 3 kilometers to the southeast along the sea. Over a small sea, these two caves are 700-800 meters apart.
Visitors will hear the legend of two names: a cave with a horizontal rock that resembles a girl lying on her back with her hair stretched out to the sea, and a cave with a horizontal rock that resembles a girl lying with her hair stretched out to the sea. On rainy days, the wind and wind come here to hear the sound of the wind hitting the cliffs like a drum, so it is called the Virgin cave. The other cave has a very tall stalactite column that looks like a giant boy standing looking out to sea, and fishing people here say that on rainy days, the wind and wind come here to hear the sound of the wind hitting the cliffs like a drum, so it is called the Drum cave.
15. Luon Cave
Ha Long is home to a vast cave system, each with its own unique beauty. Luon cave, located 14 kilometers from Bai Chay on Bo Hon Island, is one of the typical caves. Stalactites of various shapes and sizes have formed over millions of years.
16. Thien Canh Son Cave
Thien Canh Son is a fairly wild cave located in the Cong Do conservation area on Bai Tu Long Bay and Halong Bay. Due to its natural beauty, pristine limestone stalactites, and surrounding landscape, this is also a popular tourist destination.
17. Thien Cung Cave
This cave is close to Dau Go Cave and has a 25-meter-high cave mouth. This is the most beautiful cave in Halong, with a width of nearly 10,000m2 and a complex structure that includes many levels, compartments, ceilings, and walls that are very high and wide. You will be overwhelmed by the countless blocks of stalactites and stalagmites with strange shapes, especially when standing in the cave.
18. Kim Quy Cave
The cave stretches for more than 100 meters in a north-south direction. The cave will be on the opposite side of Dam Bac island and on the opposite side of Soi Sim island. Water flows through the stalactites in Kim Quy cave's four colors, with stalagmites from the ceiling caving down, creating a magnificent and fanciful scene.
19. Cua Van Fishing Village
As one of the region's most well-known fishing villages. Cua Van fishing village is one of the largest fishing villages in the area, with a population of up to 733 people living in 176 households.
The beauty of this place comes from the small houses that are linked together to withstand storms. You can not only learn about the life of a fisherman, but you can also see the beauty of the ocean from directly beneath the boat, which is a priceless and unforgettable travel experience.
20. Vung Vieng Fishing Village
Vung Vieng fishing village is a small fishing village in the Tu Long Bay area. There are approximately 50 households totaling 200-300 people.
21. Ba Hang Fishing Village
Ba Hang fishing village is one of the most well-known fishing villages among visitors to Ha Long. Coming to this village, you will be able to appreciate the beauty of the idyllic mountains and earth while also getting a taste of the life of a fisherman.
22. Bai Tho Mountain
Bai Tho Mountain is a stunning limestone cliff. It stands more than 200 meters tall in the heart of the city. From the top, you'll be able to see the entire HaLong landscape, which is truly magnificent. Images of free-grazing goats or birds fluttering down the bay can be seen on the way up the mountain. As a result, you should always remember to bring a camera with a fully charged battery to capture all of those special moments.
23. Yen Tu Relics
Yen Tu is one of the most well-known pagodas in the North, with a system of pagodas, towers, and ancient trees that blend in with the natural scenery and are scattered from the Red slope to the Yen Tu mountain in ascending order.
24. Cai Bau Pagoda
Cai Bau Pagoda (also known as Truc Lam Giac Tam Zen Monastery) opened in 2009 near the Bai Dai – Van Don tourist area. The temple bells and the sound of the waves have been swept away, creating a truly deserted and sacred atmosphere.
Halong Bay's Best Activities
1. Sun Wheel And Queen's Cable Car
The Queen's Cable Car runs from Bai Chay to the top of Ba Deo Hill, which boasts the world's highest suspension tower (188.88m), according to the Guinness Book of World Records. Visitors will be able to appreciate the panoramic beauty of this location. Ha Long Bay's natural beauty is breathtaking.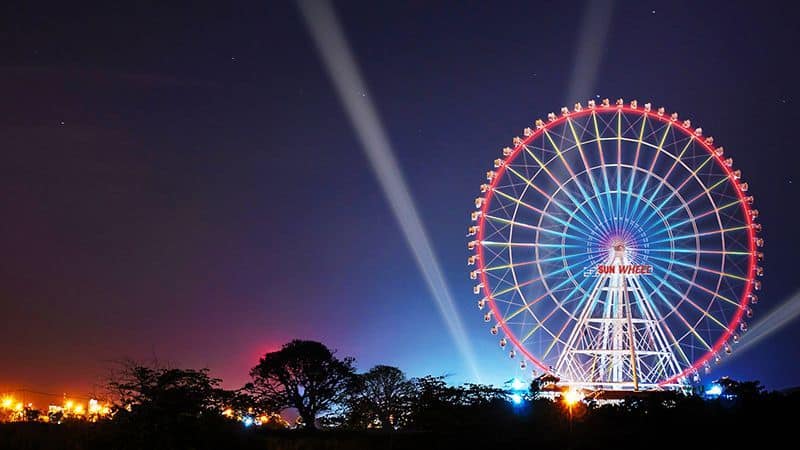 2. Enjoy Halong Bay by Seaplane
Seaplanes were created to provide an additional service to tourists visiting Ha Long Bay as the number of tourists visiting increased. From an altitude of 150 to 3000 meters above sea level, you can see the entire beautiful bay while sitting in the seaplane. It really worth in your northern Vietnam itinerary.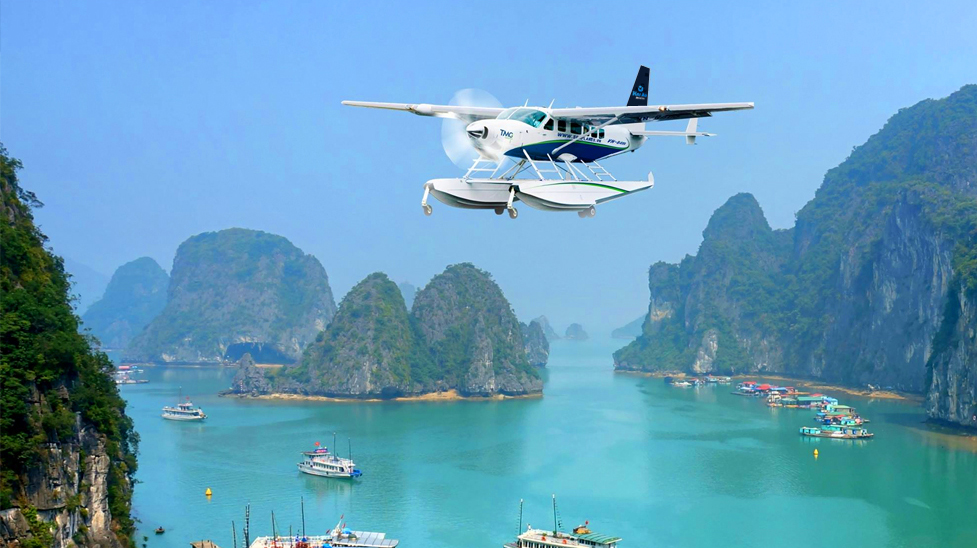 3. Play Adventure Games In Dragon Park
Even the bravest will find the adventure games here challenging. However, taking part in games here, shouting, and overcoming your fears is an experience you should try in your northern Vietnam itinerary.
4. Kayaking
Kayaking is a popular water sport. If you visit Halong and do not participate in this activity, you will be disappointed. It's a terrible situation for you. You are looking for absolute peace of nature when you sit in a small Kayak boat and then row the oars on the emerald green water while watching the magnificent mountain river.
5. Climb The Mountain
Ha Long Bay has a diverse and rugged terrain, including many islands and mountains, in addition to kayaking. Climbers will find it to be a challenge as well. The spikey cliffs, majestic corners of the mountains, cliffs, and caves in Halong Bay will challenge those who enjoy climbing.
6. Spend Overnight On A Cruise Halong
In HaLong Bay, there are a variety of cruises to choose from. As a result, the prices vary depending on the cruise. The cost of a day cruise trip starts at $50 USD per person. When you choose a longer period of time, the price is higher. You can also choose between a shared or private cruise. The prices are vastly different. As a result, the price of a cruise room is determined by the cruise name you select. Cruises range in price from around $100 per person to $500 per person or more. You can save time and money by booking northern Vietnam tour packages that include Halong Bay.
To travel on a HaLong Bay cruise, it is recommended that you choose from budget 3-star quality to luxury 5-star quality. It is reasonable in terms of price and service quality.
The Best Time To Visit Halong Bay
Winter is a popular time for foreign tourists to visit Ha Long, which runs from November to Tet. In the summer, from May to July, Ha Long sees a lot of domestic tourists. Vacationing is frequently combined with a visit to HaLong Bay. Students are also on vacation at this time, so they will be traveling with their families. Autumn, from August to October, is the best time to visit HaLong. Ha Long Bay is also stunning from May 4-5.
Autumn in Ha Long Bay is particularly lovely. It is always sunny in HaLong from September to November. You can still swim in the sea because the weather is not too cold. At this time of year, there are also fewer storms. There is usually a storm in northern Vietnam when you visit Ha Long in June-July. The landscape on the bay will be bleaker when it rains. It is possible to prohibit the sea from transporting tourists to the bay and allowing them to stay overnight there.
How To Get There?
Going from Hanoi / Saigon to Ha Long:
The distance between Hanoi and Quang Ninh is about 3-4 hours by car from Hanoi, which is 170 kilometers away. The following are the options for getting from Hanoi to Ha Long:
Because of its convenience and reasonable price, Hanoi Limousine to Ha Long is officially the first choice of many customers moving to Ha Long. That is why the Limousine garage is constantly upgrading and innovating, both in terms of vehicle quality and service quality. Initially, the car only provided pick-up and drop-off at destinations, but now it also provides pick-up and drop-off at home on request, with a 30-minute trip for both ends. Every day of the week from 4:30 a.m. to 9 p.m. in Hanoi and HaLong Quang Ninh.
By Car: Cars to Ha Long usually congregate at Luong Yen's My Dinh bus station, where the first trip leaves at 6 a.m. and the last at 5 p.m. The trip to Bai Chay bus station in Ha Long takes between 5 and 15 minutes. Ticket prices range from 100k to 200k per person (seats) (beds).
Ha Long by motorcycle: There are two routes from Hanoi to Ha Long:
From Hanoi, take Highway 5 to Sai Dong junction, then Highway 18 to Bac Ninh. From Bac Ninh, take Highway 18 to Pha Lai, Chi Linh, Dong Trieu, Uong Bi, and Ha Long. The total length of the route is approximately 155 kilometers.
It takes about 160 kilometers to travel from Noi Bai Airport to Bac Ninh via Highway 18A, which passes through Pha Lai, Sao Do, Dong Trieu, Uong Bi, and Ha Long.
Recommended accommodation 
When visiting Ha Long, where should you stay in your northern Vietnam itinerary? The motels and hotels are mostly concentrated on Vuon Dao street, where room rates start at 250,000 VND and go up from there. Furthermore, there are many restaurants in the area that are reasonably priced. You can choose from a variety of hotel types in Ha Long, depending on your specific needs and budget. If you have a lot of money and want to relax, you can rent a yacht or a high-end hotel. You can stay in a budget hotel or a cheap homestay if your budget is limited.
Some of the most luxurious and modern yachts in Ha Long:
Heritage Cruise

Paradise sails

Alisa Premier Cruise

Doris Cruise

Dynasty Cruise
What To Eat?
When visiting Ha Long, the most typical characteristics must include seafood dishes. Aside from that, you'll be able to sample some of Ha Long's most delectable delicacies.
Con Cu Ky: The name sounds strange; Cu Ky resembles a crab, but it is three times larger and costs three times as much; however, once you've eaten it, you'll want to eat it again.
Be Be: Shaped like a shrimp but has more legs. It is a favorite dish of tourists coming to Ha Long.
The earthworm-shaped Sa Sung dish, which is popular in Ha Long, is often dried with beer and wine or cooked in a sweet and fragrant broth. Peanut worms are extremely rare, and the price is exorbitant, with a kilogram costing nearly $4 million.
Going to Ha Long is impossible to avoid mentioning the squid, which you can purchase at the market and eat hot and deliciously.
In addition, if you have time, white sticky rice with squid rolls, squid spring rolls, sea squid rolls, cakes, sour rolls, or Hoanh Bo sticky rice, Quang Yen rice rolls, Ca Day Tien Yen rice rolls are all delicious.
…
You Can Go To: If You Want To Eat Delicious And Cheap Seafood In Ha Long, You Can Go To:
On the bay tour, you can eat seafood: Clams, fried squid, grilled rice, and other main seafood dishes The cost per person ranges between 120 and 200 thousand dollars.
Delicious seafood at Vuon Dao's dining establishments: This area is known for its abundance of fresh seafood. When visiting Ha Long, there are many restaurants to choose from for a dining experience. The prices of seafood are quite high here, so make sure you ask before ordering.
One of the most delicious eateries in Ha Long is the Cai Dam market, which sells cheap seafood.
In the Ben Doan area, you can savor some rustic seafood. Alternatively, you can eat seafood on the "raft." With the Ha Long travel experience handbook above, I wish you a happy journey and unexpected experiences!
In Sapa
Best time to visit
Sapa is best visited between March and May, and September and November. The weather is relatively stable during these times, with sunny days and cool nights. The first is the autumn season. The weather is very pleasant at this time of year. The weather is dry, clear, and sunny. Between September and October, the view from Sapa's terraces is at its best. It's the ideal time for trekking and photography because the weather is cool and dry with a consistent temperature.
Although it is hot in the summer, it is not as hot as other parts of Vietnam.
If you visit this city between April and May, you will have the opportunity to see the beautiful landscapes of many different colored flowers and green fields.
The weather in Sapa gets very cold in the winter, especially at night, from December to February. However, in exchange, you will be able to see the sunrise over the valley in the morning. In recent years, snow has also fallen in Sapa northern Vietnam.
10 best things to do in Sapa
Sapa and the surrounding area have grown in popularity over the years, and there are numerous activities available.
1. Trekking
Some of the best things to do in Sapa can be summed up in one activity: Sapa trekking! You have the option of doing a half-day, full-day, or multi-day trek that includes a night in a homestay. It's the most effective way to see the rice fields and interact with the locals.
Tip: Do you want to go trekking in Sapa? Take a look at our Sapa in northern Vietnam. A trekking tour can also be combined with sightseeing or a visit to a local market.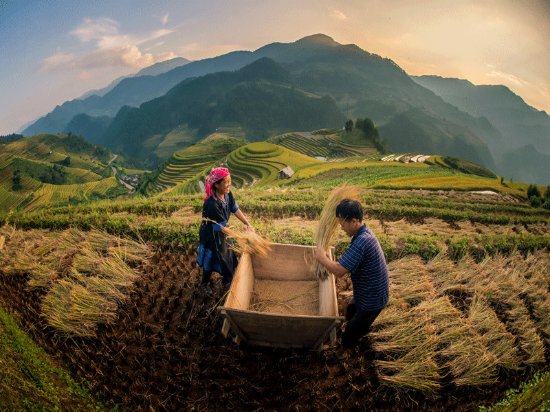 2. View the terraced rice fields
The stunning Sapa rice fields are the main reason most visitors come to this mountain town. It is for this reason that it is regarded as one of northern Vietnam's most beautiful landscapes. From the bottom to the top of the mountains, these magnificent terraced fields can be found all over the Muong Hoa valley.
Rice is grown here, and the locals live near the rice fields, often at the foot of the mountains. The rice terraces look like they've been plucked from a travel brochure. The best way to see them is on a trekking tour, but you can also drive or ride a motorcycle around.
3. Visit minority villages
The second reason to go to Sapa is to see the mountain tribes' unique culture. These ethnic minorities have lived in the mountains for generations, subsisting on the land. The Hmong, the Dao, the Tày, and the Giay are among the various minority groups found in this region.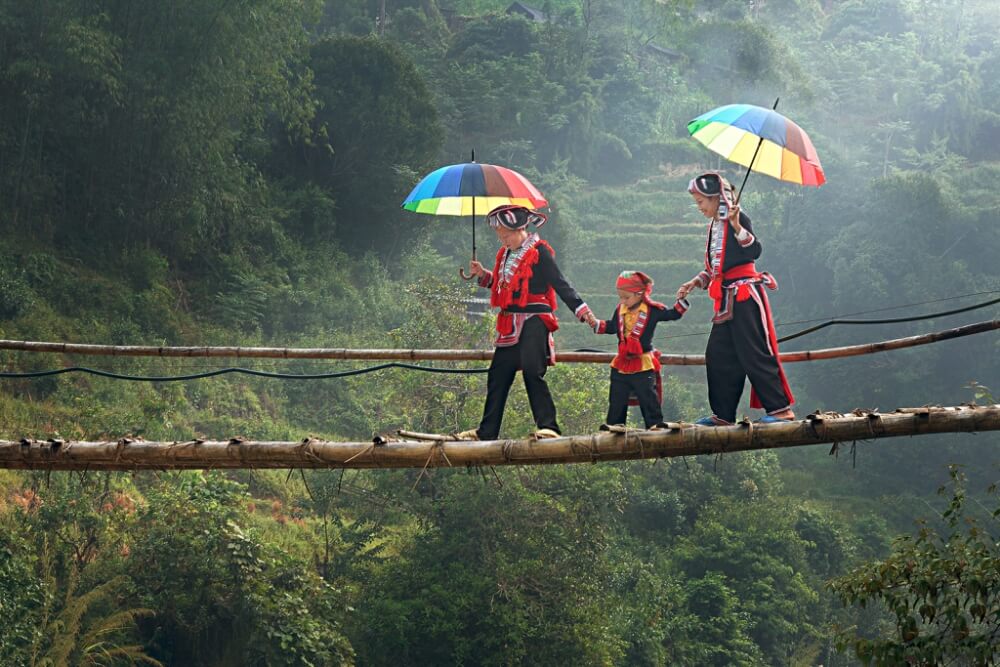 Each ethnic group has its own language, customs, and culture. Visiting the local villages outside of Sapa is the best way to learn about this fascinating culture. Take a stroll through the village to learn about their daily lives and unique mountain lifestyle.
The best way to do this is on a trekking tour, but you can also drive or ride a motorcycle.
4. Stay overnight in a homestay
Staying in a homestay will round out your unique local minority adventure. There are several homestays in Sapa and the surrounding villages. Spending the night in the home of a local hill tribe is, without a doubt, the most unique experience. The accommodations are frequently basic and uncomfortable, but the experience is fantastic!
You can have a family dinner in the evening. Finish the day with a relaxing traditional herbal bath or a glass of rice wine with your family. It will be a once-in-a-lifetime experience.
Combining a homestay overnight stay with a multi-day trek is the best option. For instance, if you go hiking for two days, you will spend the first night in a local homestay and then continue walking the next day, going off the beaten path.
Do you want to spend the night in a local homestay and go trekking at the same time? Take a look at our Sapa tours.
5. Visit a local market
Visit a mountain market, which is one of the best things to do in Sapa. You can visit several markets in Sapa and the surrounding area. The local hill tribes use these markets to trade their locally grown food. But there's a lot more to see here.
Consider clothing, fabrics, brocade, jewelry, and even phones and chargers. The livestock section is one of the most fascinating parts of the market. Traders can be seen inspecting every part of the animal before making a trade here.
Visiting a market for ethnic minorities is a once-in-a-lifetime experience. The bright colors of all of the traditional clothing, the animals, and the crowds create an impression of chaos. This chaos, however, is unexpectedly warm and inviting, with a pleasant ambiance.
The most popular market in Sapa is the Bac Ha market (held every Sunday), but there are many others to visit.
6. Fansipan mountain
Fansipan is northern Vietnam's highest mountain and, as a result, the country's most famous attraction. You could only get to the top by climbing for two or three days in the past. Although this is still possible, there is now a cable car that takes you 15 minutes from Sapa's cable car station to the top of Fansipan.
Around the top of the mountain, there are now a number of temples and pagodas that you can visit. On clear days, the surrounding mountains can be seen clearly.
7. Tram Ton Pass
The highest mountain pass in Vietnam is located next to Fansipan and on the other side of Sapa. Enjoy a panoramic view of the Tram Ton Pass while driving or riding a motorcycle. There is a viewpoint at the top where you should definitely stop.
Many travelers return to Sapa as soon as they reach the top of the mountain pass, but if you have more time, you can continue all the way to Lai Chau. You'll get many more views of some of the country's most impressive mountains along the way.
8. Waterfalls
Combine a drive over the Tram Ton Pass with a stop in Sapa to see some local waterfalls along the same road. The Silver Waterfall can be found right alongside the road. The Silver Waterfall requires a 30-minute hike to reach, but it is much less visited and special as a result.
9. Sapa by (motor)bike tour
You can also explore the landscapes on a motorbike or mountain bike in Sapa as an alternative to trekking. Riding a mountain bike is undeniably thrilling while also being a lot of fun.
A motorcycle can take you much further than hiking, allowing you to get even further off the beaten path and away from the crowds in Sapa. There are some scenic roads, but if you are not confident in driving or not a lot of experience, it is best to go on the back of a motorbike with a local guide.
10. Explore Sapa town
Even though all of the best things to do in Sapa are outside of the town, you can still choose to wander around Sapa. There are some sights to see, despite the fact that it has lost its cozy picturesque feel.
An old stone church and the local market can be found in the city center. On weekends, when the market is packed with local minorities, it can be a lot of fun to visit. You can also visit a museum dedicated to various ethnic groups. Finally, you can take a walk around the lake or climb Ham Rong Mountain for a view of the city.
Best hotels & hostels in Sapa
Where to stay?
Hotels around the lake – the cheapest place to book a room compared to the same quality rooms in the rest of the city.
Hotels in Cau May – Muong Hoa – are more expensive than in the other areas because the view is very beautiful, including views of the Fansipan and Hoang Lien Son mountains.
Hotels in the center of Sapa – are full of tourists and many options of quality hotels, from affordable to expensive luxury hotels.
Homestay in Sapa – An overnight stay in a homestay is a great alternative to a hotel in the city itself if you don't mind staying in more basic accommodation.
Budget hotels & hostels
Mountain View Hostel

Go Sapa Hostel

Sapa Capsule

Mid-range hotel

Sapa Elite Hotel

Praha Hotel Sapa

Sapa Diamond Hotel

Sapa Eden Hotel

High-end hotel & resort

Sapa Legend Hotel & Spa

Sapa Freesia Hotel

Pao's Sapa Leisure Hotel
Food & drinking
Restaurants
There are many restaurants in Sapa, including both local dishes and western dishes such as pizza, pasta, and hamburgers. Try the specialties of the local hill tribes, often with wild mushrooms, herbs, and local fish.
Good Morning Vietnam Restaurant

Sapa Natureview

Little Vietnam Restaurant

Moment Romantic Restaurant

Good Morning View Restaurant

Hill Station Signature Restaurant
Nightlife
Sapa isn't known for having a raucous nightlife. A few bars provide an opportunity to meet other travelers, drink a few beers, and play pool. The majority of restaurants that serve beer and other alcoholic beverages close early in the evening.
Mountain Bar & Pub: This is the go-to bar for an evening out, with cocktails, cold beer, and games.
The Hmong Sisters is a large bar with pool tables and a fireplace, as well as live music.
How to get there
There is no airport in Sapa, but there are direct buses from Hanoi and a train station not far from the town.
Buses to Sapa
The cheapest way to get from Hanoi to Sapa is by bus. A bus connection has the advantage of going directly to Sapa City without stopping, and the bus also runs at night, just like the trains. It takes about 5 to 6 hours to travel from Hanoi to Sapa by bus.
Trains to Hanoi
Many visitors to Sapa prefer to travel by train because it is safe, comfortable, convenient, and saves time. The train only goes to Lao Cai station; from there, you must take a bus, minibus, or taxi to Sapa.
How to get around
Hiking – Because Sapa is a small city, many places in the city can be reached on foot. Hiking is also the best way to see the sights in the Sapa area. However, if you choose this mode of transportation, you'll need good shoes, plenty of water, and a lot of stamina. You can go on a few short day walks by yourself. A multi-day trek through the area with a guide who can show you the way is recommended.
Taxi – A taxi in Sapa costs nearly the same as one in Hanoi. Depending on the number of people in your group, you can often choose between taxis with 5 to 8 seats. Sapa Green Taxi, Phan-xi-pang Taxi, and Northwest Taxi are some reputable taxi companies. The cost per kilometer ranges from 9,000 to 12,000 dollars.
A motorbike can be rented for 100,000 VND per day in Sapa. Keep in mind that driving through the mountains of northern Vietnam is dangerous and should only be attempted by experienced drivers. An alternative is to ride with an experienced guide on the back of a motorcycle.
Per tour – Per tour is a convenient way to travel in Sapa. There is no risk of getting lost while riding a motorcycle on difficult roads. A simple way to see the highlights, as well as a local guide who can show you around and tell you about the area.
In Mai Chau 
Best time to visit
The best time to visit is between December and May. It may be cold for the first two months, but it will warm up after that. There is also very little rain during this time.
Winter lasts from November to February, with temperatures as low as 10 degrees.
June to September is the rainy season.
10 best things to do in Mai Chau
Mai Chau is a tranquil valley with vast rice fields, ethnic minority villages, and a few small waterfalls. There isn't much to do in Mai Chau, but that is part of what makes it so appealing to visitors. You've come for the peace and the natural beauty of the landscape.
1. Cycling through rice fields
Cycling in Mai Chau is fantastic, and it is one of the best cycling destinations in Vietnam. A beautiful landscape with rice fields surrounded by mountains and small ethnic minority villages can be found in the valley. The valley is nearly flat, with only a few small roads connecting the villages and little traffic. It's ideal for cycling because of this combination. You can hire a guide or rent bikes from your hotel or homestay; many places provide them for free or for a very low fee.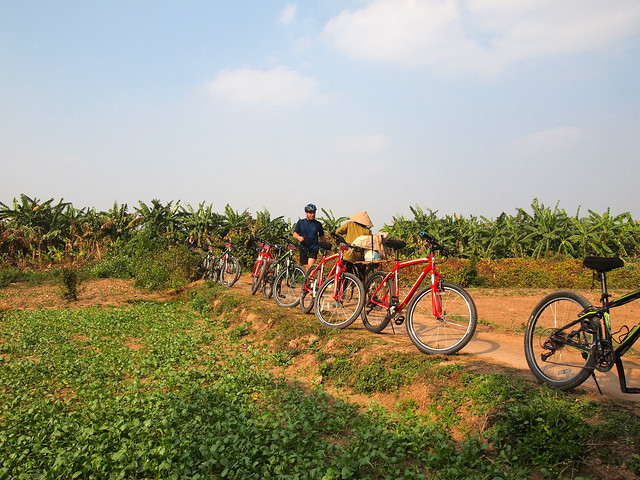 2. Homestay experience
Staying in a homestay run by a local ethnic minority is one of the best things to do in Mai Chau. Here you can learn more about their distinct culture and traditions. Homestays are available in Poom Coong and Lac, Mai Chau's two largest villages. The majority of the houses in this area are built on stilts. Life is simple: you wake up to the sound of roosters crowing and farmers going to work, you sleep on a creaking bamboo floor on a mattress, and you spend your evenings drinking local wine and watching a cultural show.
In Mai Chau, some homestays have upgraded their facilities to include more modern amenities and comfortable beds with private bathrooms. These small-scale accommodations are less authentic than hotels, but they still offer a unique experience.
3. Ethnic villages
Ban Lac, Pom Coong, and other villages dotted throughout the valley are quaint and serene ethnic Thai villages with very hospitable residents, with stilt houses and lush, green rice fields. The local population is seen working on the land and moving cattle during the day. In the evening, you are invited to unwind and enjoy traditional alcoholic beverages while taking part in Thai ethnic songs and dances. Biking or trekking are the best ways to see the Mai Chau valley's villages.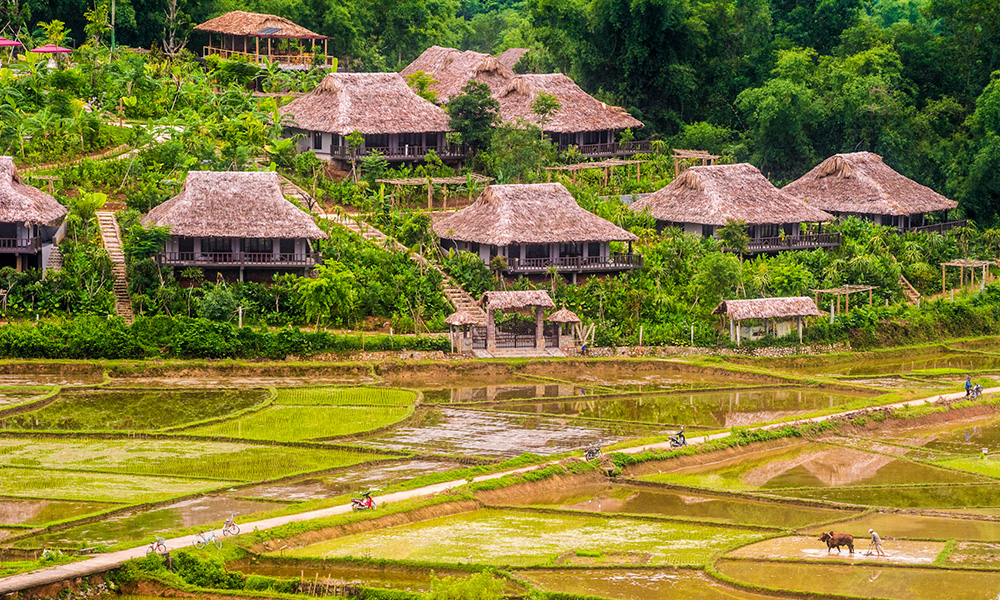 4. Go Lao waterfall
The Go Lao waterfall is one of Mai Chau's most beautiful sights. It stands about 20 meters tall and is situated in a lovely setting. You stand next to the waterfall after descending the unpaved stairs. There is little water during the dry season, but you can cool off in the cool water.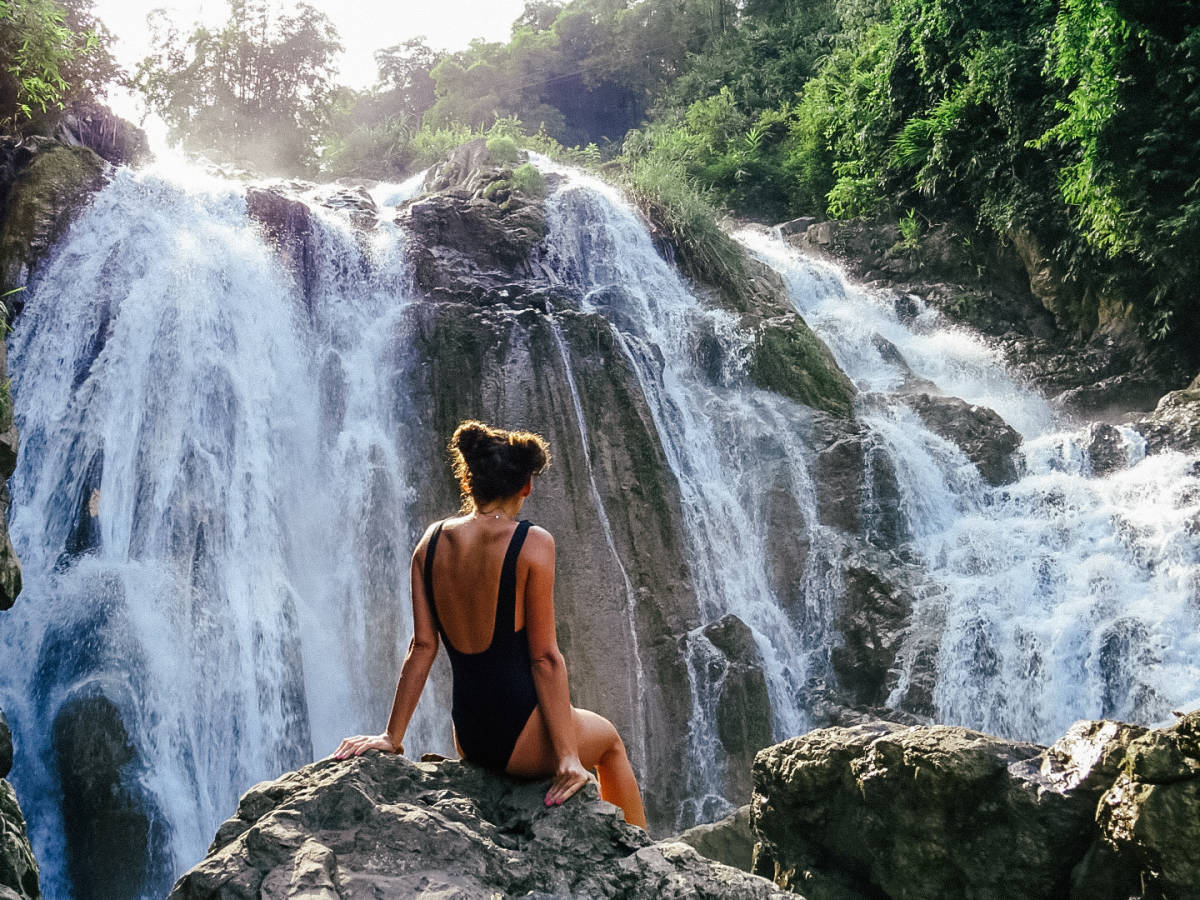 It's right next to Hoa Binh Lake, so it's ideal for swimming. Visit the Pung Waterfall and the Tat Nang Waterfall in Mai Chau if you want to see more waterfalls.
5. Pu Luong Nature Reserve
Pu Luong Nature Reserve is not only a must-see in Mai Chau but also one of northern Vietnam's top attractions. Beautiful rice terraces are surrounded by water wheels made of bamboo in this lovely landscape. There are ethnic minority villages nearby where you can see how they live. Trekking is the best way to see the villages and paddy fields in this area. Pu long is one of northern Vietnam's best-kept secrets.
6. Thung Khe pass
When taking the bus from Hanoi, you will have already passed through the Thung Khe Pass. However, if you do not stop here, it is worthwhile to return by car or motorcycle. You can rent a scooter and ride this pass on your own, but proceed with caution. A viewpoint with the best view of the Mai Chau valley can be found on this mountain pass. Driving a little further will reward you with even more breathtaking views of the mountains and countryside.
7. Hoa Binh lake
The construction of the Hoa Binh hydroelectric power station resulted in the formation of Lake Hoa Binh. With 47 large and small islands, it is northern Vietnam's largest lake. For around VND 50,000–70,000, you can rent a boat to explore the lake.
8. Climbing
Rock climbing is the most adventurous activity available in Mai Chau. Climb to the top for a spectacular view of the Mai Chau valley. There are several rock climbing routes to choose from, with something for everyone, regardless of age, athletic ability, or experience level.
9. Caves
The mountains of Mai Chau are formed by karst limestone bottoms, which are similar to the geological formations found in Ha Long Bay. Caves can be found wherever there is karst, and Mai Chau is no exception. Mo Luong Cave and Chieu Cave are the two largest caves in Mai Chau.
10. Go off the beaten track
Mai Chau isn't as well-known as Sapa or Ninh Binh, but if you're willing to travel a little, you can go even further off the beaten path here.
The two waterfalls previously mentioned, Pung and Tat Nang, are located further away from the tourist villages and are rarely visited by other tourists. Furthermore, they are situated in a breathtaking natural setting. Around the latter named waterfall, you can tour the entire Van Ho area, which includes many ethnic minority villages and stunning rice fields. Continue a short distance to Pac Co village, where on Sundays you can visit an ethnic minority market. Around the Pung waterfall, you'll find one of Mai Chau's few terraced rice fields in various locations.
Best hotels & hostels in Mai Chau
Lac and Pom Coong are two villages in Mai Chau where tourists look for places to stay. These two villages are also only a few hundred meters away from one another. The majority of accommodations are homestays, but there are a few hotels and luxury resorts as well. There are a few shops and restaurants in the village.
Little Mai Chau HomeStay

Mai Chau Backpackers House

Lim's house

Eco Homestay

Mid-range hotel

Mai Chau Nature Lodge

Mai Chau Valley View Hotel

High-end hotel & resort
Mai Chau Villas

Mai Chau Hideaway Resort

Mai Chau Ecolodge
Food & drinking
Restaurants
In Mai Chau, there are a few restaurants, but you're more likely to eat at your homestay, hotel, or resort. Overnight meals are frequently included in the price of a homestay, and the food is delicious. There is no menu available. Lunch and dinner are served from a set menu of classic, country-style dishes. It's simple and filling, and it'll keep you going as you explore the area.
Restaurants can be found in Mai Chau's main villages, surrounded by shops. Expect mostly regional fare. Check out the resort restaurants if you're looking for western cuisine.
Nightlife
Mai Chau has no real nightlife, which is a good thing for a town in this location. Every night, however, traditional dance shows are performed to welcome the newcomers. These shows are available at a number of hotels and resorts.
How to get there
There is no railway station or airport in Mai Chau. If you want to use this, you should first fly to Hanoi and then fly to Mai Chau.
Busses to Mai Chau
The quickest and most convenient method is to take a minibus from Hanoi. Most Mai Chau packages with accommodation include these minibusses from Hanoi to Mai Chau.
At 6 a.m., 8:30 a.m., and 11 a.m., direct buses to Mai Chau depart from Hanoi's My Dinh bus station. The trip costs between 80,000 and 100,000 dollars and takes between 3.5 and 4 hours. Ask the bus driver to drop you off in the villages of Lac or Pom Coong if you want to stay there. You will be dropped off at a crossroads from where you can take a taxi to your hotel.
At 9 a.m., 11 a.m., and 1 p.m., buses return to Hanoi. This bus can be reserved and picked up from the village by your host families in your homestay or hotel.
How to get around
Walking or cycling are the best ways to see Mai Chau. You can enjoy the scenery, wildflowers, rice fields, villages, and locals moving cattle from place to place as you cycle or walk along Mai Chau's unpaved roads. Trekking or cycling routes can be suggested by guides. Most hotels and homestays provide complimentary bicycles or can recommend a bicycle provider for a fee.
Furthermore, if you stay in a resort, they have electric golf buggies that they use to transport their guests around the rice fields. It's quiet, comfortable, and provides a little more sun protection.
In Ninh Binh
Ninh Binh is an adventurer's paradise and a nature lover's haven. The area is now a protected UNESCO World Heritage Site, full of mossy pagodas, striking limestone karsts, and surreal landscapes, and was once northern Vietnam's first capital. Are you ready for a thrilling adventure? Here are ten things you must do in Ninh Binh.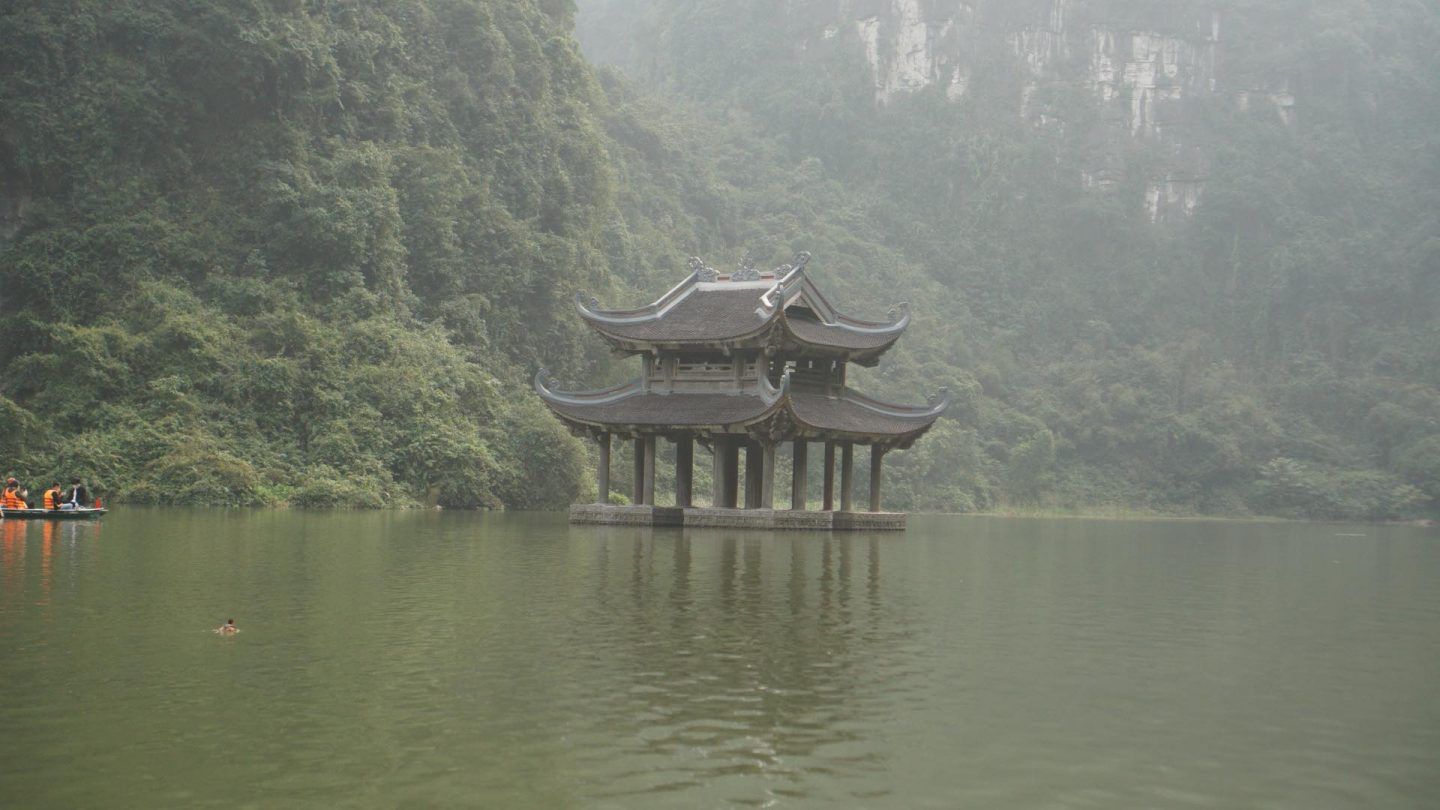 Paddleboat tours in Trang An and Tam Coc.
Only boats can access some of Ninh Binh's most beautiful scenery. A paddleboat tour in Trang An or Tam Coc is a must-do activity in Ninh Binh. In the shadow of massive, jungle-covered karsts, your own boatman or woman will paddle you along the gentle current. Along the way, the boats stop at temples and glide beneath grottoes.
TIP: Bring a snack and some water with you on your boat tour, which lasts two to three hours.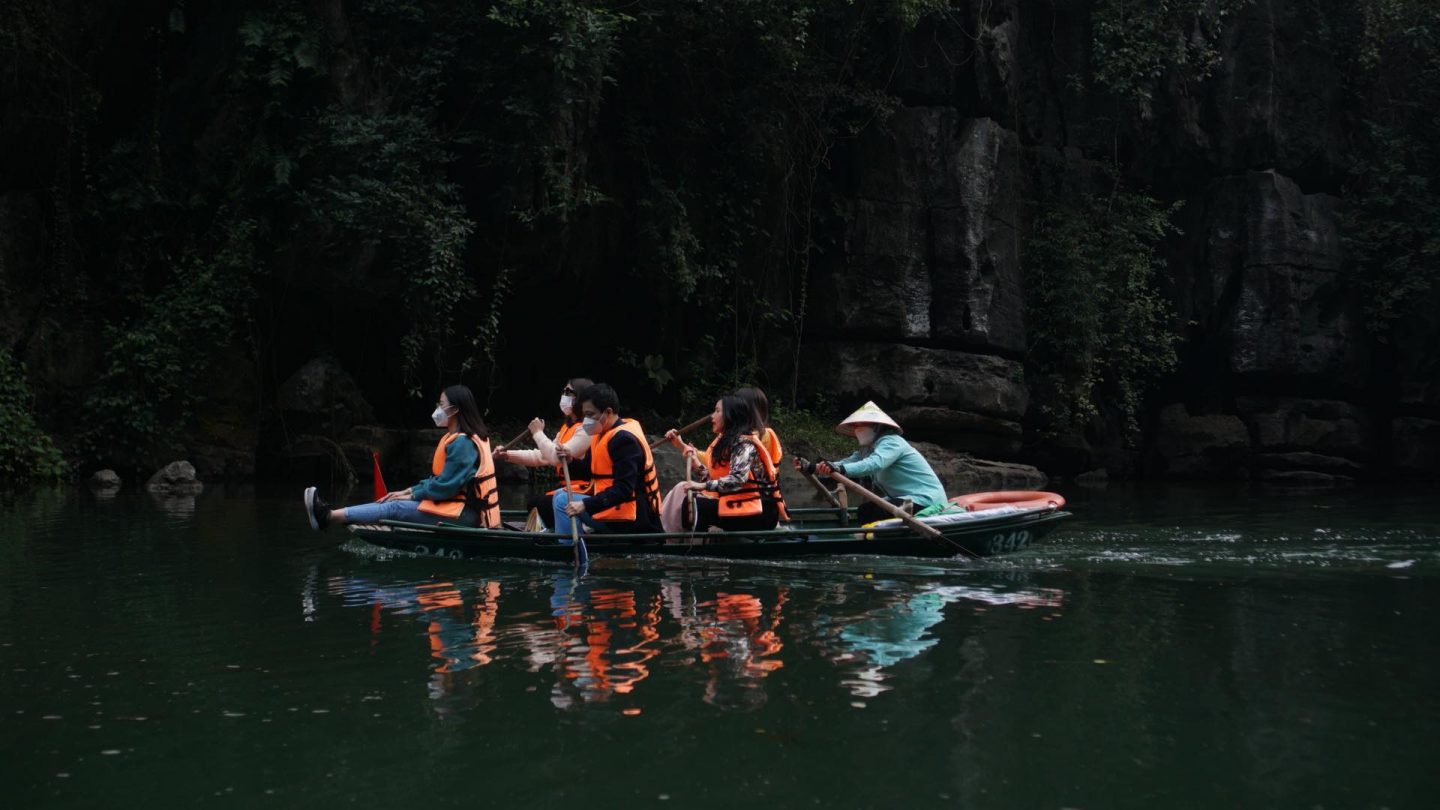 Temple trekking at Bich Dong Pagoda
Some of Ninh Binh's most beautiful scenery is only accessible by boat. In Ninh Binh, a paddleboat tour in Trang An or Tam Coc is a must-do activity. Your own boatman or woman will paddle you along the gentle current in the shadow of massive, jungle-covered karsts. The boats stop at temples and glide beneath grottoes along the way.
TIP: Bring a snack and some water with you on your two- to a three-hour boat tour.
Deguster the local specialities
What to eat in ninh binh?
Only boats can access some of Ninh Binh's most beautiful scenery. A paddleboat tour in Trang An or Tam Coc is a must-do activity in Ninh Binh. In the shadow of massive, jungle-covered karsts, your own boatman or woman will paddle you along the gentle current. Along the way, the boats stop at temples and glide beneath grottoes.
On your two- to the three-hour boat tour, bring a snack and some water with you.
Stroll through Hoa Lu Ancient Village
You'd be curious to hear what Hoa Lu's brick and vine-covered structures have to say if walls could talk. This is the site of northern Vietnam's first capital city, which is only 20 minutes away by car from the Trang An area. Hoa Lu reached its pinnacle in the tenth and eleventh centuries when the surrounding karst landscape provided a natural defense against invaders. Today, two atmospheric structures from the old citadel can be walked through. You'll be transported back in time by the compound's leaning archways, layered banyan trees, and rolling brick courtyards.
Conquer the top of Hang Mua 
The views from the Mua viewpoint, which is at the top of a steep mountain, are well worth the 200,000 VND ticket and the 500 steps up. You'll be rewarded with a 360-degree view of Tam Coc valley from the top. When the mist clears, you'll see a patchwork quilt of green rice fields below and snaking rivers weaving in, out, and around the ancient karsts.
Book a local homestay
While the city of Ninh Binh is great for beer corners and local restaurants, homestays in Trang An and Tam Coc are just a short bike ride away and offer sweeping rice paddies and lush scenery. Locals in Ninh Binh will be happy to provide you with insider information about the area. Try Emeralda Resort, Chez Beo, or Nguyen Shack for a memorable getaway from the crowds.
Wander the Bai Dinh Pagoda
The Bai Dinh Pagoda is a massive complex and Southeast Asia's largest Buddhist temple. This one-of-a-kind attraction is a popular pilgrimage destination for Vietnamese Buddhists, with crowds swelled during Buddhist holidays. To see everything on the site, you'll need a lot of time. Thousands of Buddha statues intricately carved bells, and a 13-story watchtower with sweeping views of the countryside will awe you.
Hop on a motorcycle tour
In Vietnam, a motorbike tour is always a good idea. In Ninh Binh, you'll learn about the backroads of the city and get an inside look at how the locals live. Ninh Binh's towering limestone karsts and vast paddy fields, as well as the local wildlife — climbing goats, placid water buffalo, and flocks of ducks — whizz by in a flash of vibrant green and dark gray from the seat of a motorcycle. You can book Tommy's Service for a customized back-of-the-bike experience if you don't drive..
Go for a hike in Cuc Phuong National Park
Cuc Phuong is one of northern Vietnam's oldest national parks, located only an hour from Ninh Binh City. The entrance fee to the park is only 20,000 VND. Inside, you'll find a variety of attractions, including reptile and primate rehabilitation centers, as well as trails through the national park that lead to a number of ancient trees, some of which are over 1,000 years old. Allow half a day for a rejuvenating hike through the forest, followed by a local lunch within the park.
Explore the Van Long Wetlands
The Van Long Wetlands is a magical marshy reserve set in the shadow of a massive limestone mountain. Bird watchers flock to the reserve, which is home to a wide variety of feathered friends. Take a boat tour to see the remote scenery and get a unique perspective on this tranquil setting.
This is the end of the Northern Vietnam itinerary that we recommend for you. If you have any questions, feel free to contact us via: https://mettavoyage.com/contact-us/
Our page: https://www.facebook.com/mettavoyage
Contact Me