At the Webinar event in July, we would update new travel trends in Southeast Asia and some travel restrictions here. In addition, we was also honored to welcome a special guest, a travel expert, an important partner of Metta Voyage in Laos. He would help us provide tourist information, flight routes to Laos. In particular, we have gift incentives for companies who have early bookings with us. Hope to provide you with all the essential information about this event and receive your bookings soon.
1. PART 1: INTRODUCE THE PRESENTATION AND SPEAKERS
Southeast Asia Travel Update in July 2022, we are so happy to welcome the two speakers of this webinar: Mr. Phan Trong Thang (Director of Metta Voyage) and Mr. Phanseng Souksawai (Travel expert in Laos). Our event has 5 parts, firstly we introduce our speakers and main contents of today. Then we will update travel news & travel restrictions in Southeast Asia in July 2022. Continue with tourism updates in Laos and promotions for early booking with Metta Voyage. Finally is the short discussion in webinar #6.
Mr. Phan Trong Thang: The director of Metta Voyage – The Wellness Tour Operator in Vietnam. Experienced Director Of Sales Marketing with a demonstrated history of working in the leisure, travel & tourism industry. Skilled in Leisure Travel, Tour Operators, Marketing, Customer Service, and Tourism. He will present Vietnam with updates about travel restrictions,  trends, events, and promotions.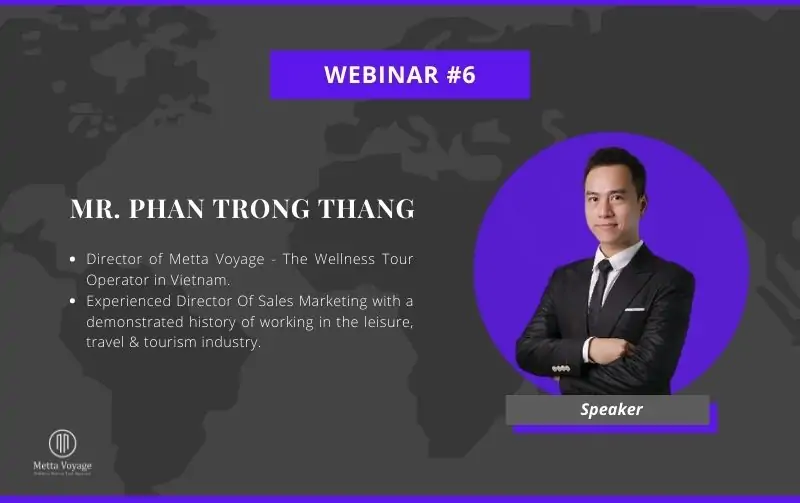 Mr. Phaseng Souksawai ( travel expert in Laos): With passion and over 8-years of experience working in the leisure travel & tourism industry, he became a professional travel expert and made an outstanding contribution to Laos tourism industry. Currently, Mr. Phanseng is an essential representative partner of Metta Voyage in Laos. And he will present an update on tourism in Laos.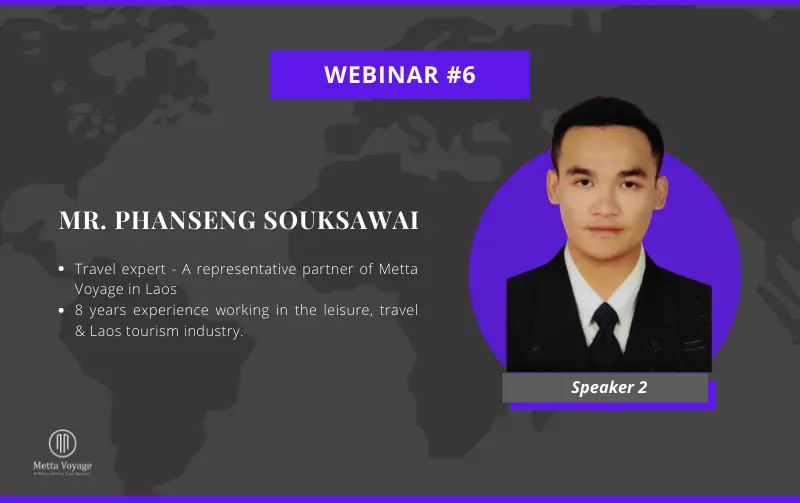 2. PART 2: SOUTHEAST ASIA TRAVEL UPDATE
2.1. Introduction about Metta Voyage
Metta Voyage is found at the end of 2019 by two passionate Co-founder Mr. Thang Phan and Mr. Cuong Bach with the philosophy of "Wellness tourism" – means bringing the concept of holistic wellness in tourism operations and hospitality to visitors and business partners, creating a healthy, loyal long-term cooperation with mutual benefits, customize the journeys that bring more profound benefits to customers, not just stopping at local sightseeing.
2.2. Update travel restrictions in Southeast Asia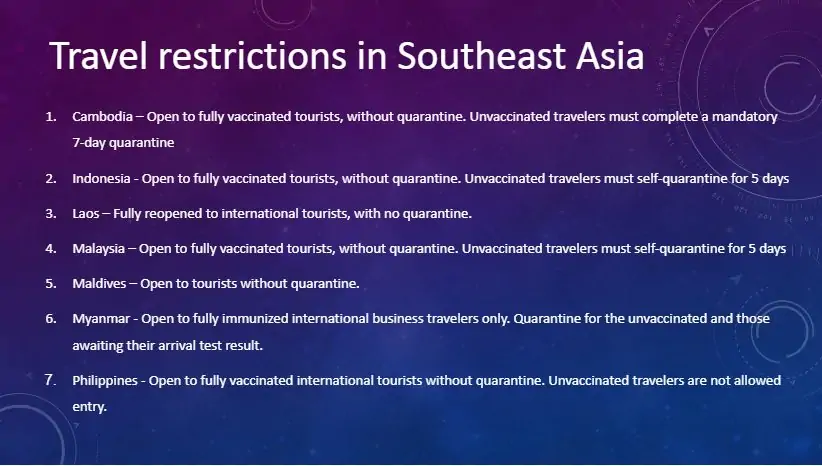 Cambodia: The Ministry of Tourism of the Kingdom of Cambodia informed that "Cambodia is a Safe and Warm Tourism Destination". Open to fully vaccinated tourists, without quarantine. the Royal Government of Cambodia has officially decided to reopen the Visa On Arrival service, waiving the requirement for the Negative 72 – hour certificate of COVID – 19 PCR Test Result prior to arrival in Cambodia and waiving the requirement for Antigen Rapid Test upon arrival for all fully vaccinated national and international travelers entering Cambodia by air, land, and sea started from 17th March 2022. But, unvaccinated travelers must complete a mandatory 7-day quarantine.
Indonesia: Open to fully vaccinated tourists, without quarantine. Unvaccinated travelers must self-quarantine for 5 days.
The requirements for entering Indonesia for international travelers:
Take possession of Proof of Vaccination or Vaccination Certificate (physical or digital).
Download and make use of app Peduli Lindungi.
No need to present a Negative proof of the RT-PCR test.
No need to present proof of health insurance.
Laos: Fully reopened to international tourists, with no quarantine. Unvaccinated or partially vaccinated travelers over 12 years old need to provide a negative COVID-19 (rapid ATK) test taken within 48 hours before travel.
Malaysia: Open to fully vaccinated tourists, without quarantine. Unvaccinated travelers must self-quarantine for 5 days.
Maldives: Open to tourists without quarantine.
Myanmar: Open to fully immunized international business travelers only. Quarantine for the unvaccinated and those awaiting their arrival test result.
Philippines: Open to fully vaccinated international tourists without quarantine. Unvaccinated travelers are not allowed entry.
Singapore: Open to fully vaccinated international tourists. Unvaccinated tourists are not allowed to enter. They will follow the Vaccinated Travel Lane (VTL) before the client travels there for 3 day, they need to submit the certification on the website of the government of Singapore.
Sri Lanka: Because of the political problem here, we are not recommended travelers to go to Sri Lanka at the moment.
Thailand: Totally open to international travelers. Fully vaccinated tourists and unvaccinated tourists who present a negative COVID test do not have to self-quarantine. Unvaccinated travelers without testing can enter the Happy Quarantine program.
Vietnam: Totally re-opened to international tourists (vaccinated and unvaccinated) without quarantine. Most travelers are now going to Vietnam for summer vacation. The number of travelers who come to Vietnam in June and July is double that of two of the previous month, so it is very good news for Vietnam and international travelers who want to travel to our country.
2.3. Travel trends in summer 2022
After Covid-19, travel trends have changed a lot, specifically, now most people will choose as follows:
Private tour (family traveling together, a small group of friends or relative)
Back to nature (most people now are not choosing to travel in crowded areas or big cities. They are choosing different areas like the resort, the jungle, or even the beach resort.
Start in a resort or a private hotel (Most people prefer the smaller side of the resort and private hotel to have the less crowded areas)
2.3.1. Family travel 
At the moment, after 2 years of COVID-19, so many trips that the family wanted to take together have been postponed. We have seen a rise in demand for family travel. Many last-minute bookings from European countries that only book two or three weeks in advance to travel to Southeast Asia happen. And they like to visit destinations that are educational and entertaining for all ages.
2.3.2. Guaranteed Travel 
The trend is now changing from domestic travel to outbound travel. Because of the always-changing status of the pandemic-related restrictions, clients want to book a trip they can modify, even cancel, or delay if something happens. That is why, when we book a reservation for a traveler, we always negotiate with all suppliers who have a flexible policy that if the clients have any problems with the positive COVID-19, the flexibility is changing the travel date for the traveler.
2.3.3. Wellness Travel 
Wellness Travel is the new term in the travel industry but it has developed very drastically in the upcoming time, this kind of travel type is focusing on self-care. They will care about mental health or the development inside. Wellness-focused travel is growing at a 50% faster rate than conventional travel.
Wellness travel is no longer limited to yoga, meditation treatments, or spa treatments. There are now more and more open topics on wellness travel that have the reconnection of the relational relationship between parents and children on the trip or connecting with yourself while on the trip. At the moment a lot of the wellness travel we organize in Southeast Asia is the restorative, retreat, yoga retreat or also like meditation retreat. Now we also receive some requests from the couple, they also want to join the wellness travel with the couple therapy and intimacy retreat.
2.4. Update promotions and events in Vietnam
Da Nang
In June, Da Nang confirmed that they will organize "Enjoy Danang Summer Festival 2022", which will take place from June 11 to August 15. With three main themes: Enjoy Da Nang festival & music; Enjoy Da Nang beach;  Enjoy Da Nang delicacy. To promote tourism, Da Nang has set up a number of other festivals to boost tourism such as Flower Festival (in May), Beer Festival (30 April to 30 August),… In addition, they also organize other live performances such as Flower City,  City of Sun,…
At the same time, the Department of Tourism has advised to promulgate and implement a plan to pilot activities and entertainment at night at My An beach, the program Da Nang at night – Danang by night, and coordinate with the Department of Transport in implementing the plan to renovate Nguyen Van Troi bridge to organize walking and sightseeing tours to serve people and tourists; invest in decorative lighting cluster Hoang Sa – Vo Nguyen Giap – Truong Sa.
Ho Chi Minh City
About this city, The "See Ho Chi Minh City from Above" tour is the first step in a series of products that they are developing to attract tourists. This program is taken by helicopter
Duration: 40 mins
Price: 178 euros
Take place in Aeon Mall Tan Phu – Aeon Mall Binh Tan – Université RMIT – Phu My Bridge Thu Thiem Bridge – Landmark 81 building – Binh Quoi Tourist Area (Binh Thanh District)
3. PART 3: TOURISM UPDATE IN LAOS
3.1. The newest information about tourism in Laos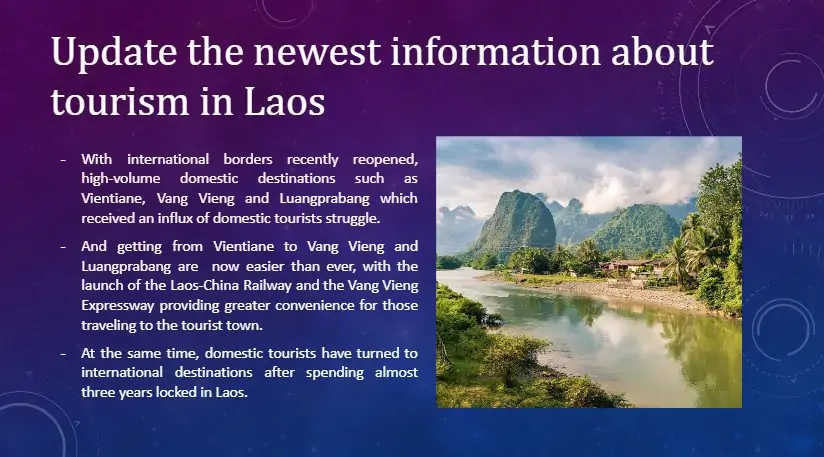 Domestic tourist destinations such as Vientiane, Vang Vieng and Luangprabang, which have always received a large number of tourists, have begun to struggle after international borders have begun to reopen.
The introduction of the Laos-China Railway and the Vang Vieng Expressway, it has made traveling to Vang Vieng extremely easy, providing convenience for travelers interested in traveling to the city.
3.2. Flight routes in Laos
3.2.1. Now
Vietnam
Hanoi to Vientiane or Luang Prabang
Ho Chi Minh City to Vientiane
Thailand 
Bangkok to Vientiane, Luang Prabang and Savannakhet
Chiang Mai to Vientiane and Luang Prabang
Udon Thani to Luang Prabang
Cambodia 
Siem Reap to Luang Prabang
Siem Reap to Pakse
Siem Reap to  Vientiane via Pakse
3.2.2. Future routes (Laos airlines)
Vientiane to Danang (Vietnam) or Chiang Rai (Thailand)
3.3. New train station in Laos
In early December 2021, Laos was supported to open a new high-speed train from Vientiane to Luang Prabang (2 hours)
Much cheaper ~ 30 dollars (if you choose a flight ~105 dollars)
The train station is about 20-25 km from the city (depending on the station)
4. PART 4: PROMOTION FOR EARLY BOOKING
For our valued clients, we have 2 options of promotion for early booking (15 – 30 days) below:
Free a meal (lunch/dinner)
Or
Noted: 
Applies to all bookings from now
Promotion valid until September 30, 2022
5. PART 5: DISCUSSION
1. What is it like to travel by train? Do they not need the PCR test or ask for something else?
Based on the different countries. In Vietnam, they don't need to show any information when they travel in Vietnam, even on domestic flights, trains, or even public buses. They don't need to show any certification to get on.
2. How can I get your package in Vietnam? 
We will send you the tariff of the package in Vietnam and Laos after this Webinar. If you already, give us the address email so we can send it to you.
3. Do you have a package for Cambodia? 
Yes, we also. Not only Vietnam and Laos, we also have Cambodia and Thailand. We have four countries update packages for you to promote for your traveler.
Contact us
Website: mettavoyage.com
Email: [email protected]
Hotline 24/7: + 84 989 383 572
Facebook fanpage: https://www.facebook.com/mettavoyage