Hoi An is among the most attractive destinations, not only in Vietnam but even in Asia, for tourists around the world. This is due to the fact that Hoi An is the home to a diverse mixture of cultures and traditions. From Japan, France to China and India, you can easily identify the elegant touch of fusion embedded into different corners of Hoi An. The most prominent influence of multinational cultures lies in Hoi An's various dishes, vegan and vegetarian dishes included.
Hoi An is a perfect stop for a detox retreat, and there's no better way to detox and cleanse your body than trying out a detox diet of vegan and vegetarian dishes. However, in contrast to common belief, finding a tasty and healthy vegan/vegetarian dish in Hoi An during your detox retreat is not at all challenging. Thanks to the movement of vegetarianism spreading across the globe, for humanitarian reasons and detox reasons, Hoi An is full of vegan/vegetarian restaurants, which will offer you a wide range of options for your detox diet in this beautiful city.
1. Am Vegetarian Restaurant
Location: 33D Ly Thai To street
'Am' means warm in Vietnamese, which is the exact feeling when you enter this cozy restaurant. Lit with Asian-signature lanterns, this detox restaurant in Hoi An follows the bohemian style of decoration, creating a homey yet artistic ambiance to the interior design.
Am Vegetarian Restaurant's 'special spring roll' is a must-try when you visit this place for a detox meal, rumored to be the best-fried spring roll in town. Other detox healthy dishes include banh xeo, pad thai and vegan hot pot, all made to perfection with a surprising twist from your favorite chefs. The food here is phenomenal, especially for such a reasonable price.
2. Minh Hien Vegetarian Restaurant 
Location: 50 Tran Cao Van / 30A Dinh Tien Hoang
Located just outside of the Old Town of Hoi An, Minh Hien Vegetarian Restaurant is so-called the best in vegetarian/vegan food in Vietnam. Away from the crowded street of the ancient town of Hoi An, offering a great variety of traditional and healthy food, Minh Hien is definitely a perfect location for a full detox in Hoi An.
The local Vietnamese vegan house is set up with lines of books and many seatings, creating a nostalgic vibe and spacious atmosphere for diners. Even without any meat dishes, the menu at Minh Hien Vegetarian Restaurant is rather extensive and full of vegan and healthy options for your detox retreat in Hoi An. Some notable dishes include Hoi An special dumplings, Vietnamese pancakes and noodles.
Minh Hien now offers a vegetarian cooking class at their second location, assisting beginner vegans and vegetarians in cooking healthy and delicious vegan dishes for their detox diet.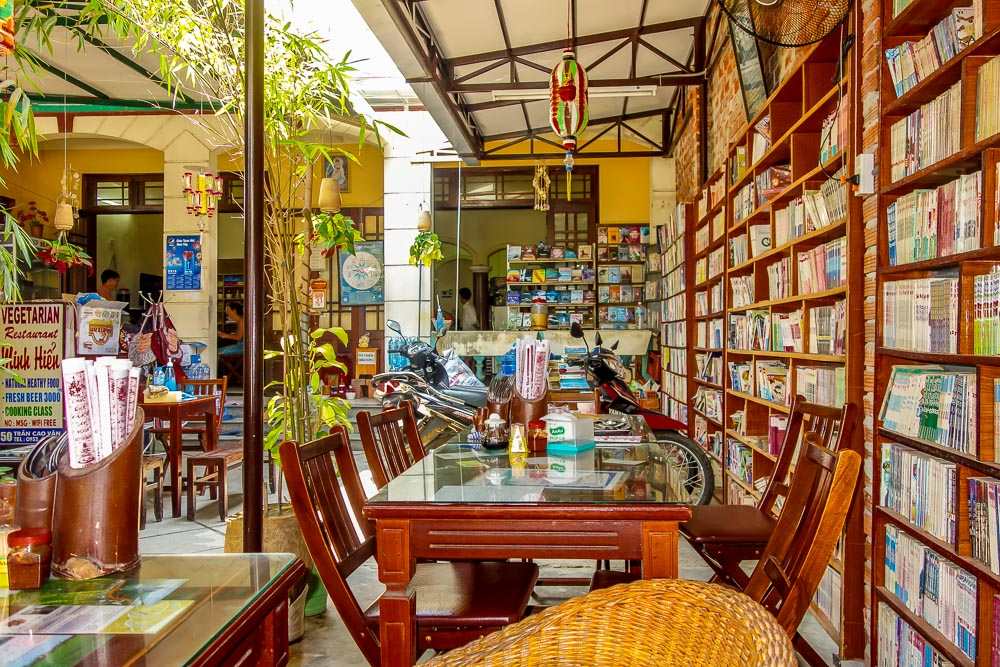 3. Quan Chay Ba Dam
Location: 71/20 Phan Chu Trinh
Quan Chay Ba Dam is a lovely family business, founded by a family of Hoi An locals. It is organized in the form of a vegetarian buffet. With an extremely reasonable price at only 20,000 to 30,000 VND, feel free to create your own plate from a diverse selection of vegetables, soy-meat substitutes, rice and noodle soup.
If you are new to a vegan lifestyle, and are not at all accustomed to vegan and detox dishes, here you are able to experiment with different types of vegetarian food to see which one would be your favorite.
The only disadvantage of Quan Chay Ba Dam is that it's located in a small alley, so traveling by car can be bumpy. However, for international tourists, this gives a much more local feeling when visiting this restaurant on their detox retreat in Hoi An.
4. Banh Mi Chay (Vegan Banh Mi)
Location: Phan Chau Trinh & Nguyen Hue street
Can you find a signature food that screams 'Vietnamese' better than 'banh mi'? I don't think so. If vegan and vegetarian sandwiches are quite common and even considered 'boring' in many countries, banh mi chay is a surprising twist to the specialty of Vietnamese cuisine that without a doubt, will mesmerize any food-lovers.
At her banh mi stall on Phan Chau Trinh and Nguyen Hue street, a sweet local lady, who can't even speak any English, has been selling vegan banh mi to thousands of foreign tourists, and she's been very good at it. There's only one type of banh mi at her stall, a flavourful banh mi stuffed with diced mushrooms, marinated tofu, pickles, garnished with chopped peanuts, herbs and a secret ingredient drizzled to moist up the bread.
And guess how many does it cost? Only 15,000 VND for a healthy and hearty detox meal in Hoi An!
Location: 12 Le Hong Phong
This is indeed a heaven on Earth for any vegan food and cat lover. The cafe/cat shelter was first started in 2009 as a foster project by Emma Bolton and Phong Nguyen from Vietnam Cat Welfare program. In Vietnam, sadly it is common for family pets to be abandoned or abducted by meat traders. Their simple intentions when beginning this project is to rescue abused and abandoned cats, providing them with medical care, and temporary shelter when searching for a new home, as well as educating the society of the inhumane treatment and reality that these poor animals are facing.
If you have come to Hoi An for a detox retreat and would like to support their good cause, Jack's Cat Cafe does offer a wonderful opportunity for you to contribute. They ask for only 100,000 VND admission fee per person to fund the project, and in return, you get to feast on delicious vegan dishes with a complimentary drink of your choice. Enjoying good food while playing with kittens, how can you find a better detox retreat like that in Hoi An?
Visit Metta Voyage now to get updates on interesting and useful information about wellness lifestyle & holiday!