With the ever-growing economics around the world, today, we are easily caught in the increasingly fast-paced and chaotic daily routine, which undoubtedly has been putting us under great pressure. The considerable amount of stress from work and personal relationships can put a toll on not just our physical but also mental health.
Therefore, it is important that every once in awhile, we learn to let our hair down, detox and take care of our wellbeing, mentally and physically. It's called a detox retreat, and what better way to do one in Vietnam than combining it with the ultimate practice of mind, body and soul – yoga?
Despite not having a long-standing tradition of yoga, in recent years, Vietnam is now among the most attractive destinations for yoga detox retreats, alongside the so-called 'birthplaces of yoga', such as Bali, Indonesia or India.
A contributing factor is that the thriving and fast-growing trend of yoga practice in Vietnam has resulted in the increasing number of yoga studios and retreat centers. This helps to cater to the various needs of yoga enthusiasts, of different skill and experience levels as well as socio-economic classes. Another being the diverse and mesmerizing natural sceneries that stretch throughout the country, offering a perfectly peaceful and comfortable environment for your yoga detox retreat in Vietnam.
Whether you prefer a yoga detox retreat by the beach, in the city or upon the hillsides, Vietnam has you cover. Here are some of our recommendations. 
Location: Lane 486, Nguyen Tri Phuong, Cam Nam, Hoi An, Vietnam
Gratitude Vietnam Retreat Centre is one of the most popular yoga detox retreats centers in Vietnam, located in the beautiful and ancient town of Hoi An. The intimate and eco-friendly retreat center was founded by two best friends – Hannah and Naomi, who are both long-time Usui Shiki Ryoho Reiki practitioners. With the wellbeing of the guests being a top priority, Hannah and Naomi have been providing a safe, welcoming and nurturing environment for any customers looking for a yoga detox retreat at Gratitude Vietnam Retreat Centre in Hoi An.
Gratitude Vietnam Retreat Centre offers a diverse range of yoga and meditation retreats that can be easily accessed and tailored to your personal needs. You can choose to treat yourself on healing and recharging yoga detox weekend or enjoy a full yoga detox retreat of up to 7 nights in the peaceful oasis of Gratitude Vietnam Retreat Centre.
Apart from daily yoga and meditation sessions that help to detox your body and mind, there are various other relaxing activities you can take part in at Gratitude Vietnam Retreat Centre to enhance your body, mind and spirit connection. For example, you can kick-start your healing journey in a 1:1 singing bowl healing or Reiki sessions with their certified instructors, joining in a meditation workshop, or enjoy a delightful and nutritious farm-to-table meal at the end of the day. What better way to enjoy a yoga detox retreat right here in Vietnam?
For the general retreat, a 2-night stay at Gratitude Vietnam Retreat Centre starts from $239, 4-night from $479 and 7-night from $699, meals, accommodation and facilities included.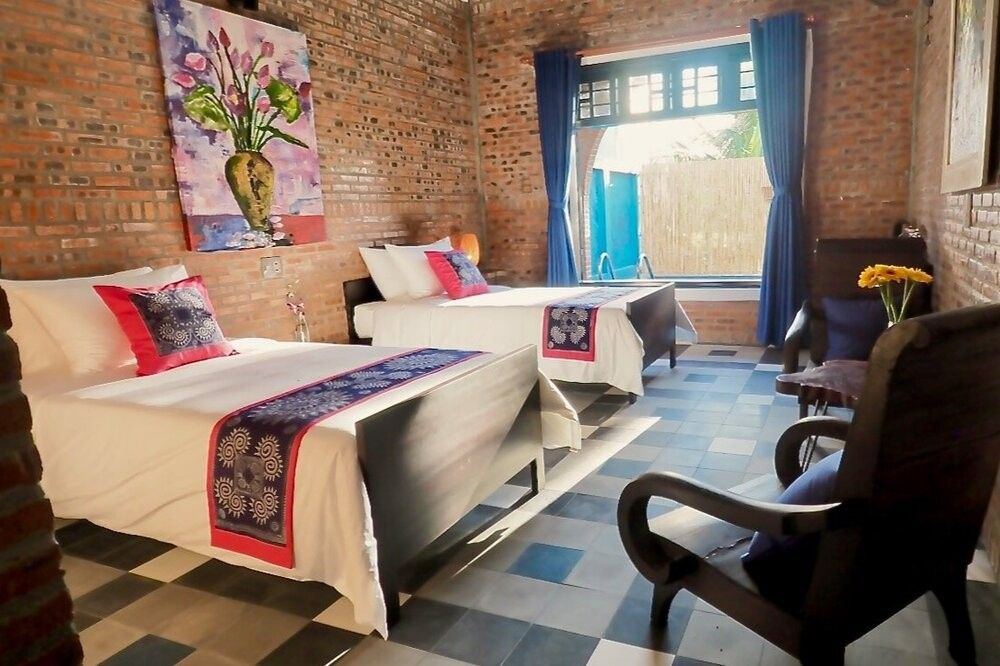 Location: Vo Nguyen Giap Street, Khue My Ward, Ngu Hanh Son District, Da Nang City, Vietnam
Fancy for a luxurious yoga detox retreat by the beach in Vietnam? Then Fusion Maia Da Nang is the perfect place for you.
With a mesmerizing beachfront location on the coast of Da Nang, a range of villas with private pool and 5-star services, Fusion Maia Da Nang is among the top retreat locations in Vietnam, especially when you're planning to combine a deluxe vacation with yoga detox practice. Whether you are detoxing by yourself, with your significant other or with your big family, the sense of relaxation, wellness and refreshment at Fusion Maia Da Nang is suitable for all.
Fusion Maia Da Nang gladly offers a variety of wellness activities. The healing program is inspired by the '7 Dimensions of Wellness' philosophy, for a natural lifestyle and holistic wellbeing that you can easily incorporate into your daily life. Each practice is scheduled on a specific day during the week, from Monday to Sunday, from 7.00 am to 6.00 pm. Choose among various classes from Fusion Flow Yoga for mind, body and soul to lifestyle Tai-chi at the beach for improved posture, breathing and relaxation.
Later, fully lay back and enjoy complimentary spa sessions, one-of-a-kind experience at Fusion Maia Da Nang, which allows you to shake off all distractions from your daily modern life and access full freedom to rejuvenate at your leisure.
Doesn't this perfect your ultimate yoga detox retreat experience in Vietnam?
Location: Lao Chai Village, Sapa, Lao Cai, Vietnam
Up the rooftop of our beautiful country Vietnam, look for Sapa Clay House in Sapa, Lao Cai when you're planning a yoga detox retreat up on the mountain. This is rated one of the best retreat centers in Sapa, guaranteeing a nurturing and relaxing experience for any yoga-enthusiasts.
Inspired by the Ha Nhi traditional house in Vietnam, Sapa Clay House – Mountain Retreat is a combination of traditional housing and modern architecture that follows a natural and environmental-friendly structure. When doing a yoga detox retreats at Sapa Clay House in Vietnam, you have the accommodation options of a Private Bamboo Hut, offering the wonderful view over Hoang Lien Son mountain and the paddy field of Y Linh Ho village, or one of four Seasonal Houses, made from local clay for a close-to-nature experience.
A plus point for Sapa Clay House is that your yoga detox retreat vacation is scheduled very flexible and can be tailored to your best preference. Imagine practicing yoga while overlooking the marvelous sceneries of our beautiful countryside.
You will come back from this yoga detox retreat in Vietnam completely healed and fully relaxed.
Visit Metta Voyage now to get updates on interesting and useful information about wellness lifestyle & holiday!