In March, we will update you with extremely positive information in the Southeast Asian tourism market. This is your opportunity to advertise to your customers for new bookings in the next month.
We hope that this Webinar provides more information to contribute to your planning of organizing the trip to travel to Southeast Asia countries.
Part 1: Introduce the presentation
Southeast Asia Travel Update in March 2022, firstly we will update travel news & regulation in Southeast Asia March 2022 and then is some first tourist arrival reports for 2 months 2022. Finally, we will introduce the Metta Voyage team and the short discussion in webinar #4.
Travel restriction update in South East Asia
Cambodia: One of the first countries that have fully reopened the country for inbound travelers. Removes testing for international travelers, reinstates visa on arrival
Indonesia: They have some more flights with different sandbox destinations. MotoGP generates increased demand for flights to Lombok, reaching record highs
Laos: Remain restrictions. Lao nationals and residents see eased entry requirement paperwork.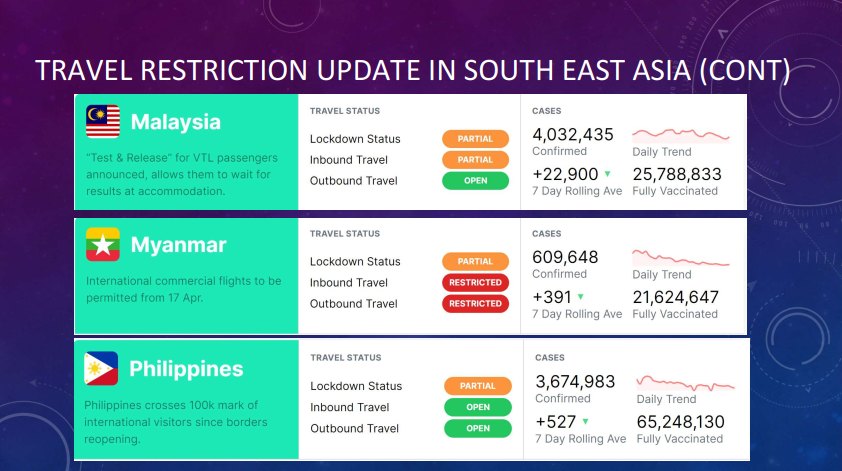 Malaysia: "Test & Release" for VTL passengers announced, allows them to wait for results at the accommodation. They don't need to be quarantined in specific hotels but they can have quarantine at their own accommodation. 
Myanmar: International commercial flights to be permitted from 17 April. this is one of the countries that still closed for the inbound and outbound travel
Philippines: This is one of the four countries that have positive actions about reopening the country and welcoming inbound travelers. Crossed 100k mark of international visitors since borders reopening. 
Singapore: One of the main hub international flights so that is why they still continue the VTL network to 66 cities in 27 countries, reaching 57% pax pre-pandemic capacity by April.
Thailand: Is one of the countries that have recovered the "Test & Go" program. Pre-departure RT-PCR test agreed to be removed from 1 April, travel trade urges further easing to stay competitive. 
Vietnam: Vietnam government has released the very last minis announcement for opening the country on 15 of March and they already have the decision to reopen the country for international travelers, and they have carried out the visa exemption for 17 countries. 
Travel industry news in February 2022
Thailand
Thailand to lift the pretravel testing requirement for international arrivals from 1 April 2022
Starting April 1, foreign travelers will no longer be required to hold a Covid-free certificate issued within 72 hours of boarding a flight, but they will have to undergo an RT-PCR test on arrival and a self-administered antigen test on day five
Points of entry:
The number of approved airports increased from 7 to 8 – Don Muang, Suvarnabhumi, Phuket, Krabi, Samui, Chiang Mai, U-Tapao, and Hat Yai (new)

Land border checkpoints increased from 3 to 4 – Nong Khai, Udon Thani, Songkhla and Satun (new)

Water points of entry increased from ports and piers in 2 to 3 provinces – Phuket, Chon Buri, and surat Thani (new)
Singapore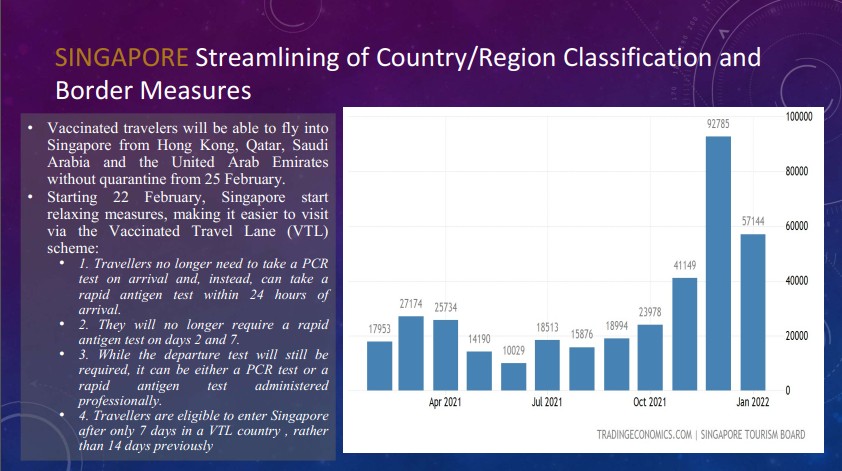 Streamlining of Country/Region Classification and Border Measures. This is the most recent report that they have announced for January 2022.
Vaccinated travelers will be able to fly into Singapore from Hong Kong, Qatar, Saudi Arabia and the United Arab Emirates without quarantine from 25 February.
Starting 22 February, Singapore start relaxing measures, making it easier to visit via the Vaccinated Travel Lane (VTL) scheme:
Travelers no longer need to take a PCR test on arrival and, instead, can take a rapid antigen test within 24 hours of arrival

They will no longer require a rapid antigen test on days 2 and 7

While the departure test will still be required, it can be either a PCR test or a rapid antigen test administered professionally.

Travelers are eligible to enter Singapore after only 7 days in a VTL country, rather than 14 days previously
Cambodia
Drops COVID testing requirements for overseas visitors. It means that only a few days ago from 15 of March, they cancel the requirement to show negative COVID-19 PCR test result, Cancel the requirement to do rapid test (ATK) in arrival, Allow Visa on Arrival for all international passengers, either air, land and water passengers.
Cambodian Prime Minister Samdech Techo Hun Sen announced on Thursday that all inbound travelers are no longer required to present a medical certificate for a polymerase chain reaction (PCR) negative COVID-19 test within 72 hours prior to their arrivals to the country.
Hun Sen said all inbound passengers will also not be required to undergo a rapid test upon their arrival at any ports of entry. This is the effort of the country to attract more travelers to come to Cambodia in the upcoming time. 
Vietnam
Official open from 15 March, and FREE VISA FOR 13 countries. They also carry out the instructions to come to Vietnam. 
You can see here, for the last three months, this is the first report for the international traveler to come to Vietnam. Asia countries already have 32,723 travelers coming to Vietnam, increasing 32,1%. European countries have 10,130 travelers arriving, increasing 298%. American countries have 4,826 travelers, increasing 442,2%. Australian countries have 1,364 travelers, increasing 430,7%. For African countries have 201 travelers. The traveler from Asia, European, America, Australia has already arrived to Vietnam. Maybe this is a good reason for you to start planning some new programs for your traveler to come to Vietnam destinations.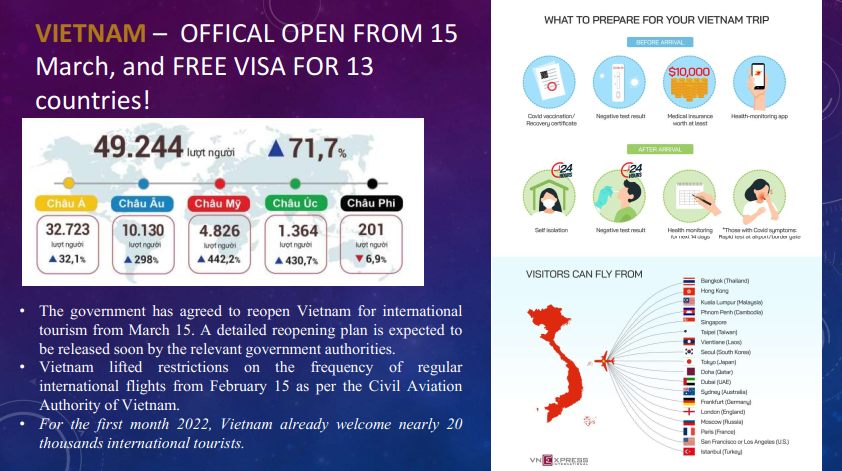 What to prepare for your Vietnam trip?
Before arrival
Covid vaccination certificate

Negative test result within 24 hours

Medical insurance worth at least $10,000 

Health monitoring app (PC COVID)
After arrival
Self-isolation 

Negative test result (one more time)

Health monitoring for next 14 day

Those with Covid symptoms: rapid test at airport/ border gate
The government has agreed to reopen Vietnam for international tourism from March 15. A detailed reopening plan is expected to be released soon by the relevant government authorities.
Vietnam lifted restrictions on the frequency of regular international flights from February 15 as per the Civil Aviation Authority of Vietnam
For the first month of 2022, Vietnam has already welcomed nearly 20 thousand international tourists.
Indonesia
Indonesia lifts quarantine requirements for the international traveler
Starting from 22 March 2022, Indonesia has lifted all quarantine requirements for overseas visitors, two years after it imposed border restrictions to stem the spread of COVID-19. The announcement was made yesterday by Tourism and Economy Minister Sandiaga Uno, who expressed hopes that the loosening of travel restrictions will boost the number of foreign tourists to over 3 million in 2022.
The announcement came after the successful implementation of a trial quarantine waiver for visitors to Bali, as well as to Batam and Bintan islands close to Singapore. The minister said that foreign tourists will still be required to have a negative CR test before entering the country.
Philippines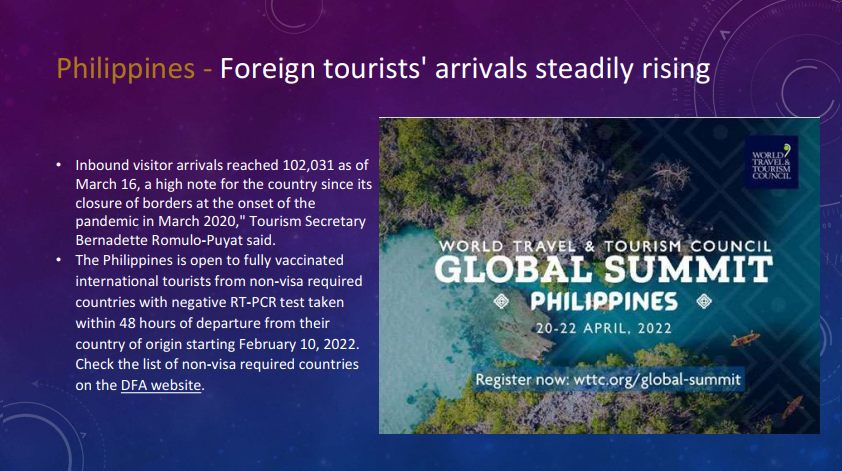 Foreign tourists' arrival is steadily rising. They will hold the event that would be "World Travel & Tourism Council Global Summit" from 20-22 April 2022. We hope that we increase more travelers and attract more travelers to come to the Philippines. 
Inbound visitor arrivals reached 102, 031 as of March 16, a high note for the country since its closure of borders at the onset of the pandemic in March 2020, "Tourism Secretary Bernadette Romulo" -Puyat said.
The Philippines is open to fully vaccinated international tourists from non-visa required countries with negative RT-PCR tests taken within 48 hours of departure from their country of origin starting February 10, 2022. Check the list of non-visa required countries on the DFA website.
Talking about Metta Voyage
Metta Voyage is the Wellness Tour Operator that provides travel services handling throughout South East Asia country. 
Following the concept of Wellness – The Holistic Health, our experts create and lead the travelers through the spiritual and ancient healing experiences, individual immersions, and internal balance for travelers to provide the profound change besides experiencing the beautiful landscape, historical and cultural elements of destinations in Southeast Aisa (Vietnam, Laos, Cambodia, Thailand, Philippines, Malaysia, Indonesia, Myanmar, and Singapore).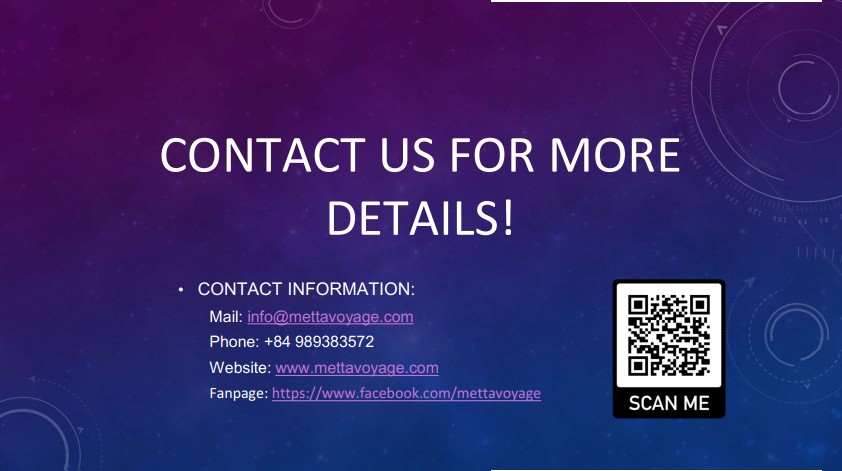 Contact us
Website: mettavoyage.com
Email: [email protected]
Hotline 24/7: + 84 989 383 572
Facebook fanpage: https://www.facebook.com/mettavoyage