Every Month, the Metta Voyage team will have a monthly update about "The tourism update in Southern Asia" and how everything changed in Asia's destination. If you have any plans for sending clients to any countries in Asia, you'll have the preparation.
1. Part 1. Introduce the presentation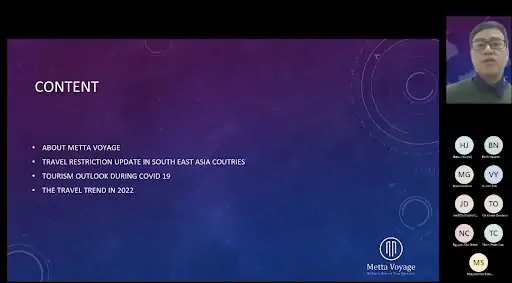 The first part is about the introduction of the Metta Voyage team. The second one, there are some updates about the restrictions in Southeast Asia countries in the past few months. The third is a quick outlook about tourism in COVID-19. The last one is the travel trend in 2022. After finishing all of these contents, we would have a short time to have the conversation for everyone to discuss.
Talking about Metta Voyage.
Metta Voyage is the Wellness Tour Operator that provides travel services handling throughout South East Asia countries. We base on the concept of wellness. It's meant the holistic health, our expert team creates and leads the travelers through the spiritual and ancient healing experiences, individual immersion, and internal balance for the travelers to provide the profound change besides the experiencing the beautiful landscape, historical and cultural elements of destinations in Southeast Asia like Vietnam, Laos, Cambodia, Thailand, Philippines, Malaysia, Indonesia, Myanmar, and Singapore.
Travel restrictions update in southeast Asia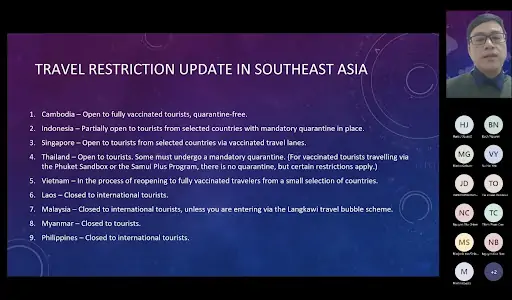 Firstly, Cambodia is open for tourists who have been fully vaccinated and quarantined-free.
Secondly, Indonesia, partially opened to tourists from selected countries with mandatory quarantine in place.
Thirdly, Singapore is open to tourists from selected countries via vaccinated travel lanes.
Fourthly, Thailand is open to tourists. Some must undergo a mandatory quarantine. It's for vaccinated tourists traveling via the Phuket Sandbox or the Samui Plus Program, there is no quarantine, but certain restrictions apply.
The fifth one is about Vietnam, Vietnam is having a step in the process of reopening to fully vaccinated travelers from a small selection of countries. Vietnam will have 3 steps that we will apply from Dec 15, 2021, until next year.
And the other countries like Laos, Malaysia, Myanmar, and the Philippines, are still closed for international tourists.
So we want to point out that in some countries like Cambodia, Indonesia, Thailand, and Vietnam, you can have some plans for traveling next year.
2. Part 2. About the countries
Thailand
Thailand is the first country to have a program to reopen for tourists. From 1st November 2021, they are welcoming fully vaccinated visitors from around the world to two specially designed entry schemes: Test & Go exemption from quarantine and living in the "Bluezone ". Even partially or unvaccinated visitors are also much welcomed to the "Happy Quarantine" requirements.
Singapore
Singapore is one of the countries that are still open because Thailand and Bangkok and Thailand are three main international airports so that is why the 3 countries are still open to transit. And that's why they will update monthly about these countries. As the global situation evolves, Singapore will continue to adjust border measures and any changes to border measures will be updated on the SAFE TRAVEL website. Singapore has arranged Safe Travel Lanes with various countries to facilitate shorter-term entry into Singapore.
And even some countries that you can see vaccinated traveling and even that they still can get into Singapore by vaccinated.
Cambodia
Cambodia starting to open from 30th November 2021, they reopen for fully vaccinated visitors coming from safe destinations such as Preah Sihanouk City and Koh Rong city if Preah Sihanouk province and Dara Sakor Touristes resort in Koh Kong province by Siem Reap province in January 2022.
Vietnam
Vietnam has been closed since April 2021. But now, the government has some news action opening. Vietnam has firmed up details of its international border reopening, which will kick off from 15 December, as it calls the move "necessary" in promoting the recovery of its travel sector.
Indonesia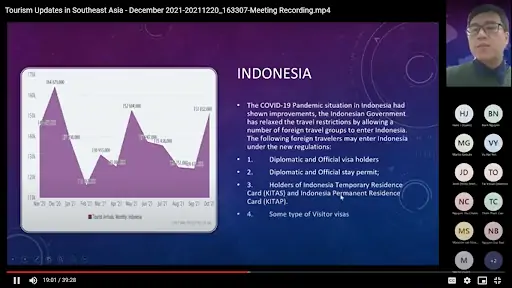 Indonesia – Good news and start to reopen.
Requirements:
Diplomatic or Official visa holders
Diplomatic and Official stay permit
Holders of Indonesia Temporarily Residents Card (KITAS) and Indonesia Permanently Residence Card ( KITAP)
Some types of Visitor visas
For the resume, all the good news for travel in Vietnam, Cambodia, Thailand, Singapore, and Indonesia.
3. Part 3. Tourisme outlook 2021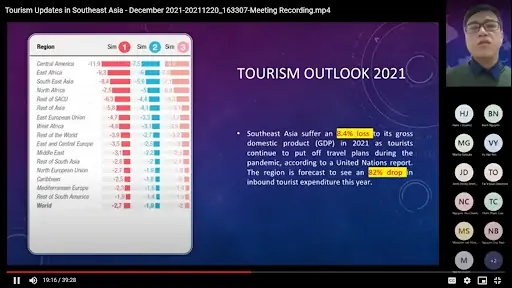 Prolonged lockdowns could see the region lose up to 8.4 percent of domestic GDP in 2021, with the United Nations Conference on Trade and Development (UNCTAD), in a report published in June, projecting Southeast Asia's inbound tourist expenditure to drop 82 percent this year.
4. Part 4. The travel trends in 2022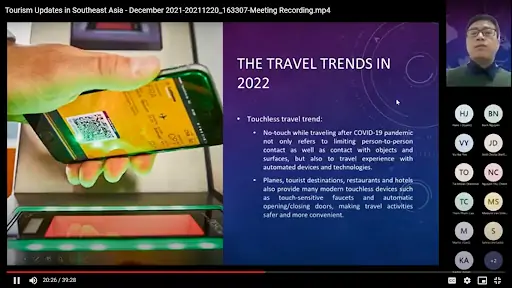 No-touch while traveling after the COVID-19 pandemic not only refers to limiting person-to-person contact as well as a contact with the object and surfaces but also to travel experience with their automated devices and technologies.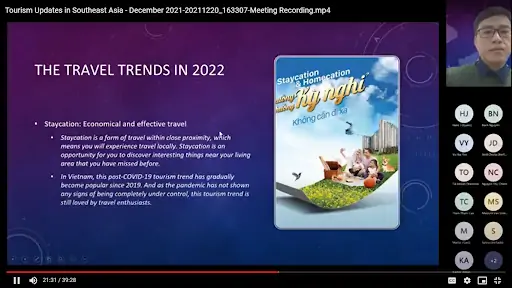 An amicable and effective travel staycation is a form of travel within close proximity which means you will experience what you have locally. Staycation is an opportunity for you to discover interesting things near your living area that you have missed before.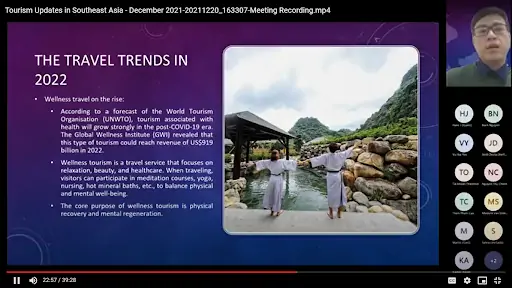 Vietnam, despite the COVID-19 tourism trend, has gradually become popular since 2019 and adds a pandemic that has not had any signs of being completely under control. The tourist trend is still loved by travel enthusiasts.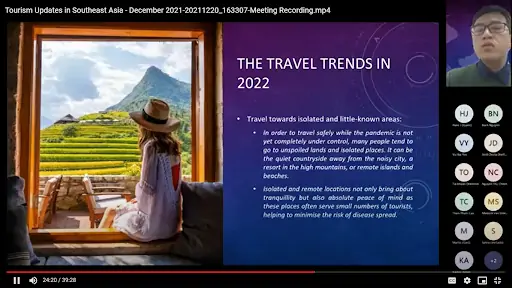 Traveling towards isolated and little-known areas is one of the trends that will be popular after COVID19. People recognize that they need health and according to the focus of the word to get my organization to kiss as you are associated with the Halloween will Starley in the post-COVID-19 and got Globo wellness to receive that they desire to be schooled reach revenue of US my 19 billion in 2022.
After the COVID-19 people don't want to stay in the crowded city. They don't want to stay at the hotel or resort they want but they want to spend their vacation in the remote area or in the mountains and arrow.
5. DISCUSSION
1. Hello, I'm Martin. I just want to know which is the safest area for traveling in Southeast Asia now?
-> Now, we have Sandbox in Thailand and the Phu Quoc Cam Ranh in Vietnam, that cold blue zone area that the government makes so we can travel safely.
2. Do we need any specific visas to come to Cambodia?
-> 211A Visa and 211B Visa for coming to Cambodia for work. One-year visa for the project like 313. But with Vietnamese people or Asia people, we don't need any specific visa but are fully vaccinated.
3. How soon after opening borders will be possible to travel between ASEAN countries?
-> Countries across Southeast Asia, targeting the year-end holidays, are taking cautious steps to reopen their borders as tourists with proof of COVID-19 vaccination join the mix of students, business travelers, and returning residents entering the region.
IF YOU HAVE ANY QUESTIONS, FEEL FREE TO SEND US AN EMAIL!
Thank you for listening and spending your time with our team Metta Voyage!
———————————
FOLLOW METTA VOYAGE FOR MORE INFORMATION!
———————————
© METTA VOYAGE – proud to be the first resort and wellness tourism experience designer in Vietnam.
Website: mettavoyage.com
Email: [email protected]
Hotline 24/7: +84 989 383 572
Facebook fan page: https://www.facebook.com/hanhtrinhtinhtan
Business License & MST: 109041780
#mettavoyage #dulich #vietnam #combo