Vietnam is a complex and diverse country, a combination of ancient heritage, modern entrepreneurial dynamics and future visions, and unique culture which you can only understand by immersing yourself deep in.  A meditation tour in Vietnam allows you to fully experience the culture through the people living there.
A Vietnam meditation tour is not just an actual travel experience, not just a glimpse of the country's superficial layers, not just to learn visually about the place. It was a tour with real depth and deeper truth-seeking. And that truth is not only found in the world around you but also found deep in your heart, your own soul. Regular tours can allow you to experience a place through your senses, sight, smell, and taste, but a meditation tour allows you to approach and understand the place on a deeper and more fundamental level. The Vietnam meditation tour is one of such things.
A meditation tour in Vietnam is not only a journey to help you understand more about this rich and diverse land, but also help you explore your deepest recesses and understand who you are.
I. Meditation tours are becoming more popular in Vietnam
Meditation tours have thrived in the East Asia region, especially in Japan and China, but Vietnam may be a new hot spot thanks to its peaceful scenery and rich spiritual life.
Meditation tours focus on achieving a balance between mind and body while getting closer to nature.
As stress and economic anxiety increase, people are more attracted to the idea of ​​relaxing meditation tours. Therefore, more and more people are choosing meditation tours in Vietnam.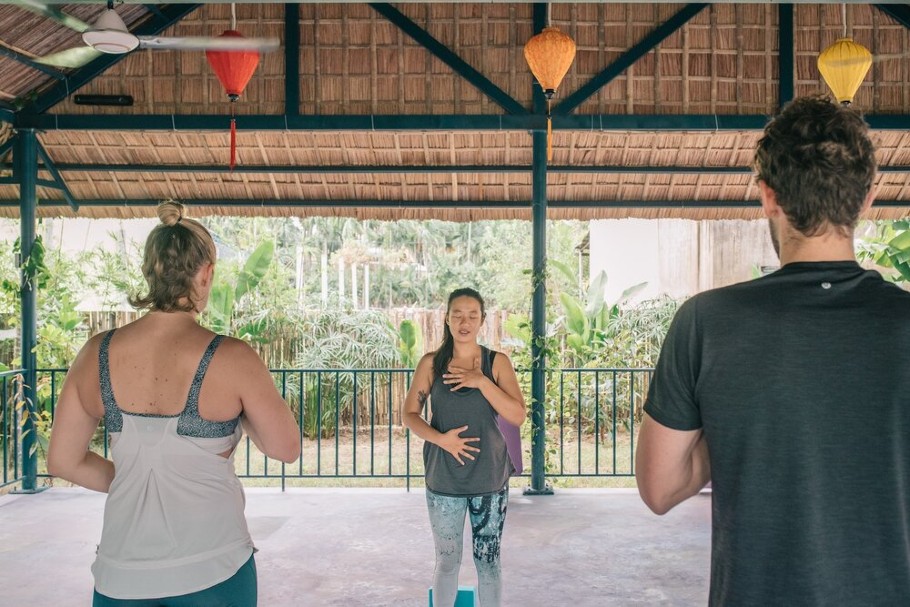 In Vietnam, meditation tours often feature meditation classes, yoga, therapeutic spas, and visits to temples, pagodas, monasteries, and other spiritual sites.
Meditation tours in Vietnam offer visitors the opportunity to firsthand experience Buddhist culture by joining the monks and nuns in daily activities as well as enjoying traditional Buddhist meals at pagodas. 
Not only Pagodas and Buddhist monasteries but cities and luxury resorts across Vietnam also provide venues for a meditation retreat.
II. Discover some of the best Vietnam meditation tours
If you are a travel enthusiast looking for the best life you can offer, Vietnam offers a full package. You will freely choose the time to set foot in this fascinating country. For meditation, yoga, spiritual awakening, and wellness, Vietnam is the place to go. Here is what you will enjoy.
Hoi An, the city of lanterns, is known for its iconic ancient town, canals, and abundant nature. It is a well-kept ancient town in Vietnam which gets endowed with historical monuments and architectural designs to explore. 
You can go for meditation, mindful writing, renewal detox, de-stress, Yin yoga, and organic yoga. Enjoy a lush paradise that awaits to embrace you and remember what it feels like to reconnect, return to tranquility, and come into the present moment.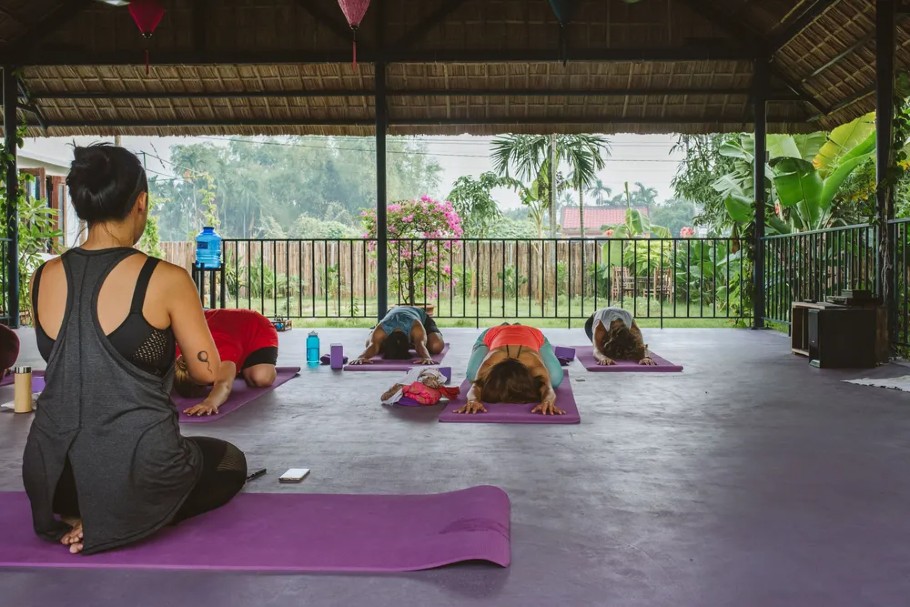 Your meditation tour can never be completed without exploring the city's attractions. Start your day at My Son Sanctuary, a group of ancient Hindu temples, at Cham islands, you will enjoy swimming, underwater walking, snorkeling and have a delicious seafood lunch.
Visit the lantern making shops and get yourself a lantern to take home. Walk through the streets and taste the delicious meals, and learn about the culture. Go and see the beautiful Japanese Covered Bridge and wind up your evening by cycling to the countryside to see village life.
2. Awaken your nutritional health at Ninh Van Bay
Six Senses Ninh Van Bay resort is a wonderful resort center nestled in a crescent-shaped bay surrounded by incredible mountains. The luxury hotel is free from the hustle and bustle of Nha Trang city, located on a beach with panoramic, picturesque views of the pristine, turquoise sea to help balance your mind and soul.
Six Senses Ninh Van Bay is approached only by boat. Get in there, you will learn how to detox, eat clean, and learn about healthy meals. You can visit the resort's garden and discover different types of herbs, vegetables, and fruits.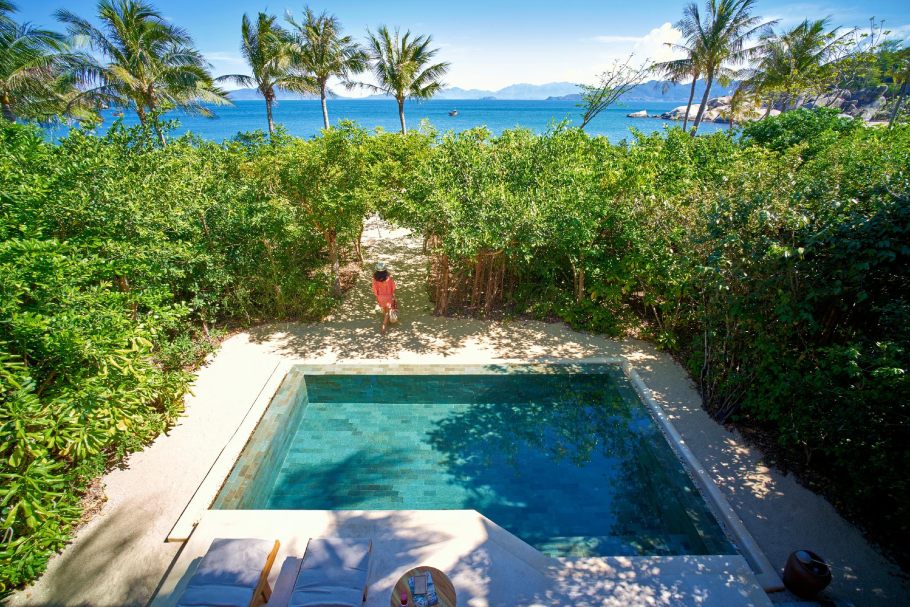 Why do you need to visit Six Senses Resort?
– You will get a private body screening to reveal parts of your body that need to be carefully observed.
– You will receive comprehensive guidance on how to get better sleep and your sleeping habits will get closely monitored.
– Food is completely organic and gets prepared using fresh ingredients. You can choose to have your meals by the pool, bay, candlelit cave, or on the rocks.
– At the bay, you can go water skiing, snorkeling, or paddleboarding.
3. Explore the Yen Tu Mountain to nourish your spirit
Yen Tu means a journey back to oneself. Yen Tu Mountain is located in Uong Bi city, Quang Ninh province and it is considered the hometown of Vietnamese Buddhism.
It is believed that King Tran Nhan Tong got a revelation from the gods on this mountain after giving up his earthly belongings to establish Truc Lam Zen sect, a native school of Buddhism in Vietnam. The mountain is adorned with magnificent temples and winding stone paths.  The tranquillity and the natural surroundings make for an ideal place for meditation, nature walk, and serene exploration, the perfect spot for nature lovers and green travelers to set their feet on.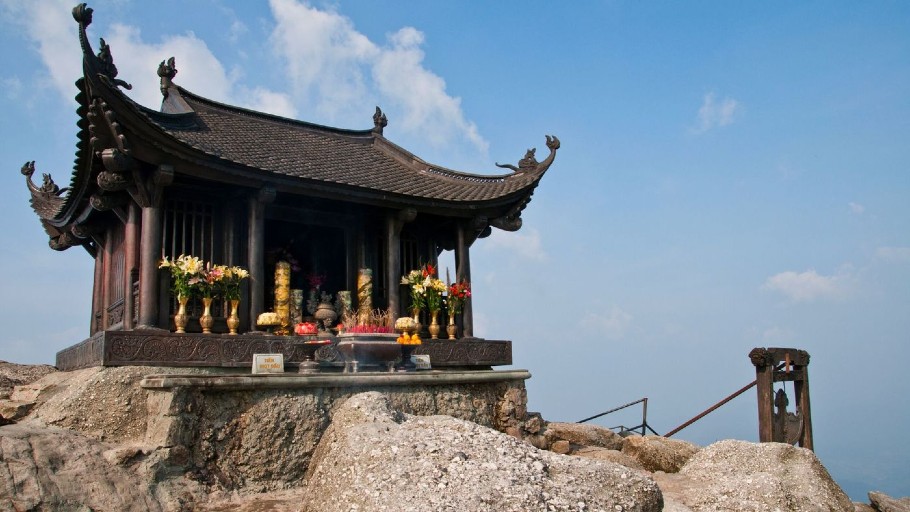 Relax and reconnect as you stroll in the tranquil atmospheres in the streets of the Yen Tu Mountain Mgallery hotel. This hotel was designed by Bill Bensley, an artist living in Bangkok. It has 133 rooms and is located in a valley on the slopes of the mountain and is very quiet and spiritual. Its decoration is based on Buddhism and tells a story about religion, for example, at the bar, there is a painting of a Tiger princess in pink robes who is believed to be one of the King's concubines.
On your journey to Yen Tu Mountain, head to the village square and watch traditional dancers dressed as dragons, lions, and birds as they show off their dancing skills. Climb the mountain by cable car, and you will find a sacred stone shrine that contains the artifacts of the Buddha King. You will notice that trees bend protectively towards the sanctuary and there some offering of food and fruit.
Visit Mot Mai Pagoda and drink mineral water from the springs to get granted a wish. Tower the golden statues of the Buddhist King and touch the bronze bell and gong to bring some good luck to yourself.