Hoi An is a beautiful ancient town in Vietnam that attracts a lot of tourists. Let's find out and get the best trip with meditation in Hoi An.
I. Differentiate between meditation and yoga
The sage Patanjali defined Yoga as nurturing the unity of body and mind. Since then, yoga creates health both physically, mentally and spiritually. Yoga is also a way of life and if you achieve that, you will have true life. Meditation is part of yoga. Meditation in Vietnam in particular and meditation in general helps the practitioner to relax and focus on the mind by taking moments of silence, removing away from all busy thoughts and focusing on breathing.

People often think meditation is very simple, but actually, it is very difficult to do the right meditation. That is how to practice breathing, control the mind and relax in thinking. Even meditation and yoga are completely different but both of them are for the same purpose. This is peace of mind and restoration of the body.
II. Why you should practice mediation in Hoi An
1. Everything you need to know about Hoi An
Hoi An Ancient Town is located in Quang Nam province, central Vietnam. This is also one of the most popular tourist destinations in Vietnam attracting not only domestic but also foreign tourists. In 1999 Hoi An was recognized by UNESCO as a World Heritage Site. When talking about Hoi An, people usually mention the architecture, food and silk road.
Hoi An used to be an international trading port in the 17th and 18th centuries. Therefore, Hoi An's architecture is a harmonious blend of Vietnamese, Chinese and Japanese designs. There are many temples and pagodas here and houses are built with an extremely ancient feature, different from all the rest of Vietnam.
Along with the roads and alleys are silk and tailor shops. They are all custom made, delicate and beautiful. At night, Hoi An will be more colorful with lanterns all the streets. All make a peaceful yet stunning place.
2. Why Hoi An is a suitable place for meditation
Whether you are looking for an experienced adventure or a peaceful place to refresh your body, Hoi An is a suitable destination. Practicing meditation in Hoi An is even more wonderful. Hoi An has a combination of mountains, sea and village, giving people their lives in harmony with nature. Every day looking at the rivers, villages, and trees will help you find peace in mind and enter the world of meditation more easily.
Because it is an old town, there are no buildings, industrial zones or urban life. Each day will be the calm, simplicity and joyful sounds of life. It is great for those who are fresh to meditation and having trouble getting rid of everyday worries to really relax their mind.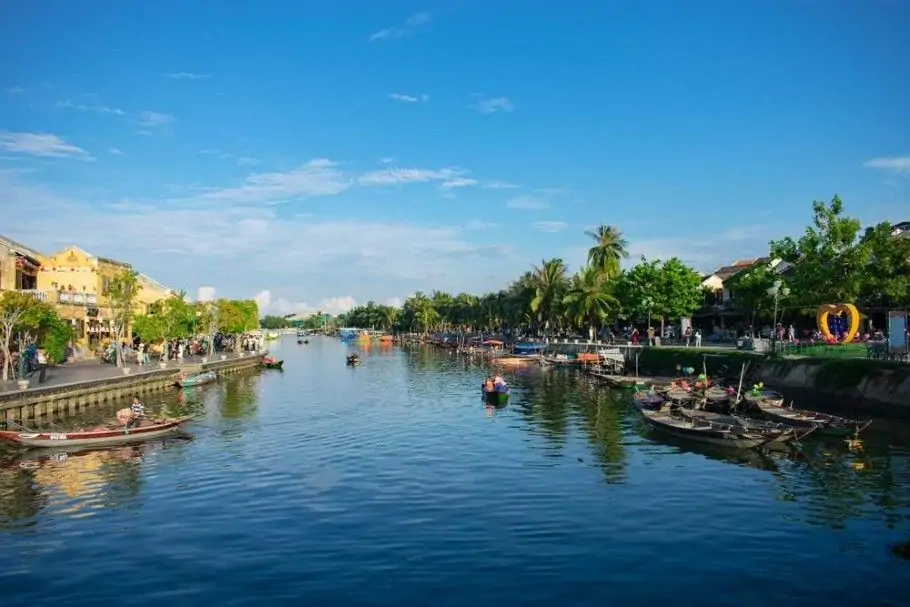 Although it is a quiet and peaceful town, Hoi An is not too boring. It still has its own charm and color to make you feel interesting every day and keep wanting to do meditation in Hoi An. Hoi An also has many lovely places to practice meditation and yoga. Therefore, many meditation lovers around the world and even in Vietnam choose Hoi An as their destination. Compared to India or Bali, Hoi An is not as famous, but it's peaceful and is very suitable for healing and meditation.
III. Place to practice meditation in Hoi An
1. Nomad Yoga
Not only a yoga studio, but Nomad Yoga is also a great place to practice meditation in Hoi An and taste Vietnamese vegetarian food. Nomad Yoga is Hoi An's first yoga center built with a cool space. There are both beginner and professional classes. Nomad Yoga is suitable for both locals and foreigners who love meditation.
After moments of relaxing your mind and body, you can enjoy a cup of coffee at Nomad and watch the old town's life. You can also try a healthy vegetarian meal here. The yoga teachers here are also professional tour guides. They will lead you on the whole journey to learn about Vietnamese culture and heal your body.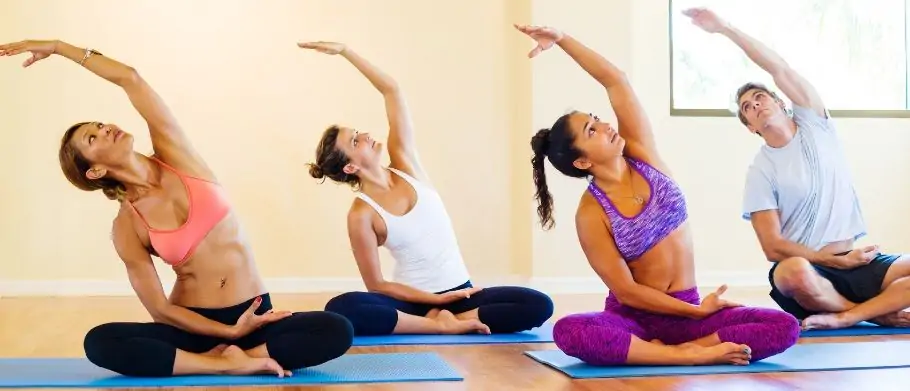 The Center offers 4 to 5 classes per day except for Sundays, in the outdoor studio overlooking the Thu Bon River. In addition to meditation, the center offers a variety of wellness programs suitable for travelers looking to recover such as One Day Mindfulness Retreat or Restorative Yoga Classes.
A Luminary Life is a place that is perfect for wellness and health. From afar you can already smell the aroma of herbs from A Luminary Life. This place always focuses on enhancing the mental and physical health of each individual. A Luminary Life also provides adjunct therapeutic services such as acupuncture and chiropractic.
A Luminary Life is covered with a fresh green rice field and peaceful countryside. In contrast, the interior inside is a luxurious and warm space with brown tones, crystal interior and precious stones. The center is always fragrant with herbs and very clean, a perfect environment for meditation in Hoi An.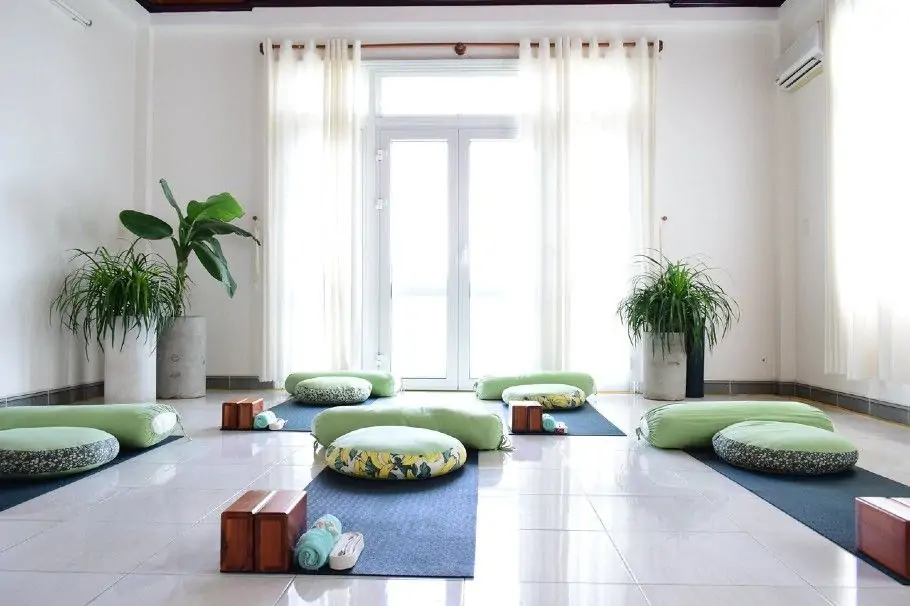 Meditation classes are usually about 1 hour and 15 minutes long for 950,000VND from 8:00 am to 8:00 pm. Guests can also book private bathrooms, chiropractic and acupuncture with experts, take a dance class or other creative activities.
Gratitude Vietnam Retreat Center is both a yoga center and a healing place with 2, 4 or 7-day meditation sessions. The price for the cheapest wellness tour here is 239$. Coming to Gratitude Vietnam Retreat Center, you will have the opportunity to pause your hustle life and spend more time with your body and mind.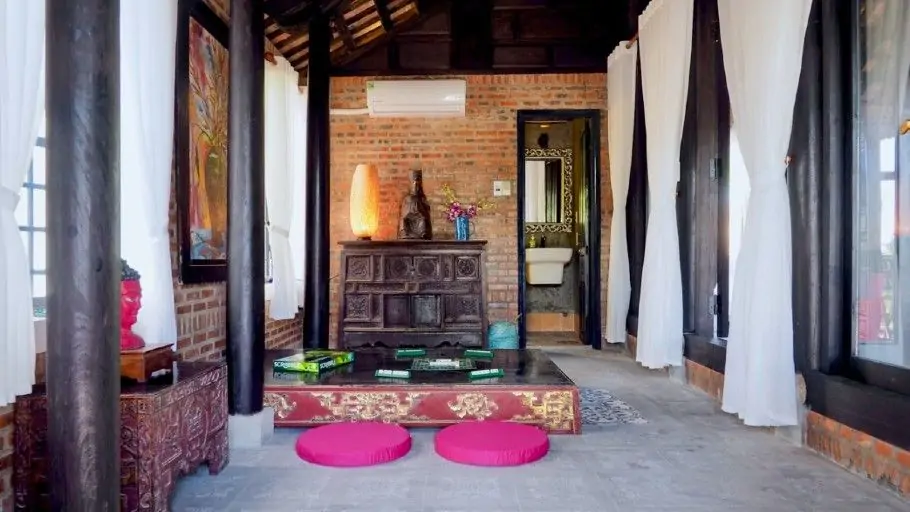 Meditation classes are held every day. Besides, there are interesting activities such as singing together, eating nutritious meals from an organic farm, enjoying life in a beautiful oasis. Various meditation classes include Sound bath meditation with beautiful Tibetan singing bowls, Yoga Nidra, Guided Body Scan, Inner Child meditation, Trataka meditation, Walking labyrinth meditation, Guided imagery and music meditation, Mantra meditation, Chanting meditation, Gratitude meditation.