This article will give you general information about local meditation retreats in Vietnam.
Meditation is known as one practice in Buddhism a long time ago, but it has become more popular in the 20th century along with the popularity of yoga and the need to find calmness in modern society. People meditate to reconnect with the inner-self, restore energy, and bring positivity to the mind.
In Vietnam, there are many ways to practice meditation: joining meditation centers, practicing in yoga class, self-practicing, etc… Joining the local meditation retreat has always been people's favorite because not only will you have the chance to get close to nature and away from the cities for a few days, you can also take part in various types of meditation practices and experiences. Moreover, Vietnam is a beautiful country with a lot of nature destinations suitable for a meditation tour.
Metta Voyage will give you the details about a local meditation retreat as well as suggesting some desirable locations for the retreats in Vietnam.
So what is included in a local meditation retreat?
I. Location, teaching activities, and support tools
Since meditation practice requires complete focus and silence, the retreat should take place in a quiet and relaxing place with not too many people, preferably close to nature. Some suggestions would be resorts, homestays, beach houses, or any location far from the big cities.
The period of a meditation retreat should be multiple days so participants have enough time to absorb the lesson, practice, and connect with inner self and nature.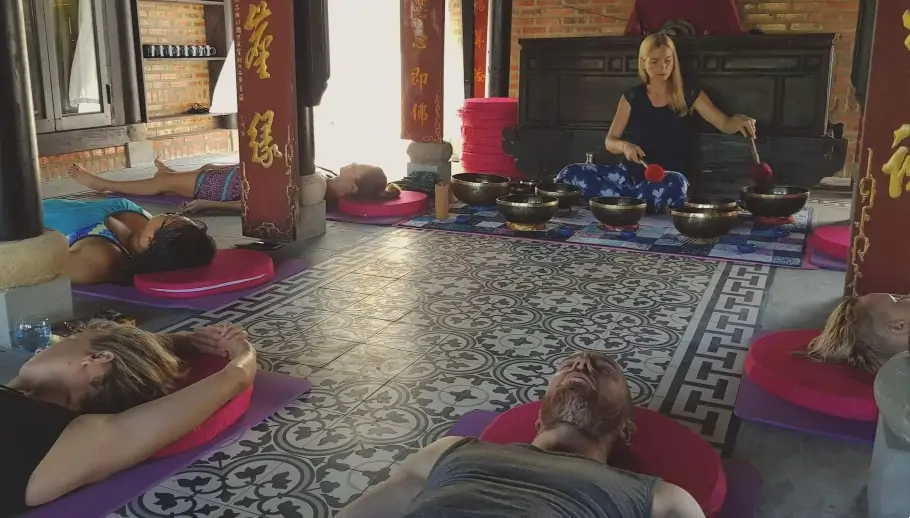 Mentors/teachers will be available to guide you through the meditation practice. This will include an introduction to meditation, breathing technique, the practice of mantra (short phrases to help you get in the meditation zone), practice to gain more concentration on meditation, as well as some life teaching performed by the mentor.
The mentor might use supported tools to make the meditation experience more thorough. This could be a Tiberian singing bowl – the famous meditation tool that creates a rich and deep sound when played, meditation bell, or incense to awake your sense of smell.
II. Related activities in the retreat
You will practice meditation on this retreat – that's for sure- but you also need some break time. Some healthy activities will be included to promote physical strength and flexibility as well.
Yoga class is a common activity since it is connected well with meditation. It can be restorative yoga for relaxing, hatha yoga, or intense vinyasa flow for people who want to burn calories.
There can also be wellness workshops, workshops to create handmade crafts, or workshops about meditation tools so you get more knowledge about meditation-related stuff.
The outdoor activities will be planned depending on the retreat's location, such as hiking, swimming, snorkeling, visiting the villages, etc…
III. Food and beverage
Since it's a wellness retreat, the nutrition value will be taken into account as well. Healthy food will be served during the whole retreat because there is a connection between nutrition and your mentality.
Most likely the tour will offer organic and fresh ingredients with vegan options. This might be a good time for you to try out a vegan diet to detox your organs for a few days.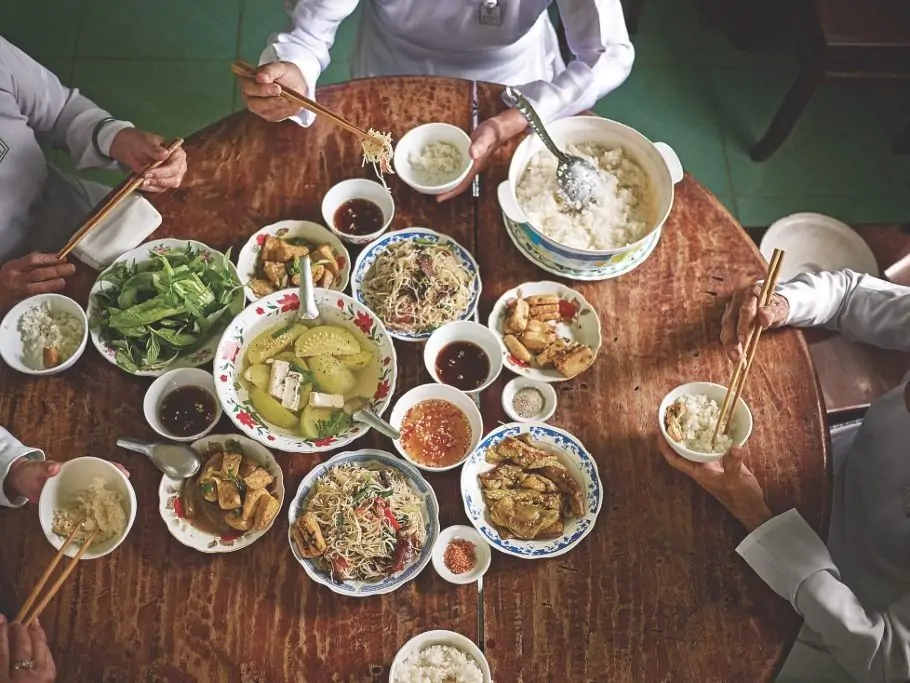 Since you will participate in lots of activities throughout the day and start the day very early, it is advised not to drink alcohol during a local meditation retreat. Diverse menus of healthy drinks such as detox juices, smoothies, kombucha, etc… will be served for your preference.
IV. Some ideal locations for local meditation retreats
Now you know how a meditation retreat will look like, you would want to take part in one to experience the difference and unique feeling that it will bring. Metta Voyage will list out a few locations that we think are suitable for this type of retreat, from the north to the south side of Vietnam for your preference.
1. Hoi An
Located near Da Nang, Hoi An is a famous tourist attraction in Vietnam.
Hoi An has many components perfect for a local meditation retreat such as a nice beach, relaxing atmosphere, a peaceful Old Town to visit, etc…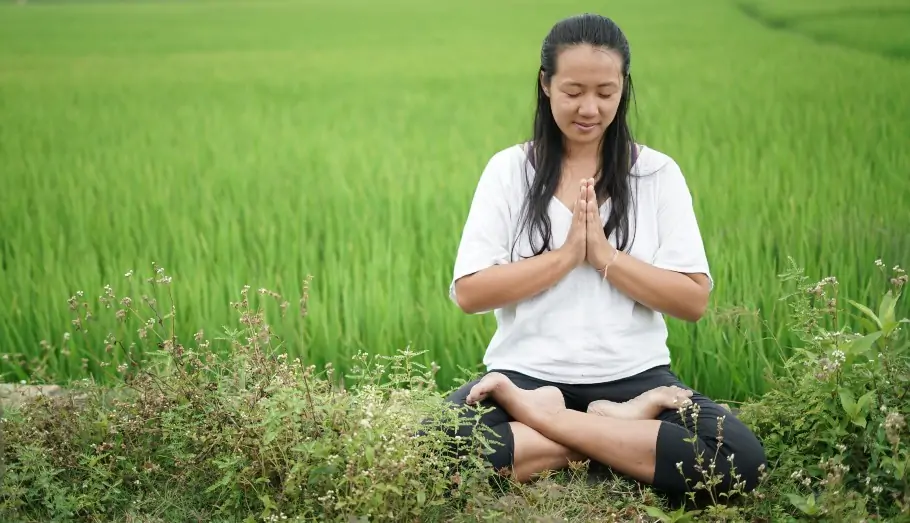 You can also have the chance to visit Da Nang after your retreat.
This would be a nice retreat with meditation, yoga on the beach, and some beach activities.
Located 300km from Ho Chi Minh City, Da Lat is also an ideal suggestion for a local meditation retreat.
With the gift of nature to have cool weather all year round, you can come to Da Lat any time of the year and still enjoy fresh air, a nice breeze, and amazing sceneries like pine forests, Tuyen Lam lake, flower gardens, etc…
Da Lat is also famous for many organic farms so it is a chance for you to taste really fresh and healthy food.
Some suggested activities along with meditation would be hiking in the forests, swimming in the waterfalls, or getting close to nature and the trees.
3. Mai Chau
Mai Chau is a northern province surrounded by mountains and villages, and if you're lucky you can even see the beautiful green or yellow rice terraces, one signature scene of Mai Chau.
There are many eco-friendly resorts or homestays in the middle of the villages that would be perfect for a local meditation retreat.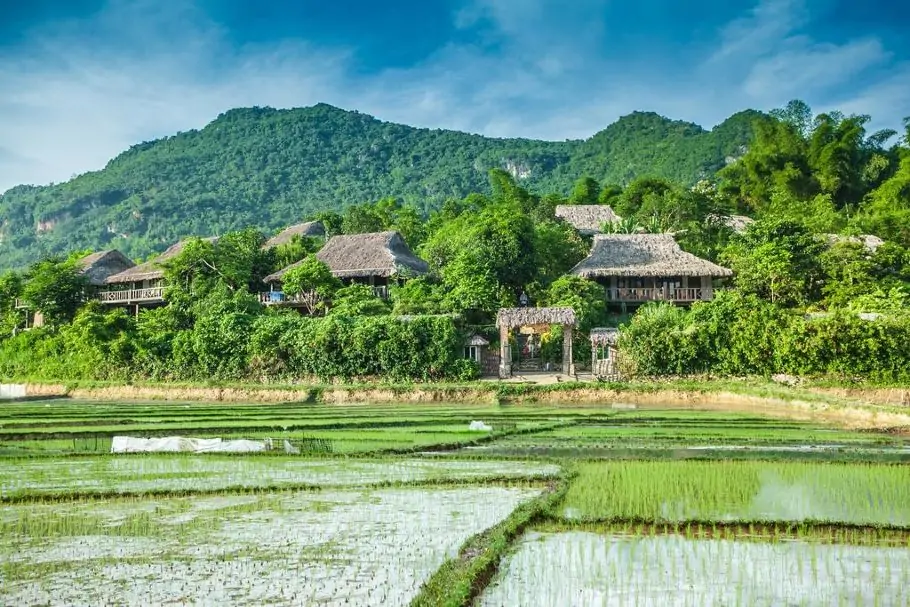 Source: Booking.com
Since Mai Chau is from the north side of Vietnam, expect the cold weather in winter and high humidity in the springtime. The ideal time for a retreat in Mai Chau would be from March to October.
4. Ha Long Bay
There is no need for an introduction to this place. Ha Long is known by many countries as they have one of the world's recognized heritages.
By joining a meditation retreat in Ha Long, you also have the chance to get on a cruise and visit the beautiful caves and bays that make this place so famous.
You can also enjoy a taste of fresh seafood and maybe stay at some private islands, enjoy the sea and forget about normal life for a while.
5. Pu Luong
Pu Luong has been recently discovered as a tourist place because of its beautiful landscape and nice atmosphere.
Located not too far from Mai Chau, Pu Luong shares the same weather but has a bit of advantage for some very nice mountains and bigger rice terraces.
Some ideal activities included in the retreat would be hiking to the 3000m mountain, or running through the villages and visiting the ethnic minority villages.