Whether you are an experienced yoga or just starting in yoga you should give a retreat a shot. Where better to try one than in SouthEast Asia, people from all around the world have been coming here for the best yoga experience. Laos is one of South East Asia's most chilled-out places. Unlike other countries, you do not hear motorbikes beep on noisy streets, and everything runs at a slower speed here.
When traveling to the spiritual center of Laos, you should immerse yourself in as much as possible. Yoga Laos Luang Prabang is so much about connecting the mind and body, focusing on breathing, exercise, and mindfulness.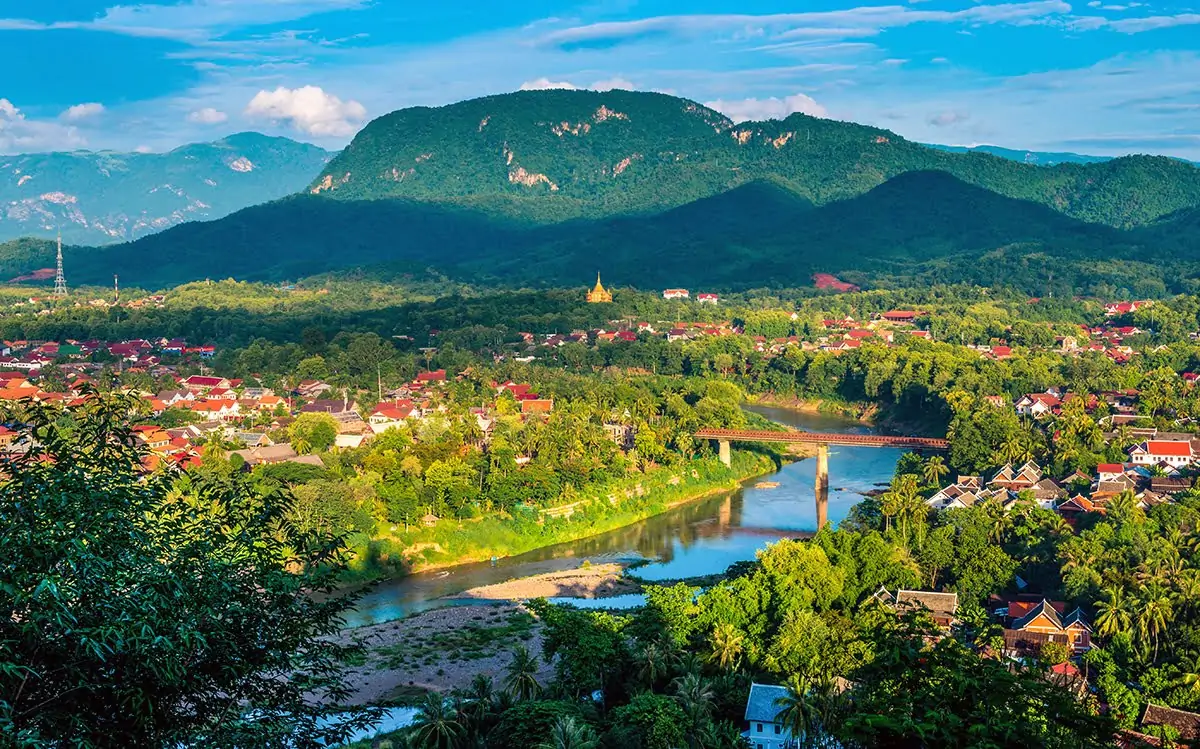 1. Yoga in Laos Luang Prabang – Southeast Asia's most chilled-out experience
While the rest of Southeast Asia is developing, expanding, and modernizing, Laos is moving at its own pace, ambling along, taking plenty of time for yoga along the way. All those who visit Laos fall in love with this slow and peaceful life in the Mekong.
Yoga is not as widespread in Laos as it is in other Southeast Asia countries, as yoga has no particular tradition in the country. Corresponding courses are therefore mainly offered in the two tourist cities of Laos, Luang Prabang and Vientiane, and are often taught by foreign teachers. If you are looking for a real spiritual yoga experience, Luang Prabang in Laos is the perfect place for you.
Luang Prabang is a UNESCO World Heritage City, located between two rivers Nam Khan and Mekong. Arriving in the capital of Laos, you will immediately feel overwhelmed, as the ancient city of Luang Prabang banned buses and trucks. Doing yoga in Laos Luang Prabang has emerged in recent years that focus almost exclusively on foreign tourists. Yoga classes offer multi-day retreats in the picturesque garden, as well as massages, cooking courses in Laotian cuisine, trekking tours, and much more.
2. 5 yoga experiences to have in Laos Luang Prabang
2.1. Practice yoga and experience local village life along the banks of the Nam-Ou river
Muang La Resort located in the gloriously untouched hills of northern Laos is a beautiful boutique retreat situated along the Nam–Ou river amidst lush greenery that provides access to one of the most pristine regions of Southeast Asia. It's one of Laos's hidden gems.
Not only is it a stunning place to stay, but Muang La Resort also offers you the opportunity to experience a unique culture with a local guide taking visitors to nearby villages to learn about Khmu, Hmong, and Ikhos communities. It is the best place to experience and learn about authentic hill-tribe cultures in Southeast Asia.
Muang La Resort is being a great sanctuary to practice yoga in Laos Luang Prabang and meditation, there is also plenty of opportunities to visit the ethnic minority tribes, experience the natural hot spring, rejuvenating spa, cooking class, jungle adventure by Jeep, mountain bike, enjoy a charming scenic experience by foot.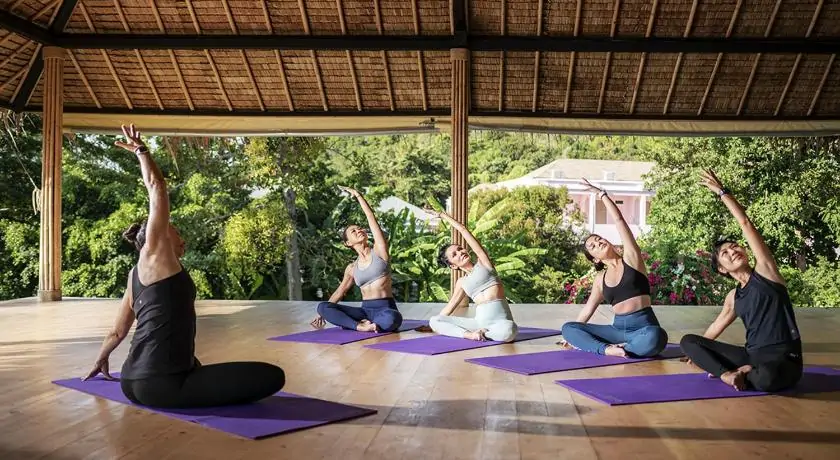 2.2. Yoga Laos Luang Prabang on Utopia's gorgeous deck overlooks the gorgeous Nam Khan River
Traveling in the land of million elephants, you can easily find some classes of yoga in Laos Luang Prabang. Utopia is such a place. Yoga classes on the open-air deck of the riverside bar Utopia are famous in Luang Prabang.
Utopia offers 1-hour yoga classes on a small terrace overlooking the Nam Khan River. Classes start at 7:30 AM from Monday to Friday, 7:30 am to 8:30 apart from Saturdays and Sundays, and are suited for both yogis and first-timers. Most yoga teachers at Utopia are traveling Yoga teachers. They always stressed that yoga wasn't about pushing your body to get as deep into a pose as you can but rather about listening to your body and its limitations.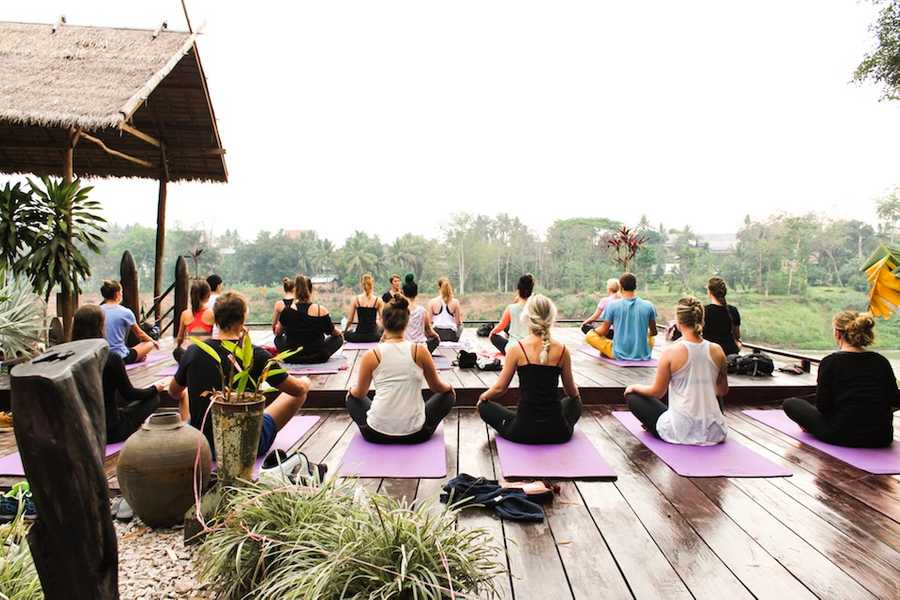 At 7:30 am every morning, many amateurs and pros come to practice yoga daily. The price of 40.000 kips, around 4 dollars is appropriate and worth it. Yoga classes provide mats for free but you must clean them after class. Because the class starts quite early in the morning, you won't have too much trouble with the heat. It warms up and you will sweat, but can still withstand it.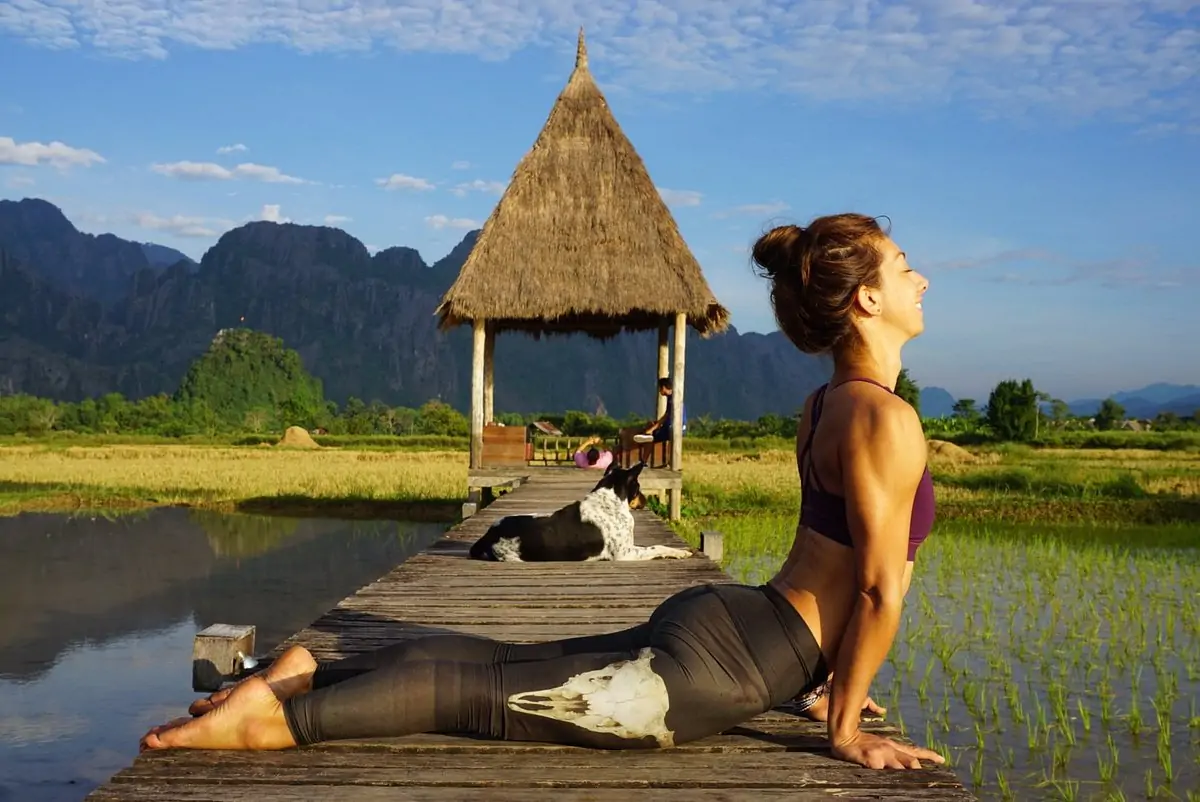 2.3. Try out yoga styles in outdoor classes
Luang Prabang Yoga is a collaboration of independent yoga teachers providing yoga in the most beautiful location of Luang Prabang. Together with the students who live or have traveled here, it is a unique yoga community that believes in the connection between nature and yoga.
Luang Prabang Yoga holds regular yoga retreats in Laos, offers a range of styles such as Hatha, vinyasa, Ashtanga, and yin; with classes outdoors and at locations like the popular Utopia cafe or the Angsana Maison Souvannaphoum Hotel, one of the best hotels in the city, which once served as the private residence of the former Prime Minister and Prince Souvannaphouma.
Yoga classes at Luang Prabang Yoga focus on connecting nature and yoga, with breathing, movement, and fresh air fostering inner balance and peace. Pranayama breathwork classes and meditation classes are available as well.
2.4. Taking yoga at a restaurant on night market street in Sena Studio
The better solution to practice yoga in Laos Luang Prabang might be to visit Sena Studio. It is a new yoga space located above Sena Restaurant on the main street. Sena has afternoon classes starting at 05:30 pm and their advantage is not to cancel yoga classes even in bad weather.
Sena Studio provides yoga mats, blocks, and even cushions. This is one of the many studios that offered yoga classes and the meditation class was 60 minutes. All of the classes are suitable for all levels of practitioners. This is an opportunity for those who are new to yoga and meditation to exchange and share experiences.
These classes are a great way to wind down, meditate, or exercise after a day of exploring Luang Prabang city. Plus, it's in a great location to explore the night market afterward or enjoy the local cuisine.
Yoga in Laos Luang Prabang
2.5. Doing yoga shala at Mandala Ou Resort
Recharge with a yoga class on Mandala Ou Resort's raised wooden yoga sala. This resort offers panoramic views of the mountains, the rainforest, and the karst limestone cliffs of Nong Khiaw. Famed as yoga in Laos Luang Prabang, the resort offers classes each day, as well as a refreshing swimming pool and traditional herbal steam sauna.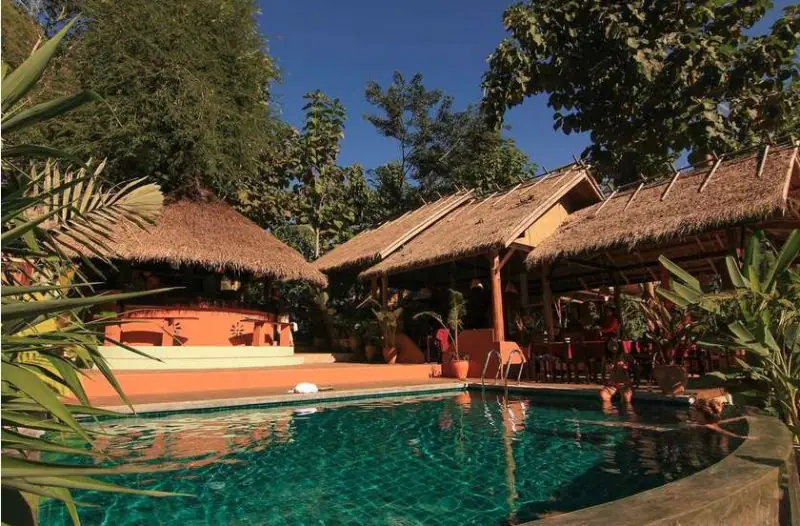 Mandala Ou Resort is high on the banks of the scenic Nam Ou River and surrounded by limestone mountain, caves, and rainforest – all of which allows you to enjoy the beautiful sunset from your bamboo bungalow. From the resort, you can visit the historic Patok caves and hike to the top of the mountain to see a view of the unique Laos countryside.
From the resort, you can visit the historic Patok caves and hike to the top of the mountain for a panoramic view of the unique Laos countryside.
In Mandala Ou Resort you can enjoy a traditional Lao picnic lunch from folded banana leaves and cool off in the waterfall pools. And then, guests can kayak most of the way back to Luang Prabang past the beautiful Pak Ou Caves for one more night in the ancient city.
Laos had a plan for reopening tourism in 2022. Read more about Lao's reopening here.
If you have any questions, feel free to contact us via: https://mettavoyage.com/contact-us/