1. What is a Helicopter tour?
Helicopter tour is a tour that gives visitors the experience of riding in a helicopter and exploring the city where their travel is taking place, this is an extremely attractive tour for passionate travelers. , love to explore new experiences. Now, helicopter travel isn't just for the elite; foreign visitors, but also for all visitors at very reasonable prices. You can easily enjoy the beautiful panoramic view of the city from the luxury helicopter tour Ho Chi Minh city.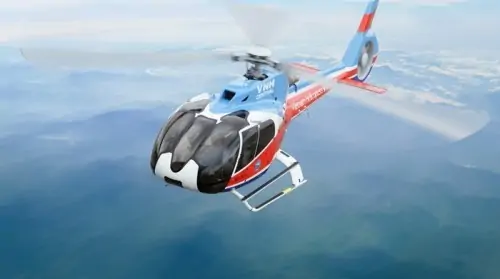 2. Why you should choose the Helicopter tour?
2.1. Perfect view when shooting in the air
One of the reasons attract tourists to choose Helicopter tour is because of their beautiful scenery, visitors can freely take photos or record videos according to their preferences without being bored.
Flying a helicopter, you can see a lot of breathtaking scenery. As the helicopter descends or hangs close to the ground, you'll be able to capture plenty of moments to capture great photos. Be sure to recharge your phone or camera before your flight to make sure you don't miss any footage.
2.2. Discover many new things
Exploring more is the biggest reason to fly sightseeing by helicopter. If you get too used to the same scenery when you return to the same destination over and over again, you might assume there's nothing new to see. However, when flying a sightseeing helicopter right over that familiar place, you will feel a lot of new and interesting things.
2.3. Save time and money
While flying by helicopter may not be the cheapest option, it is cheaper than booking a private flight by plane.
In addition, Helicopter tour also helps you save money on fuel for your car, especially a destination that is a few hours' drives away. This also gives you time to explore and enjoy the view from above.
2.4. Overcoming fear
If you are afraid of flying or heights, flying a helicopter can help you overcome your fear because helicopters don't fly as high as a plane.
You will still face your fear of flying or high altitudes but flying a helicopter is really good for you to overcome your fear. You may be a little nervous at first, but soon you will be surprised by the beauty of the landscape as you fly up high.
2.5. Beautiful scenery
Choose the whole Helicopter tour, fortunately, Helicopter can hang in the air and maneuver close to the landmark to be able to admire that landscape with the most perfect perspective, helping you to fully admire the scenery that has Probably never seen in life.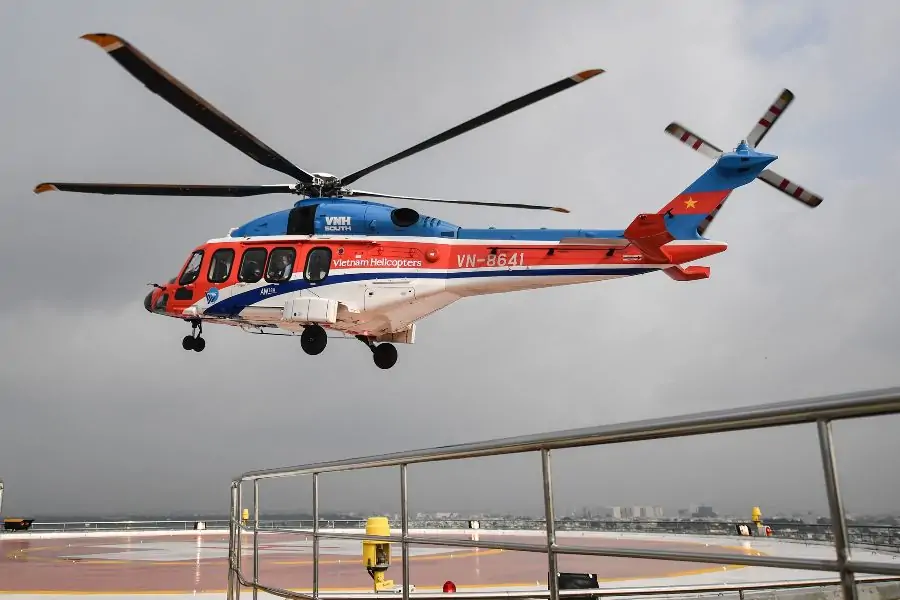 3. What can you experience when choosing a helicopter tour in Ho Chi Minh city?
See Ho Chi Minh City from above" is a new and unique product and service, first launched in Ho Chi Minh City right after the city launched the program "Ho Chi Minh City welcomes you", aiming to meet the needs of visitors and tourists combining conference (MICE). The product contributes to creating a unique highlight, promoting the image of Ho Chi Minh City from above. The government is developing a new product to attract tourists, creating and planning to put Helicopter tour into operation on the occasion of April 30.
There will be many options for you when experiencing the Helicopter tour in Ho Chi Minh City. The product "Viewing Ho Chi Minh City from above" is expected to have short- and medium-range products, including short-range products (flight time from 30 to 45 minutes) with 2 flight routes: central view city ​​and see the city center – Can Gio.
Helicopter tour in Ho Chi Minh City will bring visitors many service packages to easily choose from with diverse flight routes with different highlights. Above all, at each destination, guests can learn and listen to explanations.
4. Advantages of choosing a Helicopter tour
What's more exciting than the feeling of experiencing a different and classy form of helicopter travel, which goes beyond the existing modes of travel and itineraries, satisfying the elements of style, comfort and convenience, suitable for all occasions. tailored to each individual's needs and preferences.
Visitors easily capture memorable moments and endless sublimation moments of emotions when touching the peak of the beauty of the immense and wonderful natural wonder. The panoramic view of the city from the air is perfect, the landscape below ground appears very interesting and different.
5. In what other cities can you do a Helicopter tour?
5.1. Helicopter tour in Vung Tau City
Vung Tau city is famous for its beautiful beach and majestic landscape, which is definitely an ideal place to be able to see from above.
5.2. Helicopter tour in Halong Bay
Halong Bay is one of the new 7 Natural Wonders of the world, twice recognized by UNESCO as a world natural heritage. So seeing the new natural wonder of the world from above is clearly an experience not to be missed for anyone.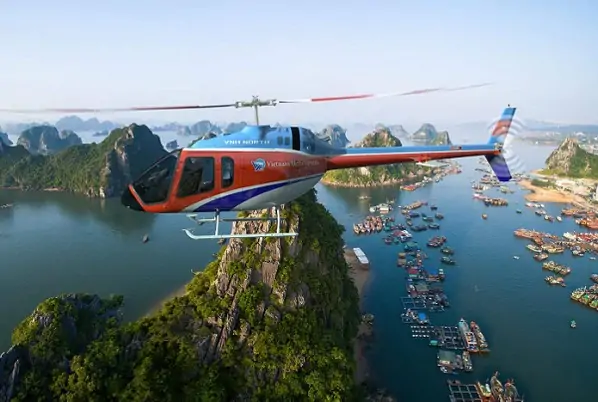 5.3. Helicopter tour in Trang An – Ninh Binh
Trang An – Ninh Binh with its majestic, ancient and poetic landscape is definitely a great place when viewed from above.
5.4. Helicopter tour in Mu Cang Chai
In 2007, Mu Cang Chai terraced fields were ranked as a National Relic by the Ministry of Culture, Sports and Tourism. In early 2020, this famous scenic spot continued to be recognized as a special National Monument by the Prime Minister along with many other famous coordinates.
6. Note when going on Helicopter tour Ho Chi Minh city
Book the tour at least 1 hour before the helicopter takes off
If you cancel the tour from 1 to 72 hours before the flight takes off, you will be charged a tour cancellation fee of 50% of the total value of the flight.
If the tour is canceled less than 1 hour before the scheduled departure time, you will be charged the full cost of the flight.
If you are traveling in a large group, you should choose to rent a sightseeing helicopter, so you will be able to choose your own flight date and time, taking the initiative to schedule easier.
The activity may be canceled due to bad weather. Guests will be given the option to reschedule or request a full refund.
Children aged 0-1, the elderly, pregnant women, and people with asthma are not allowed to join the helicopter tour.
Contact us
Website: mettavoyage.com
Email: [email protected]
Hotline 24/7: + 84 989 383 572
Facebook fanpage: https://www.facebook.com/mettavoyage