Traveling through many countries is not too strange for everyone. Vietnam, Cambodia, and Laos are itineraries that will give visitors an incredibly wonderful experience. The feeling of authenticity and meaning when discovering these countries will be highly memorable for each visitor who choose a travel itinerary. In Vietnam, you will have the opportunity to enjoy rich, traditional cuisine at low prices, along with historical sites and natural wonders that UNESCO has recognized as a world cultural and natural heritage. Coming to Cambodia, visitors will discover the national symbol of Angkor Wat and many other interesting destinations. Coming to Laos, visitors have the opportunity to participate in the daily morning ritual of monks wearing robes to collect offerings. Metta Voyage will provide you with all the information in this article for more things to do in your travel itinerary.
The best month to visit Vietnam, Cambodia, Laos
Vietnam
You can visit this country at any time of the year depending on the destination and geographical distance. Each of the North, Central and South regions will have different temperatures and rainfall in each period. You should avoid periods of heavy rain in each region such as August is usually the rainiest month in Hanoi. June is usually the rainiest month in Saigon. In the central region, the biggest storm season is usually in October.
To experience and enjoy the best moments in Vietnam, you should travel to this country in the spring between February and April or between August and October. At this time, the rainfall between regions is quite low, that's why you will have a wonderful, complete experience during your trip.
Cambodia
Choosing the ideal time will help you book the right tour on the occasion of beautiful weather, comfortably explore famous tourist destinations, mingle with festivals, and enjoy the local cuisine. You should choose to go from November to February next year because at this time, the temperature and weather are mild, very suitable for starting the journey. But you can also start the trip in the period from March to May: At this time the weather is a bit hot, the temperature rises to about 35-40 degrees Celsius but little rain and there are traditional festivals and festivals. special cultural activities. 
Laos
Is one of the countries next to Vietnam. This place is known for the "Lao wind", the wind that brings heat as well as harshness when summer comes. You can still go to Laos in the remaining months, but the hot climate and intense sunshine will cause a little discomfort during travel and exploration here. October to May is the best season to travel to Laos.
How many days are enough for visiting Vietnam, Cambodia, and Laos? 
Vietnam has a long coastline with majestic mountain views, so the natural scenery is very diverse. From the ripe golden rice fields on the backs of large hills to the bays with hundreds of thousands of different large and small rocky islands, the majestic forests to the peaceful plain scenery, from big cities to big cities. to small villages. All of them create a very special attraction to Vietnam.
Laos and Cambodia are two countries heavily influenced by Buddhism, so wherever you go in these two countries, visitors will also encounter images of temples with pointed roofs, soaring to the sky.
The trip to Vietnam, Laos and Cambodia will have different destinations and itineraries for you to fit in with the time you have and also experience the full cultural identity of the countries. Visitors need at least 10 days if they want to learn the basic beauty of each region in each country. The more time you have, the more you will experience and better understand the culture of the area you are visiting.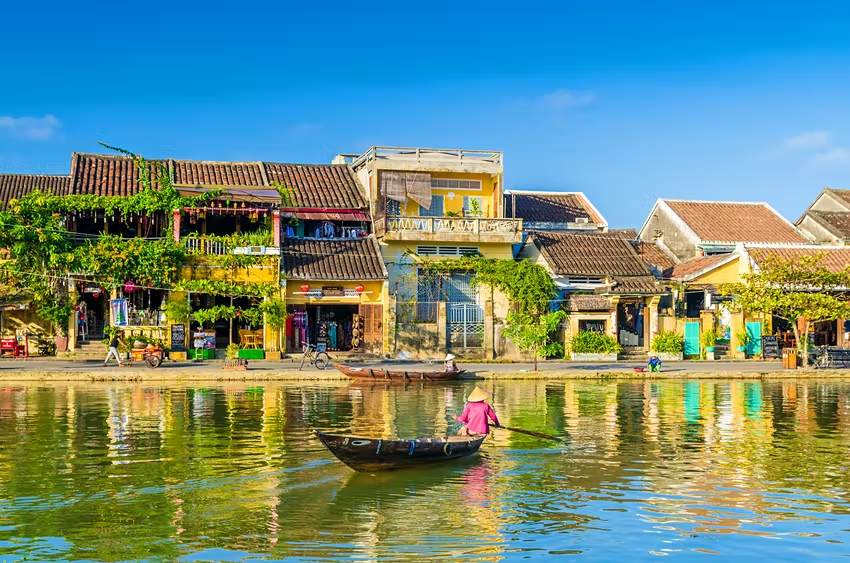 Which city you should visit during Vie
tnam, Cambodia, and Laos itinerary tour?
Vietnam
All 3 regions of Vietnam have outstanding places, you can refer to the following tourist cities:
North
Hanoi
An always busy city, today there are more than 4,000 monuments and beautiful landscapes. There are more than 9,000 relics listed in the national monuments list, with hundreds of temples, architectural works and famous scenic spots.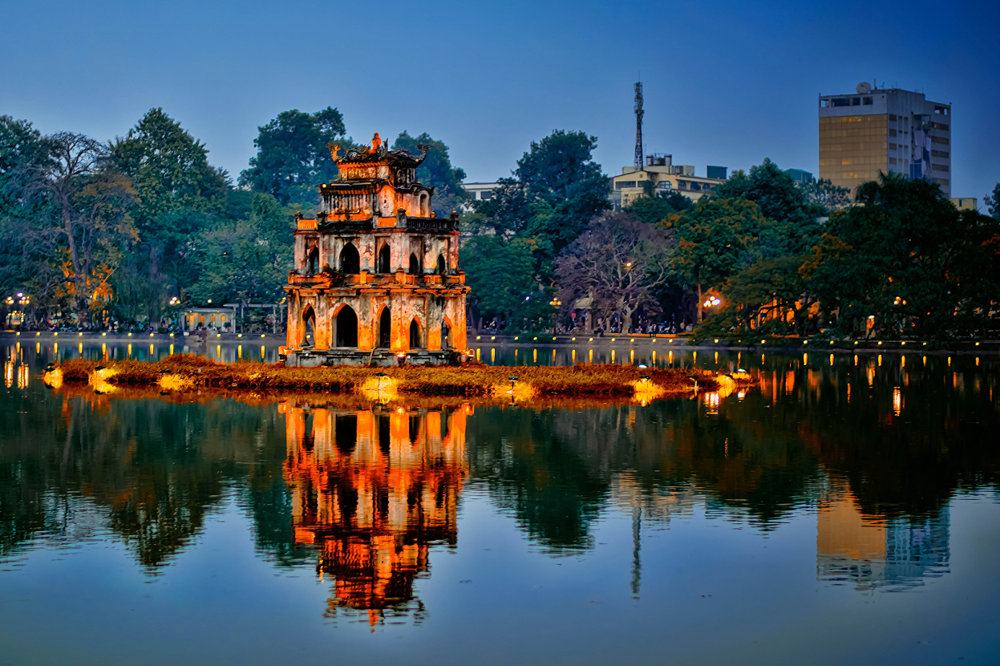 Sapa
Sa Pa is a tourist destination about 30 km from the center of Lao Cai city, always submerged in floating clouds, creating a magical and strange picture. Here, there is an invaluable resource that is a cool and fresh climate all year round, with an average temperature of 15-18°C. In addition, Sapa is also a destination for you to admire the unspoiled beauty of terraced fields, waterfalls, majestic mountains, explore the customs, traditions, and cultural beauty of the ethnic groups on the mountain. such as Black H'Mong, Red Dzao, Tay, Dzay…
Halong Bay
Halong Bay has been recognized by Unesco many times as a World Natural Heritage Site with thousands of islands created by magnificent and lively creations. Halong Bay has beautiful scenery, so it is a very attractive tourist destination for domestic and international tourists. This place is also associated with the heroic historical and cultural values of the nation.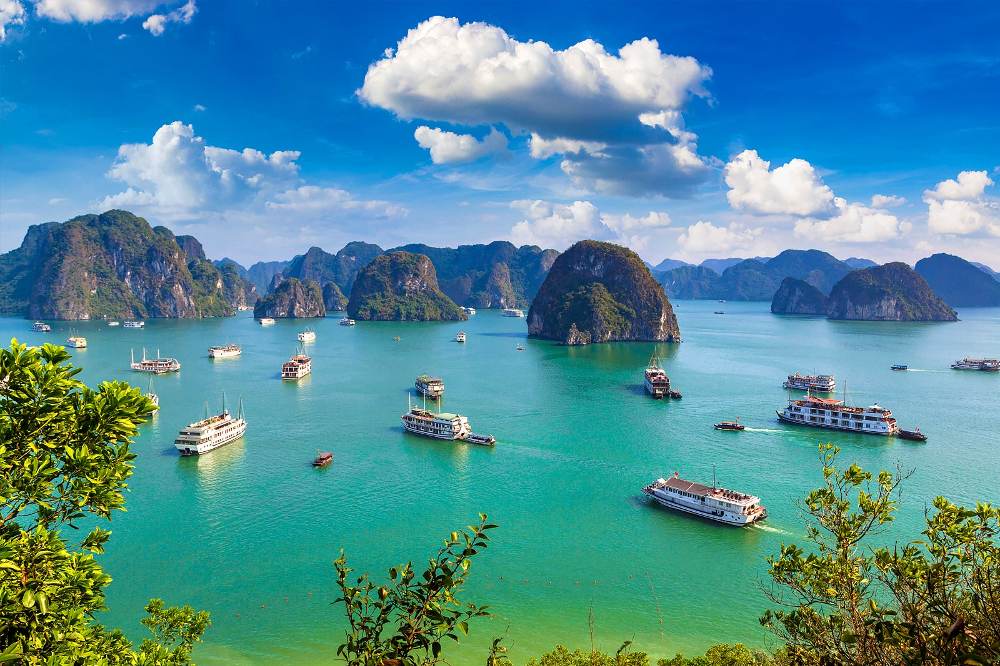 Ninh Binh
It is about 90 km south of Hanoi capital. With three-quarters of the area being hilly, with diverse karst terrain, rich flora and fauna, many tourist resorts have been formed with beautiful natural landscapes, attracting tourists.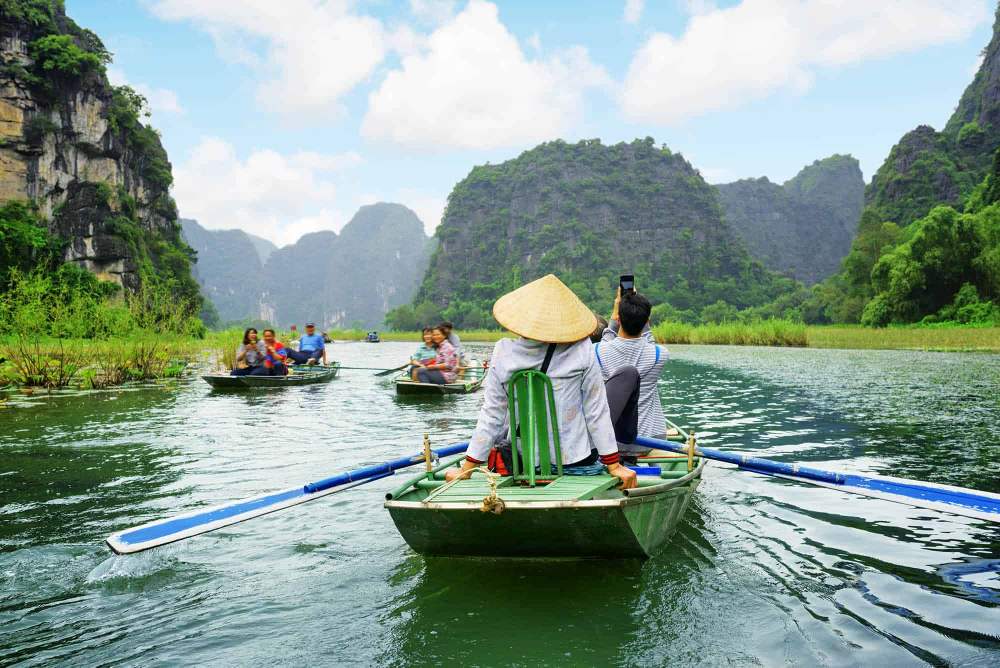 Central
Hue
A land of civilization with a rich history, unique culture, many heritages and unique festivals. Along with that is the quiet, gentle and peaceful beauty of the landscape and people here that make it special and attractive.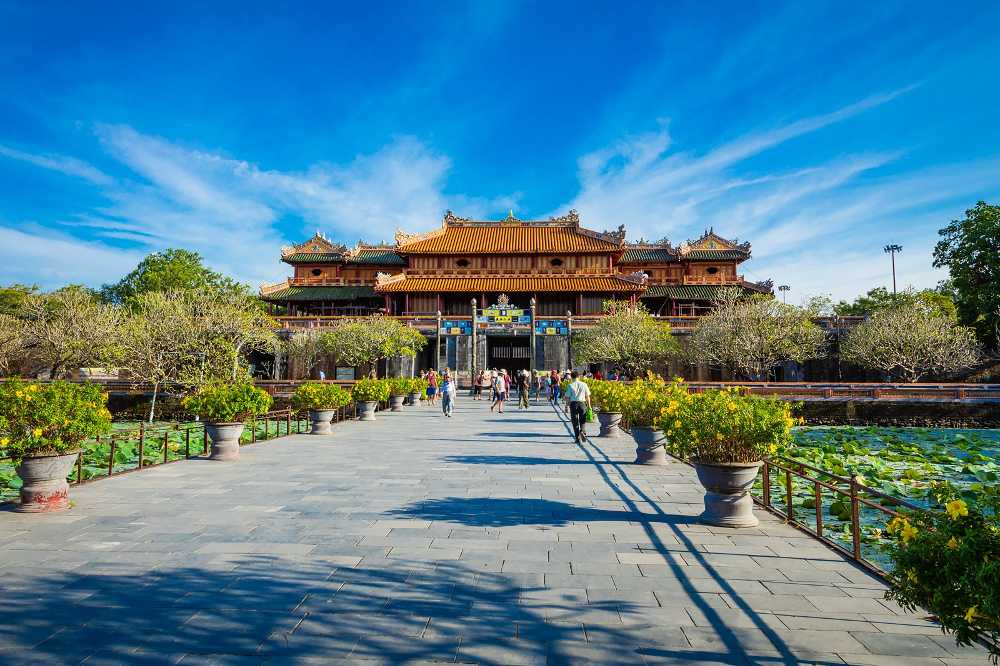 Da Nang
Da Nang city is located in central Vietnam with an almost equal distance between the capital Hanoi and Ho Chi Minh City. It is the cleanest city in the world with countless beautiful beaches and amusement parks that captivate visitors. In addition, Da Nang is one of the important gateways to the sea of the Central Highlands and Laos, Cambodia, Thailand, and Myanmar through the East-West Economic Corridor (EWEC) with the ending point being Tien Sa Port.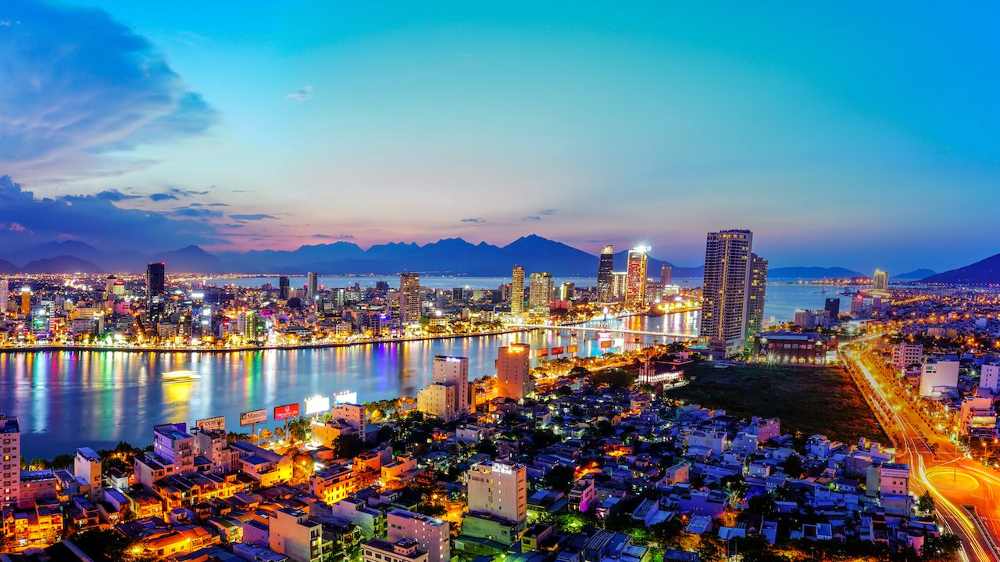 Hoi An
Hoi An is a famous tourist destination about 30km southwest of Da Nang city center. Not noisy, bustling, Hoi An has a calm and ancient beauty. The attraction of the 400-year-old urban area comes from the ancient architecture, moss-roofed houses, and colorful lantern streets.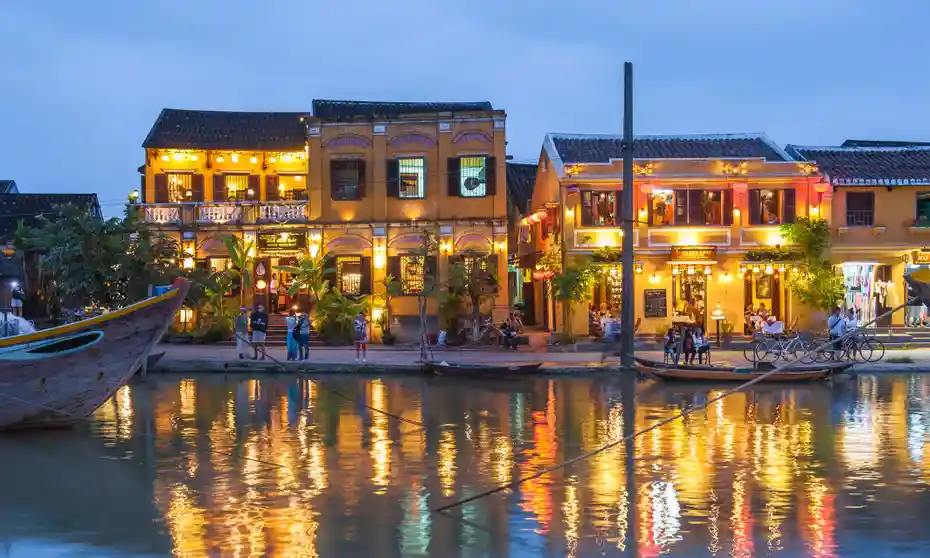 Nha Trang
Nha Trang is known as the pearl of the East Sea, the Blue Pearl because of its natural value, beauty as well as climate.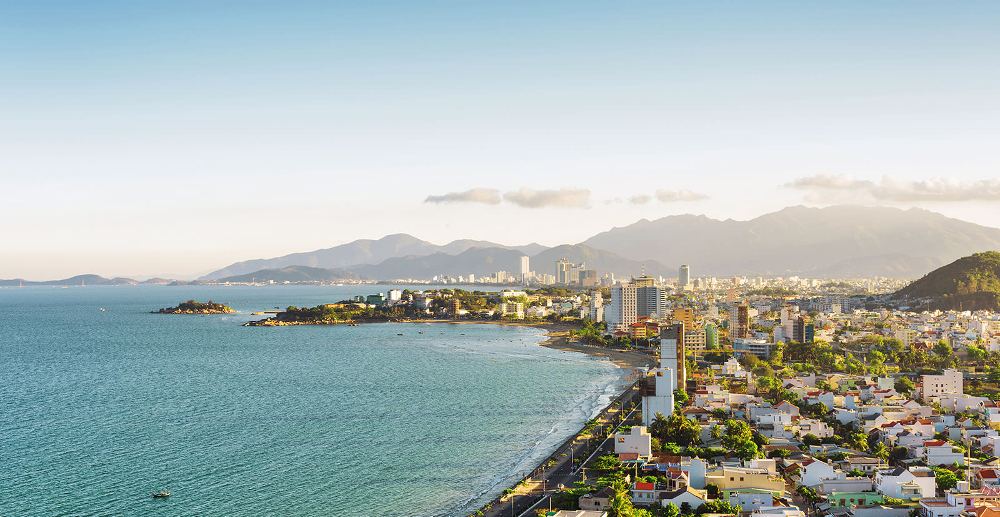 Southern
Ho Chi Minh City
The city has a deep impression of the largest, busiest and most dynamic city in the country. The streets are brightly lit, and activities and entertainment last until late at night. The rush of traffic on all the streets seems to never stop. A row of shops with rich goods of all colors and types contributes to the reputation of "Saigon – shopping paradise". The eateries, shops, restaurants with a very diverse menu make cuisine an indispensable pleasure for visitors to this place.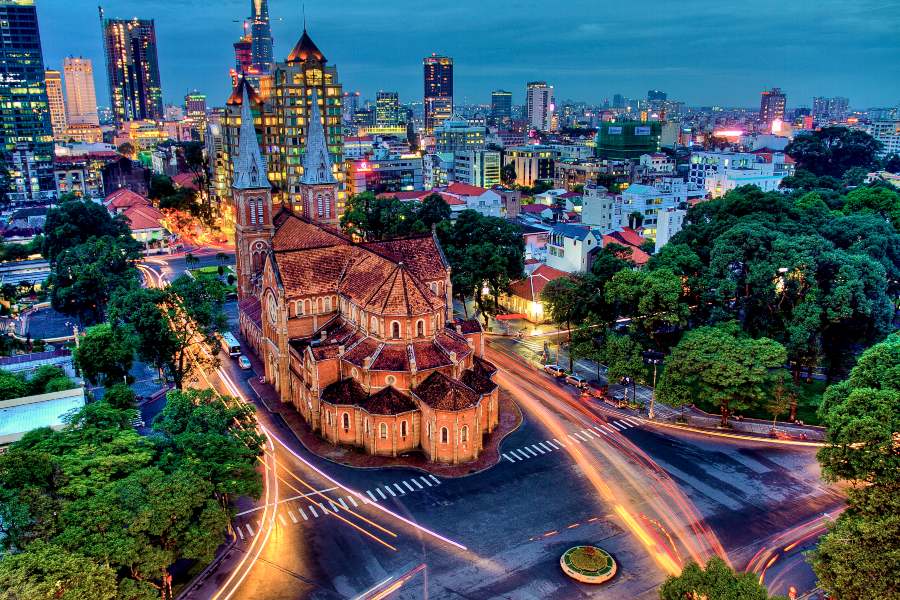 Cu Chi Tunnels
Formed from 1946 – 1948, during the Indochina war. Cu Chi Tunnels is one of the famous Cu Chi tourist attractions that many tourists know when visiting this locality. Cu Chi Tunnels relic site is located at Provincial Road 15, Phu Hiep Hamlet, Phu My Hung Commune, Cu Chi District, Ho Chi Minh City. This is not only a destination of historical and cultural value but also an attractive tourist destination associated with famous military works in Vietnam.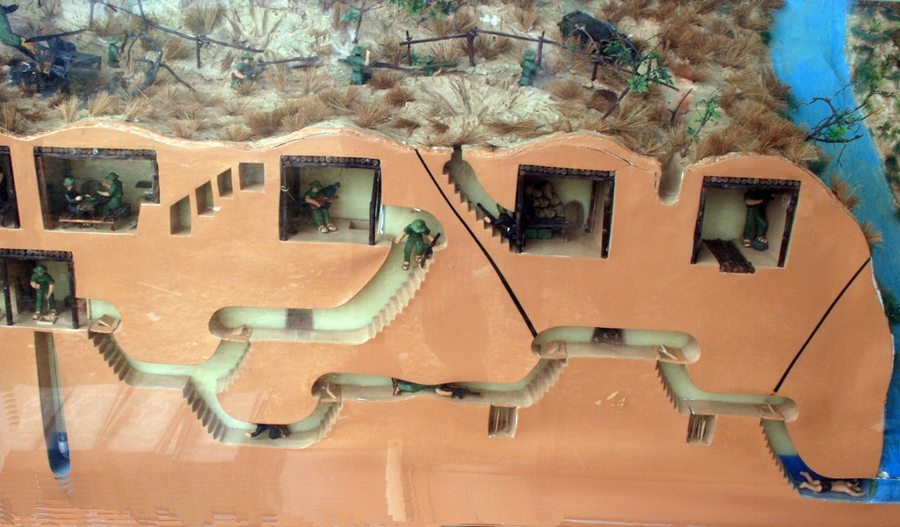 Mekong Delta
Ecotourism started to flourish as tourism on rivers, gardens, exploring islands. Sustainable tourism was initially formed with the success of Mekong Lodge sustainable resort in Tien Giang and many other localities such as Ben Tre and Vinh Long. Life in the Mekong Delta developed on water. Many villages can only be reached by waterway instead of road. This area is the cradle of the art of Don Ca Tai Tu and has since developed into the Cai Luong theater art.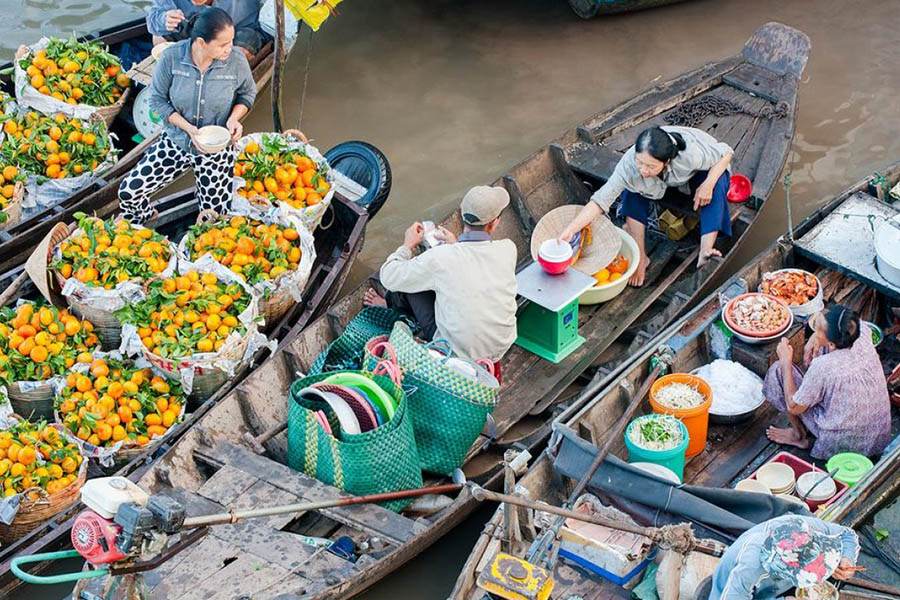 Cambodia
Phnom Penh
Renowned as the jewel of Asia, Phnom Penh is a great example of the rise of a successful and impressive metropolis after the war. Visitors to the Cambodian capital will be amazed at the beauty of the riverside with the Royal Palace and many temples.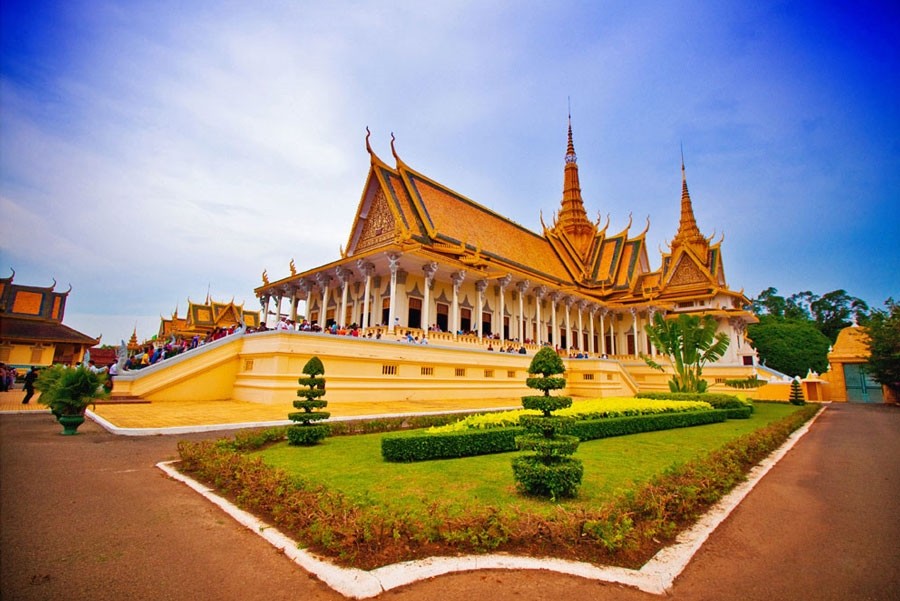 Siem Reap
Siem Reap is a famous place as the gateway to the temple complex of the ancient city of Angkor. Beautiful temple scene at dawn. A beautiful city with tree-lined boulevards, small shops, popular bars and attractive markets.
Sihanoukville
Sihanoukville is a coastal town located in southern Cambodia, with the deepest water harbor in Cambodia developed since the late 1950s. In recent years, this place has become Cambodia's high-class seaside resort destination. Unlike other coastal towns, Sihanoukville can accommodate all types of visitors from backpackers to those who want a luxury vacation.
Battambang
Battambang is Cambodia's second-largest city, featuring unique countryside scenery and exciting nightlife. The riverside town has plenty of colonial architecture, less wind and natural beauty, farm life while visiting the cafes, hotels and restaurants here.
Laos
Luang Prabang
Luang Prabang is the ancient capital of Laos, located in the North. Luang Prabang possesses a rustic, simple and ancient beauty, giving people an incredible sense of peace.
The charming beauty of the sunset on the riverbank is a wonderful moment, making tourists from far away fall in love and never forget when coming to this place.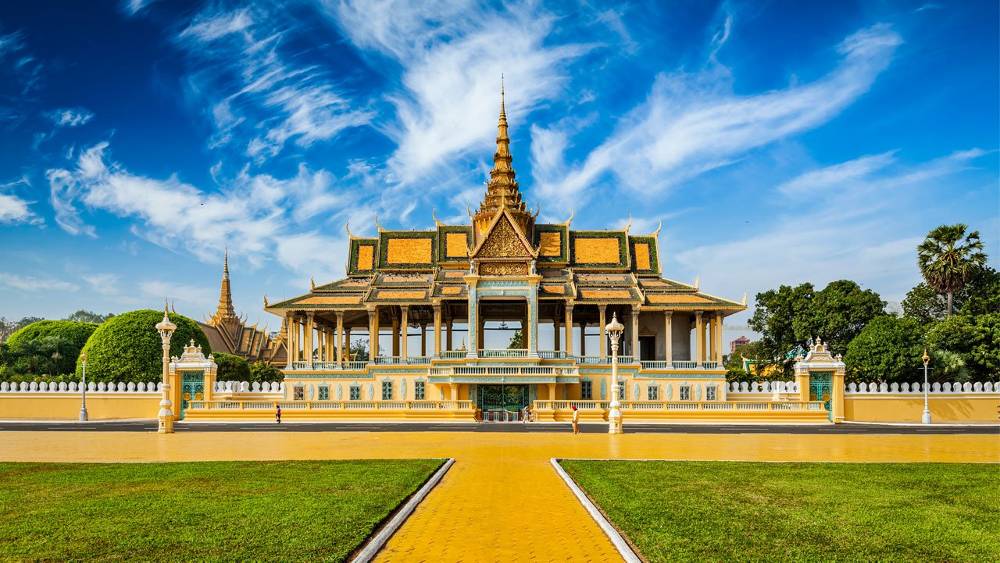 Vientiane
Vientiane is located in the special urban area of Vientiane. Previously, the capital Vientiane was located in the province of Vientiane, but in 1989 it was split in two. Vientiane is not noisy, but peaceful and close. Anyone who comes here will find harmony and peace in their hearts. Because everything exists peacefully, without jostling and mixing, it is easy to feel that life here is full, complete, and full.
Vang Vieng
Located about 150km from the capital Vientiane of Laos, the small town of Vang Vieng is nestled in the vastness of green mountains and forests. Known as peaceful countryside with a fresh and cool climate, it is also a famous tourist destination in the beautiful country of Laos.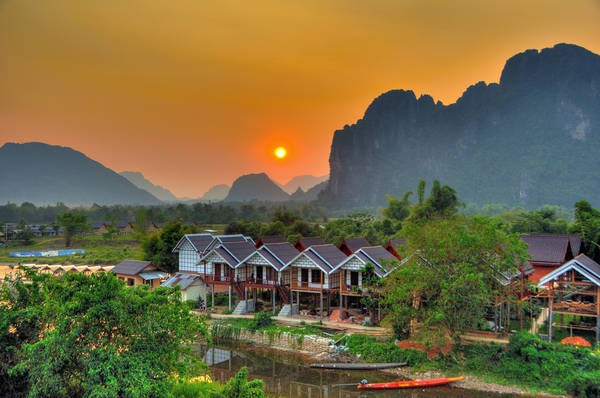 What you should do on Vietnam, Cambodia, and Laos itinerary
Vietnam
Visit famous cities in Vietnam

Take part in some festivals

Enjoy specialties, traditional dishes

Visiting cultural heritage sites

Discover beautiful beaches

Capturing every moment in every location

Take a cooking class

Visit temples if you have the chance

Experience street food tour, Vespa ride, street cyclo
Cambodia
Learn about Cambodian life.

Explore Angkor Archaeological Park.

Challenging adventure in the deep forest.

Test your endurance on the craggy mountain road.

Lose yourself on the beautiful beaches.

Boating along the Mekong River.

Enjoy street food

Cool off with cold beer.
Laos
Enjoy the unique cuisine in La

Participate in traditional festivals

Visit Vientiane capital, Luang Prabang, Pakse city, Luang Namtha city, Savannakhet city.os

Participate in activities such as visiting the forest surrounding the waterfall, climbing the waterfall and bathing in the waterfall.

Stop by Pha That Luang to admire the country's Buddhist beauty

Admire the sculptures, carvings and rare artifacts all inlaid with shimmering gold, silver, and jade at Haw Pha Kaeo Temple
What to eat during the travel
The delicious dishes featured below will help you have more information for your travel journey.
Vietnam
Bread
Bread in Vietnam is very diverse, can be sandwiched with many different types of fillings, so each bread row may have a different recipe and taste. Mixed bread is a cake with a mixture of many different types of fillings. Because of the low price, bread is often sold on the street or in some shops, suitable for all classes.
Pho
The origin of pho dates back to the early 20th century, in Hanoi and Nam Dinh. These are also two places with the best and most famous traditional pho: Pho Hanoi and Nam Dinh.
Bun cha
This is a specialty dish of Hanoi and Northern Vietnam, with the same popularity as pho. If pho is chosen as the representative dish of Vietnamese cuisine, then bun cha is the dish that is appreciated by many magazines and culinary experts as the best dish in Vietnam. Bun cha is a vermicelli dish served with grilled pork rolls (usually minced pork rolls or pork patties).
Goi cuon
Goi cuon is a popular dish in the North, Central and South regions, but the most popular is in the South. There is almost no fixed recipe for spring rolls because each region processes it differently, but the common ingredients include rice paper and filling.
Cambodia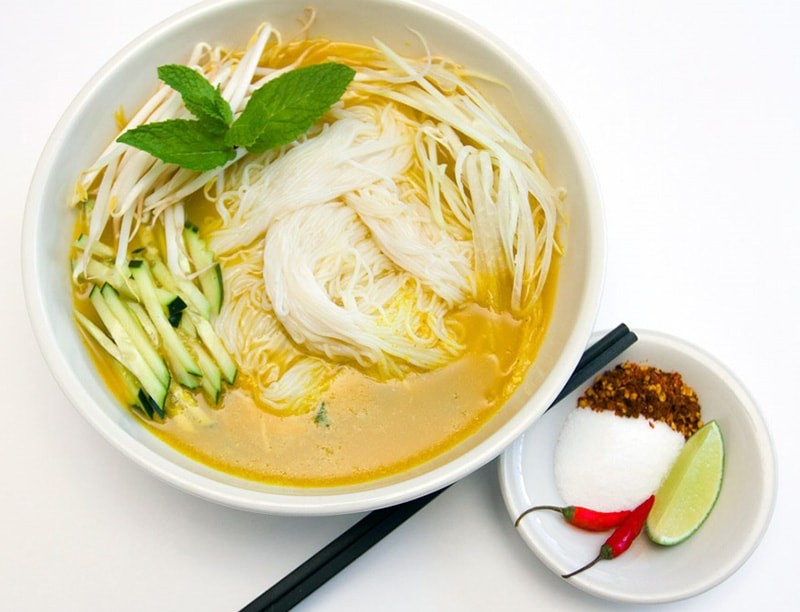 Steamed Fish Amok
Steamed fish Amok is a unique traditional dish of Cambodians. This is a very elaborate and delicately prepared dish.
Pork rice (Bai sach chrouk)
It is a very simple but delicious dish, popular and a Cambodian specialty. The pork rice dish consists of a plate of hot, fragrant sticky rice, topped with thinly sliced pork marinated in coconut milk and garlic, slowly grilled over charcoal to retain its natural sweetness.
Khmer Red Curry
Khmer red curry is a rather spicy dish in the cuisine of Cambodia. Often used on special occasions such as weddings, family gatherings and religious or ancestral days…
Curry noodles (Nom banh chok)
The dish is considered a specialty dish of Cambodia, containing the national spirit of the country.
Laos
Lao sticky rice (Khao Niaw)
Sticky rice is the main food of the country. The people of this land eat more sticky rice than anyone else in the world. It is traditionally steamed in a conical bamboo basket, placed in a covered basket and served with a variety of dishes, where glutinous rice is readily available any time of the day.
Papaya Salad (Tam Mak Hoong)
The main ingredient of the dish is unripe papaya. It originates from Laos but is combined with many different ingredients depending on the region.
Banh mi gion (Khao Jii Paté)
Due to the French influence, delicious baguettes are commonly found on many streets in this region. This baguette is largely similar to Vietnamese bread. This is a quick snack that can be enjoyed on the go for breakfast or lunch.
Lao beer
Beer of this land has long been an essential companion to any dish here. The trip will be less meaningful if one does not enjoy a bottle of beer here with grilled food at the food night market located on the banks of the Mekong River.
Where to stay on itinerary tour
Vietnam
North
Capella Hanoi

Sofitel Legend Metropole Hanoi

Hôtel de la Coupole – MGallery by Sofitel
Central
InterContinental Danang Sun Peninsula Resort

Four Seasons The Nam Hai

Hoiana Hotel & Suites
South
La Vela Saigon Hotel

Muong Thanh Luxury Saigon Hotel
Cambodia
Rosewood Hotel Phnom Penh

Six Senses Krabey Island

Sofitel Phnom Penh Phokeethra

Anantara Angkor Resort & Spa
Laos
Crowne Plaza Vientiane, an IHG Hotel

Satri House Secret Retreats

Tmark Resort Vang Vieng

Avani+ Luang Prabang Hotel

The Grand Luang Prabang
Contact us
Website: mettavoyage.com
Email: [email protected]
Hotline 24/7: + 84 989 383 572
Facebook fanpage: https://www.facebook.com/mettavoyage