Are you tired of the repeated day-to-day activities, or overwhelmed by the stressful and bustling lifestyle in Ho Chi Minh city? Maybe it's time you unplug and go on a wellness retreat outside the city. 
A wellness retreat can be described as a getaway vacation to a safe sanctuary, which allows and encourages an emotional withdrawal from the strains and stress from your daily life. In a way, a wellness retreat near Saigon is a healthier alternative of a regular holiday break, when you can finally harmonize your mind, body and soul, and reach the inner silence and inner peace from within yourself. 
With the increasingly fast-paced city life that you're leading, especially in a busy city like Ho Chi Minh city, to be able to take some time off on a retreat near Saigon can be exceptionally beneficial for both physical and mental well-being. A retreat near Saigon can be life-changing in the way that you can find the peace and joy of life again, or a chance to reconnect with the healing elements of nature. Undoubtedly, you come out of a wellness retreat a healthier, happier and better person. 
Where are the ideal destinations for a retreat near Saigon that will guarantee the perfect and most relaxing experience? Here are our recommendations.  
1. Beach wellness retreat
A great majority would imagine an ideal retreat near Saigon with a luxurious resort by the beach, with palm trees lining along with crystal clear water. Just a few hours drive away from Saigon, you will reach some phenomenal wellness retreat destinations that will heal your mental and physical health. 
Recommendation: 
Location: 12A Nguyen Dinh Chieu, Mui Ne, Phan Thiet
Only 4-hour drive from Ho Chi Minh city, located by Mui Ne sweeping beachside, Anantara Mui Ne Resort & Spa is an oasis of elegance and comfort in the southern coast of Vietnam. Your pleasant tropical retreat near Saigon will undoubtedly become very delightful with a diverse set of retreat activities, including sunrise by the sea, afternoon hikes on sand dunes or a soothing spa treatment. This is your chance to nurture and balance your body, mind and soul.
Location: 38 Nguyen Dinh Chieu Street, Ham Tien Ward, Phan Thiet City, Binh Thuan
Bamboo Village Beach Resort & Spa has located just 25 km from Phan Thiet, right in the middle of Phan Thiet and Mui Ne cape. Bamboo Village consists of lovely bungalows made almost entirely with bamboo, situated among very pleasantly natural scenery. Your retreat near Saigon at Bamboo Village Beach Resort & Spa will be a perfect opportunity for you to go back and immerse yourself in nature, to reconnect with nature and be healed by nature.  
Do you know that most of Vietnam are actually covered with highlands and mountains? With extraordinary landscape and spectacular views of unspoiled ethnic villages and biodiversity, the highland wellness retreat offers some of the most remarkable experiences, different from wellness retreats by the beach. 
Recommendation: 
Location: Tuyen Lam Lake, Zone VII.2, Dalat, Lam Dong
Dalat has always been a favorite year-round vacation destination for both Vietnamese and foreigners. Just 40-minute drive away from the Dalat airport, Dalat Edensee Resort is situated right next to the shimmering water of Tuyen Lam lake, among the towering pine trees and significant greenery. 
Dalat Edensee Resort is among the largest highland wellness retreat destinations near Saigon, with 120 rooms and private villas along the waterfront of its peninsula. They also offer excellent wellness treatment that will bring you the ultimate feeling of total and lasting relaxation.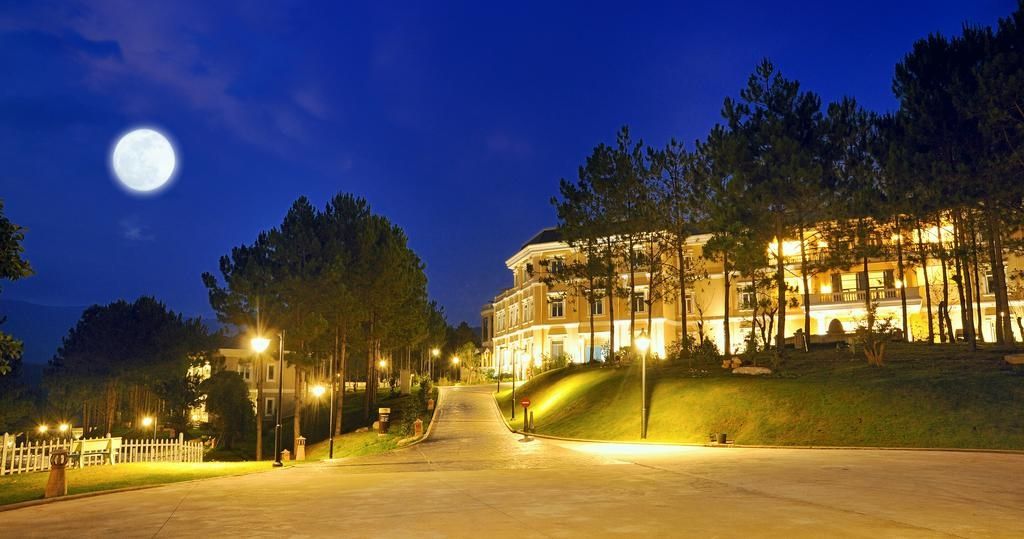 Location: Le Lai Str., Ward 5, Dalat, Lam Dong
With the collection of 17 well-preserved French colonial villas built in the 1920s and 1930s, Ana Mandara Villas Dalat Resort & Spa is the ideal retreat near Saigon location for those who want to immerse in the old aristocratic atmosphere and scenery. 
Surprisingly with very budget-friendly rates, Ana Mandara Villas Dalat Resort & Spa offers just a bit of everything, from pool and spa to mini-golf course and organic garden, all dedicated to the fullest extent of your retreat near Saigon. Busting with nostalgic characters, Ana Villas brings back the long-gone peace of the old days – a great bargain to get away from the noise of Ho Chi Minh city. 
3. City wellness retreat  
The idea of a retreat near Saigon can somehow seem odd. But it's possible that you can enjoy a safe and peaceful sanctuary, just next to the crowded and chaotic streets of the big city, which could be called an urban wellness retreat. 
Recommendation:
Location: 21/4 Trung Street, Binh Hoa, Thuan An, Binh Dương
An Lam Retreats Saigon River is a 20-minutes boat ride from Ho Chi Minh City's busy center, but your retreat near Saigon here feels just like another world. Nestled under ancient trees and tropical flora, 19 of An Lam Retreats spacious suites and villas revolve around a meditative plunge pool, watching the Saigon River creep by, making for an idyllic escape from the busy city life. 
With the thoughtful blend of privacy, serenity and exclusivity, a retreat near Saigon at An Lam Retreats Saigon River feels exceptionally private, providing you with the utmost experience of peace and tranquility. The staff is also remarkably attentive and kind, so rest assured that your retreat near Saigon is well taken care of.
Visit Metta Voyage now to get updates on interesting and useful information about wellness lifestyle & holiday!