It is quite common for us to practice Yang yoga (Ashtanga, Vinyasa) which mainly aims at nurturing 'superficial' muscles. Meanwhile, Yin Yoga Vietnam, another yoga concept first introduced in the late 1970s all over the world and 1990s in Vietnam, focuses on the deep connective tissues of the body.
So specifically what is Yin Yoga and why should we practice it?
In this blog, Metta Voyage will share with you all the things you need to know about Yin Yoga in Vietnam and some recommendations for you to make the best of your practice.
1. What is Yin Yoga? 
Yin Yoga is a slow and peaceful style of yoga that applies the principles of the traditional medical concept, with asanas (postures) practiced for a longer period of time than in any other style. Yin Yoga relieves stress and puts our mind at ease by the connective tissues of the body—the tendons, fasciae, and ligaments—with the aim of increasing circulation in the joints and improving flexibility.
A Yin Yoga class in Vietnam usually includes a series of passive floor poses practiced up to 5 minutes or more, which primarily focuses on the lower body parts– the hips, pelvis, inner thighs, lower spine. These areas are especially beneficial in connective tissues.
2. Who should do Yin Yoga?
In the fast-changing lifestyle, it is common for any of us to get frustrated with stress and troubles. Thus, doing yin yoga is the best way to keep us looking deep inside and heal our soul to enjoy the slow-paced but beautiful corner of the world. So no matter who you are, what you do, where you are from, Yin Yoga can be great medicine for both your physical health and mental health.
Meanwhile, yin yoga is also beneficial for those who are suffering from injuries or chronic conditions like back pain, arthritis, headaches, and carpal tunnel syndrome, as this type of yoga in particular is a more restorative practice than other forms of exercise.  And, if you are interested in meditation, Yin Yoga can also be a good kick-off.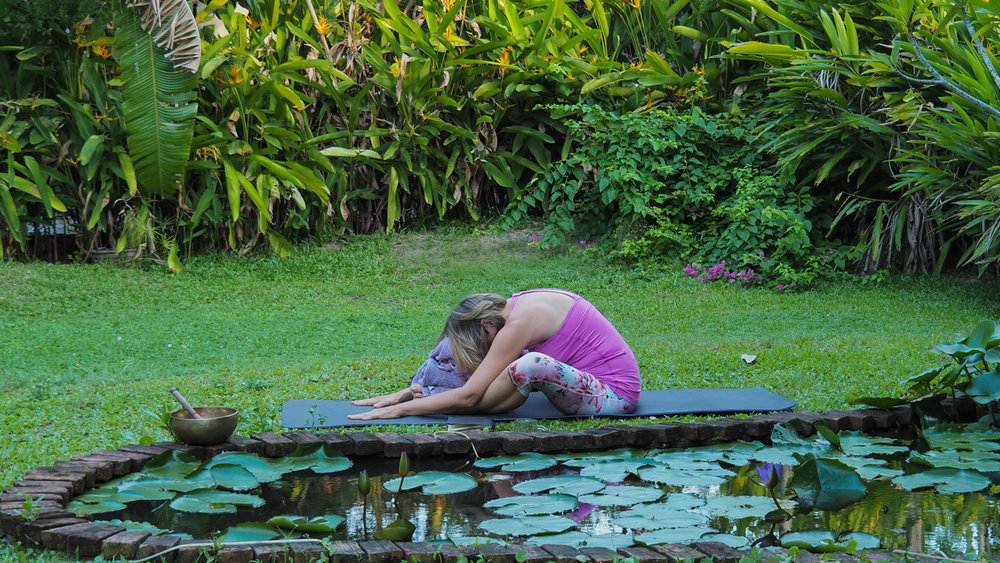 3. What are the benefits of Yin Yoga?
Yin yoga can affect us in both mental and physical health as well as helps us balance our body and mind. Below are some main benefits that you can get while practicing Yin yoga.
Enhance flexibility and elasticity
Yin Yoga with a lot of elastic fascia and mobile joints stretching postures to help you become more flexible and active. As yin yoga, on average, it takes us 120 seconds of sustained stretching to gain effectiveness in elasticity. Therefore, yin is the best way to better your flexibility and relieve tension in tight spots thanks to its long holds.
 Stimulate your circulation
A part of Yin yoga contains meditation with many theories and practices related to breathing. By taking a deep breath in each pose and targeting your deeper tissues and ligaments, your body and muscles can gain more oxygen and become fresher. This is especially good for you to increase your blood flow and circulation.
Studies show that yin yoga is really helpful in lowering stress and anxiety. Moreover, the risk of depression can also be limited because yin class will give you the feeling of peace and relief that you never ever get before. Furthermore, it stimulates your parasympathetic nervous system, which calms your body and slows your heart rate.
 Slowing down the aging process
Yoga in general or Yin yoga, in particular, is the perfect anti-aging tool for everyone. As yin yoga generates impacts on our mind, our sleep as well as our diets, if we can nurture those healthy lifestyles, the aging process can be slowed down.
If you are in search of the best suitable places to do Yin yoga, Vietnam can be an ideal place with breathtaking natural landscapes as well as world-renowned cuisine. So don't hesitate to contact Metta Voyage – the professional wellness tour operator in Asia to get the customizable journey and healthy yin yoga experience. And besides of Yin yoga, aqua yoga is one of the best types of yoga.